3

/

5

(

1

rating)
Scotland's Isle of Mull and the Caledonian Canal
Scotland Bike + Barge Tours
Bike and Sail in the Scottish Highlands
On this unique bike and boat tour in Scotland, a true sailing adventure, you begin and end in Oban, a resort town nestled in the hills and formally know as the "Gateway to the Isles."

On the tall ship, the Flying Dutchman, you visit the Island of Mull and the Morvern Peninsula, still largely untouched by mass tourism. You will admire the fortresses on the island weathered by the wind, and enjoy the wild scenery of Scotland, with its intense colors and great biodiversity.

From the ship's deck, you can look for dolphins and whales, as the grandiose landscapes glide by. While cycling, you will see eagles, red deer, and otters and gaze out upon the sea from the most beautiful cliff top viewpoints.

In the evening, raise a glass of whiskey in one of the local pubs and listen to some Scottish music!

We offer other bike tours in Scotland of course and many, many other bike and boat tours in Europe.

2017 and 2018:
Price £ 1324 $ 2,085 € 1390 NOK 13900 kr 12831 $ 1,668 Single supplement: £ 286 $ 450 € 300 NOK 3000 kr 2769 $ 360

extra

options

Electric bicycle rental: £ 76 $ 120 € 80 NOK 800 kr 738 $ 96 Transfers:
Collective ​arrival transfer from Edinburgh (5:30 pm)/Edinburgh Airport (6:00 pm) to Oban: £ 29 $ 45 € 30 NOK 300 kr 277 $ 36 Departure transfer from Oban (7 am to reach flghts starting from noon)  to Edinburgh Airport: £ 29 $ 45 € 30 NOK 300 kr 277 $ 36 (If arrival is in the morning, you can take the public bus to Waverley Bridge/St. Andrews Square (every 10 minutes). Your baggage can be stored at the central station in a safe deposit box and you can enjoy the whole day in Edinburgh. At 5.30 pm the transfer bus can pick you up at predetermined location in the center of Edinburgh. Otherwise you can get picked up at the airport (arrival area) at 6 pm. The transfer to Oban takes 3 hours.
Other exclusive transfers upon request.

please

note

Rates are based on double occupancy.

Information to read before you book.

We recommend purchasing bike trip insurance.

† Currency exchange rate set 90 days before travel.
Skill
Level
This tour is classified as a moderate to difficult bike and sail adventure. The daily distances range from 12 to 37 mi. (20 to 60 km) on hilly terrain. The majority of the route is on quiet country asphalted roads but, at times, field paths are also used. This tour involves some longer and steeper ascents. Strong headwinds may also be encountered. The daily program depends on the weather and the captain's discretion.
Due to the necessity to embark/disembark the ship by dinghy, good balance and steadiness is required. Due to the change in tide, ladders my need to be used to access the boat/land, covering height differences of up to 3 m.
Where
You'll Stay
Onboard the tallship, Flying Dutchman
What's
Included
7 nights accommodations on board
Daily breakfast
7 lunches OR dinners (see daily itinerary)
Guided cycling tours as described in itinerary
Overview maps of the daily tours on board
21 speed trekking bike rental equipped with pannier bag
Bed linen and towels (please bring a beach towel)
English speaking tour guide
What's
Not Included
Arrival transfer from Edinburg/Edinburgh Airport to the ship
Helmets (Helmet use is mandatory on all bike rides. You are strongly encouraged to bring your own well-fitted helmet. Rental helmets are available on board in limited number (reservation requested).
Departure transfer from Oban to the Edinburgh Airport
Drinks on board, tally sheet– Bottled water flat rate, coffee and tea: 20 GBP
Meals other than those mentioned
Entrance fees to museums and sights
Gratuities
Bicycle protection
Trip insurance
Extra
Stay
It is recommended that you spend at least one night in Edinburgh!
Tour
Dates
2017:
September 3, 2017
2018:
Saturdays, June 9, June 16, June 23, August 11, August 18, and August 25, 2018
Tour
Boats
Day-To-Day
Itinerary
New itinerary for 2018! If you are booked in 2017 and would like to see your itinerary, please ask us.
Day 1: Arrival and embarkation in Oban
Day 2: Oban - Toberonochy, 22 mi. (36 km) 
Day 3: Crinan – Loch Tabert, 40 mi. (65 km) 
Day 4: Isle of Jura, 17 mi. (27 km) 
Day 5: Mull Island: Loch Spelve – Salen – Tobermory, 37 mi. (60 km) 
Day 6: Mull Island: Tobermory – Salen, 31 mi. (50 km)
Day 7: Peninsula Morvern: Lochaline – Kingairloch, 16 mi. (26 km)  
Day 8: Departure
Day 1: Arrival and embarkation in Oban
Individual flight to Edinburgh or Glasgow and from there either by train or bus to Oban. Your cabins on the Flying Dutchman are ready for check in at 5 pm. Should you arrive earlier, your luggage can be stored on board until check-in time. You are also welcome to use the fee-based transfer service leaving at 5.30 pm from the train station in Edinburgh and at 6 pm from the Edinburgh airport.
During a late dinner, you get to know your crew and tour guides. (Meals included: D)
Day 2: Oban - Toberonochy, 22 mi. (36 km)
After breakfast, you adjust your bicycles and start your first cycle tour, leading south from Oban through hilly landscapes and along the shores of a small highland lake back to the sea. You cross a remote peninsula before embarking on the ferry which takes you to the island of Luing. The island is made up of slate and the mining of the gray glistening rocks played an important economic role in the past. The University of Edinburgh for instance, is largely constructed out of the slate from this small island. At the Tobernochy dock, the Flying Dutchman awaits for a crossing to a secluded bay where the ship will moor for the night.
 (B, D)
Day 3: Crinan – Loch Tabert, 40 mi. (65 km)
After a short sailing to Crinan, your cycling day begins! First, along the Crinan Canal, leading from Crinan to Lochgilphead. This canal has spared smaller ships making  the long sail around the Kintyre peninsula. Afterwards, you pedal south over the peninsula, most commonly known from the Paul McCartney song. After a scenic cycling tour, we finally reach the deeply-cut, Loch Tarbert, where we spend the night. (B,L)
Day 4:  Isle of Jura, 17 mi. (27 km) 
 Early in the morning, the anchor is raised for a voyage towards the isle of Jura.  However, before the biking begins, you are able to take part in guided tour of the famous distillery and gain first-hand knowledge of the processes involved in the production of great whiskey. Following the distillery tour the route leads northwards on the Isle of Jura. The renowned author, George Orwell, spent the last three years of his life here and described it as the most unattainable place on earth. Enjoy the tranquility of the island, which is only occasionally disturbed by one of the about 5,000 deer that live there. Passing the so-called Paps of Jura, you arrive at a small dock where the Flying Dutchman takes you to the island of Mull. On the way you pass the swirling waters of Corryvreckan, one of the largest natural whirlpools in the world - but do not fear, the experienced crew will guide you safely to a quiet bay on the island of Mull for the night.(B, L, D)
Day 5: Mull Island: Loch Spelve – Salen – Tobermory, 37 mi. (60 km)
Today's cycle tour is dedicated entirely to the spectacular natural beauty of Scotland. The route leads through hilly terrain and along the Island's coastline. Behind every bend in the road another breath-taking view awaits. After the road divides, and the few cars that we have encountered along the way so far have turned off towards Iona, you share the road  only with sheep and shaggy highland cattle grazing peacefully in the bright green meadows. Along an ever-changing coastal road, you cycle past Loch Na' Keal to Salen where the ship is waiting. On a short crossover on board, you navigate toTobermoy Bay. In this pretty, little place, with its colorful facades, an evening visit to an original Scottish pub is high on the agenda. This includes trying national dishes such as fish'n'chips or haggis. (B)
Day 6:  Mull Island: Tobermory – Salen, 31 mi. (50 km)
Today you will encounter an elevation gain on you ride through the northern part of the Island of Mull. As a reward a cozy tearoom offers a welcomed reprieve before you head for the brilliant white beach of Calgary Bay and its crystal clear water. It is considered one of the most beautiful beaches in Scotland and swimming enthusiasts should not pass up this opportunity to jump in for a refreshing swim. Ship ward bound you cycle through a lush valley until  the shoreline, shortly before Salen, offering breathtaking views as well as some interesting ships wrecks. The ship awaits again in Salen for a little crossing to Lochaline on the Morvern peninsula, where you throw the anchor for the night. Dinner on board. (B,D)
Day 7: Peninsula Morvern: Lochaline – Kingairloch, 16 mi. (26 km)  
After a small crossing through the Sound of Mull to Lochaline a scenic cycling tour awaits you. After the first ascent, you reach an almost traffic-free road leading through the barren highlands. You follow hillsides, wild mountain streams and moorlands before reachin the Flying Dutchman, to ferry you back to Oban. Before dinner you have the opportunity to take a stroll through Oban. The McCaig's Tower, an incomplete replica of the Coliseum in Rome, is a worthwhile visit. (B, D)
Day 8: Departure,  (B)
View all our featured bike trips, specials, and news!
Email or Call 800-951-4384 +1 570-965-2064
---
Scotland's Isle of Mull and the Caledonian Canal
Boats + Barges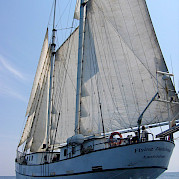 Flying Dutchman Scotland Standard Plus Class Boat The Flying Dutchman, once a herring logger, was launched in 1903. The conversion to a sailing schooner took place in 2004 and the ship was equipped with 10 small but functionally furnished cabins, each with a private bath and all in one shower. The front saloon in the deckhouse serves as a cozy dining room and lounge with upholstered benches for seating all guests. At the stern, you can sit beside Captain Klaas at the wheel and perhaps even steer the 39-m-long vessel for a while.