3

/

5

(

1

rating)
Scotland's Isle of Mull and the Caledonian Canal
Scotland Bike + Barge Tours
Bike and Boat tour in the Scottish Highlands
On this unique bike and boat tour in Scotland, a true sailing adventure, you begin and end in Oban, a resort town nestled in the hills and formally know as the "Gateway to the Isles."

On the tall ship, the Flying Dutchman, you visit the Island of Mull and the Morvern Peninsula, still largely untouched by mass tourism. You will admire the fortresses on the island weathered by the wind, and enjoy the wild scenery of Scotland, with its intense colors and great biodiversity.

From the ship's deck, you can look for dolphins and whales, as the grandiose landscapes glide by. While cycling, you will see eagles, red deer, and otters and gaze out upon the sea from the most beautiful cliff top viewpoints.

In the evening, raise a glass of whiskey in one of the local pubs and listen to some Scottish music!

We offer other bike tours in Scotland of course and many, many other bike and boat tours in Europe.

Price £ 1280 $ 2,016 € 1390 NOK 13437 kr 12403 $ 1,612

Single supplement: £ 276 $ 435 € 300 NOK 2900 kr 2677 $ 348

extra

options

Electric bicycle rental: £ 74 $ 116 € 80 NOK 773 kr 714 $ 93

Collective ​A\arrival transfer from Edinburgh (5:30 pm)/Edinburgh Airport (6:00 pm) to Oban: £ 28 $ 44 € 30 NOK 290 kr 268 $ 35

Departure transfer from Oban (7 am to reach flghts starting from noon)  to Edinburgh Airport: £ 28 $ 44 € 30 NOK 290 kr 268 $ 35

Other exclusive transfers upon request

please

note

Rates are based on double occupancy.

Information to read before you book.

We recommend purchasing bike trip insurance.

† Currency exchange rate set 90 days before travel.
Skill
Level
This tour is classified as a moderate to difficult bike and sailing adventure. The daily distances range from 12 to 37 mi./20 to 60 km on hilly terrain. The majority of the route is on quiet country asphalted roads but, at times, field paths are also used. This tour involves some longer and steeper ascents. Strong headwinds may also be encountered. The daily program depends on the weather and the captain's orders.
Where
You'll Stay
Onboard the tallship, Flying Dutchman
What's
Included
8 day cruise on a tallship with crew
7 nights in a double cabin with shower/toilet
Daily breakfast
7 lunches OR dinners
Guided cycling tours as described in itinerary
Overview maps of the daily tours on board
21 speed trekking bike rental equipped with pannier bag
Bed linen and towels
English speaking tour guide
What's
Not Included
Arrival transfer from Edinburg/Edinburgh Airport to the ship
Departure transfer from Oban to the Edinburgh Airport
Drinks on board
Meals other than those mentioned
Entrance fees to museums and sights
Gratuities
Bicycle protection
Trip insurance
Extra
Stay
It is recommended that you spend at least one night in Edinburgh!
Tour
Dates
August 13, August 20, August 27, and September 3, 2017
Tour
Boats
Day-To-Day
Itinerary
Day 1: Arrival in Oban
Day 2: Mull Island: Craignure - Loch Buie - Craignure, appr. 31 mi. (50 km)
Day 3: Mull Island: Craignure - Salen, 37 mi. (60 km)
Day 4: Mull Island: Tobermory - Salen - Lochaline, 34 mi. (55 km)
Day 5: Morvern Peninsula: Lochaline - Corran - Ft. William, 31 mi. (50 km)
Day 6: Caledonian Channel, 31 mi. (50 km)
Day 7: Caledonian Channel and Oban, 12 mi. (20 km)
Day 8: Departure
Day 1: Arrival
Individual flight to Edinburgh or Glasgow and from there either by train or bus to Oban. Your cabins on the Flying Dutchman are ready for check in at 5 pm. Should you arrive earlier, your luggage can be stored on board until check-in time. You are also welcome to use the fee-based transfer service leaving at 5.30 pm from the train station in Edinburgh and at 6 pm from the Edinburgh airport.
During a late dinner, you get to know your crew and tour guides. (Meals included: D)
Day 2: Mull Island: Craignure - Loch Buie - Craignure, appr. 31 mi. (50 km)
After breakfast, the boat crosses from Oban to the Island of Mull where the cycles are unloaded to begin the first biking tour.  Duart Castle, the ancestral home of the Scottish McLean clans, is reached after only a short stretch. Here will be short tour of the site and lunch in the tearoom. Possible as well is a longer cycle trip with the tour guide heading for Loch Buie, an area renowned for its impressive landscape, shimmering beaches and abundant wildlife. Be watching for otters, gold eagles, or stags! (B, D)
Day 3: Mull Island: Craignure - Salen, 37 mi. (60 km)
Today's cycle tour is entirely dedicated to the spectacular beauty of Scotland's natural scenery. The route takes you through hilly terrain and along the coast. Behind every bend in the road, another breathtaking view unfolds. After the road divides and the few cars that you have encountered so far have turned off towards Iona, you may share the road with sheep and shaggy highland cattle grazing peacefully in the bright green meadows. Along an ever-changing coastal road, you bicycle past Loch Na' Keal to Salen, where the ship awaits. On a short crossing on board, the ship will arrive to colorful Tobermoy Bay. For dinner this evening, you can visit an authentic Socttish pub to sample fish n' chips or gaggis. (B)
Day 4: Mull Island: Tobermorry - Salen - Lochaline, approx. 31 mi. (50 km)
Today you get some meters of altitude on your discovery ride through the northern part of the Island of Mull. In reward a cozy tearoom offers a welcome reprieve before you head for the beautiful white beach of Calgary Bay with its crystal clear water. It is considered one of the most beautiful beaches in Scotland and swimming enthusiasts should not pass up this opportunity. The way back leads through a wide valley to the shoreline shortly before Salen offering astonishing views as well as some unexpected wrecks of ships. The ship awaits in Salen, for a short crossing ot Lochaline on the Morvern Peninsula, where the night will be spent anchored in the bay. (B, D)
Day 5: Morvern Peninsula: Lochaline - Corran - Ft. William, approx. 31 mi. (50 km)
Today offers an interesting cycle tour. After a first ascent, you reach a quiet road leading through virtually treeless highlands. The route runs along hillsides, wild mountain streams and moorland and leads finally back to the coast, where you ride along the rocky coastal road to the ferry landing at Corran. From here your ship takes you to Fort William. The ship anchors in the first lock of the Caledonian Canal, where it can lie undisturbed by the tides. By bus or taxi you can easily get to Fort William, where numerous cozy pubs in the lively pedestrian zone are eagerly waiting for your visit. (B, D)
Day 6: Caledonian Channel, approx. 31 mi. (50 km)
At first the route today is level, along the foot of Ben Nevis and the Caledonian Channel. This channel connects a length of nearly 100 km of the North Sea with the Atlantic and consists for the greater part, of rivers and lakes, connected by canals. The first highpoint of the cycle tour is Neptune's Staircase, the longest chain of locks in Great Britain. In eight consecutive locks, the ships negotiate here an elevation difference of 20 meters. You then continue to follow the Channel until you reach the shore of the first lake, Loch Lochy, which is followed for a short distance. A detour takes you then to yet another waterfall. On the way back to the ship, a mountain ridge is crossed and offers a fabulous view across the highlands. Dinner this evening will be en route and the ship remains in Fort William for another night. (B, D) 
Day 7: Caledonian Canal and Oban
In the morning, the ship casts off for the last time and you start the fairly long trip across the Firth of Lorn in order to return to Oban. Prior to the Captain's Dinner, you still have time for a stroll around Oban, where McCaig's Tower, a never completed replica of the Colosseum in Rome, is well worth a visit. Breakfast and lunch are the provided meals today. (B, L, D)
Day 8: Departure (B)
View all our featured bike trips, specials, and news!
Email or Call 800-951-4384 +1 570-965-2064
---
Scotland's Isle of Mull and the Caledonian Canal
Boats + Barges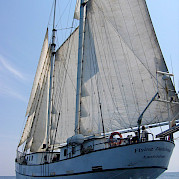 Flying Dutchman Scotland Standard Plus Class Boat The Flying Dutchman, once a herring logger, was launched in 1903. The conversion to a sailing schooner took place in 2004 and the ship was equipped with 10 small but functionally furnished cabins, each with a private bath and all in one shower. The front saloon in the deckhouse serves as a cozy dining room and lounge with upholstered benches for seating all guests. At the stern, you can sit beside Captain Klaas at the wheel and perhaps even steer the 39-m-long vessel for a while.