4.3

/

5

(

6

ratings)
Southern Dalmatia Plus
Croatia Bike + Barge Tours
Bike Croatia and its southern islands!
We are so excited to be offering this tour Southern Dalmatia Plus that are specially designed for cyclists who desire electric bikes. If you have always desired to cycle in Croatia but have worried about the mountainous terrain, you need worry no longer. You can bike Croatia and will conquer the hills with a little help! You will not be denied the breathtaking views that these mountain climbs provide. The E-bikes used on these tours are top quality Swiss Flyers and have been described as having a constant tailwind at your back. There are 1185 Islands, islets and rocks protecting the Croatian Coast. They are the remains of old mountains engulfed by the sea during the last ice age, their summits running parallel to the coast, separated by channels of turquoise sea. These isles, like pearls in the middle of the crystal clear water, are mostly uninhibited. Out of the 1185 islands only 66 are populated.

Dalmatia is a region located along the eastern coast of the Adriatic Sea in Croatia. It has become a very popular destination in recent years. Tourism in Dalmatia has been rising due to its many spectacular beaches, the tempting waters of the Adriatic, the many coves, islands, and channels, as well as national parks and favorable climate. The wonderful bike routes on this tour in Southern Dalmatia, the smallest and most sparsely populated region in Croatia, will take you past unique little towns and through the beautiful island countryside

The islands of Hvar, Vis, Solta, Hvar and Korcula, the mainland and the culture will be featured. The cycle tours will be longer than the itineraries of the other Dalmatia tours we offer and therefore can also be appealing to the hybrid cyclist who desires a challenge.

Be sure to check out all our bike tours in Croatia!

Princess Diana: 

April 15 & 29; Oct 10 & 21 : £ 1261 $ 1,987 € 1370 NOK 13243 kr 12225 $ 1,589

May 13 & 27; Jun 10 & 24; Jul 8; Aug  26; Sep 9 & 23:  £ 1353 $ 2,132 € 1470 NOK 14210 kr 13117 $ 1,705

Surcharge for cabin on deck: £ 138 $ 218 € 150 NOK 1450 kr 1338 $ 174

Surcharge for single cabin below deck: £ 460 $ 725 € 500 NOK 4833 kr 4462 $ 580

Surcharge for single cabin on deck: £ 644 $ 1,015 € 700 NOK 6767 kr 6246 $ 812

Melody:

May 6; Oct 10:  £ 1353 $ 2,132 € 1470 NOK 14210 kr 13117 $ 1,705

May 20; June 3 & 17; Jul 7, 15 & 22; Aug 5, 19; Sep 2, 16 & 30:  £ 1445 $ 2,277 € 1570 NOK 15177 kr 14009 $ 1,821

Surcharge for cabin on deck: £ 184 $ 290 € 200 NOK 1933 kr 1785 $ 232

Surcharge for single cabin below deck: €​500

Surcharge for single cabin on deck: £ 737 $ 1,160 € 800 NOK 7733 kr 7138 $ 928

extra

options

Discount if using a hybrid bike: £ 74 $ 116 € 80 NOK 773 kr 714 $ 93

Bicycle protection, Hybrid bike:  £ 9 $ 15 € 10 NOK 97 kr 89 $ 12

Bicycle protection, Electric bike:  £ 18 $ 29 € 20 NOK 193 kr 178 $ 23

Transfer between Split airport and Trogir harbor (price is per person/way): on request

3-Day Extension in Plitvice Lakes and Zagreb

3 Star Double Room: £ 543 $ 856 € 590 NOK 5703 kr 5265 $ 684

3 Star Single Room: £ 635 $ 1,001 € 690 NOK 6670 kr 6157 $ 800

4 Star Double Room: £ 635 $ 1,001 € 690 NOK 6670 kr 6157 $ 800

4 Star Single Room: £ 764 $ 1,204 € 830 NOK 8023 kr 7406 $ 963

3 Star Double Room (without transfer): £ 267 $ 421 € 290 NOK 2803 kr 2588 $ 336

Extra nights in/near Trogir

Prices on request

A safe parking space: on request

please

note

Reduction per person in combination with another Zeitreisen trip: £ 46 $ 73 € 50 NOK 483 kr 446 $ 58  

Rates are based on double occupancy.

Information to read before you book.

We recommend purchasing bike trip insurance.

† Currency exchange rate set 90 days before travel.
Tour
Dates
2017 DATES
On Comfort Plus boats: 
Princess Diana: July 8, September 9, September 23, October 7, October 21, 2017
Melody: July 1, July 15, July 22, August 5, August 19, September 2, September 16, September 30, October 14, 2017
Skill
Level
This Croatia bike tour requires a basic level of fitness acquired from steady cycling. The tours will traverse heights of between 200 and 500 m with daily distances ranging between 20 to 55 km through mountainous terrain. Tours can be completed without any time-constraints. Participants will need to master long and steep climbs which present no problem with the use of the E-bikes. Streets are mostly asphalted with little traffic. You can choose each day to cycle on your own with the maps and information provided or to join the two tour guides and group.
Where
You'll Stay
Aboard the Melody or the Princess Diana, both Comfort Plus boats.
What's
Included
8 days/7 nights accommodations in double cabin
4 x full board, 3 x half board
English speaking tour guide
7 guided cycling tours as described in itinerary
Bed linen and towels
Daily cycling route maps
Limited number of helmets available
Electric bicycle - Cube cross hybrid pro allroad 500 including pannier bag (21 speed regular hybrid bicycle also available equipped with pannier - discount for this bike will apply, see pricing)
What's
Not Included
Individual travel to embarkation point
Visitor's tax, local charges, and unlimited water on board and during cycling: €40 (€20 for children 16 and under) to be paid on board
Drinks on board (tally sheet is utilized)
Taxi transfer from Split airport to the ship in Trogir (one way approximately, €20)
Bicycle protection (€10 to €20/bike)
3-Day Post-Tour Extension in Plitvice Lakes National Parks and Zagreb (see Extra Stay below, pricing listed on the right under extra options)
Extra
Stay
3-DAY POST-TOUR EXTENSION in Plitvice Lakes National Park and Zagreb
Saturday
After breakfast and disembarkation from the boat, a transfer will take you from Trogir to Plitvice Lakes, the most well-known of the Croatian National Parks. Upon arrival, you will have time to enjoy lunch and can then explore the park throughout the afternoon and evening. Night spent in a hotel near the park.
Sunday
After breakfast, a transfer will bring you to Zagreb, where you can spend the day exploring Croatia's amazing capital city. The old town, built by the Austro-Hungarian Empire, will charm you at every turn. A 3-hour guided tour will take you to the Kaptol (center of the Roman Catholic Church in Croatia) and Gardec (the upper old town). In the evening, enjoy dinner at a specially selected restaurant offering local cuisine. Night spent in a hotel in Zagreb's town center.
Monday
After breakfast, a transfer will take you to Zagreb airport for your journey home.
Extension Package Includes:
Transfer from boat in Trogir to Plitvice Lakes (3 hours), Entrance fee into Plitvice Lakes National Park, 3 or 4 Star Hotel near Plitvice Lakes National Park (your choice), Transfer from Plitvice Lakes to Zagreb (2.5 hours), 3-hour guided sightseeing tour in Zagreb (includes entry fees), Dinner in a local restaurant in Zagreb, 3 or 4 Star Hotel in Zagreb city center, Transfer from Zagreb hotel to Zagreb airport, Taxes
*Optional add-on: Sightseeing Bike Tour in Zagreb: €15 per person
EXTRA NIGHTS: In Trogir, at the 3-star Hotel Adria located 3 km outside of Trogir or stay at the 3-Star Hotel Concordia located in the old town of Trogir.
Day-To-Day
Itinerary
2017 Itinerary
Day 1: Trogir - Hvar Island, by boat 
Day 2: Islands of Hvar and Vis (aprx. 12.5 mi./20 km + 15 mi./22 km)
Day 3: Vis Island (aprx. 20 mi./32 km) 
Day 4: Islands of Korcula, 29 mi. (48 km)
Day 5: Hvar Island (aprx. 28 mi./ 45 km)
Day 6: Omiš - Split (aprx. 19 or 27 mi./30 or 43 km)
Day 7: Šolta Island, 12 mi. (19 km)
Day 8: Disembarkation at Trogir
*All distances are approximate. The above planned itinerary is subject to change due to changing wind and weather conditions and other unforeseen circumstances having to do with mooring requirements, etc.
DAY 1: Trogir - Hvar Island, by boat
Individual arrival to Split airport which is about 5 km/3 mi. away from the harbor of Trogir. Check-in on the boat is between 2 pm - 2:30 pm. The ship leaves Trogir around  3pm. Stari Grad is the second largest settlement on the Island of Hvar and well known for its important harbor. Overnight stay in Stari Grad.
DAY 2: Islands of Hvar and Vis, (aprx. 12.5 mi./20 km + 15 mi./22 km)
Today's first cycle tour leads along the almost traffic free pass road through nicely set small villages. After breakfast in Stari Grad we do a second cycle tour to the quaint harbors of Jelsa and Vrboska. Afterwards return to Stari Grad, which has become a Mecca for artists and art lovers in the past few years. A second cycle tour leads to the islands capital Hvar, where you visit the magnificent Renaissance Square and enjoy the view at the Spanish Fortress which is situated high above the city. Hop on board again and cross over to Vis Island at about 6 pm. Overnight stay on Vis.
DAY 3: Islands of Vis, (aprx. 20 mi./32 km) 
Vis is the furthermost island from mainland Croatia. A Greek colony called Issa has been on the island 2,300 years ago. Due to its strategic location it was a military zone until 1995 and prohibited for foreign tourists. Today we have the opportunity to explore the lovely island by bicycle. After cycling the boat takes us to the Island of Korčula. Overnight stay in Vela Luka.
DAY 4: Islands of Korcula, 30 mi. (48 km)
Today you discover the island of Korcula by bicycle and enjoy a lunch break in one of the local restaurants. The calmness and remoteness of the vast vegetation and cypress gardens have given the shape to one of the most beautiful Dalmatian island's. Your cycle tour leads via the village of Blato, like Rome, built on seven hills, along a pass road across Pupnat bay and finally to Korcula town where you have time to take a walk through the wonderful old town with its narrow fishbown like alleys. Overnight stay in Korcula town. 
DAY 5: Islands of  Hvar, 28 mi. (45 km) 
Cruise to the island of Hvar once more and go ashore in Sućuraj, which is a very unique, picturesque little fishing village at the easternmost tip of the island of Hvar. Dalmatia mainland is almost within one's reach. Todays cycle tour leads along the long-drawn-out island till Jelsa, where the ship is expecting you for another cruise. Overnight stay in Omiš.
DAY 6: Omiš - Split (aprx. 19 or 27 mi./30 or 43 km)
You cycle from Omiš through the valley of the Cetina River which is surrounded by steep rocks. After 12.5 mi./20 km you have the option to take part on a four hours rafting tour on the Cetina River (not included in the tour price) and afterwards a small cycle tour of about 6.2 mi./10 km back to the boat - or to expand the cycling tour (no rafting) to 27 mi./43 km along small side roads and versatile landscapes until reaching Omiš and its pirate castles. In the afternoon the ship takes you to Split. The old town of Split, built adjoining the famous palace of the Roman Caesar Diocletian, is a world heritage site. Overnight stay in Split.
 DAY  7: Šolta , 12 mi. (19 km)
After a short crossing to Stomorska, on the island of Solta, you depart for the last bicycle tour. Walled fields, numerous olive groves, and carob and fig trees line the road. The spicy smell of lavender and rosemary accompany you during your tour around the island. In Maslinica, you will load the bikes and enjoy the last crossing back to Trogir. In Trogir you have enough time to visit the old city- a World Heritage Site. Traditionally the last evening before disembarkation is spent cheerfully with guests, crew and guides.
DAY 8:  Disembarkation at Trogir
Your Croatia bike tour will end after breakfast, individual departure.
Please note:  Tour operator reserves the right to make changes to the planned route due to changing wind and weather conditions and when required by organizational necessities.
View all our featured bike trips, specials, and news.  Final, be sure to check out our full list of bike and boat tours.  
Email or Call 800-951-4384 +1 570-965-2064
---
Southern Dalmatia Plus
Boats + Barges
Melody Croatia Comfort Plus Class Boat Built in 2014/2015, the 42 m long and 8,30 m wide Melody is a floating deluxe hotel, crafted for excellence. The exquisite décor and elegant form conjure a regenerative atmosphere for the comfort of small groups of up to 31 people. The 15 capacious guest cabins are characterized by a high-class interior with air conditioning, private baths, and safe. Relaxation is limitless on the spacious sundeck, in the wellness room or in the jacuzzi on the top deck. Eight crew members are registered under captain Pave to cater for the wellbeing of the passengers on board.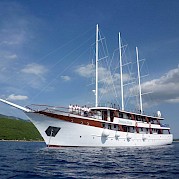 Princess Diana Croatia Comfort Plus Class Boat At 40 x 8.5m the Princess Diana is a 3-masted deluxe class motor yacht that was launched in 2011. This ship is the princess of the Croatian fleet, an epitome of pure elegance. 16 spacious guest cabins with air conditioning, shower cabins and WC are at your disposal. The spacious salon as well as the canopied deck, with upholstered seating, are situated on the top deck. You're invited to play music on the piano and to relax to your heart's content. You will find sun mats and deckchairs on deck. The jacuzzi on the top deck is a highlight with its 360° panoramic view.