4.3

/

5

(

4

ratings)
Southern Dalmatia Plus
Croatia Bike + Barge Tours
Bike Croatia and its southern islands!
We are so excited to be offering this tour Southern Dalmatia Plus that are specially designed for cyclists who desire electric bikes. If you have always desired to cycle in Croatia but have worried about the mountainous terrain, you need worry no longer. You can bike Croatia and will conquer the hills with a little help! You will not be denied the breathtaking views that these mountain climbs provide. The E-bikes used on these tours are top quality Swiss Flyers and have been described as having a constant tailwind at your back. There are 1185 Islands, islets and rocks protecting the Croatian Coast. They are the remains of old mountains engulfed by the sea during the last ice age, their summits running parallel to the coast, separated by channels of turquoise sea. These isles, like pearls in the middle of the crystal clear water, are mostly uninhibited. Out of the 1185 islands only 66 are populated.
Dalmatia is a region located along the eastern coast of the Adriatic Sea in Croatia. It has become a very popular destination in recent years. Tourism in Dalmatia has been rising due to its many spectacular beaches, the tempting waters of the Adriatic, the many coves, islands, and channels, as well as national parks and favorable climate. The wonderful bike routes on this tour in Southern Dalmatia, the smallest and most sparsely populated region in Croatia, will take you past unique little towns and through the beautiful island countryside
The islands of Hyar, Vis, Solta, Hvar and Korcula, the mainland and the culture will be featured. The cycle tours will be longer than the itineraries of the other Dalmatia tours we offer and therefore can also be appealing to the hybrid cyclist who desires a challenge.
Be sure to check out all our bike tours in Croatia!
Tour
Dates
On Comfort Plus boats: 
Princess Diana: June 25, July 9, August 27, September 24, October 8, and October 22, 2016
Melody: July 2, August 6, August 20, September 17, October 1, and October 15, 2016
2017 DATES
On Comfort Plus boats: 
Princess Diana: April 15 & 29; May 13 & 27; June 10 & 24; July 8; August 26;  September 9 & 23;  October 7 & 21, 2017
Melody: May 6 & 20 ; June 3 & 17; July 1, 15 & 22;  August 5 & 19;  September 2, 16 & 30;  October 14, 2017
Skill
Level
This Croatia bike tour requires a basic level of fitness acquired from steady cycling. The tours will traverse heights of between 200 and 500 m with daily distances ranging between 20 to 55 km through mountainous terrain. Tours can be completed without any time-constraints. Participants will need to master long and steep climbs which present no problem with the use of the E-bikes. Streets are mostly asphalted with little traffic. You can choose each day to cycle on your own with the maps and information provided or to join the two tour guides and group.
Where
You'll Stay
Aboard the Melody or the Princess Diana, both Comfort Plus boats.
What's
Included
8 days/7 nights accommodations in double cabin
4 x full board, 3 x half board
English speaking tour guide
7 guided cycling tours as described in itinerary
Bed linen and towels
Daily cycling route maps
Limited number of helmets available
Electric bicycle with 8 gear hub shifting equipped with pannier
21 speed hybrid bicycle also available (discount available, see pricing) equipped with pannier
What's
Not Included
Individual travel to embarkation point
Visitor's tax, local charges, and unlimited water on board and during cycling: €40 (€20 for children 16 and under) to be paid on board
Drinks on board (tally sheet is utilized)
Taxi transfer from Split airport to the ship in Trogir (one way approximately, €20)
Bicycle protection (€10 to €20/bike)
3-day Extension tours (see Extra Options, under Pricing)
Day-To-Day
Itinerary
2016 Itinerary
Day 1: Trogir – Split (20 km) 
Day 2: Cetina Cañón & Hvar (25 to 45 km)
Day 3: Islands of Hvar & Korčula (25 o 45 km)  
Day 4: Korčula Island, (48 km)
Day 5: Islands of Vis & Hvar (32 km) 
Day 6: Islands  Hvar & Brač, (35 km)
Day 7: Šolta Island – Trogir (19 km)
Day 8: Disembarkation at Trogir
2017 Itinerary
Day 1: Trogir - Hvar Island, by boat 
Day 2: Islands of Hyar and Vis (aprx. 12.5 mi./20 km + 15 mi./22 km)
Day 3: Vis Island (aprx. 20 mi./32 km) 
Day 4: Islands of Korcula, 29 mi. (48 km)
Day 5: Hvar Island (aprx. 28 mi./ 45 km)
Day 6: Omiš - Split (aprx. 19 or 27 mi./30 or 43 km)
Day 7: Šolta Island, 12 mi. (19 km)
Day 8: Disembarkation at Trogir
*All distances are approximate. The above planned itinerary is subject to change due to changing wind and weather conditions and other unforeseen circumstances having to do with mooring requirements, etc.
DAY 1: Trogir - Hvar Island, by boat
Individual arrival to Split airport which is about 5 km/3 mi. away from the harbor of Trogir. Check-in on the boat is between 2pm - 2:30pm. The ship leaves Trogir around 3pm. Stari Grad is the second largest settlement on the Island of Hvar and well known for its important harbour. Overnight stay in Stari Grad..
DAY 2: Islands of Hvar and Vis, (aprx. 12.5 mi./20 km + 15 mi./22 km)
Today's first cycle tour leads us along the almost traffic free pass road through nicely set small villages. After breakfast in Stari Grad we do a second cycle tour to the quaint harbors of Jelsa and Vrboska.Afterwards we return to Stari Grad, which has become a Mecca for artists and art lovers in the past few years. A second cycle tour leads us to the islands capital Hvar, where we visit the magnificent Renaissance Square and enjoy the view at the Spanish Fortress which is situated high above the city. We hop on board again and cross over to Vis Island at about 6 pm. Overnight stay on Vis.
DAY 3: Islands of Vis, (aprx. 20 mi./32 km) 
Vis is the furthermost island from mainland Croatia. A Greek colony called Issa has been on the island 2,300 years ago. Due to its strategic location it was a military zone until 1995 and prohibited for foreign tourists. Today we have the opportunity to explore the lovely island by bicycle. After cycling the boat takes us to the Island of Korčula. Overnight stay in Vela Luka.
DAY 4: Islands of Korcula, 29 mi. (48 km)
On today's cycle tour you will get to know another part of the Island of Korcula. Starting from Prigradica, you will experience the silence and remoteness on one of the  most beautiful islands of Dalmatia. Lunch will take place in a typical dalmatian Konoba on the island. Following lunch, you will cycle back to the sea to Račišće. The boat will await  to cross over to the town of Korcula where there will be ample opportunity to explore this main town on the island. It is a typical medieval walled Dalmatian city, with its round defensive towers and cluster of red-roofed houses.
DAY 5: Islands of  Hvar, 28 mi. (45 km) 
We cruise to the island of Hvar once more and go ashore in Sućuraj, which is avery unique, picturesque little fishing village at the easternmost tip of the island of Hvar. Dalmatia mainland is almost within one's reach. Todays cycle tour leads us along the long-drawn-out island till Jelsa, where the ship is expecting us for another cruise. Overnight stay in Omiš.
DAY 6: Omiš - Split (aprx. 19 or 27 mi./30 or 43 km)
We cycle from Omiš through the valley of the Cetina River which is surrounded by steep rocks. After 12.5 mi./20 km we have the choice to take part on a four hours rafting tour on the Cetina River (not included in the tour price) and afterwards a small cycle tour of about 6.2 mi./ 10 km back to the boat - or to expand the cycling tour (no rafting) to 27 mi./43 km along small side roads and versatile landscapes until reaching Omiš and its pirate castles. In the afternoon our ship takes us to Split. The old town of Split, built adjoining the famous palace of the Roman Caesar Diocletian, is a world heritage site. Overnight stay in Split.
 DAY  7: Šolta , 12 mi. (19 km)
After a short crossing to Stomorska, on the island of Solta, you depart for the last bicycle tour. Walled fields, numerous olive groves, and carob and fig trees line the road. The spicy smell of lavender and rosemary accompany you during your tour around the island. In Maslinica, you will load the bikes and enjoy the last crossing back to Trogir. In Trogir we have enough time to visit the old city- a World Heritage Site. Traditionally the last evening before disembarkation is spent cheerfully with guests, crew and guides.
DAY 8:  Disembarkation at Trogir
Your Croatia bike tour will end after breakfast, individual departure.
Please note:  Tour operator reserves the right to make changes to the planned route due to changing wind and weather conditions and when required by organizational necessities.
View all our featured bike trips, specials, and news.  Finall, be sure to check out our full list of bike and boat tours.  
Email or Call 800-951-4384 +1 570-965-2064
---
Southern Dalmatia Plus
Boats + Barges
Melody Croatia Comfort Plus Class Boat The Melody is a brand new boat launched in the 2015 season. Measuring 42 m long x 8.30 m wide, it is a ship of class and style, crafted for the regeneration of body and mind. Her exquisite décor and elegant form conjure a regenerative atmosphere for the comfort of small groups of up to 28 people. Eight highly experienced crew members are registered under Captain Pave to cater for the well-being of the passengers on board.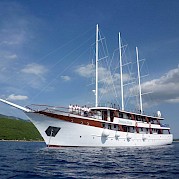 Princess Diana Croatia Comfort Plus Class Boat Built in the winter of 2011/2012, this 3-masted elegant motor yacht is the biggest boat we offer in Croatia. The saloon will offer enough space for everyone during evening meals, but you may also choose to enjoy your meal outside. A sun-bathing platform is available at the stern – offering an easy access for swimming in the sea! For relaxation, numerous sun mats and beds are available on the sundeck. The friendly crew will always help you to enjoy your Croatian vacation as much as possible!