4.9

/

5

(

9

ratings)
Super Tulip Tour
The ultimate Dutch tulip bike tour!
Tulips by bike and boat! This Super Tulip Tour is totally dedicated to the beautiful tulip. You will bike Holland through acres of spring flowers and tulips, learn all about growing tulips in a tulip park and of course you will visit the Keukenhof, the garden of the world.

Highlights:

Cycling through the bulb fields
Keukenhof, the best day out among the flowers!
Flower auction at Aalsmeer
Windmills Zaanse Schans

Be sure to check out all of our Bike and Barge tours in Holland.

Zwaan

 
All seasons
Luxury double cabin

£

1341

$

2,972

€

1578

$

2378

NOK

14860

kr

13716

$

1,783

Twin cabin

£

1205

$

2,671

€

1418

$

2136

NOK

13353

kr

12326

$

1,602

Triple cabin

£

1171

$

2,595

€

1378

$

2076

NOK

12976

kr

11978

$

1,557

Small double cabin/front of the boat

£

1051

$

2,330

€

1237

$

1864

NOK

11648

kr

10752

$

1,398

Small double cabin/single us/front of the boat

£

1515

$

3,358

€

1783

$

2686

NOK

16790

kr

15498

$

2,015

Anna Antal

 
Standard season
High season
Twin cabin (comfort)

£

1005

$

2,227

€

1183

$

1782

NOK

11135

kr

10279

$

1,336

£

1094

$

2,425

€

1288

$

1940

NOK

12124

kr

11191

$

1,455

Bunk bed cabin (standard plus) for twin use

£

864

$

1,916

€

1018

$

1533

NOK

9581

kr

8844

$

1,150

£

941

$

2,086

€

1108

$

1669

NOK

10429

kr

9627

$

1,251

Bunk bed cabin for single use

£

1073

$

2,378

€

1263

$

1902

NOK

11889

kr

10974

$

1,427

£

1166

$

2,585

€

1373

$

2068

NOK

12924

kr

11930

$

1,551

Clair de Lune

 
Standard season
High Season
Double bed cabin

£

962

$

2,133

€

1133

$

1706

NOK

10664

kr

9844

$

1,280

£

1047

$

2,321

€

1233

$

1857

NOK

11606

kr

10713

$

1,393

Split level bed cabin

£

962

$

2,133

€

1133

$

1706

NOK

10664

kr

9844

$

1,280

£

1047

$

2,321

€

1233

$

1857

NOK

11606

kr

10713

$

1,393

Single cabin

£

1090

$

2,415

€

1283

$

1932

NOK

12077

kr

11148

$

1,449

£

1221

$

2,707

€

1438

$

2166

NOK

13536

kr

12495

$

1,624

Feniks

Luxury twin cabin: £ 1340 $ 2,971 € 1578 $ 2377 NOK 14855 kr 13712 $ 1,783

Twin cabin: £ 1158 $ 2,566 € 1363 $ 2053 NOK 12830 kr 11843 $ 1,540

Bunk bed cabin, single use: £ 1425 $ 3,159 € 1678 $ 2527 NOK 15796 kr 14581 $ 1,896

Bunk bed cabin: £ 1000 $ 2,218 € 1178 $ 1774 NOK 11088 kr 10235 $ 1,331

extra

options

Electric bicycle rental (including helmet): £ 70 $ 155 € 83 $ 124 NOK 777 kr 717 $ 93 Hybrid bike protection: £ 8 $ 19 € 10 $ 15 NOK 94 kr 87 $ 11 Electric bike protection: £ 17 $ 38 € 20 $ 30 NOK 188 kr 174 $ 23 Set of bike maps (advanced reservation required, cannot be purchased on board: £ 18 $ 40 € 21 $ 32 NOK 198 kr 183 $ 24 Gluten-free diet: £ 42 $ 94 € 50 $ 75 NOK 471 kr 435 $ 57 Children's bike, trailers, bike seats, and discounts available for this tour
Discounts available for children. Ask us for details

please

note

Pricing is based on fuel costs as of May 2019. If the fuel cost increase 5%, additional fees may apply (even for reservations already booked).

Rates are per person based on double occupancy.

Information to read before you book.

We recommend purchasing bike trip insurance.

† Currency exchange rate set 90 days before travel.

Travel

Fly to Amsterdam International Airport.

Local Travel

Short train ride from Amsterdam airport to Amsterdam central. Trains are accessed in lower level of airport.

Climate

Please check local conditions prior to arrival. Holland is near or below sea level and experiences a Maritime climate influenced by the North Sea and the Atlantic Ocean with relatively mild winters and summers that are not too hot. Holland has the perfect climate and soil for the Tulips. Average high/low temp in °F for Amsterdam in April is 53°/41º and May 61°/46º.

Recommended

Amsterdam City Card Amsterdam Museum Card

Remarks

Please note: tulip season in Holland extends from the end of March to the middle of May but is dependent on temperatures and the weather.

Travel documents:

Before you travel, please check your country's passport and visa requirements and the passport and visa requirements of the country/countries you plan to visit. For US citizens, the US Department of State website is a good source of information. The Country Information tab in the International Travel section provides details about passport validity, blank passport pages required, etc. For our other international clients, please be sure that you research your own country's travel requirements. It is each traveler's responsibility to ensure proper documentation.

*Important note: Beginning July 1, 2021, additional documentation from the European Travel Information and Authorization System (ETIAS) will be required to visit any of the 26 Schengen-member countries for tourism, business, medical, or transit. This is an additional check on security rather than a visa.

---
Tour
Dates
Comfort Class
Zwaan
Standard season: March 28, April 4, and May 2, 2020 
High season: April 11, April 18 and April 25, 2020
Feniks
April 11, 2020
STANDARD CLASS
Clair de Lune
Standard season: April 4, 2020
High season: April 11 and April 18, 2020
Anna Antal
Standard season: April 4, 2020
High season: April 18 and April 25, 2020
Where
You'll Stay
Aboard the Standard class ships, Anna Antal or Clair de Lune, or the Comfort class ships, Zwaan or Feniks.
What's
Included
7 nights accommodation on board
Breakfasts, packed lunches, and 3-course dinners
Coffee and tea on board
Tour guide
Minimum 3 city walks with tour guide
Route information
Road book (1 per cabin)
Entrance fee for the Keukenhof and flower auction
Ferry fares on the route
Free WiFi available (up to 100 MB) in lounge and on deck. (Surcharge for more MB)
GPS tracks on request
24-speed hybrid bicycle with pannier bags, lock, water bottle, and helmet
What's
Not Included
Beverages (incl. alcohol), available on board
Museum entrance fees (approx. €15)
Maps for self-guided option (please see pricing)
Extra
Stay
Extra nights in Amsterdam.
Skill
Level
Easy, guided bike and boat tour on flat terrain in Europe's most bike friendly country!
Tour
Boats
Day-To-Day
Itinerary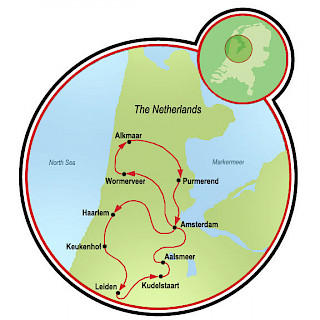 Day 1: Arrival in Amsterdam. Embarkation between 1 and 2 pm near Central Station. Cruising to Spaarndam and cycling to Haarlem, 9 miles (15 km)
Day 2: Harlem - Keukenhof - Leiden, 25 miles (40 km)
Day 3: Leiden - Kudelstaart, 28 miles (45 km)
Day 4: Visit to flower auction. Cruising to Amsterdam. Cycling to Wormerveer via Zaanse Schans, 28 miles (45 km)
Day 5:  Wormerveer - Alkmaar, 28 miles (45 km)
Day 6: Alkmaar - Purmerend, 22 miles (35 km)
Day 7: Purmerend - Amsterdam, 13 or 22 miles (20 or 35 km)
Day 8: Departure from Amsterdam
*All distances are approximate. The above-planned itinerary is subject to change, even at very short notice,  due to changing wind and weather conditions and other unforeseen circumstances having to do with mooring requirements, etc.
Day 1: Arrival in Amsterdam. Embarkation between 1 and 2 PM near Central Station. Cruising to Spaarndam and cycling to Haarlem, 9 miles (15 km)
After arrival on board the barge, you can put your luggage away in your cabin and then enjoy a cup of coffee or tea. It is also a good moment to become acquainted with the guide, skipper and crew, and of course your fellow passengers. You are asked to be on board no later than 2 pm.  At 2:15 pm the barge sets off for Spaarndam, also known as the village of Hansje Brinker. From here, take an easy ride into the city of Haarlem. This city, which rendered its name to Harlem, New York, is a lively city with good shopping possibilities. At the same time, there are many interesting 17th-century sights here. Back on board, after the bike ride, the program for the next day and the rest of the week will be explained to you at dinner time.
Day 2: Harlem - Keukenhof - Leiden, 25 miles (40 km)
Today's route leads you through the oldest tulip fields of Holland, including a visit of the Keukenhof gardens, the most beautiful spring park in the world. The Keukenhof is an overwhelming blaze of colors, seven million flowering tulips in a magnificent 80-acres' background of traditional and modern gardening architecture. (Tickets are included in the tour price.) You also can admire the various hyacinths and many other colorful flowers. You spend the night in Leiden, which is a historic city with many little courtyards, façades, and historical buildings built between the 15th and 18th century. Leiden, meaning 'built on waters', came into existence around 800 AD as a market place at the confluence of the rivers Old and New Rhine, the Vliet and the Mare. It was a center for the medieval linen industry. For a long time, it was second only to Amsterdam in importance. Leiden is also the city where Rembrandt van Rijn was born.
Day 3: Leiden - Kudelstaart, 28 miles (45 km)
Today you bike from Leiden to Kudelstaart, a small town bordered by the Westeinderplassen, around the Haarlemmermeer. You will go right through the green heart of Holland, an area with small cycle paths, lakes, small rivers, and cows. 
Day 4: Visit to flower auction. Cruising to Amsterdam. Cycling to Zaanse Schans - Wormerveer, 28 miles (45 km)
In the early morning, you can visit one of the many flower auctions in Aalsmeer. Everyday 'Bloemenveiling Aalsmeer' sets the world price for flowers and plants. This happens by bringing supply and demand together by means of the auction clock- a fascinating process during which large and small batches of flowers are sold within fractions of seconds. As a visitor to Bloemenveiling Aalsmeer, you will walk over a specially designed gallery, enjoy the gorgeous flowers, and experience the hustle and bustle of the auction. The flowers and plants that are sold at the auctions are exported all over the world, a wonder of logistics. Later you will have breakfast while sailing in the direction of Amsterdam.
Between the Schiphol and the city, you disembark to continue your tour by bike along the river Amstel and right into the city. A ferry will transport you to the other side of the river 'IJ'. Here you leave the city behind and continue your tour through lush green polders towards the world famous hamlet of Zaanse Schans. A unique place where people live and work, with original houses and windmills from the river Zaan area.
Day 5: Wormerveer - Alkmaar, 28 miles (45 km)
From Wormerveer you will cycle to and through the most beautiful dunes of the Netherlands and if weather permits, you may like to swim in the North Sea during your lunch break at the beach. Today's overnight stay is in cheese town Alkmaar, a historic, lively city with many quaint shops. A little less than 400 heritage sites, canals, and harbor dominate the townscape. 
Day 6: Alkmaar - Purmerend, 22 miles (35 km)
Today you'll cycle into the polder landscape of the Beemster and Purmer, part of a big green polder area. The Beemster Polder, dating from the early 17th century, is an exceptional example of reclaimed land in the Netherlands. Its well-ordered landscape of fields, roads, canals, dikes, and settlements are all laid out in accordance with classical and Renaissance planning principles. Also on the agenda is a visit to one of the big water mills at the Rijp. Graft and De Rijp are two proud, typical 17th-century villages that enjoyed great prosperity at the height of the fishing and whaling industries. You spend the night in Purmerend.
Day 7: Purmerend - Amsterdam,  22 miles (35 km)
Purmerend lies at the edge of an area called 'Waterland' where roads and water are nearly on the same level. Visit the nice village of Zunderdorp and Ransdorp. Those that wish to lengthen today's route can cycle the long route to Edam and Volendam and if time permits, you can cross the lake Gouwzee to admire the traditional fisherman's village, Marken, with its typical wooden houses. 
The day ends in Amsterdam.
Day 8: Departure from Amsterdam
Disembarkation by 10 am.
You can view all of our bike and boat tours or look at our featured bike trips, specials, and news.
Email or Call 800-951-4384 +1 570-965-2064
---
Super Tulip Tour
Boats + Barges