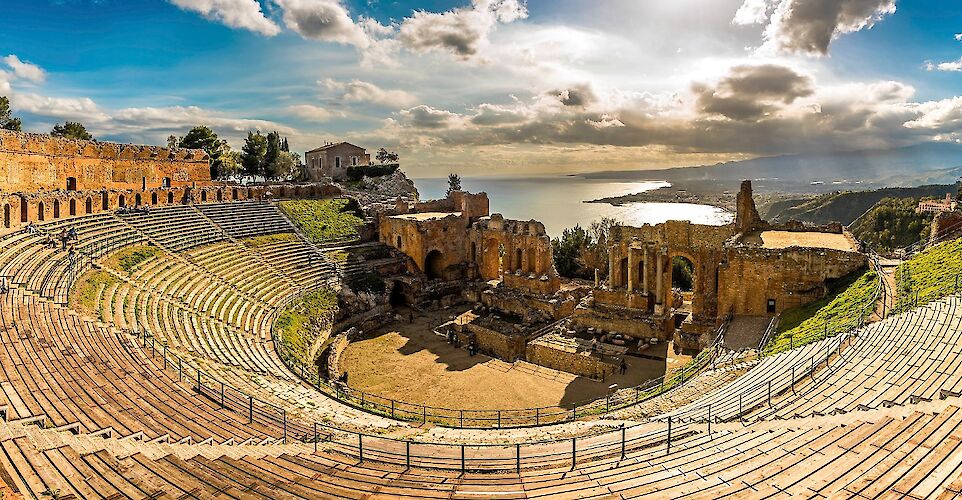 The Aeolian Islands of Sicily
Experience crystal clear waters & the ancient volcanic islands of Sicily by biking & walking!
Overview

Prepare to be captivated by the stunning Aeolian Islands off the northeastern coast of Sicily. On this multi-adventure boat tour aboard a traditional Turkish Caique, you'll discover rich volcanic lands designated as a UNESCO World Heritage site.

You'll start and end in Milazzo; more than just a gateway to the Islands, this town boasts its own seaside vineyard and medieval Norman castle. On Panarea, the smallest island, the stunning contrast of dark, jagged cliffs against turquoise waters will leave you breathless. Stromboli's ongoing volcanic activity allows Mother Nature to take center stage as she demonstrates her power. Finally, in Salina, you can't miss tasting a traditional Sicilian granita.

There is so much more to see and do in between, so why not take advantage of the extension and see more of Sicily? The Tyrrhenian Sea beckons!

Highlights

Panarea, with its impressive rocky ridges
Cycling & walking on volcanic islands
UNESCO World Heritage Sites
Explosive activity on the island of Stromboli
The mud baths of Vulcano
Delicious Sicilian granita

Be sure to check out all of our tours in Italy!

Itinerary

Day 1: Arrival in Milazzo
Day 2: Milazzo, cycling 9.4 mi. (15 km)
Day 3: Milazzo - Vulcano Island | Roundtrip Vulcano, cycling 12.7 mi. (20 km)
Day 4: Vulcano - Panarea - Stromboli, 3h30min walking
Day 5: Stromboli - Panarea, 2h30min walking | Panarea - Salina
Day 6: Salina, 12.7 mi. (20 km) | Salina - Lipari
Day 7: Lipari, 16 mi. (25 km) | Lipari - Milazzo
Day 8: Departure from Milazzo
Optional hotel extension
Day 8: Milazzo Porto – Villafranca Tirrena | Villafranca Tirrena – Messina, 25 mi. (40 km)
Day 9: Messina - Giampilieri Marina | Giampilieri Marina - Taormina, 22 mi. (35 km)
Day 10: Taormina - Alcantara Gorge - Riposto | Riposto - Catania, 27 mi. (43 km)
Day 11: Departure from Catania

Parts that are printed in italics parts will be covered by the ship.

Day 1: Arrival in Milazzo
At 3:30 pm there is a transfer from Catania Airport to the Sundial, your floating hotel for the next week. 

Official embarkation is at 6 pm at the Marina di Nettuno in Milazzo. Get to know the crew and your fellow travelers with a welcome drink, dinner, and a presentation of the tour. Your first night will be spent in the harbor of Milazzo.

Day 2: Milazzo, cycling 9.4 mi. (15 km)
Your first cycle tour on the Aeolian Islands begins! You'll pedal towards Capo Milazzo, where the "Venus Pool" invites you for a refreshing dip. You'll return to Milazzo to visit the ancient castle and hamlet. Once again, you will overnight in Milazzo harbor. 

Day 3: Milazzo - Vulcano Island | Roundtrip Vulcano, cycling 12.7 mi. (20 km)
The Sundial will navigate toward the island of Vulcano, known as "Sulphur Island", where you'll bike around Piano Grillo. This is the best place on the island to admire the incredible landscape. You'll have some free time in the afternoon to walk up to the crater of the volcano, take a mud bath, or even swim underwater in the volcanic vents. There is a plethora of exciting things to do here!

You will overnight in the harbor of Vulcano. 

Day 4: Vulcano - Panarea - Stromboli, 3h30min walking
After breakfast, you'll head toward Panarea, stopping for a quick swim close to the little islands of Lisca Bianca, Bottara, and Dattilo. The volcanic activity in this region is evident. Upon arriving at Panarea, the smallest inhabited island of this chain, you'll enjoy lunch on board in a scenic bay. The boat will then head to Stromboli, where you'll get a remarkable view of the Sciara del Fuoco, the blackened laval scar that runs down the mountain, and where red-hot lava can still be seen flowing during active periods.

At dusk, you'll walk 1,312 ft above sea level to admire this scene, before eating a picnic dinner at a panoramic viewpoint. Tonight, you'll stay in a sheltered anchorage at Stromboli.

Day 5: Stromboli - Panarea, 2h30min walking | Panarea - Salina
This morning, the boat will navigate back towards Panarea. After dropping anchor in the bay of Porto San Pietro, a pleasant walk will bring you to Drautto Beach with its prehistoric village. You'll stop for a picnic lunch at Cala Junco before returning to the Sundial. You'll continue to the island of Salina, where you are certain to find souvenirs for your friends and family in the local shop. The night is spent in the harbor of Salina. 

Day 6: Salina, 12.7 mi. (20 km) | Salina - Lipari
Today you'll discover the island of Salina by bike. You'll ride from Santa Marina on the east coast to Pollara on the west coast, where you'll also visit the lake of Lingua. The beach in Pollara is supposedly one of the most beautiful in all the Aeolian Islands. Be sure to try a refreshing granita while you're there! 

Making your way back on board, the Sundial will sail to Lipari, where you can stroll around its charming village. You'll spend the night in the harbor of Lipari.

Day 7: Lipari, 16 mi. (25 km) | Lipari - Milazzo
More coast-to-coast riding awaits on your last day of cycling. Starting from the hamlet of Lipari, you will pass the picturesque village of Canneto, home to a stunning beach that invites you for a swim. Your picnic lunch will be enjoyed at the panoramic viewing point at Quattrocchi before returning to Lipari's historical center. Take a second to peruse this lively place once more before boarding the boat once again for your last overnight stop in Milazzo. Dinner will be enjoyed at one of Milazzo's many restaurants. 

Day 8: Departure from Milazzo
Check-out at 9 am after breakfast. A collective transfer to Catania Airport will bring you to the airport at approximately mid-day. Please plan your flights accordingly.

All distances are approximate. The itinerary is subject to change due to unforeseen circumstances, including but not limited to weather, last-minute mooring changes, and restructuring of locks or bridges

Optional Hotel Extension

Day 8: Milazzo Porto - Villafranca Tirrena | Villafranca Tirrena - Messina, 25 mi. (40 km)
After departing from the Sundial, you will be transported by minivan from Milazzo Porto to Villafranca Tirrena.

Upon arrival in Villafranca, you'll pick up your bike to start cycling self-guided with the help of a digital roadbook. You'll follow the entire northeast coast of Sicily, passing through the Calamona pine forest and the small village of Spartà. Eventually, you'll reach Capo Peloro and Torre Faro. Enjoy another granita, a delicious frozen dessert. 

Departing from Torre Faro in the direction of Messina, you'll stop to admire the protected nature reserve of Ganzirri and Faro Lakes. Next, you'll take a dedicated cycling path towards the city center, reaching the market square which is home to the largest astronomical clocks in the world and a charming cathedral. Your B&B awaits, a perfect place to rest and relax after the day's journey!

Dinner is not included, so you can try a local restaurant in Messina

Preferred Hotel:
Emme B&B

Day 9: Messina - Giampilieri Marina | Giampilieri Marina - Taormina, 22 mi. (35 km)
This morning you can enjoy breakfast at the "Delia" bar affiliated with the B&B. Afterward, you will be transferred by minivan to Giampilieri Marina.

After receiving your bike, you'll start pedaling to Taormina. Following old state route 114, you'll cycle through Capo Alì and countless seafront villages of the Ionian Coast until reaching the Castle of Capo Sant'Alessio. Sant'Alessio Castle was first mentioned in 1117 when it was part of a large donation of land to a monastery. The castle was in use as late as WWII when it was occupied by German troops who installed anti-aircraft guns. 

A descent will bring you finally to Taormina and Mazzarò Beach, near the legendary Mount Etna. Dinner is not included. 

Preferred Hotel:
Hotel Baia Azzurra Taormina

Day 10: Taormina - Alcantara Gorge - Riposto | Riposto - Catania, 27 mi. (43 km)
After breakfast at the hotel, you'll get on your bike once more to cycle from Taormina to the Alcantara Gorges. You'll leave the coast to visit Alcantara Gorge Natural Fluvial Park. In addition to enjoying lunch, you can descend into the Gorge and, depending on the weather, can take a dip in the Alcantara River and sit on its small beach. 

On the way back, you'll reach the seafront beach of Marina Cottone and eventually, the town of Riposto, where a visit to the fish market is recommended. You'll turn your bike in for a final private transfer from Riposto to Catania, where you'll have the afternoon to visit the historic center. 

Dinner is not included. 

Preferred Hotel:
La Collegiata Hotel

Day 11: Departure from Catania
After a final breakfast, your tour in Sicily comes to an end. Transfer from your hotel in Catania to Catania Airport (flight details needed to confirm!).

Boats

You will stay aboard a traditional Turkish Caique, the Sundial, which was built using the ancient art of Turk shipwrights still in use today.

---

Standard

5 out of 5 (1 Review)

Standard Class Boat

The Sundial is a standard class Turkish Caique, constructed of pine and mahogany in the Vedat Sungul Shipyard in Bodrum, Turkey, using the ancient art of Turkish shipbuilding still in use. The boat has a spacious dinette, large solarium with comfortable beach mattresses, and on the stern deck, a wide and elegant lounge. Read More

Inclusions

What's Included

7 nights accommodation in air-conditioned cabin
7 breakfasts, packed lunches, and 6 dinners
Coffee and tea on board
Welcome drink
1/2 liter bottled water per person for lunch and water jars on the table at dinner
Collective bus transfer to and from Catania airport on arrival (3:30 pm) and departure day (9 am, arrival at airport around noon). Please let us know in advance if you want to use this transfer, flight details are needed to confirm!
Bed linen and towels (1 change per week)
Daily cleaning of the cabin
24-speed hybrid bicycle with aluminum frame. Equipped with waterproof pannier bag and rental helmet
Digital tour information
English-speaking tour leader
Fully-guided cycling and walking tours
Harbor charges
Wifi (only in the harbors, not while navigating!)
Carbon offset payment to the non-profit organization Justdiggit

Also Included in the Hotel Extension Program

3 nights in hotels with breakfast
Bike rental
Transfers with minivan as described in the itinerary
All city taxes
24-hour local assistance

What's Not Included

Individual arrival and departure to Catania Airport
1 dinner
Entrance fees & excursions (museum, parks, monuments)
Gratuities
Other transfers
Drinks on board
Bike protection
Extension program

Dates & Pricing

Dates

2024

May 4, May 11, May 18, May 25, June 1, September 14, September 21, September 28, October 5, October 12, 2024

Please Note

Rates are per person, based on double occupancy
Tour prices are based on the fuel costs at time prices are set, often months or years in advance. In rare cases, additional fees may apply for fuel cost increases.

Pricing

2024

Small double cabin

$

3800

£

2000

$

3,303

€

2249

kr

332943

₪

9288

¥

363030

Mex$

44980

NZ$

4109

NOK

26394

kr

27266

$

2,448

Double cabin

$

4307

£

2267

$

3,744

€

2549

kr

377355

₪

10527

¥

411455

Mex$

50980

NZ$

4657

NOK

29915

kr

30903

$

2,775

Small double for single use

$

5574

£

2934

$

4,845

€

3299

kr

488312

₪

13623

¥

532438

Mex$

65970

NZ$

6026

NOK

38711

kr

39990

$

3,591

Extra Options

Electric bike rental

$

186

£

98

$

162

€

110

kr

16284

₪

454

¥

17756

Mex$

2200

NZ$

201

NOK

1291

kr

1334

$

120

 

Optional extension program (4 days/3 nights) bookable for 2 people only

$

1012

£

533

$

880

€

599

kr

88676

₪

2474

¥

96690

Mex$

11980

NZ$

1094

NOK

7030

kr

7262

$

652

Extra Info

Airport Info

The closest international airport to your tour start is Catania-Fontanarossa Airport (CTA).

Local Travel

Transfers from the airport are included in the cost of the tour. In order to confirm these transfers, your flight details are required! Please keep in mind, on day 1 the arrival transfer is scheduled for 3:30 pm. On the last day, the departure transfer will return you to the airport by 12 pm.

Climate

Please check local conditions before your arrival. The climate in Sicily and its surrounding islands can be described as Mediterranean, with hot dry summers and mild, wet, winters. Therefore, the islands can be considered a year-round cycling destination.

Covid-19 Info

Country Entry Requirements

Due to the changing requirements for entry, it is imperative that you stay up to date on requirements set by the country/countries that you are visiting. Please visit our Travel Restrictions Tool page and the country/countries government webpage for this information.

Extra Stay

Consider taking part in the extension package on the island of Sicily! This self-guided extension includes 4 days and 3 nights of additional cycling with transfers to/from Catania Airport. See the day-to-day itinerary and pricing for more information.

---

Photos
Have you been on this tour?
Please leave your feedback