4.4

/

5

(

18

ratings)
Tulip Tour - 4 Day
Tulips and more tulips!
When the sun rises during Spring in the Netherlands, millions of eager bulbs also rise for the occasion. Acres upon endless acres of the most brilliantly exquisite tulips transform dozens of ordinary fields into a colorful kaleidoscope of hues. This 4-day spring bike and boat tour revolves around their peak season. The Tulips are not the only flower that bursts forth in full color. You will have the early crocuses, then, the daffodils and hyacinths will add to the palette.

You will visit the world famous Keukenhof (a park where over 7 million bulbs will bloom this spring, with a total of 800 varieties of tulips) as well as the world's largest flower auction in Aalsmeer.

Additional highlights include:

Visit to a Dutch cheese farm (only applies to certain itineraries)
Dutch windmills that decorate the expansive Dutch sky
Leiden (the quaint University town & famous birthplace of Rembrandt)
Haarlem, Amsterdam's "little sister city" adorned with some great examples of late Gothic architecture

A comprehensive list of all of our bike and barge tours in the Netherlands is here.

Flora:  $ 841 £ 438 $ 763 € 510 $ 876 kr 5462 $ 575

Special discounted price on April 9, 2019: $ 511 £ 266 $ 464 € 310 $ 533 kr 3320 $ 350

Single supplement: $ 247 £ 129 $ 224 € 150 $ 258 kr 1607 $ 169

 

Tijdgeest: $ 792 £ 412 $ 718 € 480 $ 825 kr 5141 $ 541

Special discounted price April 2 and April  6, 2019: $ 462 £ 240 $ 419 € 280 $ 481 kr 2999 $ 316

Single supplement: $ 247 £ 129 $ 224 € 150 $ 258 kr 1607 $ 169

 

 

extra

options

Electric bikes, Flora or Tijdgeest: available on request

Children's discount available!

please

note

Rates are per person based on double occupancy.

Information to read before you book.

We recommend purchasing bike trip insurance.

† Currency exchange rate set 90 days before travel.

Travel

Fly to Amsterdam.

Local Travel

Arrival at Amsterdam airport; short train ride to Amsterdam center where the ship is moored.

Climate

Check local weather conditions prior to departure. Be sure to bring a full rain suit. Average high temp in °F for April is 53, and May is 61.

Recommended

We highly recommend arriving a day early into Amsterdam. That way, in case your flight is delayed or cancelled, you won't miss the first day (and half of the second day) of the tour.

Remarks

Please be aware that you are part of an international group of people, but your tour guide and crew members will always speak English. Please note: tulip season in Holland extends from the end of March to the middle of May but is dependent on temperatures and the weather. Going early or late in the season may affect what is in bloom.

---
Tour
Dates
On the Comfort Class boats: 
Flora: April 6, April 9*, April 13, April 16, April 27, April 30, May 4, and May 7, 2019
On the Standard Plus boats: 
Tijdgeest: April 2*, April 6*, April 9, April 13, April 16, April 20, April 23, April 27, and April 30, 2019 
*Now being offered at significant discount. See pricing.
Where
You'll Stay
Comfort class boats, the Flora and the Standard Plus class boat the Tijdgeest
What's
Included
On the Flora or Tijdgeest
3 nights' accommodations on board ship
Hybrid bicycle equipped with pannier
Breakfasts, packed lunches, + 3-course dinners
Coffee & tea on board
Tour guide
Entrance to Aalsmeer flower auction
Entrance to a cheese farm & windmill
Excursion to the flower park, Keukenhof
Several city walks
What's
Not Included
Individual arrival to the boat
Beverages (incl. alcohol), but are available on board
Other museum entrance fees
Gratuities
Day-To-Day
Itinerary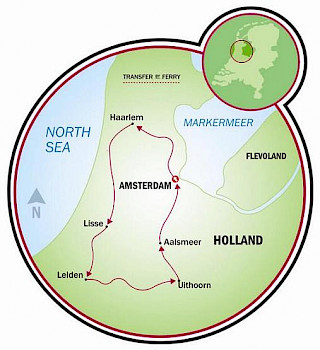 On the Flora or Tijdgeest:
Day 1: Arrival in Amsterdam. Cruise to Spaarndam; by bike Spaarndam - Haarlem, 6 mi. (10 km)
Day 2: Haarlem - Lisse (Keukenhof) - Leiden, 9 mi. (15 km)
Day 3: Leiden - Uithoorn, 19 mi. (30 km)
Day 4: Uithoorn - Aalsmeer - Amsterdam, 9 mi. (15 km), Departure
Day 1: Arrival in Amsterdam. Cruise to Spaarndam; by bike Spaarndam - Haarlem, 6 mi. (10 km)
After the embarkation in Amsterdam at 12:30, you'll be sailing to Spaarndam (beginning 1:30PM), the picturesque village of Hans Brinker. From here there is a short cycling trip to Haarlem. In the evening you your tour leader takes for a nice city walk through the old centre.
Day 2: Haarlem - Lisse (Keukenhof) - Leiden, 9 mi. (15 km)
Today you sail to Lisse here you disembark and cycle to the famous flower garden 'Keukenhof' for a visit. Here you see about 6 million tulips, hyacinths, daffodils and other flowers. After your visit, the cycle tour crosses the blossoming bulb fields and ends in Leiden.
Day 3: Leiden - Uithoorn, 19 mi. (30 km)
In the morning you will make a walkingtour through Leiden, the birthplace of Rembrandt.
Later you will cycle through the fine Dutch landscapes in the so-called Green Heart of Holland to Kudelstaart. During this cycle trip you will visit a traditional cheese farm and a miller will tell you about the history and working of his windmill.
Day 4: Uithoorn - Aalsmeer - Amsterdam, 9 mi. (15 km), Departure
You rise early, because you visit the world's biggest flower auction in Aalsmeer. Before leaving the barge you have to clear your cabin. After the visit you get back on board and sail back to Amsterdam. Disembarkation and end of tour around 12 noon.
*All distances are approximate. The above planned itinerary is subject to change due to changing wind and weather conditions and other unforeseen circumstances having to do with mooring requirements, etc
---------------------
TIME FOR TULIPS*
Holland truly is the land of bulbs, tulips and many other flowers. Every year, The Keukenhof has a huge horticultural exhibition. In addition, Aalsmeer is the location for the world's biggest Flower Auction Halls (and you will visit them!). Holland: the country where the magic blooms!
Every month of the year Holland surprises its visitors; the earliest bulbs have barely shown their faces, before pastel-hued fruit trees burst into bloom around mid-April. Hundreds of glorious gardens create a colorful atmosphere all over the country.
THE KEUKENHOF
Imagine... a day of complete enjoyment in a park filled with colorful tulips, daffodils and hyacinths in harmony with ancient trees, ponds and fountains. The perfect place to find a splendid spring sensation!
Keukenhof offers 80 acres in size for wonderful walks, with miles of paths leading to a variety of unusual gardens, including the Japanese Garden, the Nature Garden and the Historical Garden, a sources of inspiatiofor your own garden.
In 1830, the German landscape architect, Zocher, inspired by English landscapes, drafted the basic design for Keukenhof's park. In 1949, a group of prominent bulb growers and exporters came up with the idea to establish an outdoor display for the bulb-growing industry.
Each spring Keukenhof bursts with new energy and there are no less than 7 million bulbs about to bloom in different colors and scents. From the very first day of the opening it is possible to admire different, magnificent indoor flower exhibitions in four pavilions.
But Keukenhof offers more than just flowers... throughout the park, works of art by Dutch artists, both famous and less so, are on display, as well as exhibitions of paintings and photographs.
Opening hours are daily from  March 21 until May 19, 2019
The park will be open daily from 8 AM to 7:30 PM (ticket office closes at 6:00 PM).
To learn more about the Keukenhof, please visit  the Keukenhof web site. Click on the British flag for the English version.
* Time for Tulips and The Keukenhof information above is courtesy of the Netherlands Board of Tourism.
Looking for more?  View all of our featured bike and boat tours, or our full list of bicycle tours.
Email or Call 800-951-4384 +1 570-965-2064
---
Tulip Tour - 4 Day
Boats + Barges
Flora Netherlands Standard Class Boat The Flora, renovated during the winter of 2006/2007, is a well upgraded ship that is ready to receive new guests while sailing in the Netherlands.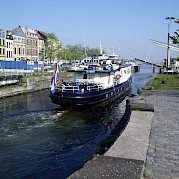 Tijdgeest Belgium, Netherlands Standard Class Boat Built in the year 1897, the Tijdgeest was one of the first passenger barges on the river Rhine in Germany. More than 100 years later, in 1998, the ship was completely renovated and rebuild into a hotel ship. On the lower deck you'll find the cabins, all with private facilities. A number of cabins have twin beds, while others use bunk beds. On the upper deck you'll find a very spacious living/dining room with panoramic view. An on-board computer is available for you to use.