4.9

/

5

(

16

reviews)
Tulip Tour - 7 day
A bike and boat tour during peak Tulip season!
The tulip has come to be a respected and treasured symbol in Holland and this seven-day bike and boat tour lets you experience them in all of their glory! The flower exhibition in Keukenhof will bring you up close and personal with these majestic flowers (and others!), and in Baskoop, you will cycle passed hundreds of horticulture nurseries. The tulips are only a fraction of what can be seen on this tour, though.

Other highlights:

Kinderdijk, the largest concentration of old windmills in the Netherlands
Gouda, city of cheese and candles
Haarlem, the oldest town in Holland
St. Bavo Cathedral
Lively university town of Leiden

Be sure to check out all of our Bike and Barge tours in Holland. If you are looking for a truly opulent tulip experience, check out the Luxury Tulip Bike Tour on the Aurora.

2020

April 4, April 11, and April 18, 2020: $ 2692 £ 1346 $ 2,324 € 1495 $ 2769 kr 16668 $ 1,647

Single bookings limited and on request 

2021

April 3 and April 10, 2021: $ 2854 £ 1427 $ 2,464 € 1585 $ 2936 kr 17672 $ 1,746 Single bookings on request

extra

options

2020 and 2021: Electric bike rental (rate is per day): $ 54 £ 27 $ 47 € 30 $ 56 kr 334 $ 33

please

note

Rates are per person based on double occupancy.

A non-refundable admin fee of 20 Euros per person is included in the deposit amount.

Information to read before you book.

We recommend purchasing bike trip insurance.

† Currency exchange rate set 90 days before travel.

Travel

Fly to Amsterdam International Airport, also known as Amsterdam Schiphol Airport (AMS).

Local Travel

From AMS airport, it is just a short train ride to Amsterdam Central Train Station, close to the center where the ship is moored. There is a direct train that leaves 6 times per hour from the airport to Amsterdam Central Station. It takes about 16 minutes. The price for a train ticket Schiphol-Amsterdam Central is € 4,20 per person for a single journey. Sometimes the mooring location is within walking distance or only a short taxi ride away. In your final travel information, we will also provide details regarding public transportation if necessary.

Climate

The Dutch have a saying "April doet wat hij wil". It means that April does whatever it wishes to do. Keep this in mind as you pack for your cycling holiday. Though cooler in April, the sun does shine on average 177 hours. Average high temperature is 55° F (12.8° C) and average low is 38° F (3.3° C). April is normally the driest month of the year but that does not mean it does not rain. Average rainfall is 1.8 inches (47 mm). Rain showers are common and frequent but not long. Plan to dress in layers!

Remarks

Electric bicycles are available for €30 per day, payable on board. Advanced reservation required. Helmets are available free of charge. Please note: tulip season in Holland extends from the end of March to the middle of May but peak blooming time is dependent on temperatures and the weather.

TRAVEL DOCUMENTS

Before you travel, please check your country's passport and visa requirements and the passport and visa requirements of the country/countries you plan to visit. For US citizens, the US Department of State website is a good source of information. The Country Information tab in the International Travel section provides details about passport validity, blank passport pages required, etc.

*Important note: Beginning July 1, 2021, additional documentation from the European Travel Information and Authorization System (ETIAS) will be required to visit any of the 26 Schengen-member countries for tourism, business, medical, or transit. This is an additional check on security rather than a visa.

---
Where
You'll Stay
You will be accommodated on the lovely Deluxe class boat, the Merlijn
What's
Included
Accommodations for 6 nights
Climate-controlled cabin
Welcome drink
Tour presentation
6 breakfast buffets, 5 packed lunches, and 5 three-course dinners
Coffee, tea, water, and hot chocolate
Tour guide
27-speed hybrid bike of the brand Sensa, a famed Dutch company. Bikes come equipped with hydraulic disc brakes, waterproof pannier, water bottle, towel, and universal helmet
Daily cabin cleaning
Entrance fee to the Keukenhof
Harbor fees
†Wifi
†Important to note, due to steel construction of the ship, cruising locations, and other factors, Wifi signal speed and strength may not be what you are accustomed to and may not meet your expectations. If you are dependent on a constant, strong, fast, and reliable signal at all times, please consider a personal hot spot. See our FAQ page.
What's
Not Included
One dinner
Drinks other than those mentioned as included
Entrance fees other than Keukenhof
Organized city tours
City maps
Bike maps
Gratuities
Extra
Stay
Always recommended in Amsterdam.
Day-To-Day
Itinerary
Day 1: Amsterdam - Utrecht
Day 2: Utrecht - Vianen - Schoonhoven 15 or 30 mi. (25 or 48 km, depending on weather conditions)
Day 3: Schoonhoven - Kinderdijk - Gouda, 33 mi. (53 km)
Day 4: Gouda - Leiden, 25 mi. (40 km)
Day 5: Leiden - Lisse - Keukenhof - Haarlem, 14 mi. (23 km)
Day 6: Haarlem - Amsterdam, 26 mi. (42 km)
Day 7: Amsterdam (departure)
*Average daily distances are between 35 to 55 km. All distances are approximate. The itinerary is subject to change due to unforeseen circumstances, including but not limited to weather, last-minute mooring changes, and restructuring of locks or bridges.
Day 1: Amsterdam - Utrecht
The Merlijn will be docked in Amsterdam within walking distance of the Central Train Station. (15 minutes).  Check-in begins at 3:30 pm though you can bring your luggage on board by 10 am. Please be prompt as the Merlin sets sail at 4:30 pm. After a welcome drink, there will be an informational presentation. By 4:30 pm, the ship will begin its journey to Utrecht; dinner will be enjoyed along the way. Utrecht features many ancient buildings and structures dating back to the early Middle Ages. It has been the religious center of the Netherlands since the 8th century and is home to the tallest church tower in the Netherlands: The Dom Tower. In the evening, you will be able to explore this breathtaking city.
Day 2: Utrecht - Vianen - Schoonhoven, 15 or 30 mi. (25 or 48 km, depending on weather conditions)
Today you cycle Holland through the prettiest part, by far. Breakfast will be served while cruising to Vianen, where the bike tour will start to the charming city of Schoonhoven. Schoonhoven is renowned for its silver, hence its nickname Zilverstad ("Silver City"). Silversmiths have been present here since the 17th century and the trade is still thriving today!
Day 3: Schoonhoven - Kinderdijk - Gouda, 17 or 33 mi. (28 or 53 km)
You will get to enjoy the gorgeous Dutch scenery while sailing on the river Lek and biking from Schoonhoven to Kinderdijk, home to an impressive 19 windmills, built around 1740, to drain the polder Alblasserwaard. They are a well-known tourist destination and have been a UNESCO World Heritage Site since 1997. After your visit, you will cycle to the city of Gouda, through a real Dutch scenery of polders. Gouda is famous for ists cheeses, candles and "stroopwafels". Dinner on board and overnight stay in Gouda.
Day 4: Gouda - Leiden, 25 mi. (40 km)
Today's bike tour takes you through the Green Heart of Holland. Leaving Gouda, you will pass Baskoop, famous for its horticulture nurseries, particularly woody plant and perennial nurseries, of which some 774 are situated on long stretches of land divided by narrow canals. Passing small towns and villages such as Alphen on the Rhine, you will finally reach Leiden. Leiden is a lively city where history comes alive. Birthplace of painting legend Rembrandt, it is where he developed his skills and his workshop can still be visited today.  The University of Leiden contributes to the vibrant and convivial atmosphere and is quickly developing into a world-famous center of science. You will get a chance to stroll through this magnificent city after dinner.
Day 5: Leiden - LIsse - Keukenhof - Haarlem, 14 mi. (23 km)
While you enjoy breakfast, the Merlijn will cruise into Lisse, near Keukenhof. From Lisse, you will bike to the Keukenhof. It is estimated that nearly 7 million flower bulbs are planted here annually to cover an area of roughly 80 acres. This makes Keukenhof, easily, the largest flower garden in the world. At this stop, you will get to admire all these beautiful tulips and other flowers. On the ride to Haarlem, you will witness even more of Holland's beautiful countryside and of course, more flowers! While in Haarlem, it is a must to take a stroll through this historical city and maybe try the famous local beer: "Jopen". Dinner tonight is on your own in one of the many restaurants in Haarlem.
Day 6: Haarlem - Amsterdam, 26 mi. (42 km)
Today's bike tour will be from Haarlem to Amsterdam, along the Zaanse Schans, famous for its windmills and green wooden houses typical for this area. The day ends in Amsterdam, one of the greatest small cities in the world! 
Day 7: Amsterdam
Farewell breakfast, check-out, and departure.  Think about extending your stay so that you can explore this amazing city. It has been said that whatever you are looking for, you can find it in Amsterdam. Art, culture, history, architecture....and more!
Looking for more?  View all of our featured bike and barge tours, or view our full list of bike trips.
Also, If you are looking for a more opulent Tulip experience, check out the Luxury Tulip Bike Tour on the Aurora.
Email or Call 800-951-4384 +1 570-965-2064
---
Tulip Tour - 7 day
Boats + Barges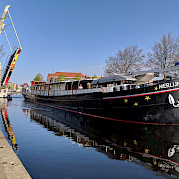 Merlijn Germany, Netherlands Deluxe Class Boat "The Divine Miss M" as we lovingly call the Merlijn is a diva, for sure. What can we say? Is it the luxurious cabins with most comfortable beds you have ever slept in? Is it the lovely dining area with the large windows and skylight that let the air, light, and sun pour in? Or perhaps it is the sun deck, where you can relax with newfound friends, sharing good wine and good conversation. We think you will find it is the entire divine package! Step onboard and discover for yourself!