4.8

/

5

(

30

reviews)
Tulip Tour - Amsterdam to Bruges - 8 day
Come see the beautiful spring flowers of this famous cycling route!
From Holland to Belgium by Bike and Boat! This lovely tulip tour showcases Tulips, lovely old Dutch towns like Dordrecht and Gouda, and the color that is Holland in Springtime. Crossing the border to Belgium takes you to the Belgian pearls of Antwerp, Ghent, and romantic, medieval Bruges. This would not be a tulip themed bike and boat tour without a visit to the world-famous Keukenhof, the world's garden. The theme for 2020 is "A World of Colors". You will agree!

Highlights:

Cycling through the tulip fields
Keukenhof, the world's garden
Dutch and Belgian cities, villages, and landscapes
Belgian beer and chocolate
Dutch cheese
....and much more!

Want to see more bike and barge tours in Holland? Or maybe you are looking for a more opulent Tulip experience? If so, check out the Luxury Tulip Bike Tour on the Aurora.

2020

Merlijn: $ 2783 £ 1387 $ 2,433 € 1525 $ 2855 kr 17234 $ 1,716 Single supplement: On request

Feniks: 
Superior twin: $ 2673 £ 1332 $ 2,337 € 1465 $ 2743 kr 16556 $ 1,648 Standard twin: $ 2281 £ 1137 $ 1,994 € 1250 $ 2340 kr 14126 $ 1,406 Bunk bed for twin use: $ 1943 £ 969 $ 1,699 € 1065 $ 1994 kr 12036 $ 1,198 Bunk bed for single use:  $ 2856 £ 1423 $ 2,497 € 1565 $ 2930 kr 17686 $ 1,761

extra

options

Merlijn:
Electric bike, per day, payable on board: $ 55 £ 27 $ 48 € 30 $ 56 kr 339 $ 34 Feniks:
Electric bike, per week: $ 100 £ 50 $ 88 € 55 $ 103 kr 622 $ 62 Beverage package (wine, beer, soda): $ 182 £ 91 $ 160 € 100 $ 187 kr 1130 $ 112  

 

please

note

Rates are per person based on double occupancy.

A non-refundable admin fee of 20 Euros per person is included in the deposit amount.

Information to read before you book.

We recommend purchasing bike trip insurance.

† Currency exchange rate set 90 days before travel.

Travel

Fly into and out of Amsterdam Schiphol Airport (AMS) or fly to Amsterdam and out of Brussels Zaventem Airport (BRU).

Local Travel

You will have just a short train ride from Amsterdam airport (Schiphol) to Amsterdam central, where you board the boat usually between 12 and 4 PM depending on the boat. From Bruges, train to Amsterdam airport takes approx. 3¼ hr and costs approximately ± €48. The train station in Bruges is named "Brugge". The train station at Amsterdam Schiphol airport is named "Schiphol". The train station in Amsterdam city center is named "Amsterdam Centraal". If you are flying out of Brussels, train travel from Bruges to Brussels is about 1 1/2 hour. There is a train station in the lower level of the airport.

Climate

Please check local conditions before travel. A very good website to research regional weather is weatherbase.com. The climate in Holland is considered maritime, greatly affected by the sea. Belgium as well is influenced by the North Sea and the Atlantic Ocean, with cool summers and moderate winters.

Recommended

Extra time in Amsterdam before the tour.

Remarks

Please note: tulip season in Holland extends from the end of March to the middle of May but is dependent on temperatures and the weather. Going early or late in the season may affect what is in bloom.

Travel documents

Before you travel, please check your country's passport and visa requirements and the passport and visa requirements of the country/countries you plan to visit. For US citizens, the US Department of State website is a good source of information. The Country Information tab in the International Travel section provides details about passport validity, blank passport pages required, etc.

*Important note: Beginning July 1, 2021, additional documentation from the European Travel Information and Authorization System (ETIAS) will be required to visit any of the 26 Schengen-member countries for tourism, business, medical, or transit. This is an additional check on security rather than a visa.

---
Tour
Dates
Skill
Level
This is an easy, guided bike and boat tour. The cycling routes follow mainly flat bike paths and country lanes with little traffic. Occasionally heavier traffic is encountered when entering or exiting larger towns or cities. Daily cycling distances range from approximately 16 to 25 miles (25 to 40 km). A tour guide cycles with the group but it's also possible to cycle on your own.
Where
You'll Stay
Click barge information for further details about the classes of boats.

What's
Included
Merlijn
Accommodations for 7 nights
Welcome drink
All meals: breakfast, packed lunches and three-course dinners (excluding one dinner)
Entrance fee to the Keukenhof
24-gear tour bike, incl. water bottle, universal sized helmet and bike bag
Tour guide
Unlimited coffee, tea, and hot chocolate during the trip on board and portable ice water during meals
Harbor fees
†Wifi
Feniks
Accommodations for 7 nights
7 breakfast, 7 packed lunches, and 6 three-course dinners per week
Coffee, tea, and biscuits
Afternoon snacks
Tour guide
24-speed bikes with rear pannier, frame lock, and water bottle cage and water bottle
Helmets available
Daily check and cleaning of your cabin
Laundry service (clothes are returned clean but not dry. Clothes can be hung midship)
†Wifi
†Important to note, due to steel construction of the ship, cruising locations, and other factors, Wifi signal speed and strength may not be what you are accustomed to and may not meet your expectations. May not be available in cabins. If you are dependent on a constant, strong, fast, and reliable signal at all times, please consider a personal hot spot. See our FAQ page.
What's
Not Included
Merlijn
Excursions not mentioned
Drinks on board
Biking maps (for sale on board)
1 dinner
Feniks
All beverages other than those mentioned. (Beverage package included for a supplement. See pricing.)
Entrance fees
Gratuities
Day-To-Day
Itinerary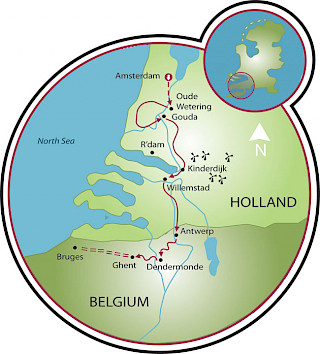 *All distances are approximate. The itinerary is subject to change due to unforeseen circumstances, including but not limited to weather, last-minute mooring changes, and restructuring of locks or bridges.


Day 1: Arrival in Amsterdam, cruising to Harlem
Day 2: Haarlem - Keukenhof - Leiden, 25 mi. (40 km)
Day 3: Leiden - Gouda - Dordrecht, 21 mi. (35 km)
Day 4: Dordrecht - Willemstad - Tholen - Antwerp, 27 mi. (45 km)
Day 5: Antwerp - Baasrode, 21 mi. (35 km)
Day 6: Baasrode - Merelbeke - Ghent, 27 mi. (45 km)
Day 7: Ghent - Bruges, 24 mi. (40 km)
Day 8: Departure from Bruges
Day 1: Arrival in Amsterdam, cruising to Harlem
The Merlijn, your sailing hotel, awaits you in Amsterdam. Embarkation is between 1:00 PM and 1:30 PM. The barge departs at 2 PM to cruise to Haarlem. It is necessary to leave on time because of the operating hours of the bridges. The crew will welcome you aboard and while you enjoy a welcome drink, you will be informed about the barge and the daily tours. The barge stays overnight in Haarlem.
Day 2: Haarlem - Keukenhof - Leiden, 25 mi. (40 km)
During breakfast, the Merlin will take you a little further on to Cruquius, where your bike tour will start. Today you will visit the Keukenhof, the beautiful flower exhibition. After this visit, you will bike to Leiden, where the Merlijn awaits you. Dinner on board and overnight stay in Leiden.
Day 3: Leiden - Gouda - Dordrecht, 21 mi. (35 km)
You will enjoy a sailing breakfast while you cruise to the starting point of the bike tour at Boskoop. Your route leads through one of the most beautiful parts of Holland, the Green Heart of Holland. You will cycle through Gouda, with its candles and stroopwafels and to Kinderdijk, world-famous for its windmills. You will encounter an impressive row of large windmills, built to drain the Alblasserwaard. You can visit one of the mills. From Alblasserdam, you will embark the ferry and you will sail to Dordrecht, where the Merlijn will await you. Dordrecht is one of the oldest towns of Holland, where you will enjoy a walking tour through this charming old city before you will go out dining at your own expense in one of the many restaurants. The Merlijn will stay overnight in Dordrecht.
Day 4: Dordrecht - Willemstad - Tholen - Antwerp, 27 mi. (45 km)
During breakfast the boat cruises to Willemstad, where your bike tour to Tholen starts. Tholen was once an island in the middle of the large Zeeland streams, where many people were fisherman by trade. Today, Tholen is connected to the mainland in various ways, but it is still a picturesque village with many relics of an eventful past. Today's bike tour ends here and the barge takes you into the Willemdok of Antwerp. Antwerp is not only known as the diamond city, but also as the native city of the painter Rubens. In the Rubens House, you can admire his work. In the heart of the city, you will see the Cathedral of Our Lady and beautiful townhouses from a rich past are situated around the Market Square. 
Day 5: Antwerp - Baasrode, 21 mi. (35 km)
After breakfast, you will have more time to explore the city of Antwerp. At around 9 AM you will board a tram that brings you into the heart of Antwerp. You may want to visit the Rubens House if you did not get an opportunity earlier or a diamond factory. You can also go shopping in the lively center. After your visit, board the Merlijn and have lunch on board while cruising to Rupelmonde. Here, your bike tour for today begins. The tour follows the river Schelde further upstream via Temse to Baasrode.
Day 6: Baasrode - Merelbeke - Ghent, 27 mi. (45 km)
After breakfast, bike along the river Zeeschelde. Our first stop will be in Dendermonde, a nice country town on the Dender estuary. The route follows this beautiful but capricious tidal river, Schelde, upstream to Ghent, a lively university city. This city has a rich past with origins in Roman Times and is located at the place where the rivers, Leie and Schelde converge. This favorable situation brought a great deal of prosperity over the years, which had its peak late 13th, early 14th century. The textile industry brought great wealth. In the city center, many old patrician houses have been preserved. In the Clothmakers' Hall (1425) textile merchants used to meet. The major church is St. Baafs' Cathedral, built-in various ages and in various styles. In the cathedral, you can admire a number of medieval paintings, including, 'Adoration of the Lamb' by Jan van Eyck. 
Day 7: Ghent - Bruges, 24 mi. (40 km)
During breakfast, the barge cruises to Aalter, where your last biking tour begins and leads through the pleasant countryside of Western Flanders to Bruges. Bruges, also called the Venice of the North, maybe is the most beautiful of all Flemish cities. Its old center, which dates from the Middle Ages, is almost completely intact. At the time, Bruges was a metropolis, the center of trade and art. Bruges is also great for shopping. In the afternoon, enjoy a walking tour of this city. You may even want to include a ride through the canals. Farewell dinner on the Merlijn and your last overnight stay on board.
Day 8: Departure from Bruges. Disembarkation after breakfast, approximately 9 AM.
Day 1: Amsterdam - Oude Wetering
Day 2: Oude Wetering - Gouda
Day 3: Gouda - Dordrecht
Day 4: Dordrecht - Zierikzee
Day 5: Zierikzee - Middelburg
Day 6: Middelburg - Gent
Day 7: Gent - Bruges
Day 8: Bruges
Daily distances average 45 km.
Day 1: Amsterdam
Individual arrival on board the Feniks. The cycling route leads to Oude Wetering.

Day 2: Oude Wetering - Gouda
Today you will bike through the bulb fields and visit the Keukenhof, with literally millions of flowering bulbs. You enjoy an easy bike ride right through some real Dutch meadowlands and end your trip in the cheese town, Gouda. Free time in Gouda after dinner. 
Day 3: Gouda - Dordrecht
Today you will enjoy cycling in the green heart of Holland, following scenic country roads along a winding waterway.
Day 4: Dordrecht - Zierikzee
 Zeeland is on the agenda today. This a province of the Netherlands characterized by light, wind, water, and space. Because it is made up of islands, bridges and ferries will be carrying you across the waters as you drift down towards Belgium. Picture-book towns with ancient houses and cobbled streets line the banks. You will traverse a patchwork landscape of vast polders, idyllic countryside, rolling dunes, and golden sand flats. 
Day 5: Zierikzee - Middelburg
A stroll down the narrow streets of Zierikzee is an absolute delight. Quaint old houses take you back in time to the town's glory days when ships set sail to sell salt, wool, fish, grain, and red dye as far afield as the Baltic and the Mediterranean. Your route continues to the charming village of Veere. From 1541, everything that was exported to Holland from Scotland (mainly wool) came ashore in, and was distributed from, Veere. This contract brought the town not only prosperity but also a very lively Scottish expat community that stayed for 300 years. Walk in their footsteps as you take a tour of the sights. Cruising further south, you will discover the nostalgic splendor of the city of Middelburg, the capital of Zeeland. In the 16th and 17th centuries, it was one of the most important centers of trade in the Netherlands. With a strong headwind, this trip can be very strenuous. In that case, you may prefer to do the first part of today's route on board the Quo Vadis, and start cycling at Zandkreek. The Feniks will moor in Middelburg, founded in the 12th century as an abbey. The city was the second most important center for the Dutch East India Company, active in Africa colonizing the southern coasts and slave trading on the western coasts
Day 6: Middelburg - Gent
Today you cross the waterway Westerschelde, which is the main estuary connecting the port of Antwerp with the sea and moor in Gent, a thriving and quaint medieval town.
Day 7: Gent - Bruges
Cycling from one medieval city to another on quiet roads will be a highlight today as you enjoy the landscape of  Flanders dotted with farmhouses and little villages. Docking in "Venice of the North", Bruges.
Day 8: Departure
Your tour officially ends after breakfast.
Looking for more?  Check out our full list of bike and boat tours or view all our featured bike trips, specials, and news.
Email or Call 800-951-4384 +1 570-965-2064
---
Tulip Tour - Amsterdam to Bruges - 8 day
Boats + Barges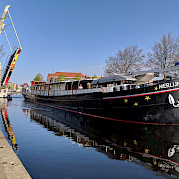 Merlijn Germany, Netherlands Deluxe Class Boat "The Divine Miss M" as we lovingly call the Merlijn is a diva, for sure. What can we say? Is it the luxurious cabins with most comfortable beds you have ever slept in? Is it the lovely dining area with the large windows and skylight that let the air, light, and sun pour in? Or perhaps it is the sun deck, where you can relax with newfound friends, sharing good wine and good conversation. We think you will find it is the entire divine package! Step onboard and discover for yourself!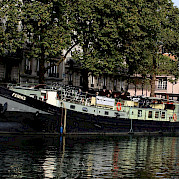 Feniks Belgium, Netherlands, France Comfort Class Boat Originally, the Feniks was built in 1928 as a freighter on the Dutch, Belgium and French inland waters. In 1992, the Feniks was converted to a hotel passenger ship and put in service for various sailing holidays. Since then, she has undergone several renovations to keep up-to-date with all modern facilities.