5

/

5

(

2

ratings)
Vietnam
Cycle in Vietnam in the far east of Asia!
This bike and boat tour in Vietnam uncovers the hidden beauty of Eastern Asia, a unique country blessed with astonishing beauty; soaring mountains, magnificent coastline, and pristine waters. This is a country of contrasts with bustling, vibrant and modern cities and rural districts where women in conical hats still tend to their fields and children herd buffalos along country paths.

Nothing can prepare you for the beauty of Halong Bay and its 2000 limestone karsts. You will have an opportunity to explore this rocky, fairytale world with this unique landscape by bike and kayak. Admire the lush green rice fields, meet the friendly water buffaloes, visit colorful temples and pagodas, and let the emerald-green waters of the South China Sea and the incredible cave formations enchant you.

While biking in Vietnam, you will explore the impressive monuments of the Vietnamese emperors as well as the historical town of Hoi An - a World Heritage site - and in South Vietnam the expansive water labyrinth of the Mekong Deltas.

This Vietnam cycling holiday is sure to satisfy the adventure seeker in everyone! Be sure to check out our other cycling tour in Vietnam Saigon to Siem Reap!

Be sure to check out all of our bike and boat tours in Vietnam.

Double or twin cabin: £ 2581 $ 4,065 € 2710 NOK 27100 kr 25015 $ 3,252 *Single supplement: £ 667 $ 1,050 € 700 NOK 7000 kr 6462 $ 840

Extended stay in Angor Vat:  £ 629 $ 990 € 660 NOK 6600 kr 6092 $ 792 Single supplement: £ 286 $ 450 € 300 NOK 3000 kr 2769 $ 360

*Single room can only be guaranteed in hotels, not on the boat as there are only 10 cabins! If booking as single traveller, if necessary, you will be asked to share your cabin.

extra

options

Extra nights
Hanoi* £ 38 $ 60 € 40 NOK 400 kr 369 $ 48 * With guided city tour (Itinerary on request)  £ 114 $ 180 € 120 NOK 1200 kr 1108 $ 144

Flight, Ho Chi Minh City to Siem Reap: £ 181 $ 285 € 190 NOK 1900 kr 1754 $ 228

please

note

Visa when entering Cambodia, at entry: £ 19 $ 30 € 20 NOK 200 kr 185 $ 24

Rates are based on double occupancy.

Information to read before you book.

We recommend purchasing bike trip insurance.

† Currency exchange rate set 90 days before travel.
Skill
Level
The cycling tour within Viet Nam averages about 15 miles/24 km per day. Roads are mainly asphalted but good accessible trails will be utilized as well. This tour is rated easy to moderate, based mainly on the terrain. The hilliest stretches are on Day 2 in Tra Ban and then during the tours in Cát Bà. The remaining cycling itineraries are without appreciable inclines. However, the difficulty of cycling in Vietnam lies mainly in the climatic conditions.By taking your time, using sufficient sun protection and drinking enough water you can easily adjust to this condition. Do note, that after a rainfall, some routes, especially on the first cycling tour, are difficult to cycle. An alternative route may have to be used.
If you reserve the extension into Cambodia, you will have a daily distance of up to 31 miles/50 km. Again, heat can be a factor!
Where
You'll Stay
You will spend the night in very good 3-4 star hotels In Hanoi, on Cat Bay Island, in Hue and Hoi An (Central Vietnam) and in Saigon. The majority of this tour, however, will be spent on the lovely Le Cochinchine and Vietnamese Junks
What's
Included
14 nights accommodations of which 5 are on comfortable ships in air conditioned double cabins and 9 overnights are in very good hotels (at least 3 stars)
Meals: please check each day's itinerary and codes for meals provided
Guided walks, bicycle, and kayak tours
All city tours and entrance fees to National Parks, museums, etc.
English speaking guides
Rental bikes (the bikes vary from destination to destination)

Domestic flights (see itinerary)
Airport transfers on official arrival and departure day
OPTIONAL EXTENSION In Angkor:
3 nights accommodations in very good (at least 3 star) Hotels in Siem Reap
Support vehicle with air conditioning
Meals, please check each day's itinerary and code
Entrance fees and fees for tours
German and English speaking tour guides
Water and snacks during the tours
Rental Bikes
What's
Not Included
Flight from Ho Chi Minh City to Siem Reap for extension in Angor Vat
Outward flight to Hanoi and return flight from Ho Chi Minh City
Drinks on board and in hotels
Meals not included, please check each day's itinerary
Valid Visa for Vietnam
In Angkor:
Drinks other than mentioned
Meals not included, please check each day's itinerary
Visa to Cambodia ($20 at entry)
Tips
Extra
Stay
Recommended is an extra two days (at least) in Hanoi. You will get the chance to acclimatise and explore some sights of the city on your own. On request, a guided city tour in Hanoi can be arranged.
Tour
Dates
2017 Dates
October 29, November 5, November 12, November 19, and November 26, 2017
Tour
Boats
Day-To-Day
Itinerary
Day 1: Arrival in Hanoi
Day 2: Hanoi – Ha Long City – Trà Bản Island, 12 mi./20 km
Day 3: Trà Bản Island and Quan Lan Island,  6 + 8 mi./10 + 29 km
Day 4: Ha Long Bay (Kayak-day)
Day 5: Ha Long Bay and Lan Ha Bay (Kayak-day) 
Day 6: Cát Bà Insel – Viet Hai Village, 10mi./20 km
Day 7: Cát Bà Insel – Hai Phong - Hoi An, 22 mi./35 km
Day 8: Hoi An, 11 mi./17 km
Day 9: Hoi An - Hue
Day 10: Hue, cycle tour approx. 14 mi./23 km
Day 11: Ho Chi Minh City - Mekong Delta,12 mi./20 km
Day 12: Mekong Delta: Cai Be - Islands of Vinh Long und Traon, 19 mi./30 km
Day 13:  Can Tho – Ho Chi Minh City 
Day 14: Ho Chi Minh City
Day 15: Departure 
Day 1: Arrival in Hanoi
Arrival at Hanoi Airport. A shuttle bus takes you to your hotel in the heart of the old quarter of Hanoi. Despite the three million inhabitants, Hanoi offers a rural and traditional atmosphere. The historic old town district is considered as one of the best preserved in Southeast Asia. The colorful and bustling streets contribute to the Asian flair. Take a walk through the streets and in the afternoon visit the famous water puppet theater, a traditional Vietnamese form of art. 
Today, get to know your fellow travelers during dinner. Overnight stay at the hotel. (D)
Day 2: Hanoi – Halong City – Trà Bản Island, 12 mi./20 km
After breakfast your shuttle bus takes you past the vast rice fields in the direction of Hạ Long Bay. During the transfer you will take a short break from driving to enjoy our first small bike tour. A local farmer along the way offers us the opportunity to try local fruits, to strengthen us before we continue on our bikes. Lunch is served in Dong Trieu, after which you continue with the shuttle bus to Ha Long City.
Here you are welcomed on board the Junk to depart on a longer crossing to a quiet bay in front of the Island of Trà Bản. (B,L,D)
Day 3: Trà Bản Island and Quan Lan Island, 6 + 8 mi./10 + 29 km
After breakfast a transfer by tender takes you from the Junk to a small jetty on the island of Tra Ban. Narrow paths and expansive rice fields pass by as you cycle across this virtually tourist free island. A common sight are the Vietnamese water buffaloes grazing as you pass and many local farmers tending to their fields. After a pleasant tour you will meet the ship once again for lunch and a small break. 
Your next destination, Quan Lan, lies only a few meters away from Tra Ban which you will reach by ferry. On the second bike tour of the day you will discover the brilliant white sand Isle and the expanses of untouched sandy beaches for which Quan Lan is so well known for. This discovery is definitely made into an experience by taking a long relaxing swim before returning to the boat. That evening you leave behind the Bai Tu Long bay and cover the first miles across the sea in the direction of Halong Bay. (B,L,D)
Day 4: Ha Long Bay (Kayak-day)
After breakfast, continue your cruise to the magic Halong Bay. After lunch, get an introduction to kayaking and spend the afternoon kayaking this fairytale world. Discover the Luon Cave and through the beautiful gate is a lagoon lake with a flat surface and luxuriant vegetation in all four sites. The cliffs are high and dangerous with lot of monkeys running around. Before dinner, visit so-called Amazing Cave on Bo Hon Island. It is one of the finest and widest grottoes of Halong Bay. Inside the grotto are thousands of stalactites and stalagmites along the 500-meter paved passage circle. The night is spent on the boat. (B,L,D)
Day 5: Ha Long Bay and Lan Ha Bay (Kayak-day) 
This morning you disembark the Junk with your baggage and take a transfer boat to Lan Ha bay. Here you will climb into kayaks and paddle to a magnificent beach where the midday meal awaits you. After lunch and a lengthy relaxing swim break in the emerald green waters, a small boat will pick you up from the beach and take you to the island of Cat Ba. Here a short transfer will take you to your hotel where you will have time in the afternoon to unpack, relax at the pool side or at the beach. (B,L,D)
Day 6: Cát Bà Insel – Viet Hai Village, 10 mi./20 km
Early in the morning a transfer will bring you to a small dock from which you will travel by boat about one hour  to yet another small jetty. From here you will start a cycling tour to a small tribal village of the Viet Hai minority. Parking the bikes here, a guided walk will take you through the protected old-growth forest where not only the untouched flora but also the large and colorful butterflies which inhabit it will leave you astounded. The aim is to reach the highest peak of the island which, on a good day, offers breath-taking views of the Ha Long bay and the rest of the island. After the walk,  a bike tour will take you back to the boat which will bring you to the comfort of the Sunrise Resort. Here the evening can be enjoyed on the hotel's very own sandy beach. (B,L,D)
Day 7: Cát Bà Insel – Hai Phong - Hoi An, 22 mi./35 km
After breakfast, the group will depart the hotel for a bike tour on Cat Ba. You will experience the hustle and bustle of local market life and take a visit to the information center at the national park to learn about the diverse flora and fauna of the region. After lunch at the hotel, a taxi boat will transfer to Haiphong for transfer to a nearby airport. In the late afternoon, the flight to Da Nang departs from where there is just a short transfer by shuttle bus to reach the hotel resort in Hoi An. (B,L)
Day 8: Hoi An, 11 mi./17 km
Today you will have opportunity observe the daily life of the local farmers. In the morning, the cycling route leads to Tra Que - a small village in the suburban area of Hoi An. The name of the place originates from a sweet vegetable often used by the locals to spice their meals. Your host will invite the group to prepare the meal together and will explain this local delicacy. The afternoon is yours to plan and explore. A stroll through the picturesque old town or a relaxing afternoon bathing at the white beach of Cua Dai could be one of the possibilities. (B,L)
Day 9: Hoi An - Hue
The morning in Hoi An is free so you can decide how you would like to spend this. Check out from the hotel is in the early afternoon, after which a shuttle bus will transfer to Huế. En route, there is a brief stop at the Cloud Pass, the weather line between North and South Vietnam and then another stop at Lang Co Beach. If weather conditions allow, you can take a  refreshing swim, before returning to Huế. After checking in, there is a visit to one of the most popular emperor's graves, located not far from the town center. (B,L)
Day 10: Hue, cycle tour approx. 14 mi./23 km
An early flight from Hanoi leaves you with the rest of the day to engross yourself in the old imperial city of Hue, situated between rolling hills and rice fields along a bend in the Perfume River. The spiritual heart of Vietnam beats here, in more than 300 temples and pagodas. The itinerary includes the bustling Dong Ba Market bursting with regional specialities. On the north shore of the Perfume River, continuing on to the old town of Bao Vinh,  you can still see and feel the trading activities of the capital's former past.  By bike and foot, you can explore the expansive citadel, once exclusively reserved for the Ngyen. A late lunch in one of the regionally typical restaurants gives the daily program its perfect finish. The rest of the afternoon is free and can be spent strolling through the alleys of the town. (B,L)
Day 11: Ho Chi Minh City - Mekong Delta,12 mi./20 km
After breakfast there is a flight to Ho Chi Minh City and subsequent transfer to Mỹ Tho, where check-in on board the ship takes place. The ship navigates the Melong in the direction of Cai Be, during which you can enjoy the flourishing nature of the delta as well as the river related life of the inhabitants. North of Ben Tre, there will be short cycle tour. Lunch will be served back on board, following which, In the afternoon the schedule includes the discovery of the green island Ngu Hiep with opportunity to try exotic fruits and view exotic local handcrafts. (B,L,D)
Day 12: Mekong Delta: Cai Be - Islands of Vinh Long und Traon, 19 mi./30 km
In the morning, after crossing to Vingh, Long Island, the cycling leads under palm-shaded paths around the island. By boat, your tour continues to Traon Island and then by bike, to explore the surroundings. Excellent cuisine awaits on board and the wonderful evening atmosphere in the water labyrinth of the Mekong Delta. (B,L,D)
Day 13:  Can Tho – Ho Chi Minh City 
During breakfast the ship navigates to Cần Thơ, followed by a transfer by a smaller vessel to Cái Răng, the most famous floating market of the Delta. The unique atmosphere of the merchants on their vibrantly painted boats is an incredible site. The following cruise through the small tributaries of the Delta completes the visit in the south. After lunch on board, the Conchinchine, you will be transferred back to Ho Chi Minh City. (B,L,D)
Day 14: Ho Chi Minh City
Ho Chi Minh City, former Saigon, is the Boomtown and the modern center of Vietnam. On a guided city tour you will learn about the growing megacity, the town hall, the cathedral Notre Dame, main post office and other important sights which characterize the city's history. Your day could end, if you would like, shopping with the crowds in the Benh Thanh Market. You will enjoy a farewell dinner this evening with your fellow passengers and all travel guides. (B,L,D)
Day 15: Departure 
Departure after breakfast or prolongation in Ho Chi Minh City or Siem Reap.
Extension to Angkor Vat

Day 1: Flight Ho Chi Minh City - Siem Reap, loop tour on bike, 18 mi./30 km
Flights to Siem Reap are not included in tour price but can be arranged for a supplement. See pricing. Group will meet at Siem Reap airport in the morning, followed by transfer to hotel in Siem Reap for check in. Booked flights arrive at approximately 9:30 am. Keep this in mind if arranging your own flights. Following check-in, there will be  10 km cycle tour from Siem Reap to Angkor Wat, stopping to explore the temple complex and to enjoy a picnic lunch. In the afternoon, there isan additional 17 to 24 km bike ride on the Small Circuit between Angkor Wat and Phnom Bakheng, with stops at the Death Gate, Victory Gate, Terraces of Elephants and Leper King, and Srah Srang. There will be opportunity to watch the sunset from Phnom Bakheng. In the evening, enjoy welcome dinner with traditional Apsara dance. Overnight in Siem Reap. (L,D)
Day 2: Siem Reap - Phnom Kulen, 22 mi./35 km by bike and 2 hour hike
After breakfast, the cycling itinerary leads to Phnom Kulen. Along a quiet dirt road, you will pass different temples and monasteries before parking the bikes on the Rattanak Tey pagoda. After which, Phnom Kulen, known as the cradle of Angkor's culture, is explored on foot.  The hike will include almost the entire mountain- partly by climbing stairs. However, no worries, as there are many wonderful places to stop and rest. A picnic lunch will be enjoyed close to a waterfall and of course, a refreshing swim might be welcomed. The hike back is much easier and a transfer vehicle will return the group to Siem Reap. (B,L)
Day 3: Angkor Wat, 31mi./50 km
Following breakfast, there is a full day of cycling on the agenda to explore the temples in Siem Reap and the surrounding area. You will cycle on a newly paved road, approximately 25 km to Banteay Srei. You will notice a distinct change in the scenery as you cycle through the verdant countryside. The trails today offer not only an excellent ride, but also many points of interest, and the guide will stop often to point out local temples, pagodas and villages. You will visit Kbal Spean (River of 1,000 Lingas) and a hike to the top gives a great view of the riverbed carving its way through the plains.  A picnic lunch will be enjoyed in the shade before continuing to Banteay Samre Temple. On the way back to town, a must-see is the Landmine Museum whose mission is to educate visitors of the importance of clearing landmines in Cambodia. With potentially 5,000,000 still in the ground, landmines have immensely impacted the history and culture of this amazing society. The collection of thousands of landmines is is a sobering reminder of the ravages of a war not so long ago.  What is even more impressive is the story of the one Khmer man, Aki Ra, who disarmed the majority of these landmines alone and continues his dedication of clearing the Cambodian countryside of landmines.
Return to Siem Reap in the afternoon and overnight in town. (B,L)
Day 4: Departure
Breakfast and free time until airport transfer. (B)
B = Breakfast
L = Lunch
D = Dinner
*All distances are approximate. The above-planned itinerary is subject to change due to changing wind and weather conditions and other unforeseen circumstances having to do with mooring requirements, etc.
Be sure to check out all of our featured bike and boat tours, or our full list of bicycle tours.
Email or Call 800-951-4384 +1 570-965-2064
---
Vietnam
Boats + Barges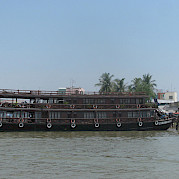 Le Cochinchine Vietnam Comfort Plus Class Boat The Cochinchine is one of the largest and most modern ships in the region. It's shape is reminiscent of the vessels of the famous river delta in southern Vietnam. This comfortable wooden boat is protected by the watchful dark eyes of the red dragon painted on the prow. Three times a day, the large common room becomes the dining room with beautifully set tables.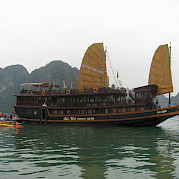 Vietnamese Junks Vietnam Comfort Plus Class Boat Carved dragon heads decorate the prow of the Junks in the Ha Long and Bai Tu Bay. Dragons belong to the circle of four sacred animals of Vietnam and they proudly guide the traditional wooden boats through the fairytale cliffs of the South China Sea. It is easy to feel at home on the junks: the saloon with its upholstered wicker furniture and colorful carpets are a comfortable feature of the ship. For each meal, the tables are lovingly set and the folded cloth napkins are a piece of art. The crew, in their brilliant white uniforms, greet you warmly with a welcome drink with the hospitality that is so common Vietnam.