4.9

/

5

(

7

ratings)
Vietnam
Cycle in Vietnam in the far east of Asia!
This bike and boat tour in Vietnam uncovers the hidden beauty of Eastern Asia, a unique country blessed with astonishing beauty; soaring mountains, magnificent coastline, and pristine waters. This is a country of contrasts with bustling, vibrant and modern cities and rural districts where women in conical hats still tend to their fields and children herd buffalos along country paths.

Nothing can prepare you for the beauty of Halong Bay and its 2000 limestone karsts. You will have an opportunity to explore this rocky, fairytale world with this unique landscape by bike and kayak. Admire the lush green rice fields, meet the friendly water buffaloes, visit colorful temples and pagodas, and let the emerald-green waters of the South China Sea and the incredible cave formations enchant you.

While biking in Vietnam, you will explore the impressive monuments of the Vietnamese emperors as well as the historic town of Hoi An - a World Heritage site - and in South Vietnam the expansive water labyrinth of the Mekong Deltas.

This Vietnam cycling holiday is sure to satisfy the adventure seeker in everyone!

2020

Double or twin room/cabin: $ 4812 £ 2506 $ 4,327 € 2910 $ 4995 kr 31299 $ 3,290 *Single supplement: $ 1158 £ 603 $ 1,041 € 700 $ 1202 kr 7529 $ 792

Extended stay in Angor Vat: $ 1141 £ 594 $ 1,026 € 690 $ 1184 kr 7421 $ 780 *Single supplement: $ 496 £ 258 $ 446 € 300 $ 515 kr 3227 $ 339

*Single accommodations are limited.

extra

options

Pre tour extension with sightseeing in Hanoi:   $ 198 £ 103 $ 178 € 120 $ 206 kr 1291 $ 136 Flight, Ho Chi Minh City to Siem Reap: $ 314 £ 164 $ 283 € 190 $ 326 kr 2044 $ 215 Extra night only in Hanoi: Please ask
Extra night in Ho Chi Minh City: Please ask

 

please

note

Visa when entering Cambodia, at entry: $ 50 £ 26 $ 45 € 30 $ 51 kr 323 $ 34

Rates are per person based on double occupancy.

Information to read before you book.

We recommend purchasing bike trip insurance.

† Currency exchange rate set 90 days before travel.

Travel

***Please note that you have to book your arriving flight to Hanoi and the return flight from Ho Chi Minh City, unless you are also booking the extension in Angor Wat. In that case, departure flight will be from Siem Reap. If at all possible, the arriving flight should land before noon on the arrival day.

Local Travel

Airport transfers are included on arrival and departure day. There could be a supplement for transfers on other arrival and departure days. Please ask us!

Climate

Please check local conditions before your arrival. The average high/low temperatures in degrees Fahrenheit for the area are: March, 92°/76°, April, 93°/79°, October, 87°/76° and November, 87°/74°

Recommended

Please note that it is very important that you look into Visa requirements for this tour!
Helmet use is mandatory on all cycle tours. You are strongly encouraged to bring your own (well-fitted) helmet.

Remarks

A trip to Vietnam and a holiday there, require a certain amount of preparation in regard to formalities. Please allow yourself enough time! In order to enter Vietnam, foreigners need a passport valid for at least 6 months and a valid visa to be obtained from the Vietnamese embassy. Vietnam has introduced an electronic visa system on 1 February 2017. Citizens from 40 countries will be eligible to apply for the e-visa valid for 30 days, single entry. Applicants must have a passport with at least six-month validity. For multiple entry visas, you must follow standard mail in or in person protocol. This will be relevant for those who have booked the extension in Cambodia and will return to Viet Nam after. The following documents must be submitted either in person or by mail:
-Passport (original document, not a copy!)
-Completed application form
-Current passport photograph (1.5 x 2.3 inch/ 4 x 6 cm)
-Visa fee as a non-negotiable check or in cash
-A sufficiently prepaid envelope for registered mail
For those booking extension to Cambodia, visa will be purchased upon entry at $30.

---
Skill
Level
The cycling tour within Viet Nam averages about 15 miles/24 km per day. Roads are mainly asphalted but good accessible trails will be utilized as well. This tour is rated easy to moderate, based mainly on the terrain. The hilliest stretches are on Day 2 in Tra Ban and then during the tours in Cát Bà. The remaining cycling itineraries are without appreciable inclines. However, the difficulty of cycling in Vietnam lies mainly in the climatic conditions. By taking your time, using sufficient sun protection and drinking enough water you can easily adjust to this condition. Do note, that after a rainfall, some routes, especially on the first cycling tour, are difficult to cycle. An alternative route may have to be used.
If you reserve the extension into Cambodia, you will have a daily distance of up to 31 miles/50 km. Again, heat can be a factor!
Where
You'll Stay
10 nights of your tour will be spent in very good 3-4 star hotels in Hanoi, Cát Bà Island, Hue, and Hội An (Central Vietnam), and Saigon. 4 nights will be spent on board 2 boats: the Funan Cruise in the Mekong-Delta and the Vietnamese Junks in Ha Long Bay.
What's
Included
14 nights accommodations of which 4 are on comfortable ships in air conditioned double cabins and 10 overnights are in very good hotels (at least 3 stars)
Meals: please check each day's itinerary and codes for meals provided
Guided walks, bicycle, and kayak tours
All city tours and entrance fees to National Parks, museums, etc.
English speaking guides
Rental bikes (the bikes vary from destination to destination)
Domestic flights (see itinerary) on Day 7 and Day 11
Airport transfers on official arrival and departure day
OPTIONAL EXTENSION In Angkor:
3 nights accommodations in very good (at least 3 star) Hotels in Siem Reap
Support vehicle with air conditioning
Meals, please check each day's itinerary and code
Guided cycle tours and hikes as described in itinerary
All local conducted tours, city tours, and entrance fees for tours
English speaking tour guides
Water and snacks during the tours
Rental Bike
OPTIONAL PRE TOUR EXTENSION In Hanoi:
Overnight stay (incl. breakfast) in a double room at a hotel in center of Hanoi
Guided tour through Hanoi
Lunch as described in itinerary
Support vehicle with air-condition
Bottled water
English speaking tour guide
Entrance fee to museum
What's
Not Included
Inbound flight to Hanoi and outbound flights
Drinks on board and in hotels
Meals not included, please check each day's itinerary
Valid Visa for Vietnam
Customized airport transfers, if not on arrival or departure day (prices on request)
Extension in Angkor:
Flight from Ho Chi Minh City to Siem Reap for extension in Angor Vat if booked (one way = €190, see pricing)
Drinks other than mentioned
Meals not included, please check each day's itinerary
Visa to Cambodia ($30 at entry)
Tips
Pre tour extension
Meals not indicated as included
Drinks
Tips
Visa
Extra
Stay
Recommended is an extra two days (at least) in Hanoi. You will get the chance to acclimatise and explore some sights of the city on your own. On request, a guided city tour in Hanoi can be arranged.
Tour
Dates
2020
March 15, March 29, April 12, October 25, November 1, November 8, November 15, and November 22, 2020
Tour
Boats
Day-To-Day
Itinerary
Day 1: Arrival in Hanoi
Day 2: Hanoi – Ninh Binh – Hoa Lu – Tam Coc , 14 mi./22km + 6mi./10km
Day 3: Tam Coc - Ha Long Bay 
Day 4: Insel Trà Bản – Bai Tu Long Bay, 16 mi./25 km
Day 5: Bai Tu Long Bay and Lan Ha Bay (Kayak-day) 
Day 6: Cát Bà Insel – Viet Hai Village, 12.5 mi./20 km
Day 7: Cát Bà Insel – Hai Phong - Hoi An
Day 8: Hoi An - Tra Que - Hoi An, 11 mi./17 km
Day 9: Hoi An - Hue, 25 - 28 mi. / 40-45 km
Day 10: Hue, cycle tour approx. 14 mi./23 km
Day 11: Ho Chi Minh City - Mekong Delta,13 mi./ 21 km
Day 12: Mekong Delta: Cai Be - Islands of Vinh Long und Traon, 12 mi./20 km
Day 13:  Can Tho - Ho Chi Minh City 
Day 14: Ho Chi Minh City
Day 15: Departure 
Day 1: Arrival in Hanoi
Arrival at Hanoi Airport. A shuttle bus takes you to your hotel in the heart of the old quarter of Hanoi. Despite the three million inhabitants, Hanoi offers a rural and traditional atmosphere. The historic old town district is considered as one of the best preserved in Southeast Asia. The colorful and bustling streets contribute to the Asian flair. Take a walk through the streets and in the afternoon visit the famous water puppet theater, a traditional Vietnamese form of art. 
Today, get to know your fellow travelers during dinner. Overnight stay at the hotel. (D)
Day 2: Hanoi – Ninh Binh (Van Long) – Hoa Lu – Tam Coc, 14 mi./22km + 6mi./10km
By shuttle bus, you are transferred in the direction of the rural province of Ninh Binh, from which you begin your first cycling tour along vibrant green rice fields to Hoa Lu, the former capital of Vietnam. After exploring the fascinating historical site with its well-preserved relics of past dynasties, your continue pedaling through Vietnam's most spectacular landscapes. Along the way you stop in the quaint village of Trang An Farm where you are able to try some local specialties for lunch. After lunch, you continue by bike for a few kilometers to Tam Coc with the most spectacular view onto limestone karst peaks looming out of serene rice paddies.  It is here you will leave your bikes and board a traditional rowboat, taking you to the heart of a hidden valley. The last activity for today is a visitation of a local bird sanctuary. Every evening the flock of birds returning to their nests is a spectacular sight. Overnight stay at the hotel in Tam Coc/ (B,L,D)
Day 3: Tam Coc - Ha Long Bay 
After breakfast, your shuttle bus transports to Ha Long Bay, where you will board the traditional Vietnamese wooden junk to enjoy a fresh seafood lunch.  Your first voyage on the boat will be through the impressive island world of the Ha Long Bay with its bizarre rock formation. In the afternoon there is an opportunity to visit one of the numerous caves, which were formed in the course of the millenniums. Let your imagination run wild in the formations of stalagmites and stalactites as well as the crudely shaped cavern walls where creative thinking will bring the subterranean chambers to life. In the afternoon, you are able to take part on a guided kayak tour of a local lagoon around which, with a bit of luck, you will be able to see some wild monkeys at play. If you are keen to join, you may walk up to the summit of Ti Top Island to catch the panoramic view over Halong Bay or visit one of the numerous caves, which were formed in the course of thousands of years.  We spend the night on anchor. You spend the night anchored here. (B,L,D)
Day 4: Insel Trà Bản – Bai Tu Long Bay, 16 mi. / 25 km 
After an early breakfast, we navigate our way to the island of Tra Ban, a unique place untouched by modern-day tourism. The island offers us an insight into the earlier, traditional life of the island inhabitants; as if time had stood still. A common sight is the Vietnamese water buffaloes grazing as we pass, we may even come into conversation with one of the local farmers tending to their fields who greet us with their kind smiles. For lunch, we enjoy a relaxing picnic together. In the afternoon, the hydrofoil will take us back to the pier where our junk awaits us. A relaxing cruise through the island world of the Bai Tu Long Bay tops this eventful day off. Enjoy an evening under the stars, on anchor. (B,L,D)
Day 5: Bai Tu Long Bay and Lan Ha Bay (Kayak-day) 
This morning you disembark the Junk with your baggage and take a transfer boat to Lan Ha bay.  In the afternoon, you are able to take part on a guided kayak tour of a local lagoon around which, with a bit of luck,you will be able to see some wild monkeys that live on the steep rocks with lush vegetation. Occasionally their curiosity will bring them down to the shore. Today's beach destination is beautiful beyond imagination. After lunch and a lengthy relaxing swim break in the emerald green waters, your kayak tour will take you past floating houses to Cat Ba, the next destination. A short transfer takes you to a beautiful resort, where the evening can be enjoyed on the hotel's very own sandy beach or at the pool.(B,L,D)
Day 6: Cát Bà Insel – Viet Hai Village, 13mi. / 20km
Early in the morning, a transfer will bring you to a small dock from which you will travel by boat for about one hour to yet another small jetty. From here you will start a cycling tour through the national park of the island to a small tribal village of the Viet Hai minority. Parking the bikes here, a guided walk will take you through the protected old-growth forest where the wild, unspoiled nature rules. The aim is to reach the highest peak of the island which, on a good day, offers breath-taking views of the Ha Long bay and the rest of the island. After the walk, a bike tour will take you back to the boat for navigating back to Cat Ba City. (B,L,D)
Day 7: Cát Bà Insel – Hai Phong - Hoi An
After breakfast, a taxi boat will transfer to Hải Phòng where a bus waits to transfer to the nearby airport from which the flight to Đà Nẵng departs. On arrival, a short transfer with the shuttle bus will bring you to your Hotel Resort in Hội An. Here you are able to relax in the river-side palm tree gardens of the hotel before your stroll through the picturesque old town of Hoi An, ith it's wooden-front houses, the Japanese covered bridge, and a likely market. Overnight stay at the hotel in Hoi An.  (B,L)
Day 8: Hoi An - Tra Que - Hoi An, 11 mi. / 17 km
Today you will have opportunity to observe the daily life of the local farmers. In the morning, the cycling route leads to Tra Que - a small village in the suburban area of Hoi An. The name of the place originates from a sweet-scented vegetable often used by the locals to spice up their meals. Your host will invite the group to prepare the meal together and will explain this local delicacy. The afternoon is yours to plan and explore. A stroll through the picturesque old town or a relaxing afternoon bathing at the white beach of Cua Dai, or at An Bang Beach could be one of the possibilities. Overnight stay at a hotel in Hoi An. (B,L)
Day 9: Hoi An - Hue, 25-28 mi. / 40-45 km
After a late breakfast, you will check out of the hotel and will make your way, first by bike and then by bus to the former imperial city of Hue. En route there is a brief stop (incl. lunch) at the Cloud Pass, the weather line between North and South Vietnam. Afterwards, a short stopover on Lăng Cô Beach is scheduled and if weather conditions allow you can stay for a refreshing swim, before continuing back to Huế. On the way, you have the chance to visit one of the UNESCO protected kings tombs of the former Nguyen dynasty, located on the outskirts of Hue. After checking into the hotel the evening offers leisure time to explore the city for yourself. Overnight stay at a hotel in Hue. (B,L)
Day 10: Hue, cycle tour approx. 14 mi. / 23 km
This day is dedicated to the old imperial city of Huế, situated between rolling hills and rice fields along a bend in the Perfume River. The spiritual heart of Vietnam beats here, with more than 300 temples and pagodas. In the morning you visit the rambling citadel, which once was reserved for the emperors of the Nguyen-Dynasty as well as the Thien Mu-Pagoda, the cradle of Buddhism in Vietnam. After lunch in one of the regionally typical restaurants, you head back to the hotel to prepare yourself for the afternoon's cycle tour. It is time to leave city life behind and to explore the rural surroundings of the city Hue. We cycle through bamboo groves and small villages to the Thanh Toan covered bridge. The cycling route leads further on local paths, through a rural village, rice fields, to the local market with interesting daily activities. After a day of cultural impressions, you are free to enjoy our evening as we please. Overnight stay at a hotel in Hue. (B,L)
Day 11: Hue -  Ho Chi Minh City - Mekong Delta,13 mi. / 21 km
After breakfast, there is a morning flight to Ho Chi Minh City and subsequent transfer to Mỹ Tho, where check-in onboard the ship takes place. The ship navigates the Melong in the direction of Cai Be, during which you can enjoy the flourishing nature of the delta as well as the river-related life of the inhabitants. North of Ben Tre, there will be short cycle tour. Lunch will be served back on board, following which, In the afternoon the schedule includes the discovery of the green island Ngu Hiep with the opportunity to try exotic fruits and view exotic local handcrafts. Overnight stay on anchor. (B,L,D)
Day 12: Mekong Delta: Cai Be - Islands of Vinh Long und Traon, 19 mi. / 30 km
In the morning, after crossing to Vingh, Long Island, the cycling leads under palm-shaded paths around the island. By boat, your tour continues to Traon Island and then by bike, to explore the surroundings. Excellent cuisine awaits on board and the wonderful evening atmosphere in the water labyrinth of the Mekong Delta. (B,L,D)
Day 13:  Can Tho – Ho Chi Minh City 
During breakfast the ship takes us to Cần Thơ to visit one of the region's most famous floating market, rounding off your cultural experience of Southern Vietnam. Make sure you have a camera at the ready, as the colorful fruit stands are incredibly photogenic. After an early lunch on board of the Conchinchine, you check out and are transferred back to Hồ Chí Minh City. (B,L)
Day 14: Ho Chi Minh City
Ho Chi Minh City, former Saigon, is the Boomtown and the modern center of Vietnam. On a guided city tour you will learn about the growing megacity, the town hall, the cathedral Notre Dame - a stunningly massive red-bring edifice with twin spires, the, main post office and other important sights which characterize the city's history. Your day could end, if you would like, shopping with the crowds in the Benh Thanh Market. You will enjoy a farewell dinner this evening with your fellow passengers and all travel guides. Overnight stay at the hotel in Ho Chi Minh City (B,L,D)
Day 15: Departure 
Departure after breakfast or prolongation in Ho Chi Minh City or Siem Reap.
On account of unpredictable wind and weather conditions as well as organizational requirements, we reserve the right to change routes with no advance notice.  All distances are approximate. 
B = Breakfast
L = Lunch
D = Dinner
---
Post-Tour Extension to Angkor Wat 
The attractions of Angkor Vat are surely part of the world wonders and are perfect for an extension of your Vietnam holiday. The program consists of less difficult cycle tours, some distances covered by foot and focused on sightseeing.  

Day 1: Flight Ho Chi Minh City - Siem Reap, loop tour on bike, 22 mi. / 35 km
Flights to Siem Reap are not included in the tour price but can be arranged for a supplement. See pricing. Group will meet at Siem Reap airport in the morning, followed by transfer to hotel in Siem Reap for check-in. Booked flights arrive at approximately 9:30 am. Keep this in mind if arranging your own flights. Following check-in, there will be a cycle tour from Siem Reap to the floating village of Kompong Phluk, located on the floodplain of the Tonle Sap Lake. You are able to explore this great ecosystem in canoes, listening to the calls of the macaque monkeys while observing the flora beneath the lake's surface. Back at the hotel you enjoy some free time before you meet again for the evening meal accompanied by a traditional Apsara dance. The night is spent in Siem Reap. (L,D)
Day 2: Siem Reap - Angkor Wat Temple Exploration, 22 mi. / 35 km 
After a nourishing breakfast, you spend the day cycling through the friendly Cambodian countryside, visiting a selection of temples along the way. The first stop is the Ta Prom Temple, commonly known as the Jungle Temple, where the mighty tree roots fight to reclaim the ruins. You continue on to the Bayon Temple and pass the twin temples, Thommanom and Chau Say Thvoda, the Victory Gate, the Lapper King and the Terraces of Elephants on your way. A picnic lunch is enjoyed at the famous Angkor Wat temple before cycling on to Phnom Bakeng to enjoy the picturesque sunset. We spend the night in Siem Reap. (B,L)
Day 3: Siem Reap - Phnom Kulen, 31 mi. / 50 km; hiking, 2 hours
Today you combine biking and hiking to explore Siem Reap and its surroundings. Leaving Siem Reap, after breakfast, you ride to Phnom Kulen following a pleasant quiet dirt road via Kravan temple, Bantey Kdei, Sras Srang, and Phnom Bok. On arrival in Rattanak Tey Pagoda, you leave your bikes and continue on foot to the top of the mountain. After 88 steps you reach Pres Ang Chup and stop for a short break. A well-earned rest gives you the strength to climb the 100 steps to big Nevena (Pres Ang Thom,) passing over the river of 1000 Linga. A picnic lunch at the waterfall replenishes you once again before returning to the pagoda where a transfer vehicle takes you back to Siem Reap. Overnight in Siem Reap. (B,L)
Day 4: Departure
Breakfast and free time until airport transfer. (B)
B = Breakfast
L = Lunch
D = Dinner
*All distances are approximate. The above-planned itinerary is subject to change due to changing wind and weather conditions and other unforeseen circumstances.
Use the opportunity to arrive one day earlier in Hanoi. Enjoy the sightseeing in a bustling city with tree-lined boulevards, French Colonial architecture, peaceful lakes and oriental temples. Please keep in mind that the first day of this pre-tour modul covers some time for your journey to Vietnam as well as some spare time to enjoy the town on your own. On the 2nd day (which is as well the 1st day of your Boat & Bike Tour Vietnam) is made to show you the beauty of the Vietnamese capital on a guided tour.
1st Day (Sat) Arrival in Hanoi
Arrival at Hanoi Airport. A shuttle bus takes you to your hotel in the heart of the old quarter of Hanoi. Despite the three million inhabitants, Hanoi offers a rural and traditional atmosphere. The historic old town district is considered as one of the best-preserved in Southeast Asia. The colorful and bustling streets contribute to the Asian flair. The choice is yours today. Treat yourself to some fine food. You will find everything close to your hotel: from Vietnamese and French haute cuisine to plain but delicious meals out of little cook shops. Overnight stay in your hotel.
2nd Day (Sun) Guided tour through Hanoi (This is Day 1 of bike & boat tour)
After breakfast, your guide and your shuttle bus are ready to show you the best sights of the Vietnamese capital. On your excursion, you follow the tracks of the most famous Vietnamese person: Hồ Chí Minh. Even decades after his death he is still fondly called Uncle Hồ. We visit Hồ Chí Minh Museum dedicated to Hồ Chí Minh and the very modest cottage he used to live and work in, followed by a visit to the monumental marble and granite mausoleum where Uncle Hồ has found his final resting place. This excess is in total contrast to his life and contrary to his last wishes.
You continue with the One Pillar Pagoda, one of the best known religious Vietnamese buildings and the Temple of Literature, known to be the first National University of Vietnam. Your guide takes you to the Museum of Ethnology after an invigorating lunch. Here you can learn about the various demographic groups, their way of living and the different types of houses used by Vietnam's 52 ethnic groups.
After you have visited Ngoc Son and Ba Kieu temple, a guided walk through the bustling Old Quarter, with more than 1,000 traditional houses, and sprawling Dong Xuan Market completes the sightseeing tour. Back at the hotel, you meet your fellow-travelers at 5:30 pm for a short talk followed by dinner. (B,L)
Hotel
You stay at a hotel which is only a couple of minutes away from Hoan Kiem Lake in the middle of the old part of Hanoi, the same hotel of course in which you will be accommodated for the start of the main tour.
Be sure to check out all of our featured bike and boat tours, or our full list of bicycle tours.
Email or Call 800-951-4384 +1 570-965-2064
---
Vietnam
Boats + Barges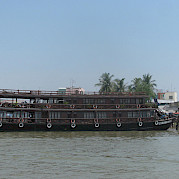 Funan Cruise Vietnam Premium Class Boat The Funan Cruise is one of the largest and most modern ships in the region. Its shape is reminiscent of the vessels of the famous river delta in southern Vietnam. This comfortable wooden boat is protected by the watchful dark eyes of the red dragon painted on the prow. Three times a day, the large common room becomes the dining room with beautifully set tables.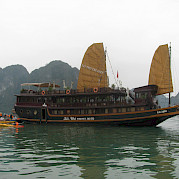 Vietnamese Junks Vietnam Premium Class Boat Carved dragon heads decorate the prow of the Junks in the Ha Long and Bai Tu Bay. Dragons belong to the circle of four sacred animals of Vietnam and they proudly guide the traditional wooden boats through the fairytale cliffs of the South China Sea. It is easy to feel at home on the junks: the saloon with its upholstered wicker furniture and colorful carpets are a comfortable feature of the ship. For each meal, the tables are lovingly set and the folded cloth napkins are a piece of art. The crew, in their brilliant white uniforms, greet you warmly with a welcome drink with the hospitality that is so common Vietnam.