Wolfsburg to Cologne
Germany Bike + Barge Tours
Bike and barge tour through the heart of Germany
This bike and boat tour in Germany begins in Wolfsburg. From there you'll cycle through Münster, Düsseldorf, and other famous German cities with rich historical legacies, allowing you to truly experience Germany. Nature is highlighted, as well, as you cycle the shores of Steinhuder Lake, the surrounding nature park, and the Weserbergland, through a variety of landscapes consisting of extensive moorlands and woods. The Weserbergland is the setting for the magical tales of the Brothers Grimm.

If Roman history is your thing, a historical highlight for you will be the included tour of the battlefield at Kalkrieser Berg (mountain) where the Battle of the Teutoburg Forest (Varusschlacht) took place. While exact numbers are not known, it is estimated that between 15,000-20,000 Roman soldiers were killed.

This bike and barge tour in Germany aboard the lovely Merlijn will not disappoint you.

Highlights:

Wolfsburg, Dusseldorf, Cologne
Weserbergland and Steinhuder Lake
Baroque gardens 'Herrenhäuser Gardens
Midland Canal
Regional history
Impressive River Weser Lock
Battlefield of the Teutoburg Forest

Want to see more bike and barge tours in Germany?

2020

Twin/double cabin: $ 2869 £ 1430 $ 2,409 € 1525 $ 2917 kr 17089 $ 1,694 Single supplement on request

2021

Twin/double cabin: $ 3076 £ 1533 $ 2,583 € 1635 $ 3128 kr 18322 $ 1,816 Single supplement on request

extra

options

Electric bike rental (price per day, advance reservation required, payment on board): $ 56 £ 28 $ 47 € 30 $ 57 kr 336 $ 33

please

note

Rates are per person based on double occupancy.

A non-refundable admin fee of 20 Euros per person is included in the deposit amount.

Information to read before you book.

We recommend purchasing bike trip insurance.

† Currency exchange rate set 90 days before travel.

Travel

There are a couple of options for your arrival to and departure from Germany. Perhaps you may want to fly into one airport and out of another. The largest international airport to your tour start in Wolfsburg is Berlin.
The largest international airport to your tour finish in Cologne is Frankfurt International Airport (FRA).
There are smaller international airports convenient to your itinerary such as Dusseldorf, Cologne, and Hannover.

Local Travel

For onward travel from your arrival airport and to your departure airport will depend on your specific travel plans. Berlin has two large international airports, Berlin Tegel International airport (TXL) and Berlin­ Schoenefeld (SXF). Most major international transoceanic flights arrive to Berlin Tegel (TXL). Inter European flights generally land at Berlin Schonefeld (SXF). Both airports are well connected to the city center by public transportation, taxi, and transfer services so that you can travel onward to Wolfsburg. Train travel time from Berlin to Wolfsburg is approx. 2 hours. From Cologne to Frankfurt airport at the end of your tour, you can travel direct in just under one hour. A good website to research train travel in Germany is Deutsche Bahn. Remember that we will send your mooring locations and detailed travel information about one month before your tour date.

Climate

Please check local conditions before your arrival. A good website for weather information including average high/low temperatures and average rainfall is weatherbase.com.

Remarks

Electric bikes available for this tour and can be rented on a per diem basis. Advanced reservation required. See pricing.

Documents

Before you travel, please check your country's passport and visa requirements and the passport and visa requirements of the country/countries you plan to visit. For US citizens, the US Department of State website is a good source of information. The Country Information tab in the International Travel section provides details about passport validity, blank passport pages required, etc. For our other international clients, please be sure that you research your own country's travel requirements. It is each traveler's responsibility to ensure proper documentation.

*Important note: Beginning July 1, 2021, additional documentation from the European Travel Information and Authorization System (ETIAS) will be required to visit any of the 26 Schengen-member countries for tourism, business, medical, or transit. This is an additional check on security rather than a visa.

---
Where
You'll Stay
Accommodation onboard the Deluxe class vessel, the Merlijn
What's
Included
Accommodationsfor 7 nights
7 breakfast buffets, 6 lunches, and 6 three-course dinners
Coffee, tea, hot chocolate, and ice water
27-speed hybrid bike of the brand Sensa, a famed Dutch company. Bikes come equipped with hydrolic disc brakes, waterproof pannier, water bottle, towel, and use of universal helmet
Fees for harbors, bridges, and locks
Entrance fee to the VW Autostadt and guided tour
Entrance to theHerrenhäuser Gardens
Daily cabin cleaning
Welcome drink
Route information and maps
Ferry fares en route
Tour guide
†Wifi
†Important to note, due to steel construction of the ship, cruising locations, and other factors, Wifi signal speed and strength may not be what you are accustomed to and may not meet your expectations. If you are dependent on a constant, strong, fast, and reliable signal at all times, please consider a personal hot spot. See our FAQ page.
What's
Not Included
1 dinner
Organized city tours
Entrance fees and excursions other than those mentioned as included
Drinks other than mentioned
City maps
Bike maps
Gratuities
Tour
Dates
2020
July 11, 2020
2021
July 31, 2021
Skill
Level
This is an easy, guided bike and boat tour with average daily distances between 35 and 55 km.
Tour
Boats
Day-To-Day
Itinerary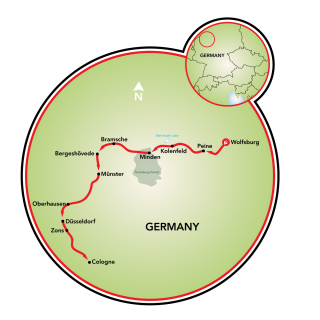 Day 1: Arrival in Wolfsburg - Midland Canal
Day 2: Midland Canal - Braunschweig - Peine - Hannover
Day 3: Hannover - Kohlenfeld - Minden
Day 4: Minden - Bad Essen - Bamsche - Münster
Day 5: Münster - Datteln - Oberhausen 
Day 6: Oberhausen - Düsseldorf 
Day 7: Düsseldorf – Zons - Cologne 
Day 8: Cologne 
*Daily cycling distances range between 35 and 55 km. All distances are approximate. The above-planned itinerary is subject to change, even on very short notice,  due to changing wind and weather conditions and other unforeseen circumstances having to do with mooring requirements, docking location changes, lock repairs,  etc.
Day 1: Arrival in Wolfsburg
Check-in at 1:30 pm. You can then immediately go to visit the VW Autostadt. 
You can explore the museum on your own and at 3 PM there will be a 45 min. guided tour through the park. Instead, you can also visit the charming city center of Wolfsburg.
You are officially welcomed on board at 4 pm and then at 5 pm, the Merlijn will depart Wolfsburg. We will show you your room, offer a welcome drink and introduce the crew. Also we inform you about the tour, the ship and give you a safety briefing. Enjoy the afternoon cruising until dinner is served. After dinner, we will dock and stay overnight in a rural surrounding.
Day 2: Midland Canal - Braunschweig -  Peine - Hannover
Today you will start sailing early and travel further along the Midland Canal. Your bike tour will be starting in Braunschweig, arriving at approximately 9 am.  First, you will have the opportunity to visit this very charming and interesting Hanseatic city. Late in the morning, you begin cycling to Peine, situated on the Midland Canal. Here you will board the Merlijn and together sail approx. 4 hours, again enjoying dinner while you sail to Hannover.
Day 3: Hannover - Kohlenfeld -  Minden
Your bike tour starts at Hannover, where you first will have the chance to see the famous baroque gardens 'Herrenhäuser Gardens, the Royal Gardens of Herrenhausen'. The route then leads along the Natural Preserve Steinhuder Lake, ending in Kohlenfeld, where the Merlijn will await and then navigate to Minden. Today you will experience one of the highlights of this trip, the Wasserstraßenkreuz (Aquatic Interchange), where the Midland Canal crosses the Weser River via a 13-meter high aqueduct. You will pass through the impressive River Weser Lock where the Merlijn will be lowered 13 meters to the Weser River. Your overnight stay will be in Minden.  
Day 4: Minden - Bad Essen - Bramsche - Münster
Again you start with a sailing breakfast while you enjoy the view on the beautiful surroundings of the Weserbergland. Your bike tour will be from Bad Essen to Bramsche, passing the Teutoburger Wald (Teutoburg Forest) a range of low, forested mountains in the German states of Lower Saxony and North Rhine-Westphalia. You will also pass the Kalkrieser Berg (mountain) where the Battle of the Teutoburg Forest (Varusschlacht) took place. It is described as the Varian disaster by Roman historians, it took place in 9 AD when an alliance of Germanic tribes led by Arminius of the Cherusci ambushed and decisively destroyed three Roman legions and their auxiliaries, led by Publius Quinctilius Varus. You are invited to visit this former battlefield and learn more about the great history. Entrance fee is included in your trip. In Bramsche the Merlijn will await you, and from here to Münster, will be enjoyed on board.  Münster is a city of science, city of sculptures, city of the Peace of Westphalia. It is also a city of bicycles! This Hanseatic city is a living metropolis with many faces. You will surely enjoy your night in the town, in the Altstadt.
Day 5: Münster - Senden - Datteln - Oberhausen 
You start sailing from Münster early in the morning and your bike tour starts shortly after Senden and ends in Datteln. This region has one of the highest German concentrations of castles, palaces, and fortifications, Lüdinghausen having three by itself. First, you will pass Vischering Castle (1271). You can visit here and also stroll on the sandstone wall and have a look into the courtyard.  Aftwerwards, you will pass the Lüdinghausen Castle, built in 1271 as well. From here you bike further to Datteln where the Merlijn awaits you to navigate to Oberhausen.
Day 6: Oberhausen - Düsseldorf 
Your bike tour starts in Oberhausen and ends in Düsseldorf. Your cycling tour leads you through the so-called 'Ruhr-Gebiet' a very important German industrial area. Most of the cycling will be in the forest though, where you can have a look at the 'Stinkesberg' a historical mountain in this area. In Düsseldorf you will have time to explore this great city, the Altstadt is worth a visit. Tonight you will enjoy your dinner in one of the many restaurants here in Düsseldorf.
Day 7: Düsseldorf – Zons - Cologne 
While you enjoy your breakfast, the Merlijn sails to Zons. From here you will cycle along the Rhine river to Cologne. In the afternoon you can visit Cologne, where the cathedral spires tower (The Dom) over Germany's oldest city and its innumerable cultural and historical treasures, world-famous museums and active art scene. People meet here for a Kölsch (a local beer). Life in Cologne is uncomplicated and vivacious. You will experience this great city even more in the Altstadt while enjoying a Kölsch as well! Last dinner and overnight stay in Cologne. 
Day 8: Cologne 
After breakfast time to say goodbye.
Looking for more?  View all of our featured bike and barge tours, or view our full list of bike trips.
Email or Call 800-951-4384 +1 570-965-2064
---
Wolfsburg to Cologne
Boats + Barges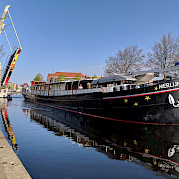 Merlijn Germany, Netherlands Deluxe Class Boat "The Divine Miss M" as we lovingly call the Merlijn is a diva, for sure. What can we say? Is it the luxurious cabins with most comfortable beds you have ever slept in? Is it the lovely dining area with the large windows and skylight that let the air, light, and sun pour in? Or perhaps it is the sun deck, where you can relax with newfound friends, sharing good wine and good conversation. We think you will find it is the entire divine package! Step onboard and discover for yourself!