Alentejo Beaches
Bike Portugal along stunning beaches.
Southwest Alentejo and Vicentine Coast Natural Park--the primary region of this Portugal bike tour-- is located in the Alentejo Region of south-central Portugal. It is one of the 30 Natural Park areas which are officially under Portuguese protection in the country. The Alentejo coast from the Sado Estuary to the Algarve is beautiful and unspoiled, with beaches ranging from the cosmopolitan to the secluded. This landscape is one of the most preserved landscapes in all of Europe and boasts a diversity of rare botanical species with very interesting flora and a variety of maritime birds that nest here.

Highlights of this Alentejo Coast bike tour include visiting the wonderful beaches of the Natural Park and taking a swim in the clear, blue sea. The jagged cliffs that stretch out of the ocean are steep, some reaching almost 100m high. Countless rocks and isolated islets complete the beautiful and unique scenery.

Cycling along the trails and admiring the unique views from the cliff tops with the sea breeze in your face is exhilarating. At the southern most point of this tour, you will cycle Portugal to find Cape S. Vicente. This is the most south-western point in continental Europe and a passing area for thousands of birds of prey.

You will visit some of the beaches of the famous Algarve and also the cosmopolitan city of Lagos, one of the oldest towns in Algarve and rich in history. There is still evidence of the wall that surrounded the town for protection. Highlights also include the town's old fort and its former Slave Market which is now an art gallery.

Don't' forget that Tripsite provides many amazing bike tours in Portugal along with hundreds of other other bike tours in Europe.

March 20
Guided: £ 2344 $ 3,836 € 2910 NOK 28130 kr 25966 $ 3,376 Self-guided: £ 1313 $ 2,149 € 1630 NOK 15757 kr 14545 $ 1,891 Single supplement: £ 193 $ 316 € 240 NOK 2320 kr 2142 $ 278

May 1
Guided: £ 2554 $ 4,179 € 3170 NOK 30643 kr 28286 $ 3,677 Self-guided: £ 1458 $ 2,386 € 1810 NOK 17497 kr 16151 $ 2,100 Single supplement: £ 193 $ 316 € 240 NOK 2320 kr 2142 $ 278

May 22
Guided: £ 2554 $ 4,179 € 3170 NOK 30643 kr 28286 $ 3,677 Self-guided: £ 1458 $ 2,386 € 1810 NOK 17497 kr 16151 $ 2,100 Single supplement: £ 193 $ 316 € 240 NOK 2320 kr 2142 $ 278

July 3
Guided: £ 2666 $ 4,363 € 3310 NOK 31997 kr 29535 $ 3,840 Self-guided: £ 1523 $ 2,491 € 1890 NOK 18270 kr 16865 $ 2,192 Single supplement: £ 290 $ 475 € 360 NOK 3480 kr 3212 $ 418

October 16
Guided: £ 2521 $ 4,126 € 3130 NOK 30257 kr 27929 $ 3,631 Self-guided: £ 1434 $ 2,346 € 1780 NOK 17207 kr 15883 $ 2,065 Single supplement: £ 185 $ 303 € 230 NOK 2223 kr 2052 $ 267

extra

options

Electric bicycle rental: Please contact us for price

please

note

Rates are per person based on double occupancy.

Information to read before you book.

We recommend purchasing bike trip insurance.

† Currency exchange rate set 90 days before travel.

Travel

Fly to Lisbon

Local Travel

Transfers to and from the Lisbon airport are included.

Climate

Check local conditions prior to arrival. Average high/low temperature for the area in degrees Fahrenheit: April 64/48º, October 70/55º, and November 70/55º.

---
Tour
Dates
March 20, May 1, May 22, July 3, and October 16, 2016
(Tour requires a minimim of 2 participants)
Please note that additional dates may be possible (subject to availability) for the self-guided version only. If you would like to depart on a date not listed, please contact us. 
Where
You'll Stay
Accommodations in 4 star hotels (three nights) and cozy bed and breakfasts (three nights)
What's
Included
Transfers from and to Lisbon Airport
Accommodations for 6 nights: 3 nights in four-star hotels, 3 nights in B&B/Rural Tourism.
6 x breakfasts
Hybrid bicycle rental
Hotel to hotel luggage transport
Documentation about Portugal bike tour
Liability Insurance
Personal Accident Insurance
Guided tour only :
Tour guide
6 x dinners (each including wines, amazing cheeses, and lovely desserts)
Daily energy bars and water
Techno-Mechanical Assistance
First-Aid assistance on location
Permanent Backup Vehicle
What's
Not Included
Lunches and dinners (self-guided tour)
Skill
Level
This is a moderate to difficult bike tour with average daily distances of 35 miles (57 km).
Day-To-Day
Itinerary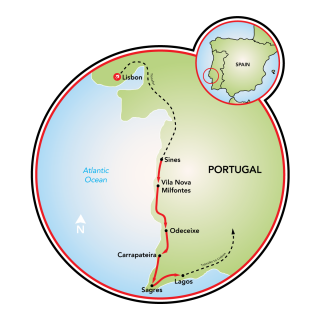 Day 1: Arrival in Lisbon, transfer to Sines.
Day 2: Sines - Vila Nova Milfontes, 25 mi. (41 km)
Day 3: Vila Nova Milfontes - Odeceixe, 38 mi. (61 km)
Day 4: Odeceixe - Carrapateira, 30 mi. (49 km)
Day 5: Carrapateira - Sagres, 24 mi. (38 km)
Day 6: Sagres - Lagos, 30 mi. (48 km)
Day 7: Departure, transfer to Lisbon Airport
*All distances are approximate.
Day 1 : Arrival in Lisbon
Your Portugal cycling vacation begins with a welcome meeting at Lisbon airport and then a transfer to Sines where you will be briefed on the tour. Dinner will follow and the lodging for the evening is in a charming 4* hotel.
Day 2 : Alentejo Coast, 25 miles (41 km)
Following breakfast, the day begins with a cycling trip into the Southwest Alentejo Natural Park, one of the most well-preserved coasts in Europe. The itinerary today includes the fishing village of Porto Covo, the birthplace of Vasco Da Gama. This region was occupied by Phoenicians and Romans who left vestiges of their culture and archeology here. Along the route, you will enjoy some of the most beautiful beaches of the Vicentine Coast. Today's destination is Vila Nova Milfontes, one of the true hidden gems of Portugal. This small fishing village is surrounded by some of the region's best beaches. 
Day 3: Odeceixe, 38 miles (61 km)
The first destination of today's Portugal cycling tour leads to Cape Sardão with its historical lighthouse atop the cliffs, erected in 1915. From this spot, you can enjoy the surrounding landscape. The inclined schist rocks reveal just how large these ancient geological formations actually are. These rocks are inclined 60 degrees northeast and have a horizontal and vertical orientation. The rock face appears to sink towards the sea, having been carved by time. A visit to  Zambujeira do Mar, a small fishing village is also on the agenda. Today's tour ends in Odeceixe, another village near the sea. 
Day 4: Odeceixe - Carrapateira, 30 mi. (49 km)
Today you will begin cycling towards Aljezur, a small town situated in a lush green valley and well known for its sweet potato crops. A highlight of this town is its ancient castle dating back to the 10th century. Next, you continue to cycle southward, crossing woods, rolling hills, and charming valleys en route to Carrapateira, a beach town always full of surfers. Lodging this evening is a small guesthouse near the west coast of Algarve. 
Day 5: Carrapateira - Sagres, 24 mi. (38 km)
After breakfast is a cycling tour to Cape S. Vicente, the south-westernmost point in Europe. Tonight's lodging is in a 4* new hotel with swimming-pool, surrounded by stunning deserted beaches and unforgettable beauty.
Day 6: Sagres - Lagos, 30 mi. (48 km)
As you cycle along the south coast of the Algarve, it becomes very apparent when the Natural Park ends and the touristic Algarve begins. Before getting to Lagos, visit Ponta da Piedade where the sea and the wind have shaped beautiful rocks creating an amazing view. Lodging in a 4* hotel with swimming-pool, that epitomises the Algarve culture, with blue and white corridors, patios, restaurants, and a bar.
Day 7:  Departure 
Transfer to Lisbon airport, an approximate 3-hour drive, following breakfast.
Looking for more?  View all our featured bicycle tours, specials, and news.
Email or Call 800-951-4384 +1 570-965-2064
---