Algarve, A Coastline of Fortresses
A bike tour along the varied coastlines of the Algarve
This bike tour in Portugal begins in the wild rugged area of Southwest Alentejo and Costa Vicentina National Park on Portugal's western coast and continues along the popular southern coast, the true Algarve, all the way to the border with Spain. When the Algarve was conquered by the Muslims over a thousand years ago, their influence was felt everywhere. Castles were built to defend against invaders of all sorts. Housing and public buildings were built in a style more familiar to North Africa. Citrus trees, almonds, and other plants were introduced to the area. The dramatic coastline of the Algarve still bears visible traces of this Moorish past. Days are varied with museum visits, fortresses, jagged cliffs, and the crystal blue waters enticing from afar. The pristine beaches attract sun worshippers from all over but you will discover that even in the more touristy areas, secluded beaches can still be found. Highlights include but are not limited to the picturesque and historical town centers, the wild scenery of the western coast of the Southwest Alentejo and Costa Vicentina National Park, wonderful cycling, and tasty picnics on exotic beaches with beautiful sands, sea, and cliffs.
Want to see more bicycle tours in Portugal?
Tour
Dates
Guided : March 25, April 22, May 13, May 20, June 10, June 24, July 15, August 19, September 16, September 23, and October 21, 2017
Van supported: August 5, 2017
Self Guided: Arrival possible every Saturday for groups of two or more people (July and August is not recommended as it is very hot!). Departures are possible on other days of the week for a supplement.
Where
You'll Stay
Two "pousadas", one farmhouse/village inn, two 4 hotels, one 3 , and one simple guest house, all with pools except the guest house
What's
Included
Self Guided
Hotel accommodations for 7 nights
Breakfast
Luggage transfer
Van transfer from Lagos to Olhão on Day 6
Bicycle rental with rear bag for light, odometer, and map holder
24 hour emergency contact
Cell phone
Tourist taxes
GPS rental
Supported
Hotel accommodations for 7 nights
Breakfast
Luggage transfer
Bicycle rental with rear bag for light cargo, helmet, odometer, and map holder
24 hour emergency contact
Tourist taxes
Tour guide that drives the support vehicle
Transfer from Faro airport to Odeceixe
Transfer on private bus from Vila Real de Santo António to Faro airport
Four picnic lunches and two lunches at restaurants

Five dinners with wine
1 liqueur tasting
Entrance fee at Fortress of Sagres, Municipal Museum in Aljezur, and the Fisherman's museum
Tourist taxes
Cycling Jersey
Guided
Everything listed under van supported tour in addition to a tour guide that cycles with the group
What's
Not Included
Self guided
Lunches and dinners
Transfer from Lisbon Airport (possible for supplement)
Entrance fees
Bicycle protection
Travel insurance
Guided
Two dinners
Bicycle protection
Travel insurance
Extra
Stay
Always recommended!
Skill
Level
This is a moderate to difficult self-guided or guided tour that is quite hilly. Climbs range from 300 to 650 meters. There is a support vehicle throughout the tour. Route is about 30% dirt roads as the asphalt roads are too busy.
Day-To-Day
Itinerary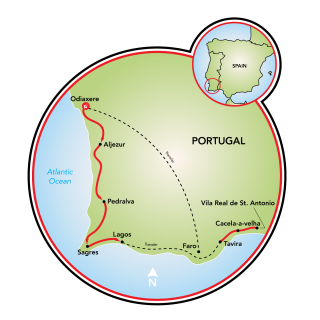 Day 1: Arrival at Faro or Lisbon Airport
Day 2: Odeceixe - Aljezur, 20 mi. (32 km)
Day 3: Aljezur - Pedralva, 27 mi. (44 km)
Day 4: Pedralva - Sagres, 26 mi. (41 km)
Day 5: Sagres - Lagos, 27 mi. (43 km)
Day 6: Lagos - Tavira, 19 mi. (30 km)
Day 7: Tavira - Vila Real de St. Antonio, 23 mi. (37 km)
Day 8: Departure
Day 1: Arrival at Faro or Lisbon Airport
Transfer to Odeceixe. If you arrive early enough, and you fly to Faro, a vist to the historic center of Faro is recommended! Upon arrival in Odeceixe, there will be time to relax in the little square. Odeceixe is a tranquil town of whitewash built on a hill opposite the broad valley of the Odeceixe River, complete with a windmill overlooking it all. Bikes will be available and you can ride to the beach which is classified as one of the seven wonder beaches of Portugal.
Day 2: Odeceixe - Aljezur, 20 mi. (32 km)
If you were not able to visit the beach on your arrival day, you will have the opportunity this morning. The route leads along the lush river valley to the broad sandy bay framed by cliffs. This is one of the most sheltered beaches on the coast, renowned for surfing. Leaving the beach, your guide will lead you through farmland to another wonderful beach. During a break for a cool drink, you can watch one of the surfing schools in action or swim. Final destination today is the village of Aljezur one of the last villages to be conquered by the moors. There are a local artist shop and gallery as well as a local museum and castle that deserve a visit. (350 meters total ascent)
Day 3: Aljezur - Pedralva, 27 mi. (44 km)
The day begins with a challenge and climb to the Castle of Aljezur after which you will be rewarded by the beautiful views over the village with its lovely vegetable gardens. Then, it is off to the coast again, visiting a fortress with stunning views over the cliffs and the "needle rock", an imposing rock standing in the middle of the ocean. The low-key village of Carrapateira is on the itinerary with its stunning views and rough coastlines. The fisherman's museum here explores the village's sometimes dangerous relationship with the sea. Overnight in Pedralva, a small, relaxing oasis where time has slowed. (650 meters total ascent)
Day 4: Pedralva - Sagres, 26 mi. (41 km)
First, on the agenda today is the Church of Vila Do Bispo with impressive cliff views. The day continues, heading toward the sea  and then cycling to the Cape of S. Vicente, the most south western point of Europe. From there on, the sea is your constant companion. A visit to the Fortress of Sagres is planned. Originally built in the 15th century, it was rebuilt in 1793. Inside the fortress is a former monastery founded in the 16th century and a 14th-century chapel, built on what is traditionally said to be the site of São Vincente's grave. An impressive, yet puzzling sight, is also the 39 m-diameter wind compass ("Wind Rose")! Overnight in Sagres, which during Roman times, was believed to be the most westerly part of the world and it was thought that the setting sun off the point made the waters of the ocean boil. (500 meters total ascent)
Day 5: Sagres - Lagos, 27 mi. (43 km)
Today the route goes along the southern coastline, in and out to wild beaches. There will be several opportunities for ocean swims and breaks for refreshments.  The ocean here is warmer than in the west coast and the waters are more tranquil. The cliffs change color, from the black schist to the orange sandstone. The villages are bigger, more touristic, with many cafés, restaurants, and shopping opportunities. The undulating route leads past a couple of fortresses with fantastic views on narrow secondary roads. Arriving in Lagos, we pass by the famous cliffs from where we can see beautiful rock islands in which erosion formed arches, caves, and different shapes. Lagos is a lively coastal city with charming architecture. Visit the local museum, the astonishing church and enjoy the cosmopolitan atmosphere. (720 meters total ascent)
Day 6: Lagos - Tavira, 19 mi. (30 km)
The day starts with a van transferalong the coast, the salt production lakes, and the farmland. Upon arrival to the destination, bikes are unloaded and the cycling itinerary begins with a stop at a quiet and charming village famous for its pottery. Then, it is back to the coast and a break by the  lagoon of the Natural Park of Ria Formosa. This park is one of the most amazing places of the Algarve, not only for its variety of landscapes but also because of its unique location. Recently elected as one of the 7 Natural Wonders of Portugal, it is one of three protected areas. The unique coastal lagoon here is constantly changing due to the continuous movement of winds, currents and tides. You will cycle along this lagoon and stop to enjoy the quietness and watch the bird life. It will not be unusual to see fishermen catching clams, razors in the low tide, and boats arriving from a fishing day in high tide. Tavira is probably the prettiest village of the Algarve. Its architecture is charming and the atmosphere relaxing. Save time to explore. It's also a good place to buy some arts and crafts at the local association. (220 meters total ascent)
Day 7:  Tavira - Vila Real de St. Antonio, 23 mi. (37km)
From Tavira, you cycle through the Natural Park again, passing several beach and golf resorts.  Beaches here are busy and lively and are reached by walking across a wooden bridge or by taking a small charming train or boat. Between the mainland and the beach, there is always the lagoon. There will be a stop at the charming Cacela-a-velha overlooking the sea. This is a small town by Algarve standards and still allows visitors to experience nature and local culture unspoiled by mass tourism. The route leads inland to Castro Marin . On the way, we will visit a biological farm and learn about the fig and carob trees, and the local produce that are made from their fruits. In this farm the motto is "waste nothing", and everything the tree produces is used. After you will visit the salines and learn about this local production. It is time to cycle to the final destination, Vila Real de Santo António, where the second language is Spanish! All restaurants have the menus in Spanish as this is the main tourism market. After all, Spain it's just across the river! Upon arrival, you will have the  opportunity to visit a local pastry factory! On guided tours, besides visiting, you will have the chance to make some pastries and, of course, taste them! (250 meters total ascent)
Day 8: Departure

Want to see more of what Portugal has to offer? 
Looking for a different adventure?  Check out our full list bike tours in Europe or look at our featured bike trips, specials, and news.
Email or Call 800-951-4384 +1 570-965-2064
---