3

/

5

(

2

reviews)
Algarve Bike Tour
Bike in Portugal along the most beautiful coast in Europe!!
This incredible cross country bike tour in Portugal runs along the Algarve, from the border with Spain to Sagres, where it ends by crossing at the most westerly point in Europe, Cape São Vincente. Starting along the sea and through the Natural Park of Ria Formosa, you'll be amazed by the lagoon system that extends itself over 60 km along the coast. Continuing on, you'll explore inland Algarve, riding on old roads and finding lost villages on the hills and in the beautiful cork-oak forests. Explore the rugged rock- face lined coast from Lagos to Sagres and end this incredible tour in the southwesternmost point of Europe, Cape São Vicente - the place where the land ends and the sea begins!

Want to see more bicycle tours in Portugal?

Self-guided
Price
January 1 to March 26 + Nov 11 to Dec 23

$

2406

£

1193

$

2,087

€

1308

$

2456

kr

14755

$

1,486

Single supplement

$

366

£

182

$

318

€

199

$

374

kr

2245

$

226

March 27 to May 26 + Sept 27 to Oct 31

$

2958

£

1467

$

2,566

€

1608

$

3019

kr

18139

$

1,827

Single supplement

$

734

£

364

$

637

€

399

$

749

kr

4501

$

453

April 2 to May 26 + Sept 27 to Oct 31

$

2627

£

1303

$

2,279

€

1428

$

2681

kr

16108

$

1,622

Single supplement

$

403

£

200

$

350

€

219

$

411

kr

2470

$

249

May 27 to June 25 + Aug 30 to Sept 26

$

2719

£

1348

$

2,359

€

1478

$

2775

kr

16672

$

1,679

Single supplement

$

513

£

255

$

445

€

279

$

524

kr

3147

$

317

Solo traveler supplement (applicable to all dates)

$

992

£

492

$

860

€

539

$

1012

kr

6080

$

612

 

*If traveling solo (without other persons) a solo traveler supplement will apply. This is in addition to the single supplement! 

extra

options

Please contact us for the guided tour price.

Electric bicycle rental: $ 221 £ 109 $ 192 € 120 $ 225 kr 1354 $ 136

please

note

Rates are per person based on double occupancy.

A non-refundable admin fee of 20 Euros per person is included in the deposit amount.

Information to read before you book.

We recommend purchasing bike trip insurance.

† Currency exchange rate set 90 days before travel.

Travel

Fly to Faro or Lisbon.

Local Travel

Transfers to and from Faro/Lisbon airports are included.

Climate

Check local conditions prior to arrival. Average high/low temperature in degrees Fahrenheit: March 65/51º, April 67/53º, May 70/60º, June 76/60º, September 79/63º, October 72/58º, and November 64/53º.

Remarks

It is possible to organize this tour as a guided tour for groups. Please contact us for more information!

---
Skill
Level
This is a moderate bike tour on mostly flat terrain with low hilly regions and some valleys with short, steep ascents and corresponding descents. It is 80% paved and 20 % trail. Some of the off road sections have sand, rocks, or gravel but there are always paved road alternatives offered. Since you cycle with a GPS, you may choose an alternate route. This tour requires a good command of the bike and a high level of fitness.
Where
You'll Stay
Accommodations in 4* Hotels and charming Guesthouses.
What's
Included
Accommodations for 7 nights
7 x breakfast
Focus hybrid bicycle equipped with water bottle, helmet, repair kit, and handlebar or rear bags
Detailed route descriptions
GPS including tracks and maps
Transfers on days 1 and 8 (to or from airport or hotel)
Luggage transport
Liability and personal accident insurance
What's
Not Included
Lunches
Dinners
Tour guide (It is possible to organize a guided tour for groups! Please ask us for details)
Tour
Dates
2019: Arrival possible daily all year (except for July and August due to extremely hot temperatures). 
*Please note: Special guided tours can be arranged for groups. Please contact us for details.
Day-To-Day
Itinerary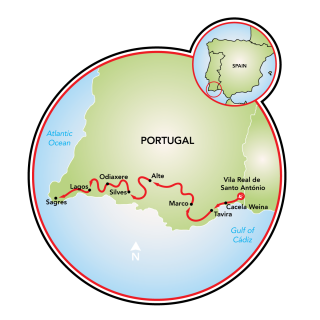 Day 1: Arrival
Day 2: Vila Real de Santo António - Tavira, 22 mi. (35 km)
Day 3: Tavira - Marco, 22 mi. (36 km)
Day 4: Marco - Alte, 35 mi. (57 km) 
Day 5: Alte - Silves, 22 mi. (35 km)
Day 6: Silves - Lagos, 32 mi. (52 km)
Day 7: Lagos - Sagres, 38 mi. (61 km) 
Day 8: Departure
*All distances are approximate.
Day 1: Arrival, Transfer from LISBON (4 hour drive) or FARO (1 hour drive)
Vila Real is an interesting old town on the banks of the Guadiana river, forming the border between Spain and Portugal. The town is full of character but not yet discovered by many tourists. Lodging tonight is in the Apolo Hotel. 
Day 2: Vila Real de Santo António - Tavira, 22 mi. (35 km)
The first cycling day is a gentle ride along the Ecovia do Litoral to Tavira, a ride of approximately 28 km. Along the way, you will pass through the coastal resorts of Monte Gordo as the interesting coastal town of Cacela Velha, with the best view over the "Ria Formosa" Natural Park. The route rolls through the Sapal area where you can admire a huge variety of birds. Upon arrival to Tavira, you will cross the Roman bridge over Gilão river. Tavira is a lovely old town, the most beautiful and historical town of Algarve. The night will be spent at the Vila Galé Tavira. (250 m ascent)
Day 3: Tavira - Marco, 22 mi. (36 km)
After a great breakfast, begin cycling along the Ria Formosa in one of the most beautiful natural parks of the country. After that, your riding will be among small villages, old roads, and rural paths crossing a vast area of orange trees. Take a deep breath, pick up a fruit and sit down between green and orange fields. Towards Marco village you will feel the landscape changing and among Mediterranean vegetation arrive at Pego do Inferno, the most beautiful waterfall in the Algarve. Such a day! Lodging at Herdade da Corte. (400 m ascent)
Day 4: Marco - Alte, 35 mi. (57 km)
Today is a challenging ride in the rolling hills close to the Algarve Mountains, but the tremendous scenery is well worth the effort. You will cross a hilly region, passing small villages and riding close to streams and valleys full of luxurious Mediterranean forest. Beautiful roads and trails will lead you to the lovely hillside village of Alte, famous for its white painted houses and fresh water springs. The year-round presence of water in the river adds a certain unique charm, to the village. Tonight's lodging is at Alte Hotel 3*. (1050 m ascent)
Day 5: Alte - Silves, 22 mi. (35 km)
You begin cycling inland with magnificent views along the way. You will ride along ancient and narrow roads where the landscape is mainly carob and fig trees until reaching a large valley of cork-oak trees. The best part of this day is a lovely ride on a road close to the Arade Dam, and then a gentle cruise down the valley to your destination for the day in the lovely historic town of Silves. It is well worth planning to get there with time to spare, as there is plenty to explore of the castle and the rest of the lovely Moorish town. The night will be spent at Colina dos Mouros Hotel 3*. (700 m ascent)
Day 6: Silves - Lagos, 32 mi. (52 km)
You leave Silves on asphalt through a valley following rural areas and fine golden sand beaches. Straight to the sea you must feel delight with incredible local culture and coastal fisherman lifestyle. You will cross a footbridge over the river Bensafrim and reach the city of Lagos the oldest town of Algarve, with evidence of the moorish wall surrounding the town. Lagos is also a historic center of the Portuguese age of discoveries, home of the famous Henry the Navigator. Reserve some time to walk through down town and dine at one of the many restaurants. Accommodations at the Hotel Marina Rio. (550 m ascent)
Day 7: Lagos - Sagres, 38 mi. (61 km)
Today is another challenging cycling day with a few hills, as the terrain changes and you approach the rugged cliff-lined coast around Sagres and Cape St. Vincent. Amazing trails along the coastline lead to Ponta da Piedade, where you can find fantastic sceneries of rock faces and caves with an amazing mixture of colors. The route continues west and passes through some beautiful landscapes and quaint little coastal villages. Once you arrive in Sagres, you have the option of checking into your hotel and then cycling an extra 6 km to Cape St Vincent, the southwestern-most point of Continental Europe. Lodging tonight is at Sagres in Memmo Baleeiro Hotel, a brand new 4* hotel over the sea surrounded by stunning desert beaches. (800 m ascent)
Day 8: Departure, Transfer to FARO (1.5-hour drive) or LISBON (3.5 hour drive)
Tour ends after breakfast.
You can view all of our bike tours in Europe or look at our featured bike trips, specials, and news.
Email or Call 800-951-4384 +1 570-965-2064
---