Berlin to Bamberg
Bike along historic Elbe River and visit Bamberg
There is something for everyone on this wonderful bike tour beginning in Berlin. You will explore in depth all the major sites of this exciting city. After four days of biking, walking, and exploring this capital treasure, you will follow the Elbe River bike path that will include Dresden, Meissen, and Bamberg.

Riding is flat and easy along the river through the romantic Saxony alps where sandstone formations rise up like giants waking from a deep sleep.

Come explore this colorful tapestry of castles and cathedrals, popes and princes that span the ages.

Highlights:

Boutique hotels
History
In-depth exploration of Berlin
Medieval Bamberg, a perfectly preserved medieval gem
Dresden and Cathedral
Food, wine, and beer
Unique accommodations

Not biking? This is one of the best tours that you can book if you are not a cyclist but love the itinerary. Just look at the Not Biking details.

This tour can also be booked as a 16-day combination tour that includes biking and boating. See: Berlin to Aschaffenburg.

Want to see more bike boat tours in Germany?

2017:
Twin/double: £ 1829 $ 2,880 € 1920 NOK 19200 kr 17723 $ 2,304 Single supplement: £ 524 $ 825 € 550 NOK 5500 kr 5077 $ 660 2018: 
Twin/double:  £ 2262 $ 3,563 € 2375 NOK 23750 kr 21923 $ 2,850 Single supplement: £ 524 $ 825 € 550 NOK 5500 kr 5077 $ 660

extra

options

Electric bike: £ 67 $ 105 € 70 NOK 700 kr 646 $ 84 Extra nights:
Berlin: £ 67 $ 105 € 70 NOK 700 kr 646 $ 84 Bamberg: £ 74 $ 117 € 78 NOK 780 kr 720 $ 94

please

note

Rates are based on double occupancy.

Information to read before you book.

We recommend purchasing bike trip insurance.

† Currency exchange rate set 90 days before travel.
Where
You'll Stay
You will be accommodated in unique and charming 3 and 4 star hotels
What's
Included
9 nights in hotels in Berlin, Dresden, and Bamberg, including breakfast
Welcome reception in Berlin
1 dinner in Berlin
Lunch at St. Cecilienhof
Lunch at Liebenberg
Guided Wall tour in Berlin
Guided City tour in Dresden
1 dinner in Dresden
Coffee and cake on the way to Königstein
Entrance Königstein (King's Rock)
Steamship to Dresden
Snacks on board
Entrance Meissen Porcelain Museum
Guided city walk in Bamberg
1 dinner in Bamberg
All transfers by S-Bahn, train or coach
11 speed Gudereit Trekking bike with helmets, panniers, and water bottle
What's
Not Included
Excursions, exhibitions, dinners/lunches not mentioned in the day to day program
Drinks during lunches and dinners included in the program
Gratuities for your tour guides/van driver
Traveling to and from your tour
Tour
Dates
2017:
September 9,  and September 15, 2017 (minimum of 10 needed to confirm).
2018:
May 25 and August 31, 2018
Day-To-Day
Itinerary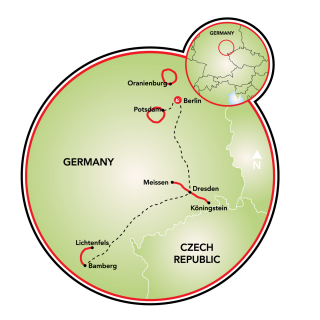 Day 1: Berlin
Day 2: Berlin - Potsdam - Berlin
Day 3: Berlin and the Wall
Day 4: Berlin - Liebensberg - Sachsenhausen - Berlin 
Day 5: Transfer to Dresden from Berlin
Day 6: Dresden - Königstein
Day 7: Dresden - Meissen
Day 8: Marktleugast - Bamberg
Day 9: Bamberg
Day 10: Departure
*Daily mileage is between 25 and 30 miles a day.
Day 1: Berlin
Check-in at your boutique hotel in Prenzlauerberg, one of the vibrant hotspots of the former East German part of Berlin. At 9:00 pm, there is a meeting in the hotel lobby to meet your fellow travelers and tour guides. You will enjoy a relaxing cocktail and learn the logistics of your tour and bike safety.
Accommodations during your time in Berlin will be at the Hotel Myers in Prenzlauerberg, Berlin.
Day 2: Berlin - Potsdam - Berlin
You begin your day on board the S-Bahn (rapid transit railway) to Potsdam, the former residence of Prussian Kings,  for the start of your cycling journey. Around the city, there are a series of interconnected lakes and cultural landmarks. You ride through the red-brick Dutch Quarter onto Alexandrowka, a small enclave of Russian homes (including an Orthodox chapel) built for immigrants. Next is the Wannsee Villa where Nazi officials met to organize and implement the "Final Solution" to the Jewish Question. From here you visit Cecilienhof where Stalin, Roosevelt, and Churchill met post-war. The final stop in Potsdam is Sanssouci, Germany's Versailles, the largest World Heritage Site in Germany and the former summer palace of Frederick the Great, King of Prussia.This evening features a short lecture about the Berlin Wall and Cold War.
Not biking? A  guide will escort you to Wannsee Villa, Cecilienhof and Sans Soussi palace.
Day 3: Berlin and the Wall
A fascinating ride awaits today along the  Berlin Wall with a local guide, stopping at Checkpoint Charlie and finishing at Alexanderplatz. The rest of the day is yours to explore. Berlin is a city of art, museums, parks, monumental buildings, trendy neighborhoods, and history at every turn. What interests you? The site of the SS headquarters, the Jewish museums, a stroll along Unter den Linden to Brandenburg Gate? If you're a museum-goer, you can choose from 170! Berlin's Museum Island is a UNESCO World Heritage site. The Hackesche Höfe is a magnificent retail complex that embodies the characteristic buzz of Old Berlin with great shopping, theaters, and cafés.
Not biking? A BikePlanet guide walks with you along the Berlin Wall to Alexanderplatz in time to join the others.
Day 4: Berlin - Liebensberg - Sachsenhausen - Berlin
The route today leads through a lovely rural area of field and forest crisscrossed by small rivers and lakes. Stopping in Liebenberg for lunch at a 17th-century noble estate, you will learn about the part they played during WWII resistance. The head of the SS Stormtroopers, Hermann Göhring liked to hunt here. After lunch, the itinerary includes a visit to Sachsenhausen concentration camp. Due to its close proximity to Berlin, SS officers trained here before moving on to oversee other work camps in the Reich. After this solemn visit, it's back to Berlin.
Not biking? You have a longer excursion at Liebenberg and enjoy the group lunch. Then it's your choice to visit Sachsenhausen concentration camp or return to Berlin for the afternoon.
Day 5: Transfer to Dresden from Berlin
You can explore more of Berlin today or put a few miles on and pedal around the city with a local guide. There are wonderful bike paths throughout old neighborhoods and trendy new areas. Whatever you choose to do, the group meets again in the late afternoon for transfer by the train to Dresden. After dinner in the hotel, you can stroll through magical Dresden, the royal residence of Saxon kings,  on the Elbe River, all lit up at night.
Accommodations in Dresden will be in the heart of Dresden, within walking distance of the historical Old Town, Hotel Martha.
Day 6: Dresden - Königstein - Dresden
This morning the church bells will be your wake up call. The Dresden Cathedral is a baroque jewel lovingly rebuilt after 90% of the historic city was leveled at the end of WWII. A local guide will escort you around a bit and then you hit the trail along the Elbe River, riding through an expansive green paradise known as Saxon Switzerland. Ancient rock rise out of the landscape in unusual formations softened eons ago by ocean waves. This is also a mecca for free climbers and the thing they like to do here is Boofen, an eyebrow-raising word referring to the local tradition of "sleeping in open air" under cliff overhangs. You then pedal onward to the massive medieval fortress called King's Rock. This former dungeon-prison played an important role in Saxony's history. The mighty Saxon Dukes and Prince-Electors used the hill-top fortress as a hunting lodge and secure refuge during war times. The best way to get back to Dresden is aboard the world's oldest and largest paddle steamer. All aboard!
Not biking? You will join your driver/guide to King's Rock and will have ample time to explore.
Day 7: Dresden - Meissen - Bamberg
Today you bike along the Elbe River to the Meissen Porcelain Factory and observe how fine porcelain has been crafted since 1710. Thanks to local deposits of china clay (kaolin), potter's earth, and German ingenuity, Meissen porcelain was the first of its kind made outside of the Orient. The emblem on the back of every piece is two swords crossed. It's the oldest trademark in the world! There's time to visit the town before bus transfer heading south to Bavaria!
Not biking? You have more time to visit Meissen and coffee on the way to getting there.
Day 8: Marktleugast - Bamberg
Today you conquer some hills and then follow the Main River crossing through countryside and little villages to arrive at Lichtenfels. Here you board the train taking us the last stretch into Bamberg. We walk to our beautiful Rezidenz hotel to check in. Dinner on the terrace if possible!
Not biking? You can explore Bamberg today.
Day 9: Bamberg 
A guided walking tour in Bamberg is on the agenda today. The entire old town is a UNESCO site. After exploring, you might need to quench your thirst. Take your pick from 9 breweries and 50 beer varieties in Bamberg alone. Once the seat of temporal and religious power in the 11th century, both an emperor and a pope are entombed here. The Imperial Cathedral showcases a wealth of art including the Bamberg Horseman, a medieval stone monument that (700 years later) inspired WWII resistance fighters like Claus von Stauffenberg, Hitler's would-be assassin. Stop and smell the roses at the Price-Bishops Palace. There's a lovely outdoor café overlooking the baroque gardens, tiled rooftops and city church spires. The "island district" features the only town hall in the world straddling a river. For centuries, Bamberg cultivated and traded licorice root, the sweet plant that flavors candy. But even more famous are the city suds. Try the "smoked beer" from Schlenkerla Brewery. The guided portion ends here, but your trip is not over yet! Your hotel is booked for another night, so enjoy the rest of the day to explore or relax.
If you have booked the on the bike and barge extension in sunny Bavaria, Berlin to Aschaffenburg, you will transferred at 3:00 p.m. to the IRIS.
Day 10: Bamberg
Departure
Be sure to check out all of our bike tours in Europe or look at our featured bicycle tours, specials, and news.
Email or Call 800-951-4384 +1 570-965-2064
---