Bike and Relax Holland
Cycle along the most famous Dutch highlights, with plenty of time to enjoy them!
This bike tour in Holland is a combination of biking and sightseeing, designed for relaxed bikers who want to savor the sites!

All the Dutch highlights are showcased: the famous polder area above Amsterdam with the picturesque villages of Edam, Volendam, Marken and Monnickendam. You will enjoy the famous Zaanse Schans windmill group, the impressive historic towns of Haarlem and Leiden, and lastly (in spring of course) you will enjoy the famous flower show the Keukenhof!

There are hidden gems along the Dutch coast and the lowlands south of Amsterdam. You can decide on your days off if you want to visit museums, walk about, or do some shopping as well. In Haarlem and Leiden, you will want to visit the pubs, have dinner at a perfect restaurant, or maybe go to the theater!

See a complete list of our bike tours in the Netherlands.

Travel

Fly to Amsterdam Airport Schiphol

Local Travel

Take the train to Weesp and/or a taxi to the first hotel

Climate

Check local weather conditions prior to departure. Always bring full rain gear. The average high/low temperature in °F is approx. 48/37 for March, 53/40 April, 61/46 May, 66/52 June, 69/55 July, 70/55 August, and 64/51 September.

---
Where
You'll Stay
Excellent 3 star to 4 star hotels
What's
Included
Hotel accommodations for 6 nights
Breakfast buffets
Luggage transportation
Hybrid bike rental
Welcome meeting
7-speed hybrid bicycle including waterproof handlebar bag and breakdown assistance
Equipment insurance
Door to door route description on GPS device and maps
Additional tourist information
What's
Not Included
Lunches and dinners
Beverages
Train tickets from Amsterdam to Weesp and from Abcoude to Amsterdam
Extra
Stay
Extra nights upon request!
Tour
Dates
Daily arrivals from March 30 to October 6, 2019
Skill
Level
This tour is classified easy and uses paved bike paths or quiet roads
Day-To-Day
Itinerary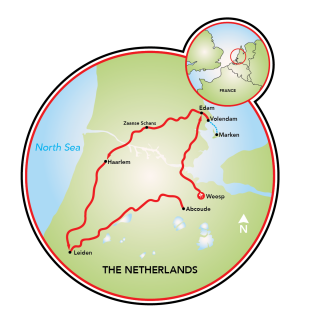 Day 1: Weesp – Edam, 30 miles (48 km)
Day 2: Stay in Edam and visit of Volendam – Marken possible
Day 3: Edam – Haarlem, 30 miles (48 km)
Day 4: Stay in Haarlem and visit the city or maybe the Dutch coast
Day 5: Haarlem – Leiden, 28 miles (45 km)
Day 6: Stay in Leiden and enjoy this historic town
Day 7: Leiden – Abcoude, 30 miles (48 km)
*All distances are approximate.
DAY 1: Weesp – Edam, 30 mi. (48 km)
In the morning, you will get a thorough explanation of the tour including a demonstration of the pre-programmed GPS for a relaxed and stress-free tour. The historic town of Weesp lies just outside Amsterdam, towards the northern peninsula of the 'Noord Holland' province. Enjoy lake IJsselmeer and the small villages along the way. Pass the small fishing village of Monnickendam, an important port in earlier centuries and still a major tourist highlight. After passing some cheese farms, optional visit, you will arrive in Edam, world famous for its Edam cheese!
DAY 2: Stay in Edam
Have breakfast at your hotel before exploring the charming town of Edam. Brimming with half-timbered houses, the town still hosts a colorful cheese market (every Wednesday in July and August). Take your bike for a relaxed ride to Volendam, well known for its old fishing boats and the traditional clothing still worn by some residents. There is a regular ferry connection to Marken, a peninsula nearby in lake IJsselmeer. Marken has characteristic wooden houses and is well worth a visit!
DAY 3: Edam – Haarlem 30 mi. (48 km)
The first part of today's tour takes you through a relatively new reclaimed polder land. This area north of Amsterdam is called Waterland and you'll soon understand why! Lovely bike lanes along never ending canals will bring you to the famous Zaanse Schans where the windmills and houses remain from the 17th Century. It was during this period thousands of windmills powered saws in the vicinity of Zaandam. Finally, leaving the northern peninsula and passing by the cozy village of Spaarndam, you will arrive in one of the most interesting towns of Holland; Haarlem.
DAY 4: Stay in Haarlem
Haarlem is a city full of old Dutch charm. The cobbled streets are lined with historic buildings, grand churches, and museums with plenty of antique shops and cafes to tempt you. If weather conditions permit, take your bike for a ride through the lovely forest areas lined with mansions up to the Dutch coast. 
DAY 5: Haarlem – Leiden 28 mi. (45 km)
If you are cycling in April or May, your trip will be full of color as you ride through the fabulous flower fields and the famous 'Keukenhof' flower garden. After mid-May, the ride will take you through the coastal area and the lovely villages of Katwijk aan Zee and Noordwijk aan Zee. This coastal bike path is a unique experience as cars are not allowed at all in this area; just you, your bike, and the ever-present sound of the sea.
DAY 6: Stay in Leiden
The city of Leiden has often been called the most beautiful city of the Netherlands. This isn't surprising considering its rich history is still visible everywhere in the charming city center. Home to the oldest university in the country, Leiden features many interesting tourist attractions and a variety of museums and art galleries. It is also just a short train ride from the Den Haag; the seat of government in the Netherlands and the capital of South Holland.
DAY 7: Leiden – Abcoude
The final bike ride is quite pleasant, passing through the lowlands south of Amsterdam, which are relatively quiet. Small villages, canals, windmills, and lakes accompany you along the way, and the beautiful farms with grazing cows lend to the peaceful ambiance. Finally in Abcoude, your tour will come to an end. Abcoude is just south of Amsterdam and connected by a short train trip.
Looking for more? View all our featured bicycle tours, specials, and news or look at our full list of bike tours in Europe.
Email or Call 800-951-4384 +1 570-965-2064
---