4.3

/

5

(

4

ratings)
Brussels to Bruges
Bike the Route of Historic Art Cities
The scenic Flanders region and pulsating city of Brussels make for a great cycling adventure! The two are filled with multicultural charm that includes beautiful landscapes, historic buildings, museums, grand cathedrals and many cultural highlights and culinary delights! As Belgium's capital city, Brussels is home to a wide array of elaborate architectural wonders, such as the vast royal palace, and the lavishly pinnacled Town Hall (Hôtel de Ville) and many late 17th century guilded houses that both stand on Brussels' famous central market square, the La Grand Place (also its biggest tourist attraction and perhaps the most beautiful square in all of Europe!)

This tour takes place on predominantly quiet flat roads and bike paths along the well-signposted Flanders Cycle Route. The scenery will be filled with lush meadows, canals, sandy dunes and coastal villages as well as castles, abbeys, churches and windmills. The tour will also make a stop in the oldest Belgian university town of Leuven, the town of Gent (or Ghent) with its famous St. Bavo Cathedral filled with artistic treasures (Jan van Eyck!), the authentic coastal villages of De Haan and lastly, the historic town of Bruges! Bruges is very much like Brussels, in splendor and architectural wonders – just on a smaller scale.

Please browse all our bike tours in Belgium!

Price £ 565 $ 880 € 584 NOK 5937 kr 5481 $ 712

High Season (from June 17 to August 27): £ 604 $ 940 € 624 NOK 6344 kr 5856 $ 761

Single supplement: £ 203 $ 316 € 210 NOK 2135 kr 1971 $ 256

extra

options

Dinners included:  £ 121 $ 188 € 125 NOK 1271 kr 1173 $ 153

Electrical Bike: £ 53 $ 83 € 55 NOK 559 kr 516 $ 67

Transfer from Bruges to Brussels: £ 48 $ 75 € 50 NOK 508 kr 469 $ 61

Extra nights (price is per person/night)

Bruges: £ 53 $ 83 € 55 NOK 559 kr 516 $ 67

Single supplement: £ 29 $ 45 € 30 NOK 305 kr 282 $ 37

***Brussels: £ 58 $ 90 € 60 NOK 610 kr 563 $ 73

Single supplement: £ 39 $ 60 € 40 NOK 407 kr 375 $ 49

***Prices valid on weekends (Friday to Sunday) from April to June + September to October and every day July through August. Pricing for all other days is available on request.

please

note

Discounts available for children.

Rates are based on double occupancy.

Information to read before you book.

We recommend purchasing bike trip insurance.

† Currency exchange rate set 90 days before travel.

Travel

Fly to Amsterdam or Brussels International airport.

Local Travel

Train from Amsterdam to Brussels takes about 2½ hr. Short train/taxi from the Brussels airport to the hotel.

Climate

Please check local conditions before arrival. Average high/low temperatures in °F for the area are: April 51°/44°, May 58°/49°, June 63°/54°, July 66°/58°, August 68°/59°, September 64°/55°, and October 58°/51°

Recommended

Including 6 x 3-course dinners

Remarks

Children's bicycles, seats, 3rd wheel, trailers, tandems, & electric bicycles are available by request for this tour.

---
Where
You'll Stay
Accommodations in 3 star and 4 star hotels
What's
Included
Hotel accommodations for 6 nights
Breakfast buffets
21-speed hybrid bicycle equipped with pannier, lock, repair kit and pump
1 odometer (per two bikes)-must be reserved at time of booking
Tour information
Luggage transportation (1 piece per person)
Route descriptions & maps or GPS tracks-must be requested at the time of booking
7 day a week service hotline
What's
Not Included
Individual arrival to Brussels
Beverages
Remaining meals (dinners can be included for a supplement)
Transfer from Bruges to Brussels (can be arranged, please see pricing)
Extra
Stay
Extra nights in Bruges and Brussels available.
Tour
Dates
Every Saturday from April 29 until September 16, 2017
Please note: In July and August, arrival on Sundays are also possible, from July 2 to August 20
Skill
Level
Easy, self-guided hotel tour with daily distances from 22 to 40 miles over quiet streets/bike paths. Cycling is mainly flat.
Day-To-Day
Itinerary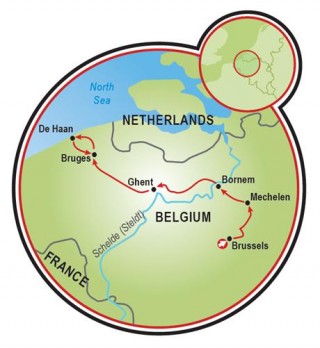 Day 1: Arrival in Brussels
Day 2: Brussels – Mechelen, 41 mi. (65 km)
Day 3: Mechelen – Bornem, 19 mi. (30 km)
Day 4: Bornem – Ghent, 39 mi. (63 km)
Day 5: Ghent – Bruges, 31 mi. (50 km) 
Day 6: Bruges – De Haan – Bruges, 30 mi. (49 km)
Day 7: Departure from Bruges
All distances are approximate.
DAY 1: Arrival in Brussels.
Brussels may not be a metropolis like Paris, London, or Rome, but it will certainly seduce you with multicultural charm and lively atmosphere. The market square, the Atomium, the famous statue Manneke Pis, and other icons of the Belgian capital are a must for every visitor of Brussels. With a 96m high tower, the Town Hall stands out from afar. It is beautifully decorated in the Brabantine Gothic style with a heavenly spire, on which stands a golden statue of the archangel Michael slaying the devil. The oldest portions of the Town Hall were built in the early 1400's, and its elegantly decorated façade contains statues of nobles, saints and other figures. Another spectacular church is Saint Michael and Gudula's Cathedral (Michael is the patron saint of Brussels). This archiepiscopal cathedral is frequently used for royal weddings. Brussels is also known for its Museum of Fine Arts (with Belgium's largest collection of fine art, including works by Peter Paul Rubens), and the Atomium, a remnant of the 1958 World's Fair. Moreover, Brussels is also the city of Jugendstil. And of course, there is always a festival such as 'Couleur Café', a flower carpet or an interesting exhibition.
DAY 2: Brussels – Mechelen, 41 mi. (65 km)
On the first day, you will cycle to Leuven. This city is not only known as a university city – with the oldest Belgian university, but also as a beer city. A walk in Mechelen, city on the river Dijle, will show you all the important historic buildings, which were erected during the time of the Burgundy. You certainly have to visit the St. Rombouts Cathedral, the palaces of Margarete of York and Margarete of Austria. Or you can also visit the toy's museum!
DAY 3: Mechelen – Bornem, 19 mi. (30 km)
Today you will cycle along the river Rupel and Schelde to Bornem. Because of the short ride there is plenty of time to take a 15-minute train ride towards the center of Antwerp. Enjoy a stroll on the Meir, have a beer on one of the many plazas or admire the rich architecture and art of this charming town.
DAY 4: Bornem – Ghent, 39 mi. (63 km)
Gent, also the historical center of Flanders, offers a variety of places of interest and is overseen by lots of towers, for example the one of the St. Bavo cathedral with the world famous painting by Jan van Eyck. The historic heart of the city is well preserved: you can visit the old port, for example. Nearby, you will find the 'Gravensteen', once the medieval castle of the counts of Gent, today one of the most important places of interest.
DAY 5: Ghent – Bruges, 31 mi. (50 km) 
The historic center of Bruges is part of the world famous UNESCO World Heritage Site list. Seeing Bruges, you will notice it straight away: this city has always taken care of its architectural and cultural treasures. Take your time and stroll along lovely parks, intimate little streets and ancient market squares. You can also do some shopping for the famous local lace, chocolate, or beer. Or simple enjoy 'French' fries on the stunning market square.
DAY 6: Bruges – De Haan – Bruges, 30 mi. (49 km) 
Ride along the canals to the authentic coastal village of De Haan, enjoying a refreshing dive into the North Sea or relaxing at the beach. Or you can also enjoy a free day for shopping, a boat ride on the canals, sightseeing by carriage, visiting some museums, climbing the belfry and so on.
DAY 7: Departure from Bruges
Departure after breakfast or extra night in Bruges or Brussels. Back to Brussels from Bruges by direct train is approx. 1 hour ride.
Looking for more?  View all our featured bicycle tours, specials, and news or look at our full list of bike tours in Europe.
Email or Call 800-951-4384 +1 570-965-2064
---