3

/

5

(

1

review)
Castle Crusade Bike Tour
Bike in Scotland through the Kingdom of Fife!
This bike tour in Scotland will take you through heather-clad high hills, landscapes of tall mountains and deep, flat, fertile glens with an abundance of wildlife, agriculture, and thick forests, with some of the tallest trees on the island. This UK cycle route leads from Highland Perthshire through Angus Glens and the Kingdom of Fife. It is aptly named the Castle Crusade as the major attractions are the Famous Castle of Glamis, Scone Palace, Falkland Palace, and also, St. Andrews, the home of Golf and Blair Castle.

You cannot bike in Scotland without visiting a distillery, and on this cycle tour you will have the opportunity to visit Scotland's smallest one! Did you know that the word whiskey is a derivative of a Gaelic word that means 'water of life'? Only the Scots have earned the right to call their whiskey Scotch!

It is amazing that so many renowned and authentic recipes come from a country as small as Scotland. The fertile soil and climate provide for an enormous variety of natural foods. Traditional Scottish dishes include fish and chips, haggis, the Arbroath Smokie, salmon, venison, cranachan, the bannock, Scotch broth, shortbread, and much, much more!

See our complete list of bike tours in Scotland.

2017

6 day tour: $ 1344 £ 688 $ 1,181 € 803 $ 1401 kr 8649 $ 889

Single room: $ 1927 £ 985 $ 1,692 € 1151 $ 2008 kr 12397 $ 1,274

8 day tour:  $ 1558 £ 797 $ 1,369 € 931 $ 1624 kr 10028 $ 1,030

Single room: $ 2201 £ 1126 $ 1,934 € 1315 $ 2294 kr 14164 $ 1,455

extra

options

2017

Electric bike: $ 84 £ 43 $ 74 € 50 $ 87 kr 539 $ 55

(E-bike rental requires a signed rental agreement and  £250 deposit on credit card per bike)

Extra night in Edinburgh (2 nights minimum): $ 182 £ 93 $ 160 € 109 $ 190 kr 1174 $ 121

please

note

Rates are per person based on double occupancy.

Information to read before you book.

We recommend purchasing bike trip insurance.

† Currency exchange rate set 90 days before travel.

Travel

Fly to Edinburgh International Airport (EDI)

Local Travel

The Airlink 100 express bus service runs from the airport to Waverley Bridge (near Princes Street and the main rail and bus stations). From here, it is just under a two hour train ride to Pilochry, the starting point of your tour.

Climate

Please check local conditions before your arrival. The average high/low temperatures in degrees Fahrenheit for the St. Andrews region are: May, 57°/41°; June, 63°/45°; July, 66°/48°; August, 66°/48°; and September, 63°/45°

---
Where
You'll Stay
3 and 4  hotels and guesthouses.
What's
Included
Hotel accommodations for 5 or 7 nights in 3 and 4 hotels or guest houses
Breakfasts
Luggage transfer
Route descriptions, maps, and tourist information
Bike rental
GPS tracks are available. Just ask!
What's
Not Included
All meals other than breakfast
Tour
Dates
2017
Available daily May to September, 2017 

Daily arrivals possible for groups of 4 or more.
Skill
Level
This is an easy to moderate, self-guided bike tour with average daily distances between 11 and 35 miles (17 and 56 km)
Day-To-Day
Itinerary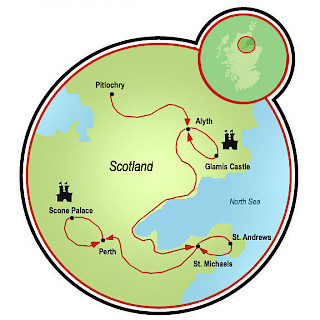 Day 1: Arrive in Pitlochry
Day 2: Pitlochry - Alyth,  28/35 miles (45/56 km)
Day 3: Alyth Loop,  27 miles (45 km)
Day 4: Alyth - St. Michaels, 33 miles (53 km)
Day 5: St Andrews loop, 11 miles (17 km)
Day 6: Departure from St. Michaels or St. Michaels - Perth, 25/40 miles (40/64 km)
Day 7: Perth, various miles
Day 8: Departure
DAY 1: Arrive in Pitlochry 
This Scotland bike tour will start in Pitlochry, a sensational land of hills, mountains, glens, lochs, seashores, folklore and history.
DAY 2: Pitlochry - Alyth,  28/35 miles ( 45/56 km)
Bike delivery between 8:30 - 9 am. (During peak season, bikes can be pre-delivered.)
Before leaving town, be sure to cross the River Tummel to the dam on Loch Faskally, to view the salmon ladder and the Hydro Station, and then on through the ancient hamlet of Port na Craig.  Also worth seeing, after a short hike through the  pretty woodland and up a gentle hill, is the Edradour distillery – the smallest distillery in Scotland. This is a very quaint distillery run by a small team who make the whiskey in a manner that is almost on a homebrew scale of operation. The distillery is based in a collection of neatly presented and very photogenic farm buildings. Edradour produces only twelve casks of whiskey a week during production times, which is then laid down to mature for at least 10 years until the whiskey reaches the peak quality.
DAY 3 : Alyth Loop,  27 miles (45km)
Following the lower farmlands, you cycle east with the Grampian Mountains continuing to provide a wonderful northern scenic splendor. You will have an opportunity to visit Glamis Castle which is everything a castle should be. Whether you admire its stunning architecture, or explore its history, legends and myths or  enjoy the surrounding beauty of the grounds and gardens, you will not fail to be touched by the magic of Glamis. One of the things that it is most famous for is that it was the setting for Shakespeare's "Macbeth". Among the oldest and most haunting parts of the castle is Duncan's Hall, which commemorates the slaying of King Duncan by Macbeth. Although the actual killing took place near Elgin, this is the traditional Shakespearean scene of the crime. After, the route leads north and then west back to Alyth, with the mountain view as the backdrop!
Leaving Alyth you cycle south along undulating lanes, eventually approaching the River Tay and Dundee. Visit the Discovery center before continuing across the Tay Bridge.
Day 4 : Alyth to St Michaels,  33 miles ( 53 km )
Leaving Alyth, you will continue your Scotland cycle route east up a gentle climb with a wonderful scenic and an eight-mile descent as a reward. The nearly mile-long River Tay bridge awaits to take you to St. Michaels. A longer option takes you across to one of the stunning Angus Glens where time seems to stand still. With the Grampian Mountains behind you, each bend in the road will provide a new visual delight.
DAY 5: Andrews loop, 11 miles (17 km) 
Today is a short and easy ride into St. Andrews. This university town is full of history with its Abbey, Castle, cobble stoned streets with ancient houses, and of course, the famous links or coastal golf course. St. Andrews is considered the "home of golf"; the sport has been played there since the 15th century.
DAY 6: Departure from St. Michaels or St. Michaels to Perth, 25/40 miles (40/64 km) 
If you have chosen the 6-day option, you'll depart from St. Michaels. If you have chosen the 8-day option, you will continue your bike in Scotland along the shores of the River Tay , mainly using part of the National Cycle Network to Perth. The National Cycle Network (NCN) covers over 10,000 miles of signed cycle routes throughout the UK. One-third of the network is on traffic-free paths, with the remainder on quiet minor roads and traffic calmed streets.  Take a detour to historic Falkland and its Palace. Set in a medieval village, the Royal Palace of Falkland is a superb example of Renaissance architecture. Garden enthusiasts will appreciate the work of Percy Cane, who designed and cultivated the gardens between 1947 and 1952. There are colorful herbaceous borders, unusual shrubs and trees and a small herb garden. Meet the Head Gardener at 2pm and 4pm for free guided walks and see the stunning herbaceous border at it's best! Check into your Hotel and explore this wonderful city.
DAY 7: Perth, various miles
A day to relax around the city with many non-cycling activities to occupy you or cycle out to Scone Palace. Scone Palace is full of treasures and a must see for those interested in Scottish history. The palace is the crowning point of all past Scottish Kings and Queens. The famous Stone of Destiny was returned here after the devolution of Scotland from England. Poised above the River Tay, the Palace overlooks the routes north to the Highlands and east through Strathmore to the coast. The Grampian Mountains form a distant backdrop. Two thousand years ago, the Romans camped here, at the very limit of their empire
DAY 8: Departure
Your bike tour in Scotland will end after breakfast 
Looking for more?  View all our featured bicycle tours, specials, and news or look at our full list of bike tours in Europe.
Email or Call 800-951-4384 +1 570-965-2064
---