4.7

/

5

(

3

ratings)
Cycling in the Baltics
Estonia, Latvia, and Lithuania, the resurgence, and resilience!
These days it is difficult to find a European destination that large tourists crowds have not already discovered. Is the romance of travel a thing of the past overshadowed with long lines of impatient travellers and venues geared to the tourists?

Not here in these three small Baltic coast countries. Here you will find history, adventure, and new discoveries daily on this supported bike tour in the Baltics!

This unique cycling experience explores the Baltic Coast and National Parks of Estonia, Latvia and Lithuania on beautiful routes. It includes the three capital cities – Tallinn, Riga and Vilnius – with their old towns designated by UNESCO as World Heritage Sites. Highlights include the National Park Lahemaa, which is one of the last unspoiled regions of the Baltic coast, Otepää Lakeland – the so-called "Estonian Switzerland", the beautiful Gauja River valleys and the previously-closed Curonian Spit often called the Lithuanian Sahara.

Cycling from Tallinn, Estonia, in the north, through Latvia and on to Lithuania in the south, you will pass through a great variety of towns, villages, and landscapes, and experience the distinct characteristic of each country.

On this tour, you will have van support equipped with a bike trailer. This is not a guided tour but a supported tour. You will also have the opportunity to participate in a few guided city tours. There are several bus transfers included in the tour that will allow you to cover more distance and to see and experience the resurgence and resilience of these Baltic Countries.

A full list of bike tours in Lithuania is here.

Double/twin: £ 1172 $ 1,822 € 1210 NOK 12302 kr 11355 $ 1,476

Single room: £ 1457 $ 2,267 € 1505 NOK 15301 kr 14124 $ 1,836

extra

options

6 three course dinners (Served in the hotels, excluding Tallinn, Riga, and Vilnius): £ 121 $ 188 € 125 NOK 1271 kr 1173 $ 153

Electric bike: £ 150 $ 233 € 155 NOK 1576 kr 1455 $ 189

Ortlieb handlebar bag: £ 19 $ 30 € 20 NOK 203 kr 188 $ 24

Transfers (from Tallinn airport/to Vilnius airport (excluding 14.07-18.08.2017 in Vilnius when the city airport is closed):

Car, up to 3 people, each way: £ 29 $ 45 € 30 NOK 305 kr 282 $ 37

Minibus, up to 7 people, each way: £ 57 $ 89 € 59 NOK 600 kr 554 $ 72

Transfers (from Vilnius to Kaunas Airport,  ~100 km)

Up to 3 people, each way, per tansfer: £ 115 $ 179 € 119 NOK 1210 kr 1117 $ 145

Up to 7 people, each way, per transfer: £ 150 $ 233 € 155 NOK 1576 kr 1455 $ 189

Extra nights

Tallinn (3*): £ 46 $ 72 € 48 NOK 488 kr 450 $ 59

Single Room: £ 82 $ 128 € 85 NOK 864 kr 798 $ 104

Vilnius (3*): £ 39 $ 60 € 40 NOK 407 kr 375 $ 49

Single Room:  £ 67 $ 104 € 69 NOK 702 kr 648 $ 84

please

note

Rates are based on double occupancy.

Information to read before you book.

We recommend purchasing bike trip insurance.

† Currency exchange rate set 90 days before travel.

Travel

Fly to Talinn International Airport (TLL), Estonia and you can fly out of Vilnius Airport (VNO), Lithuania. Please note that Vilnius airport will be closed for reconstruction from July 14 till August 18, 2017. Most flights will be organized to/from Kaunas airport which is 100 km from Vilnius. This means that transfer by car will be longer and more expensive than to/from Vilnius airport

Local Travel

The bus stops are located on floor 0. From bus stop 1, bus routes no. 2 and K90 depart towards the city center. Route K90, which takes you directly from the airport to the city center, is served by Hansabuss in cooperation with Tallinn Airport and Estonian Air. In the buses, there is space for luggage, free WiFi is provided and the buses have a recognizable airplane logo. Cost is approximately 2 Euros and can be purchased on board.

Climate

Please check local conditions before arrival. Average high/low temperatures in degree Fahrenheit for Tallinn are: June, 66°/50°; July, 70°/54°, August, 68°/53°, and September, 58°/45°.

---
Skill
Level
Easy to moderate tour with van support. Daily biking routes are mainly on low traffic roads and cycle paths ranging from 21 to 60 km (13-38 miles) each day with a possibility to cycle more kilometers on some days like Day 6 (Jurmala) and Day 8 (Curonian Spit). The terrain is varied and rolling with some gradual hills on some riding days (some steep ups and downs in the Gauja River valley & Otepää region) but flat most of the tour.
Where
You'll Stay
Accommodations in 3 star and 4 star hotels
What's
Included
10 nights' accommodations in 3 or 4  hotels, including all taxes
Breakfasts
Transfers as per itinerary by air-conditioned coach /minibus
Luggage transfer
Guided tours in Tallinn, Riga and Vilnius (any entrance fees are handled individually)
Boat trip across the Curonian Lagoon from Nida to the mainland
Information package (city guides, maps, program and route description), one per room
Emergency contact numbers
7 speed or 24-speed hybrid bike equipped with pannier and odometer (1 per booking)
What's
Not Included
Arrival and departure transfers
Cycling Guide
Lunches and dinners (dinners can be included for a supplement)
Entrance fees
Gratuities
Tour
Dates
Departures on Tuesdays, July 4, July 11, July 18, July 25, August 1,  August 8, August 15, August 22, August 29, and September 5, 2017. 
(Minimum of two people required to confirm a departure. Special tour dates are possible with groups of 6 or more).
Day-To-Day
Itinerary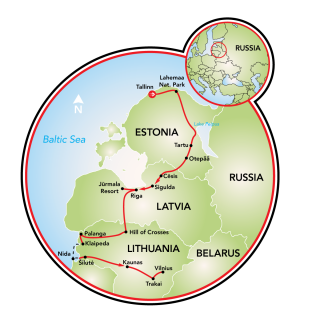 Day 1: Arrival in Tallinn
Day 2: Tallinn - National Park Lahemaa - Sagadi, 32 mi. (52 km)
Day 3: Sagadi - Lake Peipsi - Tartu, 33 mi. (53 km)
Day 4: Tartu – Otepää – Sigulda, 17 mi. (28 km)
Day 5: Sigulda – Gauja National Park – Riga,  13 mi. (21 km)
Day 6: Riga – Jurmala Seaside Resort – Riga, 22 mi. (35 km)
Day 7: Riga - Klaipėda, 30 mi. (48 km)
Day 8: Klaipėda - Curonian Spit - Nida,  37 mi. (60 km)
Day 9:  Nida - Kaunas,  25 mi. (40 km)
Day 10: Kaunas - Vilnius, 22 mi. (35 km)
Day 11: Departure from Vilnius
All distances are approximate.
DAY 1: Arrival in Tallinn
Individual arrivals on Tuesday.  Check in at the hotel from 2 pm on. At 6:30 pm you have the opportunity to participate in a guided tour of Tallinn, the capital and largest city of Estonia. The city possesses an inner charm seldom found anywhere else that testifies to the richness and endurance of the culture.  Here, at the very beginning of your tour, you will already begin to understand this. You will find Western European influence with its color and charm, the Soviet tyranny in the grey concrete apartments, and now the new, with the gleam of the tall corporate buildings of  glass and steel!
Day 2:  Tallinn - National Park Lahemaa - Sagadi , 32 mi. (52 km)
At 10:00 a.m. a minibus will pick you up for short transfer (90 km) before you begin the first bicycle trip through National Park Lahemaa, which is one of the last unspoiled regions of the Baltic coast. The National park is a nature lover's paradise. There are dense woods, marshes, lakes, and waterfalls to discover. If you prefer wildlife to landscape, you can see moose, wild boars, and over 220 bird species. Overnight in Sagadi.
Day 3: Sagadi - Lake Peipsi – Tartu,  33 mi. (53 km)     
After breakfast, you will be transferred first by bus (150 km)  and then, your bike  tour leads along Peipsi Lakeshore, to Varnja. Peipsi is the 4th largest lake in Europe, divided in two by the Russian border. On the road, you will pass many fishing villages.  You will have another bus transfer in the afternoon to your final destination of Tartu, the second largest city of Estonia, often considered the intellectual center of the country, especially since it is home to Estonia's oldest and most renowned university.
Day 4: Tartu - Otepää - Sigulda, 18 mi. (28 km)
Again this morning,  there will be a short bus transfer to  Otepää (Estonia's Switzerland).  This is the perfect place to begin the day's bike tour. It is a lovely landscape of rolling hills and lakes, romantic winding village roads and small rivers.  Your bike ride will end in Sangaste, famous for its 19th-century Romantic castle, and then enjoy an afternoon bus transfer to Latvia. (235 km)  Final destination today is Sigulda, the most popular resort in Latvia, in the Gauja  River Valley. En route stop in Cesis where you can visit the medieval old town.
Day 5: Sigulda - Riga, 13 mi. (21 km)
This day begins with cycling through Gauja National Park to Ragana through spectacular scenery, especially the view of the Gauja River valley. Explore the ruins of the 13th C Crusaders Castle in Sigulda, Turaida Castle and the oldest church in Latvia (built in 1205) in Krimulda.  Once again this afternoon, there will be a transfer by bus to Riga (31 mi./50 km) to the Latvian capital, where a guided tour of the charming Old Town awaits.  Much of Riga was bombed during World War II and the ruins were mostly left to decay. After being the capital of Latvian Socialist Soviet republic throughout the Soviet period, the city emerged in the 1990s as the capital of newly-independent Latvia. It is now experiencing a new Renaissance and many large-scale restoration projects on old buildings have made Riga one of the most attractive cities in Europe. Highlights include the German Art Nouveau buildings, Riga castle, St. Peter`s Church, Dome Cathedral, and the Old Guild Houses. 
Day 6: Riga - Jurmala Seaside Resort - Riga, 22 mi. (35 km)
Today is free to explore Riga on your own and take a ride on a bicycle path to Jurmala, a renowned Latvian seaside resort well known for its long, white sand beaches, mineral waters and mud with healing properties. We recommend that you take the opportunity to bath in the sea and try cycling along the beach – its well worth it! In the evening take a local train back to Riga (30 min; not included).
Day 7: Riga - Klaipeda, 30 mi. (48 km)
Transfer by minibus to Lithuanian Seaside. En-route there will be a stop at the Hill of Crosses, the unforgettable sight of thousands of crosses on two small hills. Begin your cycle ride to Klaipėda on a beautiful bicycle path, which lies along the Baltic Coast in the Seaside Regional Park. En route pass Palanga, the well-known Lithuanian seaside resort. Enjoy a break here; perhaps visit the renowned Botanical Park, Amber Museum and the 470 m pier heading out into the Baltic Sea. 
 Day 8: Klaipeda - Curonian Spit - Nida, 37 mi. (60 km)
After breakfast, you cross the lagoon by ferry and start cycling on an asphalt bike path which takes you along the Curonian Spit to Nida. En route you can visit the Hill of Witches which houses a hundred fanciful and folksy wooden sculptures of Lithuanian legends scattered along a forest path, watch a colony of grey herons and cormorants, explore the "Dead" sand dunes on foot, swim in the Baltic Sea or, relax, take the sun on golden beaches. 
Day 9:  Nida - Kaunas, 22 mi. (35 km)
Take a morning boat across the Curonian Lagoon to the mainland (~1.5 hours), en-route enjoy a beautiful view of the Curonian Spit sand dunes. Cycling to Ventė Horn, you may visit a bird observatory and the 19thC lighthouse which was used for more than 100 years. The afternoon ride takes you through the Nemunas River Delta Regional Park to Rusnė Island. Then transfer by minibus along the Nemunas River to Kaunas en route passing 16th-17thC castles of Raudonė and Panemunė. 
Day 10: Kaunas - Trakai Insular Castle - Vilnius, 22 mi. (35 km)
After breakfast, you are transferred by bus to the Lithuanian Lake District 75 km) where the  cycling begins through the  picturesque countryside on gentle hills to arrive in Trakai, the former capital of the Grand Duchy of Lithuania. Here you may visit the famous 14thC Gothic Island castle erected on a small island in Lake Galvė. Finish the tour with a short bus transfer to Vilnius, the capital of Lithuania for more than 600 years. The Old Town stuns the spectator with the beauty and variety of Baroque and Classical buildings. This evening, a guided tour of the city awaits you. 
 Day 11: Vilnius
Individual departure after breakfast. It is possible to extend your stay in Lithuania. 
Looking for more?  View all our featured bicycle tours, specials, and news or look at our full list of bike tours in Europe.
Email or Call 800-951-4384 +1 570-965-2064
---