Dalyan to Fethiye
A cycling tour in Turkey along its beautiful south-western coast.
This bicycle tours in Turkey will introduce you to the many facets of Turkey's south-western coastline. The adventure will begin in the small village of Dalyan, sandwiched between Lake Köyceğiz and the Dalyan Delta to its south. Dalyan is established in an environmentally protected area. This is one of the few surviving places of paradise, an area of natural beauty and historical interest. Another highlight of this unique cycling tour of Turkey is Göcek, a picturesque town with islands and coves located in a large and secluded bay. From here, you will bike to the more traditional Port of Fethiye with its mountainous surroundings and historic town center. The route includes regular climbs rewarded with breathtaking sights of wonderfully diverse landscapes.

Be sure to check out our full list of bike tours in Turkey.

Price: £ 562 $ 999 € 686 NOK 6746 kr 6227 $ 809

High season supplement (July and September departures): £ 37 $ 66 € 45 NOK 443 kr 408 $ 53

Single supplement: £ 107 $ 189 € 130 NOK 1278 kr 1180 $ 153

extra

options

Bicycle rental (payable on arrival): £ 70 $ 124 € 85 NOK 836 kr 772 $ 100

Helmet rental (payable on arrival): £ 8 $ 15 € 10 NOK 98 kr 91 $ 12

please

note

Rates are per person based on double occupancy.

Information to read before you book.

We recommend purchasing bike trip insurance.

† Currency exchange rate set 90 days before travel.

Travel

Fly to Dalaman.

Local Travel

Transfer from airport to Dalyan is included.

Climate

Please check local conditions before arrival. Average high/low temperatures in degrees Fahrenheit for the region are: April 69°/50°, May 77°/55°, June 86°/62°, July 91°/68°, September 86°/60°, and October 78°/55°.

Remarks

Route descriptions and maps not available but a GPS is included (1 per couple).

---
Where
You'll Stay
Hotels are small scale, mid range family hotels all of which feature a swimming pool or are located near the beach.
What's
Included
7 nights' accommodations
Breakfast daily
Dinners on Days 5, 6, and 7
Airport transfers on Days 1 and 8
Luggage transfers
*GPS (one per couple)
*Please note: Written route descriptions and maps are not available for this tour.
What's
Not Included
Helmets (limited number available to rent): €10
Lunches and dinners other than those included
27-speed MTB Scott Bike (disc brakes), lock, bottle cage, repair kit, pannier and handlebar bag, and cycle computer
Bicycle protection
Trip insurance
Tour
Dates
Arrivals Saturdays from April through July and then again in September and October, 2017
*Additional departure dates may be possible on request.
Skill
Level
This Turkey bike tour is rated as moderate. Daily distances range up to 31 miles (50km) across undulating terrain, though without any particularly steep or lengthy ascents. Occasional short climbs.
Day-To-Day
Itinerary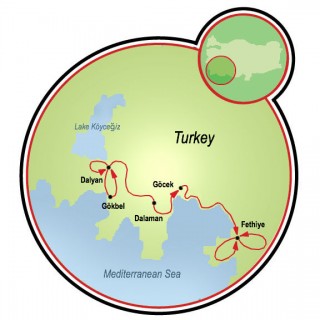 Day 1: Arrival in Dalyan
Day 2: Tour around Dalyan, 24 mi. (39 km), 
Day 3: Dalyan - Gökbel - Dalyan, 26 mi. (42 km)
Day 4: Dalyan - Göcek, 25 mi. (40 km)
Day 5: Göcek - Fethiye, 25 mi. (40 km)
Day 6: Green Valley Route, 28 mi. (45 km)
Day 7: Rural Route, 22 mi. (35 km) 
Day 8: Departure
Day 1: Arrival in Dalyan
Transfer from the airport to Lindos Pension in Dalyan. Bicycles will be available upon arrival. 
Overnight stay at Lindos Pension, Dalyan.
 Day 2: Tour around Dalyan, 24 mi. (39 km)
Your Tukey bike tour starts with a short and simple ride without any significant climbing to allow you to become accustomed to the bike and to get acquainted to Dalyan's hinterland. You will cycle through small villages and pass the many fruit yards in the area. The short ride allows you plenty of time to explore the area and highlights of interest. Suggested is a boat ride through a labyrinth of channels to Dalyan's sandy beach, known for its large population of sea turtles.
Overnight stay at Lindos Pension, Dalyan.
 Day 3: Dalyan - Gökbel - Dalyan, 26 mi. (42km)
Explore exciting Dalyan via quiet roads into rural hinterland, today's route concludes with a challenging three-kilometer climb. This will be a great day to get to know Dalyan's backcountry. Through small villages and past vineyards and greenhouses, you will be immersed in the environment. The route leads around the mountain range, limiting the amount of climbing. The second part allows you to enjoy some of this region's many ancient kings' graves carved into the mountain slopes and visible from the road. After the ascent and subsequent descent, the route leads past an inland lake back into Dalyan.
Overnight stay at Lindos Pension, Dalyan.
 Day 4: Dalyan - Göcek, 25 mi. (40 km)
Today you will cycle Turkey out of Dalyan and on to the next overnight location, Göcek. Except for a short ascent, the first part of this route is mostly flat. Via secondary roads and through small villages, the first destination is the bustling town of Dalaman. After Dalaman, the route continues onto sloping roads going over to the final obstacle of today's cycle route, a smooth climb via tarmac roads climbing to a height of about 340 meters. Enjoy the stunning views across the region including the destination of today's route, the harbor town of Göcek. The day ends with a pleasant ride downhill and the final destination, your wonderful accommodations for the evening.
Overnight stay at Hotel Forest Gate, Göcek.
Day 5: Göcek - Fethiye, 25 mi. (40 km)
The first climb of the day will be encountered first thing after departure from Göcek, followed by a gentle descent to the forest's edge. You will ride along Inlice's beach on bridle paths through the woods. This stage of the route includes a number of hefty climbs! Be comforted though that none of them are lengthy. The reward at the end of this challenging ride will be a phenomenal view of the coastline with its picturesque bays and isles and the day's destination, the town of Fethiye with its scenic surroundings. The final stage of the route is flat and leads along the coastline to your next overnight location.
Overnight stay at Hotel Kilim, Fethiye.
Day 6: Green Valley Route, 28 mi. (45 km)
After the previous day's challenges, the route today is easy and fairly flat. The first stage passes through  an extensive structure of small canals which supply water to the region's farms. You will enjoy scenic views of the Port of Fethiye. The second stage leads over various bridges, through a number of small villages, into the Green Valley. It will soon become apparent why this valley with its rapid little rivers is named this!
Overnight stay at Hotel Kilim, Fethiye.
Day 7: Rural route, 22 mi. (35 km) 
Your cycling holiday concludes with a relatively short ride northbound into Fethiye's backcountry. Setting out on an old bridle path, originally used to serve the region's former mining industry, you will ride ever further into the rough. The ever-changing scenery is incredibly varied; one moment it may feel as if you're riding through the Ardennes, the next,  you are scaling sand dunes. This landscape makes for an undulating cycle route. Cycling back, you will pass Yalçin's lunch buffet! Lunch is prepared using home grown ingredients and served in a typically Turkish ambiance. You will want to take the time to experience this. The final stretch of this cycling holiday leads along seaside boulevard back to Fethiye.
Overnight stay at Hotel Kilim, Fethiye.
Day 8: Departure 
Your Turkey bike tour will end after breakfast 
Looking for more?  View all our featured bicycle tours, specials, and news or look at our full list of bike tours in Europe.
Email or Call 800-951-4384 +1 570-965-2064
---