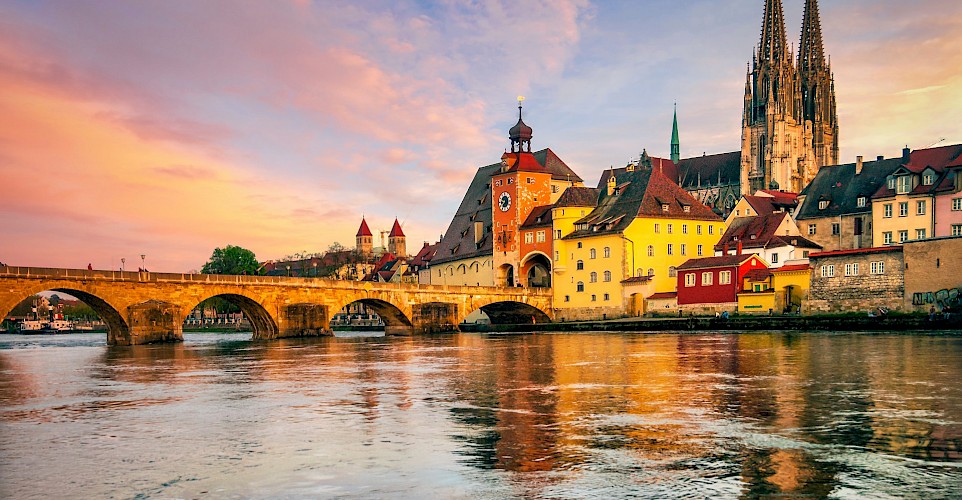 Danube Bike Path - Regensburg to Vienna
Cycling the Danube bike path to the European music center Vienna!
Overview

Biking on the Danube Bike path! Need we say more? Those of you who have researched any European cycling have this on your bucket list. And this tour is epic!

Through the fertile plain of the Gäuboden, with the foothills of the Bavarian Forest to your left, you cycle towards the southeast in a landscape that is perfect for cycling. In Deggendorf, the gateway to the Bavarian Forest, you continue cycling to the three-river city of Passau, with its impressive Saint Stephan's Cathedral. It is here, you access the most famous and popular bike route in Europe, the Danube Bike Path on which you cycle through all the highlights.

Your trip ends among the foothills of the Viennese Forest, beyond the point where the Danube passes Vienna.

Highlights

The medieval town of Regensburg
The amazing Bavarian Forest
Saint Stephen's Cathedral in Passau
Engelszell Abbey in Engelhartszell
Linz, a UNESCO City of Media Arts
Melk and its monastery
Vienna, the city of music

Interested in more? Check out our full list of Danube Bike Tours.

Itinerary

Day 1: Regensburg
Day 2: Regensburg - Straubing, 31 mi. (50 km)
Day 3: Straubing - Deggendorf, 25 mi. (40 km)
Day 4: Deggendorf - Passau, 37 mi. (60 km)
Day 5: Passau - Danube Bend/surroundings, 25 mi. (40 km)
Day 6: Danube Bend/surroundings - Linz, 34 mi. (55 km)
Day 7: Linz - Ardagger/Grein, 37 mi. (60 km)
Day 8: Ardagger/Grein - Wachau Valley, 40 mi. (65 km)
Day 9: Wachau Valley - Tulln, 37 mi. (60 km)
Day 10: Tulln - Vienna, 25 mi. (40 km)
Day 11: Vienna departure or extension of trip

All distances are approximate. Do note that the routes are checked yearly but due to roadwork, or other situations beyond control, sometimes the route may have changed. In this case, please follow local detours/directions.

Day 1: Regensburg
Individual arrival to Regensburg. This medieval town is the perfect place to begin your bike tour along the Danube. It contains many buildings of exceptional quality that testify to its history as a trading center and to its influence on the region from the 9th century.  Be sure to visit the market, city hall, and cathedral! 

Sample accommodation:
Hotel Münchner Hof Regensburg

Day 2: Regensburg - Straubing, 31 mi. (approx. 50 km)
After passing the Bridge of the Nibelungs and the "Walhalla-Allee", you will reach the marked bike route "Tour de Baroque", which takes you to Donaustauf. The ruins of a medieval castle, presumably erected between 914 and 930, tower above the small town. Visible from afar, the famous Walhalla, "Temple of German Honour", rises above the Danube Valley. You continue on the Danube levy, past the Geilsing step, and through the area around the Old Danube to Straubing.

Sample accommodation:
Hotel Theresientor Straubing

Day 3: Straubing - Deggendorf, 25 mi. (approx. 40 km)
Today you continue to bike through Danube Valley and soon you'll arrive to Bogen beneath the steep Bogen Mountain. This quiet little town is one of the gates to the Bavarian Forest, where nature abounds. You will continue to Metten, where in good weather the twin towers of the church are visible. Be sure to visit the library in the Benedictine Convent and the church with its fabulous Asam paintings. You will spend the night in Deggendorf. This city is not only known for its scenic beauty; Deggendorf is home to many impressive monuments which are sure to surprise you!

Sample accommodation:
Hotel Höttl Deggendorf

Day 4: Deggendorf - Passau, 37 mi. (approx. 60 km)
The route leads you to the historic little town of Vilshofen. The cobblestoned Old Town sits right on the water and is a perfect place for a stroll. In no time at all, you will reach your final destination, the three-river city and former diocesan town of Passau. Be sure to visit the jewel of the city: Saint Stephen's Cathedral. This Italian Baroque-style building is home to the largest organ outside of the United States. It's also worthwhile to visit the Höllgasse, the artists' mile in Passau's Old Town, where the beautiful old buildings are full of studios, workshops, & galleries. 

Sample accommodation:
Hotel Passauer Wolf

Day 5: Passau - Danube Bend, 25 mi. (approx. 40 km)
Via Obernzell, you pedal through the Sauwald region with lush forests and abundant farmland to Engelhartszell. Stift Engelszell or Engelszell Abbey, founded in 1293, is the only Trappist monastery in Austria and is also home to the only Trappist brewery in the country (and only one of eight total outside of Belgium). The ride continues through the Donauleiten nature reserve, from where you reach the Schlögen Bend. This is where you'll see the mighty Danube river change directions by 180 degrees, an incredible natural spectacle! 

Sample accommodation:
River Resort Donauschlinge Schlögen

Day 6: Danube Bend - Linz/surroundings, 34 mi. (approx. 55 km)
At Aschach, the valley stretches before you. You'll cycle through Eferdinger Becken, before reaching Linz. Named a UNESCO City of Media Arts, Linz has plenty to offer. There are lots of Baroque buildings to explore including the former town hall, Altes Rathaus and the old cathedral or Alter Dom. The riverside Lentos Kunstmuseum Linz has a major modern art collection. Across the river, the striking Ars Electronica Center focuses on society, technology, & life in the future.

Sample accommodation:
COURTYARD by Marriott Hotel Linz

Day 7: Linz - Ardagger/Grein, 37 mi. (approx. 60 km)
You will pedal away from the course of the Danube for a change, via St. Florian (Augustinian monastery) to Enns, the oldest town in Austria. In Enns, you can view the town square with its 60-meter-high tower, or visit the archaeological collection in the municipal museum Lauriacum. You'll eventually pedal back to the Danube until reaching the beautiful baroque town of Grein. Here you have the opportunity to visit the oldest municipal theater in Austria that is still being used today. Additionally, you can visit the Greinburg Castle; possibly Grein's most popular attraction and one of the first castles in this region.

Sample accommodation:
Hotel Goldenes Kreuz Grein

Day 8: Ardagger/Grein - Wachau Valley, 40 mi. (approx. 65 km)
This section of the Danube, the Strudengau, was once feared by sailors due to the strong currents, but now you can cycle along it peacefully. In Maria Taferl, high above the Danube, you will find the magnificent pilgrimage church, which attracts thousands of pilgrims every year. Be sure to make a stop in Melk and admire the beautiful monastery that overlooks the Danube. As soon as you leave Melk, you will cycle into the picturesque Wachau region, where you can enjoy the charming atmosphere of the region's typical orchards and vineyards. A wine tasting is almost a must in this area!

Sample accommodation:
Gasthof Goldenes Schiff Spitz

Day 9: Wachau Valley - Tulln, 37 mi. (approx. 60 km)
Today you get to enjoy one of the most beautiful stretches of the entire tour. Natural beauty has created a picturesque cultural landscape. You will bike past lush vineyards on rolling, terraced hills and through extensive apricot orchards. The small wine towns beside the Danube are particularly charming. You will continue pedaling along until reaching the 1000-year-old town of Krems, before finishing your day in Tulln. The city is also known as the "city of flowers". The local Egon-Schiele-museum is worth a visit. 

Sample accommodation:
Hotel Nibelungenhof Tulln

Day 10: Tulln - Vienna, 25 mi. (approx. 40 km)
You will spend your last cycling morning biking through the foothills of the Viennese Forest before reaching the gorgeous city of Vienna. This city's artistic and intellectual legacy was shaped by residents including Mozart, Beethoven, and Sigmund Freud. The city is also known for its Imperial palaces, including Schönbrunn, the Habsburgs' summer residence. In the MuseumsQuartier district, historic and contemporary buildings display works by Egon Schiele, Gustav Klimt, & other artists.

Sample accommodation:
ROOMZ Hotel Prater Vienna

Day 11: Vienna departure or extension of trip
Your tour comes to an end, consider booking extra nights in this amazing city!

Accommodation

The hotels used for this bike tour are good quality 3 and 4-star accommodations, all rooms have private facilities. A sample hotel list can be found in the day-to-day description.

Inclusions

What's Included

10 nights accommodations in the selected category
Daily breakfast buffet
21-gear hybrid bicycle with waterproof pannier bag, handlebar bag, tool kit with extra tube and pump, and combination lock
Bike protection
Welcome meeting
Luggage transfer (no limit, each piece no heavier than 20kg)
Detailed travel documents including GPS-Tracks (1 package each room)
Emergency service hotline for the duration of the tour

What's Not Included

Tourist tax payable on site
Entrance fees to attractions other than mentioned
Individual transportation

Dates & Pricing

Dates

Arrival possible daily from April 1 to October 7, 2023

Please Note

Rates are per person, based on double occupancy
Tour prices are based on the fuel costs at time prices are set, often months or years in advance. In rare cases, additional fees may apply for fuel cost increases.

Pricing

Season 1: April 1 - 14 | September 30 - October 7, 2023
Season 2: April 15 - May 5 | September 16 - 29, 2023
Season 3: May 6 - September 15, 2023

Season 1, twin/double

$

2046

£

1088

$

1,818

€

1238

₪

5094

¥

189552

NZ$

2235

NOK

14930

kr

14629

$

1,354

Season 2, twin/double

$

2252

£

1198

$

2,002

€

1363

₪

5609

¥

208691

NZ$

2460

NOK

16438

kr

16106

$

1,491

Season 3, twin/double

$

2443

£

1299

$

2,171

€

1478

₪

6082

¥

226299

NZ$

2668

NOK

17825

kr

17465

$

1,617

Single supplement

$

659

£

351

$

586

€

399

₪

1642

¥

61092

NZ$

720

NOK

4812

kr

4715

$

437

Extra Options

Dinners included $ 486 £ 258 $ 432 € 294 ₪ 1210 ¥ 45015 NZ$ 531 NOK 3546 kr 3474 $ 322

Bike upgrades

Electric bike

$

256

£

136

$

228

€

155

₪

638

¥

23732

NZ$

280

NOK

1869

kr

1832

$

170

Premium hybrid bike (27-speed)

$

116

£

62

$

103

€

70

₪

288

¥

10718

NZ$

126

NOK

844

kr

827

$

77

Extra nights

 
Double/twin room
Single Room
Regensburg

$

139

£

74

$

123

€

84

₪

346

¥

12861

NZ$

152

NOK

1013

kr

993

$

92

$

213

£

113

$

189

€

129

₪

531

¥

19751

NZ$

233

NOK

1556

kr

1524

$

141

Passau

$

122

£

65

$

109

€

74

₪

305

¥

11330

NZ$

134

NOK

892

kr

874

$

81

$

180

£

96

$

160

€

109

₪

449

¥

16689

NZ$

197

NOK

1315

kr

1288

$

119

Vienna

$

131

£

69

$

116

€

79

₪

325

¥

12096

NZ$

143

NOK

953

kr

934

$

86

$

213

£

113

$

189

€

129

₪

531

¥

19751

NZ$

233

NOK

1556

kr

1524

$

141

Extra Info

Airport Info

Fly into Munich and out of Vienna.

Local Travel

Take the train from Munich to Regensburg HBF. Total trip time is between 1.5 and 2 hours.

Climate

Please check weather conditions prior to departure. Average high/low temperatures in °F for Vienna are: April, 61°/46°, May, 70°/54°; June, 75°/59°; July, 80°/63°; August, 80°/63°; September, 70°/56°; and October, 60°/48°

Important to know

DOCUMENTS

Before you travel, please check your country's passport and visa requirements and the passport and visa requirements of the country/countries you plan to visit. For US citizens, the US Department of State website is a good source of information. The Country Information tab in the International Travel section provides details about passport validity, blank passport pages required, etc. For our other international clients, please be sure that you research your own country's travel requirements. It is each traveler's responsibility to ensure proper documentation.

*Important note: Beginning July 1, 2021, additional documentation from the European Travel Information and Authorization System (ETIAS) will be required to visit any of the 26 Schengen-member countries for tourism, business, medical, or transit. This is an additional check on security rather than a visa.

Covid-19 Info

Country Entry Requirements

Due to the changing requirements for entry, it is imperative that you stay up to date on requirements set by the country/countries that you are visiting. Please visit our Travel Restrictions Tool page and the country/countries government webpage for this information.

Extra Stay

Consider extra nights in Regensburg, Passau, or both!

---

Photos
Have you been on this tour?
Please leave your feedback