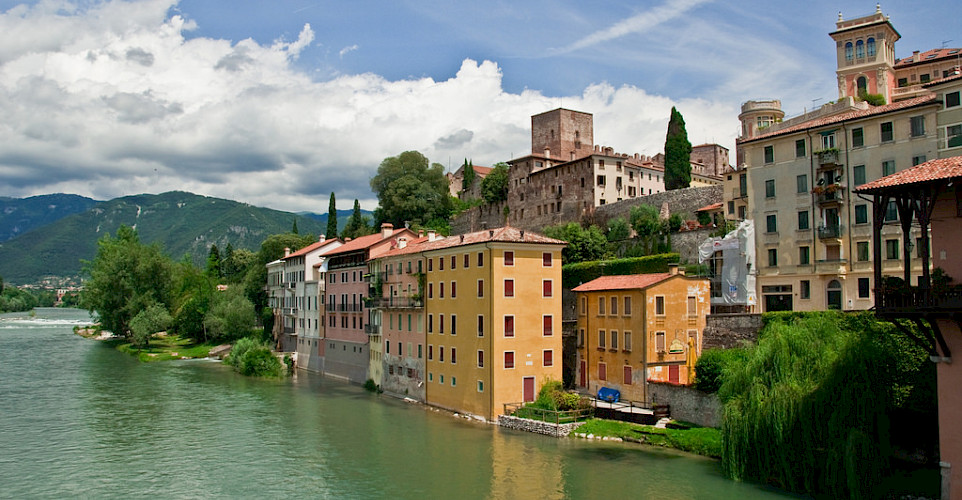 Dolomites to Venice Road Bike Tour
Challenge yourself on this road bike tour in Italy!
Overview

On this scenic road bike tour, you will cycle from the northeast of the Dolomites over famous mountain passes, all the way to Mestre.

Lake Misurina, the "Three Peaks" and the Olympic town of Cortina d'Ampezzo are only some of the highlights you will see as you pedal from the mountains to the seas.

Bassano del Grappa, Asolo (the city of a Hundred Horizons), Valdobbiadene, Vittorio Veneto, Treviso, and Mestre all await to be explored!

Highlights

Exhilarating rides in the Italian Dolomites
Lake Toblach and Lake Landro
Monte Cristallo and Tofane summits
Cortina d'Ampezzo, the pearl of the Dolomites
Ponte Degli Alpini
Wine-growing area of the Valdobbiadene
Lagoon city of Venice
Breathtaking views
Small Italian villages
Food and wine

Want to see more bicycle tours in Italy?

Itinerary

Day 1: Arrival at Toblach/Niederdorf
Day 2: Toblach/Niederdorf - Cortina d/Ampezzo, 50 mi. (80 km) or 56 mi. (90 km)
Day 3: Cortina d'Ampezzo - Belluno, 59 or 47 mi. (95 or 75 km)
Day 4: Belluno - Feltre, 62 mi. (100 km)
Day 5: Feltre - Bassano Del Grappa, 41 mi. (65 km) 
Day 6: Bassano Del Grappa - Treviso, 69 mi. (110 km) 
Day 7: Treviso - Venice/Mestre, 69 mi. (85 km)
Day 8: Departure from Venice/Mestre.

All distances are approximate. Due to organizational reasons, weather conditions or provisions issued by local authorities, the itinerary may be subject to some changes before and/or during your holiday. For example, along the way, you may find temporary deviations caused by roadworks, which cannot be foreseen.

Day 1: Individual arrival at Toblach/Niederdorf
Arrival at the hotel in the Alta Pusteria.

Day 2:  Toblach/Niederdorf - Cortina d/Ampezzo, 50 mi. (80 km) or 56 mi. (90 km)
Toblach – Sexten Valley – Kreuzberg Pass – Padola – Passo San Antonio – Auronzo – Tre Croci Pass – Cortina d'Ampezzo 
This road bike tour in Italy initially takes you from Toblach through to the Sexten Valley, a flanking valley of Hochpustertal in the heart of the Dolomites. The route continues over the Kreuzberg pass and into the province of Belluno before going over two more Dolomiti passes en route to the former Olympic town of Cortina d'Ampezzo.
Elevation: 1650 or 1300 meters 

Day 3: Cortina d'Ampezzo - Belluno, 59 mi. (95 km)
Cortina d'Ampezzo – Passo Giau – Selva di Cadore – Alleghe – Belluno 
Today you leave Cortina with the summit of the Tofane on the right and on the left, the Five towers interchange with the spendid mountain views.
Elevation: 1600 meters

Day 4: Belluno - Feltre, 65 mi. (105 km)
Belluno – Ponte nelle Alpi – Alpago – Lago Santa Croce – Passo San Boldo – Feltre 
Leaving the stronghold of the ice cream makers you will cycle into the famous Italian prosecco sparkling wine) area of Valdobbiadene before reaching Feltre.
Elevation: 1300 meters

Day 5: Feltre – Bassano Del Grappa, 41 mi. (65 km) 
Feltre – Monte Grappa – Bassano del Grappa 
Before you finally reach the plains, you still have the Monte Grappa to attempt and defeat! During the 1st World War this was one of the many areas of the battles between Austria, Hungary, and Italy.
Elevation: 1500 meters

Day 6: Bassano Del Grappa - Treviso, 69 mi. (110 km) 
Bassano – Asolo – Valdobbiandene – Vittorio Veneto – Conegliano – Treviso 
You'll leave the Alps now and will already be able to admire the first villas of the famous Italian architect Palladio. The idyllic small town Asolo invites you for a break before going on to the city of Treviso, the town of the watercourses. You will cycle along the so-called wine road to Vittorio and Conegliano on your way to Treviso. Enjoy the shopping streets famous for fashion (home of Benetton).
Elevation: 600 meters

Day 7: Treviso – Venice/Mestre, 25 mi. 69 mi. (40 to 110 km) 
Treviso – Casale sul Sile – Quarto d'Altino – Lido di Jesolo - Venice (Mestre/Marghera) 
Along the river Sile, you will reach the Adriatic Sea and shortly afterward, Mestre/Venice. Admire the "Serenissima" with all its magnificent buildings. Overnight in Venice/Mestre.
Elevation: 100 meters

Day 8: Departure from Venice/Mestre

Looking for more?  View all our featured bicycle tours, specials, and news or look at our full list of bike tours in Europe.​

Hotels & Bikes

Nice, comfortable 3 & 4-star hotels & guesthouses.

Bicycles

Inclusions

What's Included

Hotel accommodations for 7 nights in 3 & 4 star hotels/guesthouses
Breakfasts
Luggage transfer
Detailed tour information
Road bike rental (On request, limited availability)
Service hotline
GPS data

What's Not Included

Local tourist fees (€1 to €2 per night)
Remaining meals
Return transfer every Wednesday/Saturday from Venice to Toblach/Niederdorf incl. personal bike: €72
Bike protection

Dates & Pricing

Dates

Arrivals every Wednesday and Saturday from May 17 to September 27, 2023

Minimum number of participants: 2

Please Note

Rates are based on double occupancy
Tour prices are based on the fuel costs at time prices are set, often months or years in advance. In rare cases, additional fees may apply for fuel cost increases.

Pricing

May 17 to June 14 & September 16 to September 27

$

1996

£

1152

$

1,894

€

1270

₪

4924

NZ$

2190

NOK

14106

kr

14712

$

1,427

Single room 

$

2279

£

1315

$

2,162

€

1450

₪

5622

NZ$

2500

NOK

16105

kr

16797

$

1,629

June 21 to September 13 

$

2075

£

1197

$

1,968

€

1320

₪

5118

NZ$

2276

NOK

14661

kr

15291

$

1,483

Single room

$

2357

£

1360

$

2,237

€

1500

₪

5816

NZ$

2587

NOK

16660

kr

17376

$

1,685

Extra Options

Extra nights

Venice-Mestre 
Twin/double

$

141

£

82

$

134

€

90

₪

349

NZ$

155

NOK

1000

kr

1043

$

101

Single

$

182

£

105

$

173

€

116

₪

450

NZ$

200

NOK

1288

kr

1344

$

130

Pustertal
Twin/double

$

124

£

72

$

118

€

79

₪

306

NZ$

136

NOK

877

kr

915

$

89

Single

$

165

£

95

$

157

€

105

₪

407

NZ$

181

NOK

1166

kr

1216

$

118

Transfers

Return-transfer by shuttle-bus every Wednesday/Saturday from Mestre to Pusteria Valley (Toblach/Niederdorf). Minimum 2 persons. Availble on request.

Extra Info

Skill Level — Difficult

This tour has a sportive nature and demands training to accommodate such. Cyclists will need to be prepared to ride from 50 to 69 miles (80 - 110 km) a day with steep climbs involved. Please note that there is no written day to day route descriptions. Maps will be provided and GPS tracks are available to upload to your own personal device! You can rent a GPS device. See pricing.

Airport Info

Fly to Venice (Airport Treviso).

Local Travel

Train from the airport or on request, we can organize a transfer from the airport to the starting point of the tour.

Climate

Bring layered clothing for the various temperature changes in the mountains and valleys. Check local conditions prior to departure.

Remarks

Minimum number of participants: 2

Important to know

Travel Documents

It is each traveler's responsibility to research travel requirements and to ensure that you are in compliance with the country or countries you plan to visit.  This includes and is not limited to passport validity,  blank visa pages required for your destination (s), and any other requirement.

US citizens:  A good website to research the requirements of the Schengen Agreement and other countries is travel.state.gov.

Non-EU citizens: Please research the requirements of your country of residence for international travel and the destination country.

EU-citizens:  (without special situations like dual citizenship, main residence abroad or a limited-validity passport) are required to have a valid passport or ID-card, not expiring within six (6) months from the end of your tour.

*Important note: Please check on the  European Travel Information and Authorization System (ETIAS) status as once implemented, this will be required to visit any of the 26 Schengen-member countries for tourism, business, medical, or transit. This is an additional check on security rather than a visa.

Covid-19 Info

Country Entry Requirements

Due to the changing requirements for entry, it is imperative that you stay up to date on requirements set by the country/countries that you are visiting. Please visit our Travel Restrictions Tool page and the country/countries government webpage for this information.

Extra Stay

Additional nights possible in Venice/Mestre.

---

Photos
Have you been on this tour?
Please leave your feedback