4.5

/

5

(

4

ratings)
Dolomites to Venice
Italy Bike Tours
Bike Italy from the Alps to the Adriatic Sea
From the mountains to the sea, pass the fascinating views of the Dolomites, around Cortina and Belluno, and sip the refreshing Prosecco (sparkling wine) in picturesque Valdobbiadene. Bike Treviso, the beautiful historical and monumental center until the end of this incredible bike tour in Venice, the city on the water.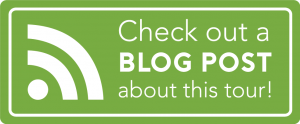 Click here to see all our bike tours in Italy!
Skill
Level
This Italy cycling tour is considered easy to moderate self-guided. You ride anywhere from approximately 19 to 41 miles a day, with 5 days of cycling. All riding takes place on asphalted back-roads or bike paths, or for short stretches, on an unpaved path in good condition. All riding is on paths with little traffic. Occasionally you will have to bike for a short time with heavier traffic when entering bigger towns, or to bridge 2 roads. The route is mostly on lowlands but with some hilly sections. The total vertical distance is 2,010 m.
Where
You'll Stay
In very nice, comfortable 3 and 4-star hotels, mostly in city centers.
What's
Included
Hotel accommodations for 7 nights
Breakfast buffets
Luggage transfer
Route descriptions & maps (one set per room)
7 day service hotline
21-speed hybrid bicycle
Private transfer Bolzano to Brunico
What's
Not Included
Remaining meals
Train transfer from Calalzo to Belluno (± €8 p.p. + bike)
Local hotel taxes (approx. 10 to €15 €)
Extra
Stay
Extra nights possible in Bolzano or Mestre/Venice.
Tour
Dates
Departures on Sundays from April 30 to July 16 and August 20 to September 24, 2017
*Special departure dates can be arranged for at least 5 people.
Day-To-Day
Itinerary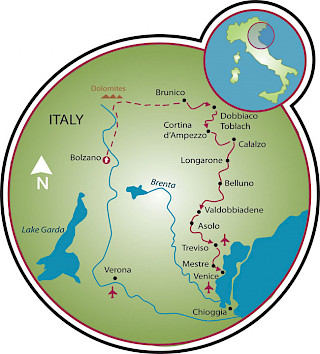 Day 1: Arrival in Bolzano
Day 2: From Bolzano, transfer to Brunico. Brunico - Dobbiaco, 19 mi. (30 km)
Day 3: Dobbiaco - Pieve di Cadore, 41 mi. (65 km)
Day 4: Pieve di Cadore - Belluno, 29 mi. (45 km)
Day 5: Belluno - Valdobbiadene, 38 mi. (60 km)
Day 6: Valdobbiadene - Treviso, 41 mi. (65 km)
Day 7: Treviso - Mestre/Venice, 29 mi. (45 km)
Day 8: Departure from Mestre/Venice
*All distances are approximate.
DAY 1: Arrival in Bolzano.
This bike tour in Italy starts with individual arrival in Bolzano 
DAY 2: From Bolzano, transfer to Brunico. Brunico - Dobbiaco, 19 mi. (30 km)
The day begins with a private transfer by car to Brunico (approx. 44 miles) to start your bike tour. Also known as the 'pearl of Pusteria Valley', Brunico is a lively town with a historical center and rural surroundings. Today's cycling route runs slightly uphill along the Rienz River.
Day 3: Dobbiaco - Pieve di Cadore, 41 mi. (65 km)​
You'll leave Dobbiaco and enter the Landro Valley with the famous Three Peaks of Lavaredo, cycling slightly uphill till the Cimabanche pass, along the cycle
path of the Long Way of the Dolomites. A panoramic descent will bring you to Cortina and finally to Pieve di Cadore, native town of Titian, one of the greatest masters of the Italian Renaissance.
DAY 4: Cortina - Belluno, 25 mi. + 25 miles by train (40 km)
Today you'll follow the river Piave, the Italian so called "sacred river", due to the battles fought in this area during the first world war. In the last part of the Long Way of the Dolomites you'll cycle on secondary roads with some up and downhill and you'll get to Longarone, sadly known for the Vajont disaster. Finally you'll reach Belluno.
DAY 5: Belluno - Valdobbiadene, 38 mi. (60 km)
Today you'll leave the Piave valley and cross the Dolomiti Bellunesi National Park; you'll cycle on low traffic hills, with many panoramic glimpses. From Cesiomaggiore, where you can visit the historic museum of the bicycle, you'll continue to Busche and then along the river Piave you'll reach Valdobbiadene, in the heart of the famous land of Prosecco. Don't miss wine tasting here!
DAY 6: Valdobbiadene - Treviso, 41 mi. (65 km)
You continue cycling south until you cross the Piave River and enter the Po valley. From there on, you will bike Treviso, a city surrounded by water, situated at the confluence of the Sile and Botteniga Rivers.
DAY 7: Treviso - Mestre/Venice, 29 mi. (45 km)
Leaving Treviso behind, you follow the flow of the Sile river to Asolo, also known as 'the city of a hundred horizons'.  Here you'll be surprised from the "Cimiero dei Burci", a "graveyard" of old cargo boats, abandoned along the river from the Sixties, to protest against the rise of wheel transport. At the end of the trip, Venice awaits you for an evening among canals and narrow streets. Accommodation is in Mestre. A supplement applies for lodging in Venice.
DAY 8: Departure from Mestre/Venice.
Your bike tour in Italy will end following breakfast.
You can view all of our bike tours in Europe or look at our featured bike trips, specials, and news.
Email or Call 800-951-4384 +1 570-965-2064
---