Dutch Highlights Tulip Tour
Bike along fields and flowers in 'Nederland'.
This bike tour in the Netherlands also focuses on the country's world-famous tulip fields, which display all colors of the rainbow. Cycling Holland through these fields is a unique experience, especially when you realize you are cycling below sea level!

Picturesque fishing villages are also to be found in this area as well as Holland's capital, Amsterdam. It is probably impossible to book a tour that is more Dutch than this. Traditional Dutch polder-landscapes, seashore & dunes, dikes, windmills, cheese and tulips: you can experience it in this wonderful bike tour.

Click the link to browse all of our bike tours in Holland.

 
4 Days
6 Days
7 Days
8 Days
Price:

£

355

$

553

€

367

NOK

3731

kr

3444

$

448

£

559

$

869

€

577

NOK

5866

kr

5415

$

704

£

661

$

1,029

€

683

NOK

6944

kr

6410

$

833

£

731

$

1,137

€

755

NOK

7676

kr

7085

$

921

Single supplement on request.
Dinners included on request.

extra

options

E-bike: £ 73 $ 113 € 75 NOK 763 kr 704 $ 92

please

note

If opting for an electric bicycle, please note only women's e-bikes are available.

Rates are based on double occupancy.

Information to read before you book.

We recommend purchasing bike trip insurance.

† Currency exchange rate set 90 days before travel.

Travel

Fly to Amsterdam.

Local Travel

Train from Amsterdam Schiphol Airport to Schagen, 1 hr (± €12).

Climate

Check local weather conditions prior to departure. Always bring rain gear. The average high in °F is approx. 53 in Apr, 61 May, 66 June, 69 July, 70 Aug, 64 Sep & 57 Oct.

Remarks

Electric bicycle available for this tour, upon request. Please note: tulip season in Holland extends from the end of March to the middle of May but is dependent on temperatures and the weather. Going early or late in the season may affect what is in bloom.

---
Where
You'll Stay
Nice hotels and/or B&B's.
What's
Included
Hotel accommodations for 3, 5, 6 or 7 nights
Breakfasts
Hybrid bicycle
Maps & route information
Luggage transfer (restricted to one bag per person!)
Additional tourist information
What's
Not Included
Individual arrival to your first hotel in Schagen.
Lunches and dinners
Tour
Dates
Daily from April 1 to September 30, 2017
Skill
Level
Easy self-guided hotel tour. Daily distances range from 28 to 42 miles over flat, excellent bike paths and side streets.
Day-To-Day
Itinerary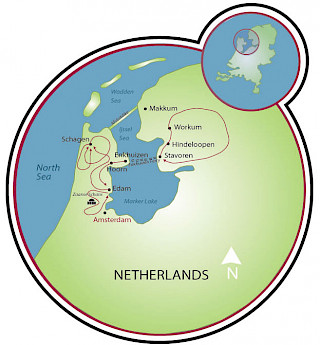 Arrival in Schagen.
Schagen Tulip Tour, 34 mi., or Schagen Dune Tour, 39 mi.
Schagen – Enkhuizen, 33 mi.
Enkhuizen: daytour Gaasterland, 34 mi.
Enkhuizen – Edam, 28 mi.
Edam: day tour to Zaanse Schans, 37 mi.
Edam – Schagen, 42 mi.
Departure from Schagen.
* 7 day tour skips Day 4.
6 day tour: 3 nights in Schagen and 2 nights in Edam.
4 day tour:
Arrival in Schagen.
Schagen Tulip Tour, 34 mi.
Schagen Dune Tour, 39 mi.
Depart Schagen.
DAY 1: Arrival in Schagen.
Individual arrival into Schagen. Evening to explore this great Dutch town.
DAY 2: Schagen: Tulip Tour, 34 mi. (55 km), or Dune Tour, 39 mi. (62 km)
Today you can choose between two bicycle routes through completely divergent areas. The first takes you through Europe's largest bulb area, which in Springtime is ablaze with all colors of the rainbow. The second tour takes you through the widest and highest dune area in the Netherlands, straight through the De Schoorlse Duinen National Park.
DAY 3: Schagen – Enkhuizen, 33 mi. (53 km)
From Schagen, the route takes you west into the typical Dutch polder landscape. The vast green meadows are beautiful and make for a truly serene day of cycling. You'll also be cycling over narrow dikes and have a view of historical windmills and traditional Dutch farmhouses. During Springtime, you will cycle right into the splendor of the blooming bulb fields at Opmeer. Enkhuizen, a village with lots of 17th century houses, has one of the most beautiful harbors in the Netherlands.
DAY 4: Enkhuizen: day tour to Friesland, 34 mi. (55 km)
In the morning, you will cross the Ijssel Lake by ferry. On the other side of the lake, you will get to know another area of Holland: Friesland. Friesland is famous for its many lakes and for its beautiful old cities. Hindeloopen and Workum both are highly recommended. In Hindeloopen, some inhabitants still wear traditional Dutch costumes. Workum is famous for its Jopie Huisman Museum. Quiet and small bicycle paths alongside the great blue lakes will bring you back into Stavoren again. Here you catch the ferry back to Enkhuizen.
DAY 5: Enkhuizen – Edam, 28 mi. (45 km)
From Enkhuizen, the Dutch bike tour runs south over a beautiful dike with great views of the green polder as well as the blue Ijssel Lake, which once was part of the sea. In Edam, your hotel is close to the cheese market, where you can buy the world famous Edammer cheese.
DAY 6: Edam: day tour to Zaanse Schans, 37 mi. (60 km)
Today, you will make a day tour to the Zaanse Schans, one of Europe's oldest industrial areas that is now an expansive open air museum. The windmills, warehouses and traditional wooden houses you'll find here will give you a fairly accurate impression of this 17th century commercial center around Amsterdam.
DAY 7: Edam – Schagen, 42 mi. (68 km)
Cycling Holland over narrow dikes, you will have a great view on many Old Dutch windmills. Close to Opmeer, you will enter the blooming bulb fields once again. Back in Schagen, you can enjoy dinner in one of the many restaurants at the historical cheese market.
DAY 8: Departure from Schagen.
Be sure to check out all of our bike tours in Europe or look at our featured bike trips, specials, and news.
Email or Call 800-951-4384 +1 570-965-2064
---