Family Friendly Bruges
Bike Belgium!
This cycling vacation is designed for the entire family so come and bring the kids! Bruges is not a large city and is easily explored entirely on foot. It seems lost in time, a fairy tale, almost, with an enchanating medieval center! Stone bridges cross canals complete with swans and the cobblestone streets curve through the city passed the well preserved manor houses. Wandering along the Dijver canal is an excellent way to explore and you can end your meandering at Markt, the main square dominated by the 13th century belfry. If you are energetic, you can conquer the 366 steps up to the bell tower for an unbelievable view over the city.

For the adults in the group, there are wonderful restaurants to be discovered, modern boutiques, and a delicious gastronomy, not to mention the world famous beer.

The children will especially enjoy a boat trip on the 'Reien' or you can go to the Boudewijn Seapark, a theme park where you can admire the dolphins in a huge basin. The chocolate museum, 'Choco-Story' is well worth a visit.

Trips by carriage through the historic town center are informative and entertaining. Consider visiting Zeebrugge where you can visit Seafront, a maritime theme park. The entire family will love seeing the ancient Russain submarine and discovering more about sea life.

It is hard to say who will enjoy this vacation more, the adults or the children, but there is something for everyone!

Want to see more bike tours in the Netherlands?

 
High Season
Low Season
Adults

£

513

$

798

€

530

NOK

5388

kr

4974

$

647

£

474

$

738

€

490

NOK

4982

kr

4598

$

598

*Children 7 to 12

£

332

$

517

€

343

NOK

3487

kr

3219

$

418

£

301

$

468

€

311

NOK

3162

kr

2919

$

379

*Children 3 to 6

£

240

$

374

€

248

NOK

2521

kr

2327

$

303

£

221

$

343

€

228

NOK

2318

kr

2140

$

278

Children 2 & under
Free
Free

High Season: June 17 to August 27

*Discounted prices applies only for child staying in a room with two adults. Bike rental not included in children pricing.

Single supplement: £ 140 $ 218 € 145 NOK 1474 kr 1361 $ 177

Dinners included (drinks included in Ostend): £ 145 $ 226 € 150 NOK 1525 kr 1408 $ 183

Electrical Bike: £ 58 $ 90 € 60 NOK 610 kr 563 $ 73

Child seat: £ 15 $ 23 € 15 NOK 153 kr 141 $ 18

Child bike, trailer, or 3rd wheel: £ 44 $ 68 € 45 NOK 458 kr 422 $ 55

extra

options

Extra night in Bruges: £ 53 $ 83 € 55 NOK 559 kr 516 $ 67

Single supplement: £ 29 $ 45 € 30 NOK 305 kr 282 $ 37

please

note

Rates are based on double occupancy.

Information to read before you book.

We recommend purchasing bike trip insurance.

† Currency exchange rate set 90 days before travel.

Travel

Fly to Amsterdam or to Brussels International Airport.

Local Travel

The Brussels Airport train station is located under the airport building at level -1. The train ride from the airport to Bruges is about 1 1/2 hours and requires one changeover. From Amsterdam airport, take the train to Bruges, about a 3 hour ride depending on connections.

Climate

Please check local conditions before arrival. Average high/low temperatures in degree Fahrenheit for Bruges are: April 51º/44º, May 58º/49º, June 63º/54, July 66º/58º, August 68º/59º, and September 64º/55º.

---
Where
You'll Stay
Accommodations in 3 star and 4 star hotels
What's
Included
Hotel accommodations for 6 nights in 3 and 4 star hotels
21 speed adult bicycle or children's bicycle
Odometer (1 per 2 bicycles)-must be reserved in advance
GPS tracks-must be reserved in advance
6 x breakfasts
Museum discount card in Bruges
Tourist information
Route descriptions and maps
Luggage transfer (1 piece per person)
Service hotline
What's
Not Included
Lunches and dinners
Beverages
Entry fees to excursions not mentioned
Tour
Dates
Arrival possible every Sunday from April 30 to September 17, 2017
Skill
Level
This is an easy, self-guided bike tour that is suitable for families with children. Route is sign-posted along flat and well-maintained cycling paths and quiet roads.
Day-To-Day
Itinerary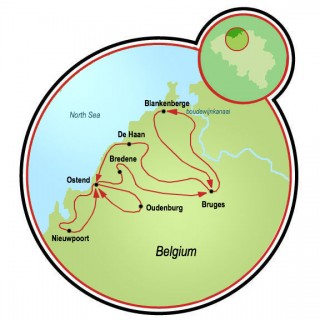 Day 1: Arrival in Bruges
Day 2: Bruges - De Haan - Ostend, 25 mi. (40 km)
Day 3: Round tour to Oudenburg, 19 mi. (30 km)
Day 4: Round tour to Nieuwpoort, 28 mi. (44 km)
Day 5: Ostend - Bruges, 22 mi. (36 km)
Day 6:  Cycling tour to Blankenberge and the North Sea, 19 mi. (31 km)
Day 7: Departure
*All distances are approximate.
Day 1: Arrival in Bruges
Discover the region between the Belgian coast and the stunning city of Bruges on this cycling vacation suitable for the whole family. You can look forward to this week that encorporates sea and sand, cultural heritage, shopping in Bruges, silent villages and cycling through a splendid countryside. 
Day 2: Bruges - De Haan - Ostend, 25 mi. (40 km)
On the way to Ostend, you can discover De Haan, a village which still resembles the Belle Epoque' 19th century style. After an unforgettable tour, you will arrive in Ostend, where you will overnight. There is much to discover along the beach on the beach including the children's farm, 'De Lange Schuur' and the nearby playground.
Day 3: Round tour to Oudenburg, 19 mi. (30 km)
This tour will bring us to the nice and flat countryside behind the Belgian coast, also named 'polder landscape'. Oudenburg is a typical Flemish village built on the foundations of an ancient roman city. The rich history of this village gives much to explore.
Day 4: Round tour to Nieuwpoort, 28 mi. (44 km)
Nieuwpoort, much like Ostend and Blankenberge, is one of the favorite seaside resorts in Belgium. This small town is situated along the river mouth of the 'Yser', a river that played an important role during the first World War. The children will certainly enjoy the harbor and the nature reserve 'Ysermonde'. You can also enjoy the wide and lovely beach.
Day 5: Ostend - Bruges, 22 mi. (36 km)
Today you will cycle back to Bruges and along the way pass cozy villages such as Bredene. Enjoy the typical Belgian landscape as you cycle with your family. You will also pass the silent canal and the popular 'Spuikom' from Ostend.
Day 6: Cycling tour to Blankenberge and the North Sea, 19 mi. (31 km)
There is nothing more fun than spending the day by the sea! Blankenberge is a busy town on the Belgian coast, and a favorite tourist town. Children will enjoy the Sea Life Marine Park, where they can discover the fascinating wildlife of the rivers and the oceans.
Day 7: Departure
Tour ends after breakfast. 
Looking for more?  View all of our featured bike and boat tours, or our full list of bicycle tours.
Email or Call 800-951-4384 +1 570-965-2064
---