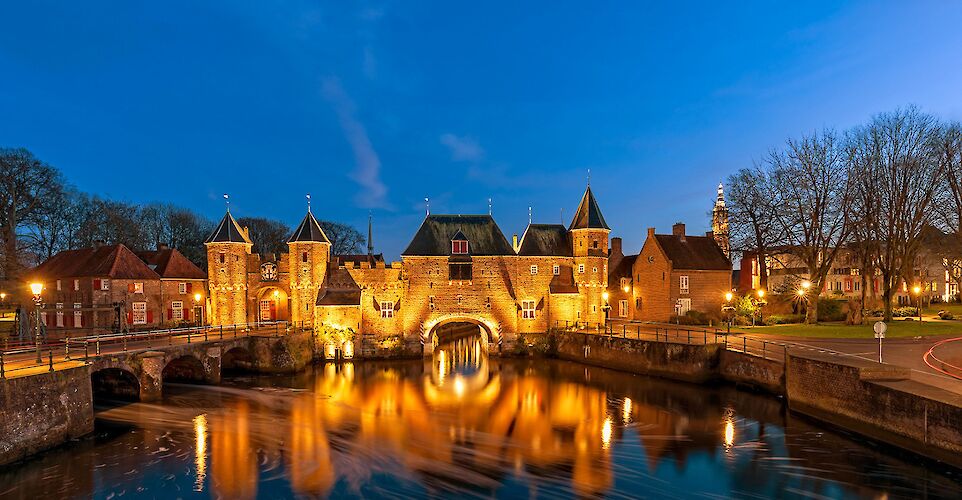 Family Friendly Holland
A bike tour in Holland for young and old!
Overview

Finally, a bike tour in Holland that is perfect for the whole family! Combining quiet low-distance rides with cultural highlights for the adults with entertaining stops at amusement parks and zoos for the kids. The accommodations also provide family or connected rooms.

Set in the middle of Holland, you will see lots of farmland, water, and forest areas.

Highlights

The historic town of Amersfoort and Harderwijk
The monkey garden in Apeldoorn, the Dolphin Zoo in Harderwijk and the Zoo in Arnhem
The National Park Hoge Veluwe with the famous Kröller Müller museum and the interesting Museonder museum for the children
The open air (Openlucht) museum in Arnhem with all highlights of Holland in one place
The Royal palace 'het Loo' in Apeldoorn as the 'Julianatoren' amusement park in Apeldoorn
The city of Arnhem famous for its role in WWII with interesting war museums

With so much to see and do, you'll never want to leave!

Want to see more bicycle tours in the Netherlands?

Itinerary

*This is a 5-day itinerary in which a rest day can be included after any day. You decide where you want your extra day, in either Harderwijk, Apeldoorn, Otterlo, or Arnhem (Please specify at time of booking!)

Day 1: Amersfoort - Harderwijk,  22 to 28 miles (35 to 45 km)
Day 2: Harderwijk – Apeldoorn 22 to 26 miles (35 to 41 km)
Day 3: Apeldoorn – Otterlo 22 to 26 miles (35 to 41 km)
Day 4: Otterlo – Arnhem 20 miles (32 km)

Day 1: Amersfoort - Harderwijk, 22 to 28 mi. (35 to 45 km)
In the morning, you will get a thorough explanation of the tour including a demonstration of the pre-programmed GPS for a relaxed and stress free tour. You will begin biking through the historic town of Amersfoort and enjoy the beautiful buildings and scenery. Then it is straight on to Harderwijk by the lovely town of Nijkerk, or make a loop to the north, first passing the traditional fishing village of Spakenburg. Both options will bring you along lake IJsselmeer where you can take a quick dip if weather permits. This lake is very shallow so children can swim without fear. Your destination is the old town of Harderwijk with the very impressive Dolphin Zoo.

Accommodation: Hotel Baars

Day 2: Harderwijk - Apeldoorn, 22 to 26 mi. (35 to 41 km)

Today's ride will be through the Veluwe forest area along quiet bike lanes for safe pedaling. Along your route, enjoy the small villages with pancake restaurants. Pass the Royal Palace 'het Loo', a state museum with magnificent gardens. You can also visit the amusement park 'Juliana Toren' and the Monkey Garden before arriving at your hotel for the night. This hotel in Apeldoorn has a lovely indoor pool.

Accommodation: Hotel Het Loo

Day 3: Apeldoorn - Otterlo, 22 to 26 mi. (35 to 41 km)
The morning starts with a small climb out of Apeldoorn; it's not a tough job but by Dutch standards it is considered a "hill". Soon you will enjoy the beautiful scenery of heather fields before arriving at the monument of Radio Kootwijk. The day's destination is the quaint village of Otterlo after stopping by the National Park 'Hoge Veluwe' (entrance fee required), the 'Museonder' museum, or bike directly to Otterlo.

Accommodation: Kruller Hotel

Day 4: Otterlo – Arnhem, 20 miles (32 km)
Today is a great ride through the National Park 'Hoge Veluwe'. The park is around 55 square kilometers consisting of heatherlands, sand dunes, and woodlands. This car-free area is a bicycle paradise with the impressive Kröller Müller museum, home of a huge van Gogh collection and sculpture garden (not open on Mondays).

Exiting from the south of the Park, you will pass the Dutch open air museum with antique houses, farms, and factories from different parts of the Netherlands. Next to this museum, you will find the Burgers Zoo. Leaving the forest areas riding downhill to the Rhine valley, you will reach Arnhem and the final destination of the tour. In Arnhem, the equipment will be picked up by a local representative and taken to your hotel.

Accommodation: Hotel Molendal

Day 5: Rest day in Harderwijk, Apeldoorn, Otterlo or Arnhem
Enjoy a free day in one of these towns during your tour. Visit one of the highlights nearby and take your time to enjoy the scenery. Please let us know which town you prefer to stay in when you book!

If you're looking for a different flavor, check out our full list of bike tours in Europe or view all our featured bicycle tours, specials, and news.

Accommodation

You will be accommodated in lovely 3 and 4-star hotels. On each day's details, you will find the name of the preferred hotel.

Inclusions

What's Included

Hotel accommodation for 4 nights
Breakfast buffets
Luggage transfer
Welcome meeting
8-speed hybrid bicycle including waterproof handlebar bag and breakdown assistance
3-speed children bicycles, tag-along trailers, or child trailers
Equipment insurance
Pre-loaded GPS device & maps
Additional tourist information

What's Not Included

Lunches & dinners
Train tickets from Amsterdam to Amersfoort & from Arnhem to Amsterdam
Entrance fees to National Park & all highlights
Bike protection

Dates & Pricing

Dates

Daily arrivals possible between April 1 to September 30, 2022

Please Note

Rates are based on double occupancy
Tour prices are based on the fuel costs at time prices are set, often months or years in advance. In rare cases, additional fees may apply for fuel cost increases.

Pricing

2022

Price (per person): $ 893 £ 506 $ 799 € 584 ₪ 2105 NZ$ 986 kr 6252 $ 621

Price is based on a family of 4 (2 adults and 2 children under the age of 12). All other family configurations are possible as well, just ask.

Extra Options

Helmet rental per day (payable on arrival): $ 15 £ 9 $ 14 € 10 ₪ 36 NZ$ 17 kr 107 $ 11

Extra nights: on request

Extra Info

Airport Info

Fly to Amsterdam Airport Schiphol (AMS)

Local Travel

The Amsterdam Schiphol train station is located directly below the airport. Customer service desks are situated close to the red and white checkered cube at Schiphol Plaza. Staff at the desk will also be able to provide you with train departure information and general information on traveling by train in Holland. Train travel from the airport to Amersfoort is direct and takes about 45 minutes. You will be met at the train station by our local representative for your bike fitting and tour presentation. Your luggage will be transferred to your first hotel. If you are booking an extra night before the tour at the tour hotel, the welcome meeting and bike delivery can occur at the first hotel.

Climate

Please check local conditions before your arrival. The Netherlands is a country that boasts a typical maritime climate with mild summers. Spring and fall can be unpredictable in regards to high/low temperatures and of course, since this is Holland, always bring rain gear. Because the Netherlands is flat, wind can be a factor.

Important to know

Travel Documents

It is each traveler's responsibility to research travel requirements and to ensure that you are in compliance with the country or countries you plan to visit.  This includes and is not limited to passport validity,  blank visa pages required for your destination (s), and any other requirement.

US citizens:  A good website to research the requirements of the Schengen Agreement and other countries is travel.state.gov.

Non-EU citizens: Please research the requirements of your country of residence for international travel and the destination country.

EU-citizens:  (without special situations like dual citizenship, main residence abroad or a limited-validity passport) are required to have a valid passport or ID-card, not expiring within six (6) months from the end of your tour.

*Important note: Please check on the  European Travel Information and Authorization System (ETIAS) status as once implemented, this will be required to visit any of the 26 Schengen-member countries for tourism, business, medical, or transit. This is an additional check on security rather than a visa.

Covid-19 Info

Country Entry Requirements

Due to the changing requirements for entry, it is imperative that you stay up to date on requirements set by the country/countries that you are visiting. Please visit our Travel Restrictions Tool page and the country/countries government webpage for this information.

---

Photos

Reviews
Have you been on this tour?
Please leave your feedback