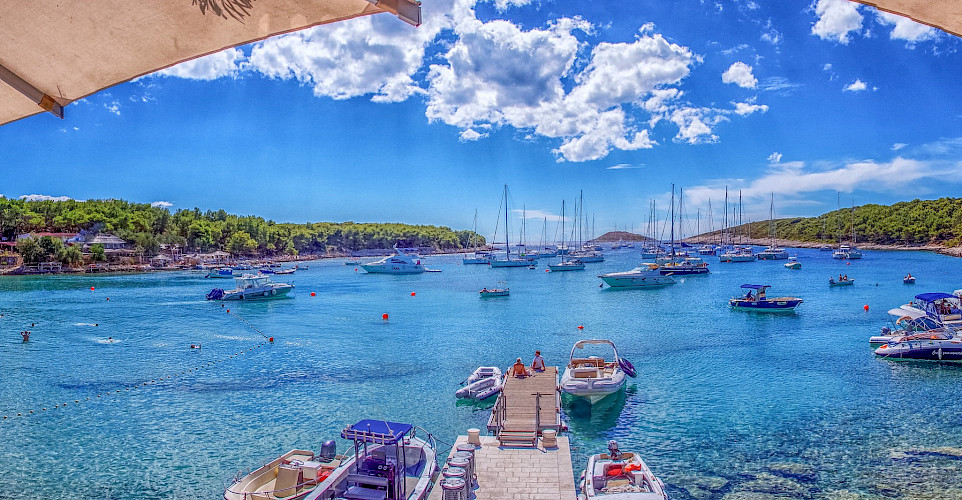 Flavors of Croatia - Hike & Bike
Hike and bike tour of Croatia and its southern islands!
Overview

During this active hike and bike adventure, you will visit a selection of Croatia's top natural, historical, and cultural areas! Experience a full range of stunning Croatian landscapes from quaint seaside villages, to scenic national parks and vineyards, as you island-hop the magic of the Adriatic. Explore the natural beauty of Plitvice and Krka National Parks on foot before cycling along the coastline south towards Trogir and Split, onto the islands of Brac, Hvar, and Korčula, and ending in historic Dubrovnik.

The balmy Mediterranean climate invites you to kick off your shoes, sip some wine, and take a plunge into the emerald ocean every chance you get.

Highlights

Waterfalls and turquoise-colored lakes of Plitvice Lakes National Park
Babić vineyards and ancient olive groves in Primošten
Unique architecture in the UNESCO town of Trogir
Beautiful beaches of Korčula and Lumbarda
Art galleries, traditional food and wine cellars on the island of Brač
Old Town and city walls of Dubrovnik

Be sure to check out all our bike tours in Croatia!

Itinerary

Day 1: Zagreb
Day 2: Plitvice Lakes National Park, walking, 6 mi. (10 km)
Day 3: Krka National Park, walking, 2.5 mi. (4 km)
Day 4: Primošten, cycling, 35 mi. (56 km)
Day 5: Trogir, cycling, 26 mi. (42 km)
Day 6: Split, cycling, 11-22 mi. (17-35 km) + extra ride of 25 mi. (40 km)
Day 7: Island Brac, cycling, 22 mi. (36 km)
Day 8: Island Hvar, cycling, 12-29 mi. (20-46 km)
Day 9: Island Korčula, cycling 29 mi. (46 km) + extra ride  6 mi. (10 km)
Day 10: Korčula beaches and vineyards, cycling, 0-21 mi. (0-34 km) + extra ride up to 40 mi. (65 km total)
Day 11: Peljesac and Dubrovnik, cycling, 37 mi. (60 km)
Day 12: Dubrovnik  

*All distances are approximate. Due to circumstances beyond control, weather conditions or provisions issued by local authorities, the itinerary may be subject to some changes before and/or during your holiday. For example, along the way you may find temporary deviations/detours caused by roadwork. In this case, please follow the directions posted on-site. 

Day 1: Zagreb
On arrival in Zagreb, you will meet your guide and go on a guided walking tour of the city (approx 2 hours). Your guide will reveal the fascinating architecture and rich history of this Capital, showcasing its wonderful historical sites, museums, art galleries, and gastronomy. The fusion of old and modern elements in this vibrant city brings Croatia to life. Dine at one of the local eateries or cafes for dinner. Overnight in Zagreb.
Accommodation: Hotel Astoria

Day 2: Plitvice Lakes National Park, walking, 6 mi. (10 km)
After breakfast, a transfer will take you to one of Croatia's top attractions - the Plitvice Lakes National Park. A World Heritage Site, the park is incredibly scenic with its stretch of forested hills and 16 interconnected turquoise lakes, linked together by hundreds of cascading waterfalls that extend into a limestone canyon. You will have ample time to walk the area using the hiking trails, wooden walkways and small bridges that connect the area. Overnight Plitvice Lakes.
Accommodation: Hotel Degenija

Day 3: Krka National Park, walking, 2.5 mi. (4 km)
Today you will travel to Skradin, a pretty little riverside town, and also the gateway to the Krka National Park. Explore this national park on foot as you walk the network of paths and bridges that lead to Skradinski Buk waterfall, the longest waterfall on the Krka River, flanked by traditional watermills. The gushing water from the many exquisite cascades adds to the natural beauty of the park. The Krka Monasteries, built above ancient Rome catacombs by monks, is also well worth a visit. Overnight in Skradin.
Accommodation: Hotel Skradinski Buk

Day 4: Primošten, cycling, 35 mi. (56 km)
Today kicks off the start of your self-guided cycling. After a bike fitting, you will cycle mostly on backroads through inland Dalmatian villages from Skradin to Primošten, where people still live off the land. Located on a tiny peninsula off the Adriatic Coast, this charming town is well-known for its vast vineyards, with a rich history dating back to 1564AD. Bands playing in the main square, quirky gift shops and inviting beaches will ensure you have a fun-filled day soaking up the sun and atmosphere of this delightful Croatian town. Overnight in Primošten.
Accommodation: Hotel Zora

Day 5: Trogir, cycling, 26 mi. (42 km)
Today you will cycle the inland country roads from Primošten to Trogir - an island connected to the mainland by two small bridges. Founded by the Greek colonists, Trogir oozes history, evident in the many Romanesque and Renaissance buildings dotted around the town. End off the day sipping a refreshing drink at one of the many cafes and restaurants along the seafront promenade. Overnight in Trogir.
Accommodation: Hotel Trogir

Day 6: Split, cycling, 11-22 mi. (17-35 km) + extra ride of 25 mi. (40 km)
After breakfast, you will take a shuttle from Trogir to Split, where your loop ride along Marjan Forest Park starts, not far from the town center. In the afternoon, you have the option of extending your ride and exploring the 1700-year-old Diocletian's Palace. A living, breathing monument of Roman heritage, the palace has 220 buildings within its boundaries, where 3000 people today. This UNESCO World Heritage Site is a maze of alleyways and stone streets lined with bars, restaurants, shops and Romanesque homes. Stop for a refreshing beer or delicious meal at one of the many eateries. The Green and Fish Markets are open daily and are great places where you can feel the vibe of this Mediterranean town. Overnight in Split.
Accommodation: Hotel Slavija

Day 7: Island Brac, cycling, 22 mi. (36 km)
Over the next few days, you will be island hopping between some of Croatia's most exquisite islands. Today you will explore the Island of Brač - the largest island in central Dalmatia. A short 50 min ferry ride from Split will land you on this dreamy island in the Adriatic. Cycle through olive groves, located between inland and coastal villages, tasting local wines, visiting small museums and admiring art along the way. Brač Island is also well-known for its limestone, used to build the Diocletian's Palace in Split, and apparently also the White House in Washington! Take a refreshing swim in the ocean from one of the little coves before returning to Split by ferry in the afternoon. Overnight in Split.
Accommodation: Hotel Slavija

Day 8: Island Hvar, cycling, 12-29 mi. (20-46 km)
The Island of Hvar is your destination for today. After a two-hour ferry ride from Split, you will ride a loop along the UNESCO World Heritage Site of Stari Grad plain. During this ride, you will visit charming inland villages and enjoy a relaxed coastal ride in the shade of pine trees between Jelsa and Vrboska Bay. After reaching Stari Grad plain again, you start the climb across the island where your final destination, Hvar town awaits. On the top of the island you will have a chance to see lavender fields before you take a descent, with the best view towards Hvar town. Overnight in Hvar Town.
Accommodation: Villa Nora

Day 9: Island Korčula, cycling 29 mi. (46 km) + extra ride  6 mi. (10 km)
This morning you leave the town of Hvar by speedboat and start cycling an hour later. You will cycle across the whole island of Korčula, about 46 kilometers to the town of Korčula. The birthplace of Marco Polo, this beautiful fortified citadel is dripping in history, evident from the Renaissance and Gothic architecture that line the marble streets, mostly from the Venetian era of rule. You will cycle in the Smokvica and Čara areas where you can see vineyards of Pošip, one of the best white wines in Croatia. Some of the best local gastronomy can also be tasted on this route. Overnight in Korčula town. 
Accommodation: Hotel Korcula

Day 10: Korčula beaches and vineyards, cycling, 0-21 mi. (0-34 km) + extra ride up to 40 mi. (65 km total)
Today you can choose what you would like to do. You can ride along the coast, stopping at beaches for a swim or a coffee. Alternatively, we suggest you ride a 34 km loop or, if you are feeling really active, extend your biking to a 65km ride. Whichever you choose, there are hidden gems to discover along the way - vineyards, olive groves, pine forests, hidden coves and more. Your day will not be complete without tasting the traditional makaruni pasta in one of the local konobas, accompanied with some of the best Croatian white wines from the Island of Korčula. Overnight in Korčula town.
Accommodation: Hotel Korcula

Day 11: Peljesac and Dubrovnik, cycling, 37 mi. (60 km)
Today marks your final ride on this trip. With craggy mountains, sweeping valleys, picturesque coves and fine wines, your cycle along the Pelješac Peninsula will be filled with enjoyable moments from start to finish. Visit Dingac and Postup vineyards, tasting wines made from Plavav Mali vines - a close cousin to Zinfandel of California and Primitive from Calabria. Famous for its red wine, Peljesac serves up some of the best vineyards in Croatia. A couple of good climbs and some really nice coastal cycling lands you in Ston - a salt-producing town built in the 14th century with the longest fortified wall in Europe. From Ston, a shuttle will transport you to Dubrovnik. Overnight in Dubrovnik.
Accommodation: Hotel Lapad

Day 12: Dubrovnik  
After breakfast, your tour ends. Today is yours to spend exploring the charming city of Dubrovnik - known as the Pearl of the Adriatic. Hike up Srđ Hill for breathtaking views of the city below or walk along the ancient walls of this old town. For those wishing to stay longer, a few extra nights in Dubrovnik won't disappoint.

If Eastern Europe isn't your flavor, check out our full list of bike tours in Europe or view all our featured bicycle tours, specials, and news

 

 

Accommodation

In good 3- and 4-star hotels.

Inclusions

What's Included

11 nights accommodation with breakfast
9-day bike rental (road, hybrid or tandem bike) + lock, pump, spare tube, helmet, and repair kit
Rear rack bag for your personal items
Bike fitting
Detailed briefing
Roadbook with maps and daily information package
Entrance tickets for Plitvice and Krka National Parks
Private transfers from Zagreb Airport to accommodation in Zagreb, from Zagreb to Skradin via Plitvice, and from Trogir to Split
All ferry tickets and private boat transfers
Luggage transfers

What's Not Included

Lunches and dinners
Beverages
Van support
Airport transfer at the end of the tour
Tips for crew and tour guides
Bike protection
Travel insurance

Dates & Pricing

Dates

Daily departures from April to Oct 31, 2020
* Minimum of 2 people required for a departure

Please Note

Rates are based on double occupancy

Pricing

2020

 

Season 1: April 1-28: 
Double/twin: $ 5034 £ 2755 $ 4,717 € 2970 $ 5368 kr 31439 $ 3,594 Single supplement:  $ 1017 £ 557 $ 953 € 600 $ 1084 kr 6351 $ 726

 

Season 2: April 29-May 28: 
Double/twin:  $ 5500 £ 3010 $ 5,154 € 3245 $ 5865 kr 34350 $ 3,926 Single supplement:  $ 1288 £ 705 $ 1,207 € 760 $ 1374 kr 8045 $ 920

 

Season 3: May 29-June 28: 
Double/twin:  $ 5847 £ 3200 $ 5,479 € 3450 $ 6236 kr 36520 $ 4,174 Single supplement:  $ 1551 £ 849 $ 1,453 € 915 $ 1654 kr 9686 $ 1,107

 

Season 4: June 29-August 31: 
Double/twin: $ 6195 £ 3391 $ 5,805 € 3655 $ 6606 kr 38690 $ 4,422 Single supplement:  $ 1729 £ 946 $ 1,620 € 1020 $ 1844 kr 10797 $ 1,234

 

Season 5: September 1-30: 
Double/twin:  $ 5949 £ 3256 $ 5,575 € 3510 $ 6344 kr 37156 $ 4,247 Single supplement:  $ 1475 £ 807 $ 1,382 € 870 $ 1572 kr 9209 $ 1,053

 

Season 6: October 1-31: 
Double/twin:  $ 5297 £ 2899 $ 4,963 € 3125 $ 5648 kr 33080 $ 3,781 Single supplement:  $ 1119 £ 612 $ 1,048 € 660 $ 1193 kr 6987 $ 799

Extra Options

E-bike rental:  $ 237 £ 130 $ 222 € 140 $ 253 kr 1482 $ 169 Extra night in Zagreb: Available on request
Extra night in Dubrovnik: Available on request

Extra Info

Skill Level — Moderate

The bike portion of this hike and bike tour is rated as moderate when using a hybrid or road bike. When using an electric bike, it is rated as easy. However, since an e-bike is slightly heavier than a hybrid bike, it is recommended that you have prior experience riding an e-bike. A good level of fitness is required, ideally acquired by daily or frequent biking. Daily cycling distances average 40 km and entail partly hilly terrain. There will also be extended climbs between 400-500 meters per day over a distance of 6-7 km, with a grade of between 6 and 8%. All routes are paved and take place on lightly trafficked roads. The hiking portion of the tour is rated as easy and is suitable for all levels of fitness.

Airport Info

Fly to Zagreb Airport (ZAG) for the start of the trip.
Fly out of Dubrovnik Airport (DBV) at the end of your trip.

Local Travel

You will be met by your guide on arrival at Zagreb Airport for the start of your tour on the first day. It is recommended you arrive at the airport before 2 pm on Day 1. A transfer can be arranged on the last day from Dubrovnik to Dubrovnik Airport (DBV) at an extra cost (see pricing). Dubrovnik is located 21km (13 miles) to the southeast of Dubrovnik. There are no restrictions on the time of departure on the last day. Additional nights in Dubrovnik can be arranged on request.

Climate

Please check local conditions before arrival. The average high/low temperatures in °F for the area are: April; 63/52°, May; 73/59°, June; 80/66°, July; 86/72°, August; 86/72°, September; 77/64°, October; 68/57°

Remarks

Minimum number of participants: 2 people
Tandem bicycles and Ebikes are also available for rental.
Helmets are mandatory. Guests are welcome to bring their own helmets, otherwise, a helmet will be provided.
Clients are welcome to bring their own bike, seat and or pedals (will be mounted during the bike fitting).
Children's bikes are available on request.

Extra Stay

Additional nights in Zagreb and Dubrovnik can be arranged on request (extra cost).

Photos
Have you been on this tour?
Please leave your feedback