4

/

5

(

1

review)
Girona Spa Experience Bike Tour
Spain Bike Tours
Cycle Girona with a relaxing spa holiday
This self-guided cycling vacation in Girona, Spain, is a fantastic fusion of a relaxing spa holiday combined with a few days of cycling in the stunning countryside of Empordà County. You will enjoy four nights in the 4-star Hotel Nord with full daily use the of the nearby Roman Water spa facilities. Bike by the day in the area that served as an inspiration to Picasso and Dali and pamper yourself in the evening in a unique spa environment.at the Aqva Gerunda Banys Romans. In times of ancient Rome, baths were a place to gather, converse, and rest for purification. Come and be pampered.

This four-night tour gives you a unique chance to enjoy the Catalan counties of Empordà and Gironès and is just long enough for you to bike and relax, yet still fit in other sightseeing adventures, perhaps in Barcelona or elsewhere in Spain.

Highlights:

Lovely accommodations
Spa experience
Alt Empordà county
Aiguamolls Nature Reserve
Figueres
Vall de Llèmena cycle path
Sant Feliu de Guixols

A list of all of our bike tours in Spain can be found here.

Double/twin: $ 1377 £ 681 $ 1,190 € 745 $ 1405 kr 8398 $ 849 Single supplement: pending

extra

options

Electric bike and road bike rental: please ask

please

note

Rates are per person based on double occupancy.

A non-refundable admin fee of 20 Euros per person is included in the deposit amount.

Information to read before you book.

We recommend purchasing bike trip insurance.

† Currency exchange rate set 90 days before travel.

Travel

Fly to Barcelona International Airport or Girona Airport

Local Travel

There are two options for transfer from the airport in Barcelona to Girona. By train: take the RENFE train that leaves from the airport T2B and change at the Barcelona Sants station which costs approximately €3. From there you, take the train toward Figueres/Portbou and get off at Girona The cost is approximately € 6.75 for a regional train and €7.50 for a fast train. By bus: the bus service is called "Alsa" and leaves from outside both Terminal 1 and 2 of the airport. It is about a two hour bus ride and costs approximately 19 euros per person.

From the train station in Girona or the Girona International Airport, a transfer to the spa is included in the tour price.

Climate

The weather in Girona on average is mild. Please check local conditions before arrival. A good website to visit to research average high/low temperatures, average rainfall, and more weather related information is Link Text. Average high/low temperatures in °F are: April, 62°/47°, May, 68°/53°, June, 75°/60°, July, 81°/66°, August, 82°/67°, September, 78°/62°, and October, 70/54°.

DOCUMENTS

Before you travel, please check your country's passport and visa requirements and the passport and visa requirements of the country/countries you plan to visit. For US citizens, the US Department of State website is a good source of information. The Country Information tab in the International Travel section provides details about passport validity, blank passport pages required, etc. For our other international clients, please be sure that you research your own country's travel requirements. It is each traveler's responsibility to ensure proper documentation.

*Important note: Beginning July 1, 2021, additional documentation from the European Travel Information and Authorization System (ETIAS) will be required to visit any of the 26 Schengen-member countries for tourism, business, medical, or transit. This is an additional check on security rather than a visa.

---
Skill
Level
Easy to moderate guided tour that is very adaptable to the cyclist. Tour can accommodate all fitness levels on hybrid touring bikes or road bikes. Ride options from 12 to 60 miles (20 to 100 km). It doesn't matter if you are an experienced rider that is looking for some challenge or you want a very relaxed holiday, you can choose between any difficulty level from 14 different road bike routes or more relaxed hybrid bike routes.
Where
You'll Stay
You will be accommodated for four nights in the 4 star hotel Nord 1901
What's
Included
4 nights accommodation in a centrally located 4-star hotel
Breakfast
Daily access to Aqua Banys Roman bath
Welcome meeting and bike fitting
Information for three rides (route book, maps, and GPS)
Hybrid bike rental
GPS navigation for bike tours
Bike jersey and water bottle
What's
Not Included
Extra
Stay
Always possible and recommended!
Tour
Dates
2020
Arrival possible any day in 2020 (a minimum of two travelers is required).
Day-To-Day
Itinerary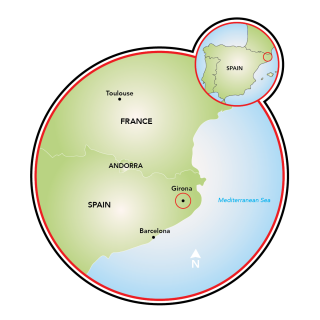 The Girona Spa Experience is a tour that will have a custom itinerary arranged to suit the specific needs of our clients! It is available as both a road bike tour or a more relaxed hybrid bike tour. Both options are self-guided with GPS with routes from the spa of varying levels of difficulty. 
Suggested routes for hybrid touring bike:
Day 1: Medieval Villages, 17 mi. (27 km), total climb, 300 m
This ride is our now famous route through the southern Empordà county. Well known as a wine and olive oil-producing area and for its unspoiled tiny hilltop stone villages that dot the landscape. The route is a village-hopping route passing 6 of the finest examples.
Day 2: Vall de Llémena, 18 mi. (29 km), total climb, 391 m
Roll into the Valley North West of Girona called Vall de Llèmena. This is a quiet unspoiled rural area untouched by tourism. The ride takes you through the valley circumnavigating the extinct prehistoric volcano and into the tiny village of Canet d'Adri which is our recommendation for lunch. Return to Girona along the Vall de Llèmena cycle path which delivers you straight into Girona.
Day 3: Girona to Coast, 25 mi. (40 km), total climb, 284 m
Today is a mainly downhill run to the coast following the green-ways path finishing in the fishing village of Sant Feliu de Guixols. This gives you plenty of time to enjoy the beach and perhaps enjoy a dip in the Mediterranean. Then we can collect you and transfer you and your bikes back to Girona
Suggested routes for road bike: 
Day 1: Les Gavarres, 37 mi. (60 km), total climb, 950 m
Perhaps the most famous road ride from Girona, the Els Àngels loop. It is a favorite of many pros and has been mentioned in several well-known books about the area. An enjoyable route, crossing the Les Gavarres mountains twice and following the 2009 Tour de France route out to Cassà de la Selva.
Day 2: Sant Hilari, 64 mi. (102 km), total climb, 1512 m
One of the best-known training rides in the area, the Sant Hilari route is used extensively by the professional Cannondale team and is a highly popular choice for visiting cyclists. The highlight of the ride is the gorgeous, winding mountain climb, up to the village of Sant Hilari Sacalm at 900m. The climb is a lengthy, challenging 25km, however very gradual!
Day 3: Sant Grau, 62 mi. (100 km), total climb, 1421 m
This ride follows the route of the Tour de France, 2009 along the famous coastal road, which is one of the most beautiful sections of road you can experience on a bike. A tough day with plenty of rolling hills, however a ride that must be ticked off when visiting Girona and the Costa Brava. Trust us - you won't regret it!
Looking for more?  View all our featured bicycle tours, specials, and news or look at our full list of bike tours in Europe.
Email or Call 800-951-4384 +1 570-965-2064
---