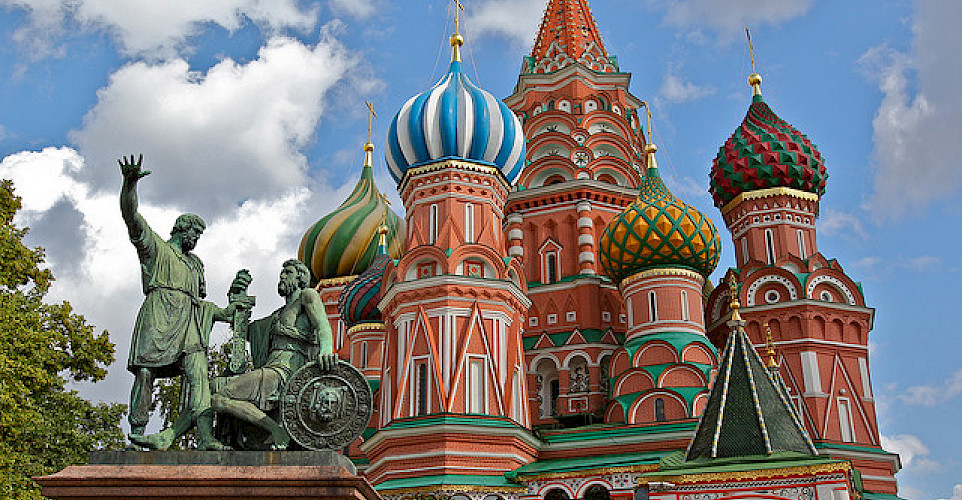 Golden Ring of Russia
Cycling in the "real Russia"
Overview

This guided bike tour in Russia is designed for the international and adventurous cyclist and will introduce you to the real Russia! The Golden Ring is a ring of ancient cities, northeast of Moscow, which combined, are living museums of the most significant events in Russian history. They also showcase monuments of Russian Architecture from the 12th to the 18th century. Cycling is the perfect way to explore as you wheel past kremlins, monasteries, cathedrals, and churches.

The tour begins and ends in Moscow, a major political, economic, cultural, and scientific center in Russia and in Eurasia.

Highlights are listed on the day-to-day itinerary!

Take a look at our other bike tour in Russia.

Itinerary

Day 1: Moscow arrival
Day 2: Uglich, 10 mi. (20 km)
Day 3: Uglich – Myshkin, 25 mi. (40 km)
Day 4: Myshkin – Rybinsk, 47 mi. (75 km)
Day 5: Rybinsk – Yaroslavl, 56 mi. (90 km)
Day 6: Yaroslavl, no cycling
Day 7: Yaroslavl – Vjatskoe, 37 mi. (60 km)
Day 8: Vjatskoe – Kostroma, 36 mi. (57 km)
Day 9: Kostroma – Ples, 39 mi. (63 km)
Day 10: Suzdal, 12 mi. (20 km)
Day 11: Suzdal - Bogolubovo – Vladimir – Moscow, 31 mi. (50 km)
Day 12: Moscow departure

*Due to organizational reasons, weather conditions, or provisions issued by local authorities, the itinerary may be subject to some changes before and/or during your holiday. For example, along the way, you may find temporary deviations caused by construction or road repairs that cannot be foreseen. 

Day 1: Moscow arrival
Arrival in Moscow (no cycling). You will be met at the airport and taken to the hotel. The hotel is located in the east part of Moscow next to the biggest Moscow park and a 5 minute walk from an underground station. It takes 15 minutes to get to the Red Square by metro. After a short briefing and buffet dinner, we will go for a walk in the center of Moscow.

Day 2: Transfer Moscow - Ratmanovo, Cycle to Uglich, 10 mi. (20 km)
You will take a bus to Ratmanovo (about 250 km, 4 hours). On the way, you will stop in Sergiev Posad for a tour of The Holy Trinity-St. Sergius Lavra (UNESCO world heritage). From Ratmanovo, you cycle 20 km to Uglich. Today is a short day with lots of sightseeing. Uglich is a charming town on the Volga, one of the highlights of the tour, where you will join the Volga River which you will follow for next 7 days. After a city tour and visiting the museum of vodka.

Highlights:

Trinity Monastery in Sergiev Posad (Unesco World Heritage)
City tour in Uglich
Museum of Russian vodka

Day 3: Uglich – Myshkin,  25 mi. (40 km)
First thing in the morning, you will visit the museum of hydropower, followed by a  40 km cycling itinerary on a quiet road to Myshkin. Myshkin ("mice town" in Russian) is a small town on the Volga with plenty of museums. In the evening you will be offered a tour of Myshkin with a local guide. After the tour, enjoy some free time.

Highlights:

Museum of Hydropower
City tour in Myshkin
Valenki (wool-boot museum)

Day 4: Myshkin – Rybinsk, 47 mi. (75 km)
You ride along the Volga River on a quiet road. Along the road you will see lots of old wooden houses from the 19th century to the early 20th century (typical architecture of that time). After crossing the Volga by ferry, you continue to Rybinsk. In Rybinsk, you visit the historic museum of the region and then continue 18 km further to a nice countryside hotel.

Highlights: 

Rybinsk (local museum)
Spa

Day 5: Rybinsk – Yaroslavl, 56 mi. (90 km)
This is your longest day leading you to the capital of the region, the ancient city Yaroslavl. On the route, you stop in the small town Tutaev which preserves its authenticity. You will then visit the old 17-century church with frescos by the famous Gury Nikitin. In Yaroslavl, you stay in a modern hotel in the center of the city.

Highlights:

Day 6: Yaroslavl, no cycling scheduled
Today you can enjoy some cycling at your leisure or a walking tour of Yaroslavl with a local guide. The entire center of the city has around 140 architectural monuments and has been included on the list of UNESCO World Heritage Sites. Free time in the afternoon.

Highlights:

Free time
City tour of Yaroslavl

Day 7: Yaroslavl – Vjatskoe, 37 mi. (60 km)
After leaving Yaroslavl we make for the old merchant village Viatskoe. In the middle the road is bumpy (10 km). In Viatskoe we will find out how Russian people lived few centuries ago. We will have experience of real Russian banya (steam bathhouse, black style).

Highlights:

Tour in Vjatskoe
Russian bathhouse

Day 8: Vjatskoe – Kostroma, 36 mi. (57 km)
This day will be a highlight of your tour. You cycle through a forest on a sandy path (7 km) to a river crossing. After the boat transfer, you continue to cycle on a quiet road to Kostroma. You visit the Outdoor museum of Wooden Architecture & Peasant Life and stay for a night in a hotel in the very center of the city next to the river. Dinner this evening will be on a boat with a tasting of local drinks. In case of bad weather, an alternative will be made for the boat transfer.

Highlights:

City tour in Kostroma
Outdoor museum of Wooden Architecture & Peasant Life

Day 9: Kostroma – Ples, 39 mi. (63 km)
Today the route leads to the small town of Ples where the famous 19th-century Russian artist, Isaak Levitan lived and work. The town is also famous for its incredible landscape. In Ples, you visit a famous coffee shop named after Sofia Kufshinnikova, a friend of Levitan. Here you may try the favorite cookie of I. Levitan and Russian cheesecake "Kuleika".  Bus transfer to Suzdal (150 km, about 3 hours).

Highlights:

Day 10: Ivanovo - Suzdal, 13 mi. (20 km)
A short cycling itinerary is on the agenda today. You will stop near the old church of Boris and Gleb (1152) in Kideksha. After city tour by bike in Suzdal, you have a guided tour in Spaso-Ephimy monastery. Farewell dinner in the best restaurant in the town.

Highlights:

City bicycle tour in Suzdal (Unesco World Heritage)
Spaso-Ephimy Monastery
Kideksha

Day 11: Suzdal - Bogolubovo – Vladimir – Moscow, 31 mi. (50 km)
If weather permits, you cycle to Bogolubovo on rural roads.If weather does not permit, you can enjoy the scenery during a transfer.You will visit the famous Church of Intercession on the Nerl. Then bus transfer to Vladimir to have a guided tour of the historic center including the Assumption monastery with Andrey Rublev frescos. Bus transfer to Moscow (180 km). Arrival in  Moscow around 7-8 pm depending on traffic. Dinner at the hotel.

Highlights:

The Church of Intercession
Vladimir

Day 12: Moscow departure

Looking for more?  View all our featured bicycle tours, specials, and news or look at our full list of bike tours in Europe.

Map

Hotels & Bikes

Accommodations

You will be accommodated in good quality 3 to 4-star hotels. We can provide a sample hotel list on request.

Bicycles

Inclusions

What's Included

Hotel accommodations for 11 nights
All meals (from dinner on arrival day till breakfast on the departure day)
Rental bike (Marin Kentfield or Larkspur city touring with high handlebars) with 21 or 24 speeds equipped with rear rack and bottle holder
English speaking cycling guide
All transfers along the route
Support van with luggage transfer
Guided excursions and museum fees as described in the itinerary
Visa support (invitation letter). Please see travel details section for important information regarding necessary travel documents.
T-shirt
Map

What's Not Included

Personal visa application and processing fee (invitation letter is provided)
Alcoholic beverages
Bike protection
Travel Insurance (mandatory)

Dates & Pricing

Dates

2022

August 14 - 25, 2022

Please Note

Rates are based on double occupancy
Tour prices are based on the fuel costs at time prices are set, often months or years in advance. In rare cases, additional fees may apply for fuel cost increases.

Pricing

Twin/double: $ 2821 £ 1596 $ 2,530 € 1820 ₪ 6676 NZ$ 3099 kr 19832 $ 1,956

Single supplement: $ 388 £ 219 $ 347 € 250 ₪ 917 NZ$ 426 kr 2724 $ 269

Extra Options

Electric bike: $ 310 £ 175 $ 278 € 200 ₪ 734 NZ$ 341 kr 2179 $ 215

Airport transfer(s):
One way, from Moscow:  $ 62 £ 35 $ 56 € 40 ₪ 147 NZ$ 68 kr 436 $ 43

Extra night in Moscow:
Double/twin: $ 68 £ 39 $ 61 € 44 ₪ 161 NZ$ 75 kr 479 $ 47 Single: $ 119 £ 68 $ 107 € 77 ₪ 282 NZ$ 131 kr 839 $ 83

Extra Info

Skill Level — Easy–Moderate

Easy to moderate guided and supported bike tour on flat terrain with varied surfaces (gravel, unpaved, sand, and dirt) with daily distances of approximately 40 miles and a total distance of approximately 420 km over 9 cycling days. Usually, the general average group pace is 10 - 12 mi. an hour (15 - 20 km). It is not necessary to cycle in a group. You can keep your own pace. The group convenes at turns and the support vehicle will wait at appointed places along the route in the event you would like to take a break. An experienced guide is always available to assist. Please note that there are many transfers involved with this tour due to the distance covered.

Airport Info

Your tour begins and ends in Moscow. There are three airports that serve the region. Moscow Domodedovo Airport (UUDD), Vnukovo International Airport (UUWW), and Zhukovsky International Airport (Ramenskoye)(UUBW).

Local Travel

It is recommended to book the available airport transfers. See pricing.

Climate

Please check the local conditions before your arrival as this will help you to arrive prepared. The climate in the region is continental, with mild to warm summers, but there can be hot days.

Day of Rest

This tour is a guided, supported tour and so at any time, you can take advantage of the support vehicle.

Recommended

You should bring your own helmet (not obligatory, but recommended for your safety), a small bicycle bag, or a pannier (can be provided on request.) A support vehicle will be with the group all day, so you need only a small bag for rain gear, etc. on your bicycle during the day. Also, don't forget to bring a water bottle.

Remarks

Cycling as a sport is emerging in Russia and is not like cycling in mainstream Europe. Your guide will be local and will know the roads well but do expect the quality of road surfaces to be less than optimal. There are no dedicated bike paths in most of the country so you will be "sharing the road". As much as possible, the route is designed to take place on rural roads that are lightly trafficked but when entering and exiting the towns/cities, more traffic is to be expected. You must have a good command of your bicycle and good balance and feel comfortable riding in a group.

Important to know

Documents

This tour requires a visa which begins with an invitation from our local operator. It is impossible to obtain an entry visa upon arrival, so travelers must apply for their visas well in advance. For any foreigner to receive a Russian visa, there must be a Russian sponsoring organization or individual. Usually, the invitation is issued for up to 30 days because most travelers want to stay longer.  For US citizens, the US Department of State website is a good source of information. The Country Information tab in the International Travel section provides details about passport validity, blank passport pages required, etc.

US citizens can get a 3-year multiple-entry tourist visa. Please take a look here: https://newyork.mid.ru/en_GB/web/newyork_en/tourist-visa

For our other international clients, please be sure that you research your own country's travel requirements. It is each traveler's responsibility to ensure proper documentation.

Migration cards must be carried at all times while in Russia. A "migration card" is the white paper document given by the border police on first entry to Russia. If you lose your migration card you should ask your sponsor to assist you in reporting it to FMS and request a replacement

Visas are issued by Russian Consulates in your home country, based on an invitation (a visa support letter). 

To obtain a Russian visa, you should submit the following papers to a Consular Section:

Completed visa application form (one per person)

Valid national passport (its validity should exceed the planned date of departure from Russia by 6 months)

Three standard passport-size photographs

Invitation from an authorized Russian organization (which we will provide through our local partner)

The visa fee is paid to the Consular service issuing visas in the respective country. Its cost varies.

You will have to register your visa upon arrival in Russia and every new place within 7 working days. Most hotels can and must register your visa for free.

Covid-19 Info

Country Entry Requirements

Due to the changing requirements for entry, it is imperative that you stay up to date on requirements set by the country/countries that you are visiting. Please visit our Travel Restrictions Tool page and the country/countries government webpage for this information.

Extra Stay

Always recommended!

---

Photos
Have you been on this tour?
Please leave your feedback