4.8

/

5

(

4

reviews)
Green Hills of Abruzzo Bike Tour
Italy Bike Tours
Cycle Italy and its eastern coast!
Biking in Italy does not get any better than this! Between imposing mountains and the gorgeous coastline of the Adriatic sea lies Abruzzo, with its wealth of castles and medieval towns. Cycling Abruzzo is a bikers dream, it is blessed with 80 miles (129 km) of long sandy coastline and in its national parks, inhabited by wolves, bears, and golden eagles, you will find forests of ancient beech wood, oak, and chestnut. You will encounter century old pathways still used by colorfully attired shepherds and their flocks. The mountains and valleys of Abruzzo, its vast and barren plateaus and the stony slopes of its massifs have made it, since the very earliest times, an ideal environment for sheep herding. You will enjoy the display of green hills bursting with olive trees and vineyards that are still small family owned enterprises. This bike tour in Abruzzo offers a taste of the unspoiled Italy.

Check out our full list of bike tours in Italy.

Price $ 1921 £ 951 $ 1,661 € 1040 $ 1961 kr 11722 $ 1,185

Single supplement: $ 277 £ 137 $ 240 € 150 $ 283 kr 1691 $ 171

extra

options

Electric bike rental: $ 129 £ 64 $ 112 € 70 $ 132 kr 789 $ 80 Rear rack for hybrid bike: $ 18 £ 9 $ 16 € 10 $ 19 kr 113 $ 11

Transfers to and from Roma Airport possible (price depends on number of people)

please

note

Discount available for 6 or more persons for the self-guided tour.

Rates are per person based on double occupancy.

A non-refundable admin fee of 20 Euros per person is included in the deposit amount.

Information to read before you book.

We recommend purchasing bike trip insurance.

† Currency exchange rate set 90 days before travel.

Travel

Fly to Rome. From Rome, fly to Pescara or take a train to Pescara.

Local Travel

There are a few options to consider. The closest train station and airport for the tour is Pescara. Pescara has mostly national flights with only a few international, so you will transfer in Rome. You could also board a train in Rome to Pescara. Transfers from/to Pescara airport or train station are included in the tour price. For transfers from/to Rome Airport add €100 per person/each way.

Climate

Check local conditions before arrival. Average high/low temperatures in ° Farenheit for the area: April: 63/45°, May: 71/53°, June: 78/60°, July 84/64°, August: 83/64°, September: 78/59°, October: 68/52°

Remarks

Hybrid or Road bicycle available for this tour. Both included in the tour price. Self-guided tour requirements a minimum of 2 participants. Guided tour requires at least 6 participants.

---
Where
You'll Stay
In Agriturismo (country inns) and 3 star hotels. In Italy, the Agriturismo are famous for serving only meals based on fresh, homegrown ingredients!
What's
Included
Hotel accommodations for 7 nights
7 x breakfast and 6 x dinner
Wine with dinner (only in Agriturismo)
Maps and daily itinerary
GPS tracks available on request
Luggage transportation
Van transportation from/to Pescara airport or train station
On call assistance
Hybrid or road bicycle including helmet, repair kit, pump, lock, and cycle computer (does not include rear rack or pannier)
Also included in guided tour:
Tour guide
Van support
What's
Not Included
Beverages at dinner
Lunches
Van transfer to and from Roma airport
Extra
Stay
Extra days and nights could be spent in Rome or Pescara upon arrival or departure.
Tour
Dates
Self-guided (minimum of 2 people) and Guided (minimum of 6 people):
Every Saturday from April 18 to July 4 and from August 29 to October 3, 2020 
Special tour start days may be possible. Just ask!
Skill
Level
This Abruzzo bike tour is considered a moderate in difficulty (minimum of 2 people) with rolling hills, a 3 3/4 mile (6 km) climb, a 9 mile (15 km) descent, and flat coastal rides. Guided tour available for a minimum of 6 people.
Day-To-Day
Itinerary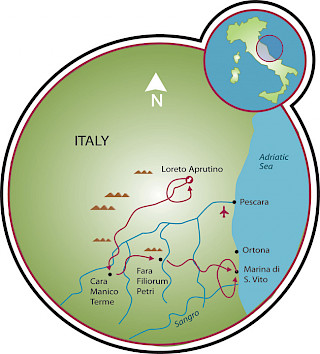 Day 1: Arrival in Loreto Aprutino.
Day 2: Loreto - roundtrip through Eastern side of the Gran Sasso National Park: Montebello, Farindola, Penne, 33 mi. (53km)
Day 3: Loreto - Caramanico Terme, 39 mi. (65 km)
Day 4: Rest day in Caramanico Terme
Day 5: Caramanico Terme - Pretoro, 25 mi. (42 km)
Day 6: Pretoro - Marina di S. Vito, 37 mi. (62 km)
Day 7: Marina di S. Vito, roundtrip along a coastal route, 32 mi. (54 km)
Day 8: Departure
All distances are approximate.
DAY 1: Arrival in Loreto Aprutino
Clinging to the hillside, this little town still preserves its medieval layout, overlooked by the Norman Castle and the great Cathedral. You will love to stroll the town alleys, exploring inside churches and palaces. You can also visit the Ceramic and Archeological museums. You will be staying at an Agriturismo (similar to a Bed and Breakfast) located a couple of miles from town. The country setting is charming. Be prepared for a home cooked meal as these inns are famous for their fresh, homegrown ingredients. A transfer is provided from the Pescara train station or Pescara airport to Loreto Aprutino. This little town still preserves its medieval layout of tile roofs rising upon the hill and surrounding, at the summit, the Norman Castle (the secular power) and the Cathedral (the spiritual power). A stroll in the town alleys, browsing inside churches and palaces, and a visit to the local Ceramics and Archeological museums will reveal you unsuspected treasures.
The Agriturismo (country inn) where we take you is a couple of miles from town. The countryside setting is charming and you will love their swimming pool. Agriturismo in Italy are required to serve only meals based on fresh, homegrown ingredients so be prepared for an outstanding traditional dinner. Before dinner you'll get route maps and a briefing about the tour.
DAY 2: Loreto - roundtrip through Eastern side of the Gran Sasso National Park: Montebello, Farindola, Penne, 33 mi. (53km)
The area of your first ride is called Vestina from the name of the population that lived here before the Roman conquest. Agriculture is the main activity accounting for some of the best wines and extravergine olive oil produced today in Italy. The quiet roads wind up and down gentle hills with open views of the Gran Sasso and Maiella massifs, the highest peaks of the Italian Appennini. Today's ride features 2 climbs of about 6km each. The first one takes you up to Montebello di Bertona, the second to Farindola. Not an easy start but you can take your time, find your pace, pause for refreshment and take in the wonderful scenery of the Eastern side of the Gran Sasso. From Farindola is mostly downhill. Just a few miles before Loreto the town of Penne is a great spot to have lunch. Total climb, 1100 mts.
DAY 3: Loreto - Caramanico Terme, 39 miles (65 km)
Today you will head south from Loreto over rolling terrain. The first easy hill takes you to Pianella, a historical town well worth the visit. On to Copagatti, famous for its murals and then to a local winery where you can sample the celebrated red Montepulciano or the white wine, Trebbiano. Be careful not to imbibe too much, as there are some challenges ahead. After crossing the Aterno-Pescara, Abruzzo's longest river, you will tackle a 3 3/4 mile (6 km) climb to get to S. Valentino where the mountain water from the town's main square will taste better than wine! You can rest here if you desire and have a gelato. You are now in the Maiella National Park. It contains many old monasteries and primitive chapels. Its fields and valleys are blanketed with a myriad of wild flowers and pungent herbs; in its forests you might even see a wild boar. Only the last half mile or so requires some sweat as you cycle into Caramanico, situated on a hill between the Monte Morrone and the Majella mountains. You will enjoy your two days spent here. Total climb, 1200 mts.
DAY 4: Rest Day in Caramanico Terme
Owing to its mineral and sulphur springs, Caramanico has been a spa resort since 1576. You will want to pamper yourself here as there are a wide range of therapies to enjoy, from simple massages to mud treatments. You could start your day on the spectacular hiking trails in the lushness of the park, and then treat yourself to rest and relaxation in the spa.
DAY 5: Caramanico Terme - Pretoro, 25 miles (42 km)
Today you will start with a 9 mile (15 km) descent that takes you back to the Aterno River and the old Tiburtina road. You will descend into another of the Maiella's deep valleys, blessed by ancient romanesque sanctuaries and monasteries. In Serramonacesca,with its 9th century abbey, San Liberatore a Maiella, it will be worth a break in your cycling day. After your visit to the Abbey, you will encounter a gentle grade as you continue with a few steeper sections up to the spectacular town of Pretoro, located on a steep slope on the eastern side of the Maiella. This will be a perfect spot for lunch. Pretoro is composed of a cluster of stone buildings that appear to cling to the steep mountainside; the oldest part of the town is at the highest point, while down below is a newer section. The most important remainder of Pretoro's past is the 13th century Sanctuary of the Madonna della Mazza, located a little above the town. The last mile or so that is left of your day's riding are downhill! Total climb, 700 mts.
DAY 6: Pretoro - Marina di S. Vito, 37 miles (62 km)
Up to this point, your Abruzzo bike tour has seen the hilly country side and the rugged mountains, but from this point on, you will enjoy Abruzzo's other side, the beautiful Adriatic coast. The ride will be easier now and you will have time to enjoy swimming and sunbathing. You descend to Guardiagrele, situated in the foothills of the Maiella mountain, renowned for its jewelry and wrought iron masters. You will continue to descend, riding among vineyards. If you desire, you can take a detour of about 9 miles and hit the coast of Ortona and take in the view of the sea from the Via Orientale and the Aragonese Castle. Otherwise, you can ride straight to Marina di S. Vito, the charming beach resort where you will spend the last two days. Here, you will enjoy your stay in an elegant beach front hotel. Total climb, 750 mts.
DAY 7: Marina di S. Vito, roundtrip along a coastal route, 32 miles, (54 km)
Your last ride will be entirely on the easy rolling coastal route, the Costa dei Trabocchi. The "trabocchi" are ancient wooden stilt constructions suspended above the sea for fishing. You will continue south, crossing the Sangro river and then inland to the magnificent abbey of S. Giovanni in Venere. Built in the 13th century over the ruins of a pagan temple, this cathedral because of the architecture and art is one of the the finest romanesque churchs in Italy. Upon your return to town, you will enjoy spending some time on the beach in Marina di S. Vito and choosing a place to dine from one of the remarkable seafood establishments. Total climb, 500 mts.
DAY 8: Departure
Your bike tour in Italy will end after breakfast 
You can view all of our bike tours in Europe or look at our featured bike trips, specials, and news.
Email or Call 800-951-4384 +1 570-965-2064
---