5

/

5

(

4

reviews)
Halkidiki Peninsula Bike Tour
Explore Greece by bike!
On this supported bicycle tour in Greece, you will experience the lush green forests, secluded beaches, and serene turquoise waters of the Aegean Sea that make up the mythic region of Central Macedonia. You will be challenged as well in the inland mountains, as you pedal amid the towering coniferous woodlands, herds of goats, and panoramic views from the rugged cliffs overlooking the beaches.

This tour also encompasses the unique archaeological sites and provides opportunities to discover the gastronomic and cultural heritage of the three peninsulas of Halkidiki: Kassandra, Sithonia, and Athos.

Tour Highlights:

Kassandra- is one of the most visited regions of Halkidiki. It is known for its bustling nightlife, charming beaches, and verdant coniferous forests. Kassandra offers many places to dine and have a drink along the coastline as well as a spectacular panoramic view, especially at sunset.
Sithonia- is located in the middle prong of the Halkidiki peninsula and offers picturesque beaches, beautifully varied landscapes, and abundant nature. It is a perfect place to taste the best of Greek cuisine as well as bask in the sun on one of the many secluded beaches.
Athos- Is the most eastern and mountainous region of the peninsula. Athos is home to Mt. Athos or "Holy Mountain", which reaches a sprawling altitude of 2000 meters and is covered with dense forests. Athos is a UNESCO World Heritage site and is famous for the many monasteries that populate the region.

2020 

Twin/double: $ 1244 £ 626 $ 1,086 € 700 $ 1289 kr 7814 $ 775 Season supplement (June 21 - August 20): $ 89 £ 45 $ 78 € 50 $ 92 kr 558 $ 55 Single supplement: $ 284 £ 143 $ 248 € 160 $ 295 kr 1786 $ 177 *Supplement to confirm a tour date for 2 or 3 people: $ 213 £ 107 $ 186 € 120 $ 221 kr 1339 $ 133 *single supplement will still apply

extra

options

Pannier (one): $ 9 £ 4 $ 8 € 5 $ 9 kr 56 $ 6 Helmet rental: $ 9 £ 4 $ 8 € 5 $ 9 kr 56 $ 6 E bike rental: $ 124 £ 63 $ 109 € 70 $ 129 kr 781 $ 78

Extra night in Thessaloniki:
Twin/double: $ 71 £ 36 $ 62 € 40 $ 74 kr 446 $ 44 Single: $ 116 £ 58 $ 101 € 65 $ 120 kr 726 $ 72 Return transfer from Ouranopouli to Thessaloniki airport Makedonia (SKG):
1-3 passengers, shared cost:   $ 320 £ 161 $ 279 € 180 $ 331 kr 2009 $ 199 3 passengers and more, shared coast, per vehicle: $ 355 £ 179 $ 310 € 200 $ 368 kr 2232 $ 222

please

note

Rates are per person based on double occupancy.

A non-refundable admin fee of 20 Euros per person is included in the deposit amount.

Information to read before you book.

We recommend purchasing bike trip insurance.

† Currency exchange rate set 90 days before travel.

Travel

Fly to Thessaloniki Airport Makedonia (SKG), the country's third largest airport after Athens and Heraklion airports. It is the main airport of northern part of the country.

Local Travel

An arrival transfer is included in the tour price. For departure, we strongly suggest that you reserve an airport transfer. Please see pricing. If you are extending your stay in Thessaloniki and want to travel to the airport on your own, you can order a taxi. Travel time is about 30 minutes and costs around €20.
There are buses that connect the city center (Platia Aristotelous) and the main railway station of Thessaloniki (Neos Sidirodromikos Stathmos)to the airport. Line 1 X travels back and forth throughout the day. A single ticket costs €2. You can buy the ticket from the ticket machine on the bus, but keep in mind that the machine does not return spare change. Journey time is 40 - 50 minutes.

Climate

The climate in Halkidiki is generally mild with limited rainfall whilst sunshine and warm summers are well known. It enjoys almost 300 days of sunshine on average annually.Check local conditions prior to arrival. Average high/low temperatures, as well as other weather related facts for the area, can be found here: Weatherbase.com.

Recommended

Visit to the sulfur springs in Agia Paraskevi
Athos Monasteries

Remarks

This is a supported tour in which the guide drives the support vehicle, transfers luggage, and stops at interesting sites along the way. Your guide will assist you with organizing breakfasts and lunches. The price for lunches is NOT included in your tour price but can be paid on the spot.

DOCUMENTS

Before you travel, please check your country's passport and visa requirements and the passport and visa requirements of the country/countries you plan to visit. For US citizens, the US Department of State website is a good source of information. The Country Information tab in the International Travel section provides details about passport validity, blank passport pages required, etc. For our other international clients, please be sure that you research your own country's travel requirements. It is each traveler's responsibility to ensure proper documentation.

*Important note: Beginning July 1, 2021, additional documentation from the European Travel Information and Authorization System (ETIAS) will be required to visit any of the 26 Schengen-member countries for tourism, business, medical, or transit. This is an additional check on security rather than a visa.

---
Skill
Level
This is a "supported tour" in which there will be a van transferring luggage and stopping at certain points throughout the route. To fully enjoy this tour, you should be in good physical condition. You will have to cope with some steep ascents and corresponding downhills and some are off-road! Mostly you will traverse good coastal asphalt roads, gravel, and macadam mountain roads (some bumpy sections are possible). All roads are quiet and calm with low traffic in the tour's active season. The tour is recommended for hybrid/trekking bikes or mountain bikes. Please note that it is required that you wear a helmet at all times while cycling. You may rent one but we strongly advise for many reasons to bring your own well-fitted helmet.
Where
You'll Stay
Family run hotels and guest houses unique to this area. No chain hotels!
What's
Included
Accommodations for 7 nights
Breakfast
Airport transfer in arrival day
Luggage transfer
Support vehicle with English speaking driver
Hybrid bike rental equipped with water bottle cages, rear rack on request, and repair kit. (Pannier available for rental.)
What's
Not Included
Transfer to the airport on the day of departure
Lunches and dinners
Pannier (available for rental)
Entrance fees
Gratuities
Personal expenses
Boat trips
Departure airport transfer
Extra
Stay
Instead of returning to Thessaloniki in the afternoon of Day 7, you can opt to remain in Ouranoupoli for the night. There is no extra charge for this but you must specify at time of booking if this is what you prefer.
Tour
Dates
2020
Daily departures from May 1 through October 20,  2020
Minimum number of people: 4
(Can be booked for 2 people with a supplement, see pricing)
Maximum: 12
Recommended period of travel: April - June, and September - October
Day-To-Day
Itinerary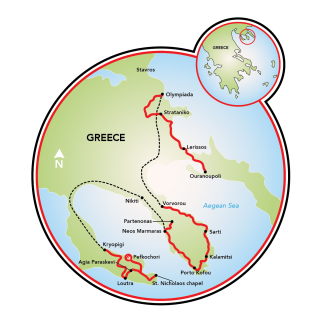 Day 1: Thessaloniki - Kassandra peninsula  
Day 2: St. Nicholaos Chapel - Loutra Spa Village 19.3 mi. (31 km)
Day 3: Loutra – Possidi – Kassandreia – Neos Marmaras (Sithonia), 22 mi. (35 km)
Day 4: Partenonas Architectural Reserve - Coastal Roads - Porto Kofou 22 mi. (35 km)
Day 5: Porto Koufo - Kalamitsi - Sarti - Vourvourou, 33 mi. (53 km)
Day 6: Vourvourou - Pyrgadikia - Develiki - Ouranoupoli (Athos peninsula), 42 mi. (67 km)
Day 7: Free day in Ouranoupoli - Boat to Athos Monasteries, back to Thessaloniki
Day 8: Departure 
All distances are approximate. Due to circumstances beyond control, weather conditions or provisions issued by local authorities, the itinerary may be subject to changes before and/or during your holiday. This is a supported tour and your driver-guide will fully inform you in regards to each day's route.
Day 1: Thessaloniki - Kassandra peninsula  
Individual arrival in Thessaloniki and included transfer (62 mi/100 km) to Pefkochori located on the Northern coast of the Kassandra peninsula. 

Day 2:  St. Nicholaos Chapel - Loutra Spa Village, 19.3 mi (31 km)
The cycle tour starts along the coast but then veers off on a village road leading to the chapel of St. Nicholas. The ride backtracks a few kilometers and continues with an uphill ride in the hinterland of the peninsula, ending in the village of Loutra, renowned for its healing thermal waters.

Ascent/Descent: 340/330 m
Detour to St. Nicholaos chapel,  15 km. Ascent/descent: 310/310 m

Day 3: Loutra – Possidi – Kassandreia – Neos Marmaras (Sithonia), 22 mi. (35 km)
The day starts with a flat road along the shore until the small resort town of Possidi, where you will have some time to spend on the beach. You then head to the town of Kassandreia where the biking for today ends. Transfer to the lively harbor Neos Marmaras in the Sithonia peninsula. Option for honey tasting in Nikiti area on the way. 
Ascent/Descent: 240/220 m

Day 4:  Partenonas Architectural Reserve - Coastal Roads - Porto Kofou 22 mi (35 km)
Following a quick transfer to the mountain village of Parthenonas, an architectural reserve with marvelous stone houses, a scenic ride follows along the Western coast of Sithonia.  From here there is a downhill mountain road, followed by coastal road overlooking secluded small bays. The sparkling blue waters and golden sand beaches will beckon and tempt. The ride continues along the stunning rocky bay to Porto Kofou, a fishing village.  
Ascent/Descent: 330/630 m
Day 5:  Porto Koufo - Kalamitsi - Sarti - Vourvourou, 33 mi. (53 km)
As you continue to explore Sithonia, the morning begins with a gorgeous ascent on a mountain road followed by a downhill ride to the East coast to the village of Kalamitsi. The route continues on a coastal road with a series of ascents and descents through forests of Mediterranean Pines and the through the lively town of Santi, finishing in the Vourvourou region with spectacular views of Diaporos Island.  The day ends with a transfer to Olympiada.  
Ascent/Descent: 1080/1080 m   

Day 6:  Vourvourou - Pyrgadikia - Develiki - Ouranoupoli (Athos peninsula), 42 mi. (67 km)
Today you will follow coastal roads, passing through the charming fishing town of Pyrgadikia. Just after leaving, there will be a few challenging ascents until the beach of Develiki. After that, you will follow a flat coastal road to the charming tourist town of Ouranopoli in the Athos peninsula.
Ascent/Descent: 940/900 m

Day 7:  Free Day in Ouranoupoli - boat to Athos Monasteries. Transfer back to Thessaloniki
This is the perfect place for a day of rest. Oranoupoli is a fairytale place whose name translates as the "city of the heavens." Soak up sun on one of the pristine beaches with the backsplash of rolling green hills and the deepest blue sea as the forefront! Recommended is a boat ride to the amazing Athos Holy Land and Monasteries perched high on the cliffs. This is the oldest surviving monastic community dating back more than a thousand years, to Byzantine times. Transfer back to Thessaloniki in the afternoon. Your support staff will be departing today. Possibility to remain in Ouranoupoli for another evening.
Day 8:  Departure
Departure is on your own. You can order a private return airport transfer. Please see pricing.
Take time to peruse our full list of bike tours in Europe or view all our featured bicycle tours, specials, and news.
Email or Call 800-951-4384 +1 570-965-2064
---