4.3

/

5

(

3

ratings)
Heart of Alsace
Cycling in Alsace, a delicious France bike tour!
Osthouse will be the central point of this beautiful bike tour in France. From there you will cycle the Rhine in the heart of Alsace in northeastern France. The hotel in Osthouse for this tour is a stylishly restored half-timbered blue farmhouse (see picture). In the evening, you shall dine in an excellent restaurant nearby. In addition to the many authentic half-timbered houses in Osthouse, there's also an impressive 16th century water-castle. These Alsace bike routes ride over country roads, towpaths and dike roads through a diverse landscape of woods, stream valleys, arable fields and meadows. Directly south of Osthouse via many quaint villages, you can visit the unique Baroque church in Ebersmunster.
On the horizon, you regularly see the mountains of the Vosges and the Black Forest. Some of the great towns en route that are very much worth noting and spending some extra time in are Strasbourg, Obernai, Barr, Sélestat and the German town of Lahr.
Be sure to check out all of our bicycle tours in France.
Where
You'll Stay
Beautifully restored farmhouse, Hôtel à la Ferme
What's
Included
Hotel accommodations for 5 nights
Breakfasts & excellent 3-course dinners
4 x lunch packet
21-speed hybrid bicycle
Route descriptions & maps
What's
Not Included
Train ticket Paris to Erstein, ± $81
Tour
Dates
Arrival possible Sundays from April 1 to October 31, 2016
Skill
Level
This is an easy self-guided based tour. You can choose how much to cycle each day from the various routes available.
Day-To-Day
Itinerary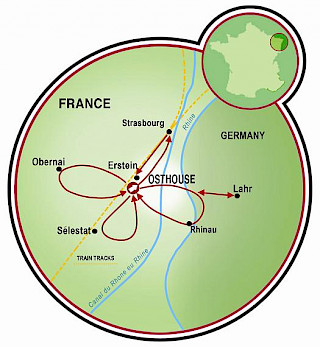 Various routes from Osthouse:
A – To Strasbourg, 19 or 32 mi.
B – To wine villages (including Obernai!), 27 or 31 mi.
C – South to Sélestat, 25 or 34 mi.
D – East through Rhine river valley, 29 or 40 mi.
A – To Strasbourg, 19 or 32 miles
Over an asphalt hunting-path along the Canal du Rhône au Rhin, you will cycle northward to Strasbourg. The hunting-path ends at the 17th century Barrage Vauban. From its panoramic terrace, you have an amazing view of the old city, which you can explore via bicycle or on foot. Strasbourg owns one of France's unique networks of bike paths. The picturesque neighborhood 'Le petite France' and the magnificent Gothic cathedral are only some of the many great treasures you will come across in Strasbourg. If you like, you can always also return to Strasbourg by train (bikes are allowed for free) for more time to sightsee.
B – To wine villages (including Obernai!), 27 or 31 miles
This roundtrip tour takes you west to the foot of the Vosges Mountains. Here the famous vineyards start. The small but picturesque old city of Obernai is worth exploring! As is the wine-village of Barr, which you can visit on the extended route. On the return leg, you'll ride along forests and meadows, past old half-timbered houses and the 12th century chapel St. Ulrich, where 14th century frescos can be seen!
C – South to Sélestat, 25 or 34 miles
This tour runs south in the direction of Sélestat. This charming old town has 2 great churches: a Romanesque and Gothic basilica. On your way there in the Alsace region, there's the unique Baroque church in Ebersmunster worth a look. If you like, you can spend more time here and shorten the bike route. From the many rural villages along the way, the larger city of Benfeld will be an impressive change. It contains a beautiful Town Hall in the Renaissance style.
D – East through Rhine river valley, 29 or 40 miles
This route takes you east through marshlands to the creator of this beautiful flat landscape: the Rhine. Via a large lock complex, you'll cycle to the other side into Germany. Through a landscape with the same character as 'Le Grand Ried', you can make a roundtrip to the old town of Lahr. Lahr lies at the foot of the wine-hills that form the start of the mountains of the Black Forest. Over the Rhine dike, you'll cycle along the marsh-forests to where you can cross over with the ferry to the French border town of Rhinau. From here, it's not far to the hotel.
Looking for more?  View all our featured bicycle tours, specials, and news or look at our full list of bike tours in Europe.
Email or Call 800-951-4384 +1 570-965-2064
---