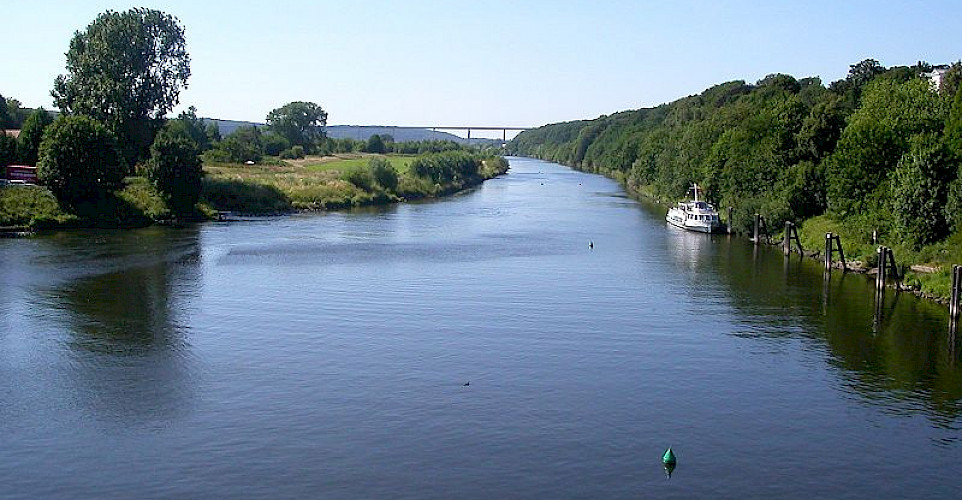 Highlights of the Ruhr Valley
Cycle a '4 star' tour in Germany!
Overview

Do not approach this cycling adventure with any preconceived notions. Germany's Ruhr Valley, in which this tour is centered, is a place with two faces. Historically, the region has always been known for its industry, but this rose to great heights and subsequently fell to great depths, leaving behind a depressed and ravaged area. From this decline, the Ruhr Valley is rising again and has been transformed into a landscaped area of parks, beautiful gardens, canals, and lakes. Many things were tried to support the Ruhr's rise and to develop a model region of renewal. Those efforts have changed the region and the results include the "Emscher Park International Building Exhibition". Between 1989 and 1999, abandoned industrial plants were turned into cultural centers and former railroad lines into bike paths. Canoes now paddle the Ruhr River. A 400-kilometer "Route of Industrial Culture" passes alongside historic factory buildings that have been turned into museums, office buildings and artists' studios. Nowadays, the 'Ruhrpott' is once more a thriving region and an enormous urban area. Bochum, Dortmund, Duisburg and Essen form an inter-connecting metropolis. The old industrial ruins have been converted into cultural venues.

The 230 km long Ruhr Valley Cycle Route follows the River Ruhr from its source in Sauerland to where it flows into the River Rhine in Duisburg. The cycle tour has been distinguished by the ADFC (German Cyclists' Federation) as a "4 star quality cycle route," which combines nature and culture. The countryside is captivating with its peace and tranquility and the amazing diversity and wealth of experiences it offers.

Want to see all of our bike tours in Germany?

Itinerary

Day 1: Arrival in Witten
Day 2: Witten - Essen-Kettwig, 37 mi. (60 km)
Day 3: Essen-Kettwig - Duisburg, 22 mi. (35 km)
Day 4: Duisburg - Oberhausen - Essen (Zentrum), 34 mi. (55 km)
Day 5: Essen (Zentrum) - Bochum - Witten, 31 mi. (50 km)
Day 6: Departure from Witten

Day 1: Arrival in Witten.
Individual arrival to Witten.

Day 2: Witten - Essen-Kettwig, 37 mi. (60 km)
Start the first leg of the tour with a visit to the old coal mine, Zeche Nachtigall. The oldest mining steam machine was built in 1887 and can be seen there. Several historic quarry stone buildings on the Ruhr Valley Cycle Route are reminders of the mining 'golden age'. On your way to Hattingen, you circle the Kemnader Lake and then cycle through the impressive old town Hattingen, which holds several historical momuments. Your bike tour continues to Baldeneysee. Visit Villa Hügel, the former residence of the Krupp dynasty which is now a museum. 

Day 3: Essen-Kettwig - Duisburg, 22 mi. (35 km)
Today the well-known city by the river awaits you - Mülheim an der Ruhr. The city attracts with well-known attractions such as the Broich Castle or the 100-year-old water tower, which invite for a short exploration. Before you reach today's stage destination Duisburg, you cycle past the largest inland port in Europe, one of the biggest highlights that your bike tour has in store for you. The numerous harbor cafes invite you for a short break and a harbor tour is a must for every "hobby sailor".

Day 4: Duisburg - Oberhausen - Essen (Zentrum), 34 mi. (55 km)
Visit the landscape garden Duisburg-North, a 200 hectare industrial brownfield. It has been developed into a multifunctional park combining the industrial cultural heritage, nature, and a fascinating light-show.
Continue on to Oberhausen where you can get a great view over the Ruhr valley from the town's landmark, the "Gasometer". The former iron and steel works has been converted into the CentrO-Shopping Centrer, the CentrO-Park, and the Sea Life Center and Marina. 

Cycling along the Rhein-Herne-Canal to Essen is the last leg of today's bike tour. First, cycle to Bottrop and enjoy the view from the outlook tower called the "Tetraeder". Continue through the "garden city" of Welheim, a typical worker's settlement in the Ruhr region. From there, cycle to Essen's UNESCO World Heritage site and mine, Zeche Zollverein. It was built in 1932 and shut down in 1986. It was once the largest and nicest coal mine in Europe and is an international industrial monument today. Spend the night in the city centre of Essen or extend your bike tour on the Emscher-Island with the possibility to visit the Nordsternpark, the zoo of Gelsenkirchen "Zoom Erlebniswelt", the arena of football team Schalke 04, or the Landscape park Hohenward. 

Day 5: Essen (Zentrum) - Bochum - Witten, 31 mi. (50 km)
​Cycle through Gelsenkirchen and onto Erzbahn street to the festival hall in Bochum. The German mining museum invites you to admire its exhibitions and underground mine. It provides its visitors with more insight into the mining industry. Also, enjoy the fantastic view over Bochum from the building's observation platform. Return to Witten and spend the night there.

Day 6: Departure
Individual departure from Witten.

If you're looking for a different flavor, check out our full list of bike tours in Europe or view all our featured bicycle tours, specials, and news.

Accommodation

Inclusions

What's Included

Hotel accommodations for 5 nights
Breakfast buffets
Luggage transfer
Detailed travel documents and tourist information (one package per room)
Route descriptions and maps (one package per room)
24 speed hybrid bike with pannier, map holder, and repair kit
7 day service hotline

Dates & Pricing

Dates

2019 Dates

Arrivals possible on Saturdays and Sundays from March 30  to October 28, 2019

Season 1: March 30 to April 14 and October 7 to October 28
Season 2: April 15 to October 6

Please Note

Rates are based on double occupancy
Tour prices are based on the fuel costs at time prices are set, often months or years in advance. In rare cases, additional fees may apply for fuel cost increases.

Pricing

Season 1: $ 927 £ 517 $ 838 € 589 ₪ 2141 NZ$ 1001 NOK 6180 kr 6528 $ 626

Season 2:  $ 1051 £ 587 $ 951 € 668 ₪ 2428 NZ$ 1136 NOK 7009 kr 7404 $ 710

Single Supplement: $ 260 £ 145 $ 235 € 165 ₪ 600 NZ$ 281 NOK 1731 kr 1829 $ 175

Season 1: March 30 to April 14 and October 7 to October 28
Season 2: April 15 to October 6

Extra Options

Electric bike: $ 149 £ 83 $ 135 € 95 ₪ 345 NZ$ 162 NOK 997 kr 1053 $ 101

Extra nights
Witten: $ 82 £ 46 $ 74 € 52 ₪ 189 NZ$ 88 NOK 546 kr 576 $ 55 Single supplement: $ 42 £ 24 $ 38 € 27 ₪ 98 NZ$ 46 NOK 283 kr 299 $ 29

Extra Info

Skill Level — Easy

Easy, self-guided tour on signposted bicycle routes and quiet lanes. Some traffic is to be expected in the towns. The route also leads through local parks and former railways along the Ruhr cycle path. This tour is ideal for beginners, families, and groups.

Airport Info

Fly to Frankfurt (FRA)

Local Travel

Train from the airport to Witten. You can buy tickets in the regional train station in Terminal 1, B Concourse, Level 0 and the long-distance train station on Level 3 of the AIRail Terminal. Information and reservations available in both DB TravelCenters.

Climate

Please check local conditions before your arrival. Average high/low temperatures in degrees Fahrenheit for the ares are: April 56°/39°, May 64°/45°, June 69°/50°, July 72°/55°, August 71°/54°, September 66°/50°, October 57°/44°, and November 47°/38°

Day of Rest

If you opt for an extra night at some point during the tour in one of the overnight towns, that extra day can be used as a day of rest.

Covid-19 Info

Country Entry Requirements

Due to the changing requirements for entry, it is imperative that you stay up to date on requirements set by the country/countries that you are visiting. Please visit our Travel Restrictions Tool page and the country/countries government webpage for this information.

Extra Stay

Additional nights possible in any overnight towns along the route. Please request these at time of booking. Additional nights in arrival and departure hotels can be requested after initial booking.

---

Photos
Have you been on this tour?
Please leave your feedback