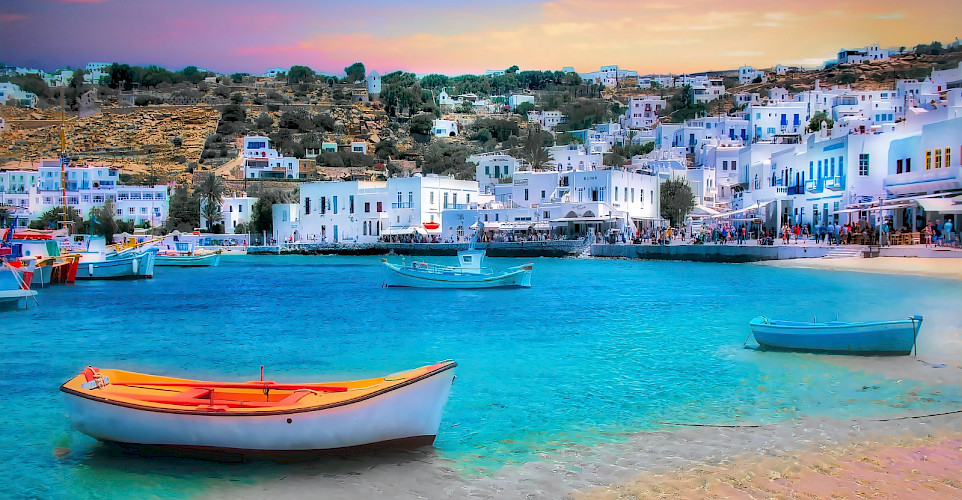 Hike & Bike Southern Crete
Explore the Island of Crete on foot, by bike & by boat!
Overview

You will be forgiven for thinking you have landed in paradise on this multi-adventure tour. Hike, bike, and boat your way around idyllic southern Crete. A shimmering jewel in the Mediterranean Sea, this small Greek Island is brimming with natural beauty, authentic Greek culture, and island hospitality.

Based at one hotel, you will explore a different corner of Crete each day. Your guide will show you the best spots and reveal the stories behind the island and its people.

Find yourself exploring the mountains of Paleochora, dotted with secluded mountain villages, tiny churches, and ancient sites. Dance to the rhythm of traditional Greek music, satisfying your appetite on many homemade Cretan dishes served in the local taverns. Boat the aquamarine waters in search of the rare Caretta Turtle, before plunging into the sea for a swim.

The many bays and coves dotted around the island are perfect for sunbathing and relaxing after a day of hiking and biking.

Highlights

Swimming in the Mediterranean Sea
Cretan cuisine
Traditional Greek dancing
Samaria Gorge hiking
Elafonisi National Park
13-century church frescos
Mountains of the Island of Minos

Check out all of our bike tours in Greece.

Itinerary

Day 1: Paleochora 
Day 2: Anydroi Gorge, 15 mi. (25 km) by bike & 4 mi. (6.5 km) by foot
Day 3: Ancient Lissos, 20 mi. (33 km) by bike & 2.8 mi. (4.5 km) by foot
Day 4: Samaria Gorge, 10 mi. (16 km) by foot
Day 5: Voytas-Paleochora-boat trip to Elafonisi, 10.5 mi. (17 km) by bike
Day 6: Sougia, 9 mi. (15 km) by bike & boat excursion
Day 7: Paleochora 

* All distances are approximate. Due to unforeseen circumstances such as weather conditions or provisions issued by local authorities, the itinerary may be subject to some changes before and/or during your holiday.

Day 1: Paleochora 
On arrival at Chania Airport, you will transfer to Paleochora for the start of your tour. Transfers can be arranged on request (at an additional cost). Check-in at your hotel is possible from 3 pm. If you arrive in the afternoon, enjoy free time by walking through Paleochora, swimming, or simply sunbathing at the nearby beach. In the evening, there will be a lavish dinner where you can get to know your fellow travelers. Afterward, your tour guide will overview the week to come and all the planned activities. (D)

Day 2: Anydroi Gorge, 11 mi. (18 km) by bike & 4 mi. (6.5 km) on foot
After breakfast, an organized transfer vehicle will take you to the starting point of your ride, the village of Azogyres. After the ride, you will visit the 99 Holy Fathers Monastery and hear the story of St. John the hermit and the Holy Fathers. A one-hour hike will follow. On the way, there will be plenty of opportunities to enjoy beautiful panoramic views. When you reach the village of Anydroi, you can try delicious Cretan dishes for lunch. You will continue your hike through the Anydroi Gorge until you reach a secluded sandy beach. Here the blue seas lure you in for a swim before you head back to the hotel, either by bike or transfer bus. In the evening, your tour guide will invite you to join a guided tour through Paleochora. Dinner is on your own this evening. (B, L)

Day 3: Ancient Lissos, 17 mi. (28 km) by bike & 2.8 mi. (4.5 km) by foot
Today's tour is a wonderful combination of biking, hiking, and boating. An incredible nature experience awaits you on this cycling tour through the mountains of Paleochora. You begin your tour from the beautiful mountain village of Azogyres and, along the way, you visit a 13th-century Byzantine church. For lunch, you will take a break at a great mountain tavern, which serves traditional Cretan cuisine including a very tasty specialty; a homemade chestnut stew. A relaxed departure will then be followed by a transfer to the starting point of your afternoon hike. The walk will take you through beautiful landscapes, following the well-known E-4 track to the ancient city of Lissos, to the sanctuary of the god of healing, Asklepios. Following your visit to this archaeological site, you will aboard a chartered boat and be taken to a cave. Here you will have the opportunity to dip in the shimmering waters before returning to the port of Paleochora. (B, L)

Day 4: Samaria Gorge, 10 mi. (16 km) by foot
A trip to Crete without visiting the famous Samaria Gorge is practically unimaginable. A walk through this Gorge allows for an unbelievable nature experience and gives you a physical challenge. There are approximately 1,200 meters of elevation along the hike, and the walk lasts around 6.5 hours. In the morning, you will take a transfer bus to the day's hike's starting point-at the Samaria Gorge's top end. Restore your energy levels with a delicious picnic in the canyon. The village of Agia Roumeli lies at the lower end of the Samaria Gorge where you will enjoy a late lunch in a typical tavern. There will also be time for a swim before boarding the exclusive charter boat which will take you back to Paleochora. In the evening, dinner is to be arranged individually. (B, L)

Day 5: Voytas-Paleochora-boat trip to Elafonisi, 10.5 mi. (17 km) by bike
Another day full of adventure awaits! After a late breakfast, a transfer shuttle will take you to Voytas where you will visit a small church from the 13th century. This church is incredibly well preserved and even the frescos, picturing the torments of hell, are still visible. From there, you will bike through picturesque landscapes with a relaxed midday break before heading back towards Paleochora. Here you will take a privately chartered boat to visit the natural paradise of Elafonisi – a dreamy place in the middle of the Mediterranean. The exotic, white sandy beaches and the turquoise waters - found on both sides of the peninsula - are reminiscent of the Caribbean. The island is strewn with dunes, water lilies, and junipers. Various rare species, such as the endangered Caretta Turtle can live here (their nests being under protection). On the boat trip back to Paleochora, you will take a break at a hidden beach for a swim and BBQ. (B, L)

Day 6: Sougia, 9 mi. (15 km) by bike & boat excursion
Today, you can look forward to a very relaxed program after the previous day's efforts. The program includes a transfer to the mountaintop village of Papadiana, followed by a downhill bike tour to Sougia. Here you will have plenty of time to swim. After a delicious lunch, you return by boat to Paleochora. Here you can relax for a while before experiencing a true Greek evening with Cretan delicacies and traditional dancing. Don't forget: Syrtaki was first danced on the island of Crete! (B, L, D)

Day 7: Paleochora 
After breakfast, it is time to check out from the hotel and return home or extend your holiday on Crete. Transfers to Chania airport or ferry port can be arranged on request.

If you want to extend your tour, highly recommended are additional days in Chania. 

There are numerous reasons why Chania, located on the north-western coast of Crete, is considered the most beautiful city on this island of Minos. The old town, built by the Venetians in the 16th and 17th centuries around the city's imposing port, is an architectural jewel. The late Ottoman Empire also left impressive traces that can still be seen in the city today. From the port's lighthouse to the Yiali Mosque, the large fortress to the classicist market hall, Chania has much to offer. Sandy beaches lying just outside of the city as well as the varied surroundings including the Akrotiri Peninsula and the Balos Lagoon offer wonderful hiking opportunities and promise an eventful and relaxing extended vacation.

You will have your choice of accommodations (based on availability)

3* Elia Bettolo, Elia Potie,or Elia Zamveliou
The Elia Hotel Group's 3-star hotels are all located in the historical old town of Chania within walking distance of the Venetian port and the city's other sights. All three hotels were built as small complexes with 8-20 rooms, which are typically equipped with air conditioning, refrigerator, satellite TV, telephone, hairdryer, safety deposit box, and an espresso coffee machine. Booking is subject to availability on your preferred travel dates, therefore room rates may vary slightly.

5* Serenissima Boutique Hotel
Situated in a historic old town palazzo within walking distance of all Chania's major attractions, the Serenissima Boutique Hotel with its elegant rooms promises a stylish holiday experience. The hotel perfectly combines tradition with modernity. All rooms have a private bathroom and are equipped with an espresso machine, minibar, safe, and TV. Original Mediterranean cuisine meets local Cretan dishes at the in-house restaurant, which also offers a sophisticated selection of high-quality wines from across Greece.

5* Casa Delfino
The Casa Delfino Boutique & Spa Hotel is located in an authentic 17th-century Venetian mansion in the center of the charming old town of Chania. The hotel has a courtyard and roof terrace with spectacular views over the city and the Venetian harbor. Each of the 24 spacious rooms combine old-world charm with modern comfort, all of which have private, marble-tiled bathrooms and are equipped with minibar, safe, and TV. Every morning, you can enjoy a delicious breakfast in the Casa Delfino courtyard. The in-house spa offers a marble steam bath, a large jacuzzi, and a restorative relaxation area.

See pricing for extra nights!

Looking for more?  View all our featured bicycle tours, specials, & news, or look at our full list of tours & trips in Europe.

Map

Accommodation

Throughout the tour, you will stay at Hotel Relax, located in the heart of Paleochora, Crete. With a passion for hospitality, Tsiskaki family has been making every guest's holiday experience unique since the early 1980s.

Lunch is included on all days with activities and is served either in traditional Cretan restaurants with local dishes or as a barbeque en route. Two dinners are also included in your tour price. For those evenings when dinner is not included you can visit one of the beautiful taverns in Paleochora where traditional cuisine can be tasted and enjoyed. Your tour guide will be happy to recommend restaurants for these days if requested.

Inclusions

What's Included

Accommodation for 6 nights at Hotel Relax in Paleochora
Six breakfasts, five lunches, & two dinners
Greek evening with dinner, live music & dancing
Bottled mineral water & soft drinks during activities described
Touring bike rental
English speaking tour guide
Guided cycling tours & hikes as per program
Maps with an overview of bike tours
Escort vehicle on all bike tours
All minibus transfers during the trip
Private boat charter on 4 days
Entrance for group visits to museums & archaeological sites
Free hotel wifi

What's Not Included

Travel to Crete
Meals not mentioned
Alcoholic beverages
Beach towel - please bring your own
Entrance for individually visited sights
Entrance fee for sights not included
Tips for tour guides & staff
Bike protection

Dates & Pricing

Dates

Saturday departures

May 6, May 13, June 3, June 10, September 23, & September 30, 2023

*A minimum of 8 people is required to confirm a departure for the price listed. The maximum number of participants is 10.
*Custom dates can be arranged for groups of 6-10 people on request.

Please Note

Rates are based on double occupancy
Tour prices are based on the fuel costs at time prices are set, often months or years in advance. In rare cases, additional fees may apply for fuel cost increases.

Pricing

2023

 
May & June
September
Twin/double

$

2769

£

1587

$

2,619

€

1775

₪

6757

NZ$

3032

NOK

19419

kr

20298

$

1,968

$

3081

£

1766

$

2,914

€

1975

₪

7519

NZ$

3374

NOK

21607

kr

22585

$

2,190

Single

$

468

£

268

$

443

€

300

₪

1142

NZ$

512

NOK

3282

kr

3431

$

333

$

468

£

268

$

443

€

300

₪

1142

NZ$

512

NOK

3282

kr

3431

$

333

 

*A minimum of 8 people is required to confirm a departure for the price listed. The maximum number of participants is 10.

This tour can also be done with 6 or 7 participants at the following additional cost per person:

6 participants: $ 468 £ 268 $ 443 € 300 ₪ 1142 NZ$ 512 NOK 3282 kr 3431 $ 333 7 participants: $ 234 £ 134 $ 221 € 150 ₪ 571 NZ$ 256 NOK 1641 kr 1715 $ 166  

Extra Options

E-bike

Price $ 140 £ 80 $ 133 € 90 ₪ 343 NZ$ 154 NOK 985 kr 1029 $ 100

Transfers

One way shared pick up/drop off transfers (on day1/7)

$

78

£

45

$

74

€

50

₪

190

NZ$

85

NOK

547

kr

572

$

55

Extra nights

Crete

 

Chania

Elia Hotel Group

(Booking is subject to availability on your preferred travel dates, therefore room rates may vary slightly.)

| | | |
| --- | --- | --- |
|   | April - June | July - October |
| Standard double room | €50 - €65 | €65 - €75 |
| Standard double room/single use | €100 - €125 | €125 - €145 |
| Deluxe double room | €65 - €75 | €65 - €90 |
| Deluxe double room/single use | €115 - €145 | €125 - €180 |

Serenissima Boutique Hotel

 
April - June
July - October
Standard double room

$

140

£

80

$

133

€

90

₪

343

NZ$

154

NOK

985

kr

1029

$

100

$

156

£

89

$

148

€

100

₪

381

NZ$

171

NOK

1094

kr

1144

$

111

Standard double room/single use

$

281

£

161

$

266

€

180

₪

685

NZ$

307

NOK

1969

kr

2058

$

200

$

312

£

179

$

295

€

200

₪

761

NZ$

342

NOK

2188

kr

2287

$

222

Casa Delfino

 
April - June
July - October
Standard double room

$

133

£

76

$

125

€

85

₪

324

NZ$

145

NOK

930

kr

972

$

94

$

172

£

98

$

162

€

110

₪

419

NZ$

188

NOK

1203

kr

1258

$

122

Standard double room/single use

$

226

£

130

$

214

€

145

₪

552

NZ$

248

NOK

1586

kr

1658

$

161

$

296

£

170

$

280

€

190

₪

723

NZ$

325

NOK

2079

kr

2173

$

211

Deluxe double room

$

226

£

130

$

214

€

145

₪

552

NZ$

248

NOK

1586

kr

1658

$

161

$

234

£

134

$

221

€

150

₪

571

NZ$

256

NOK

1641

kr

1715

$

166

Deluxe double room/single use

$

452

£

259

$

428

€

290

₪

1104

NZ$

495

NOK

3173

kr

3316

$

322

$

460

£

264

$

435

€

295

₪

1123

NZ$

504

NOK

3227

kr

3374

$

327

 

 

Extra Info

Skill Level — Moderate

The cycling routes require a good fitness level. The routes have a length of 10-20 miles (17-33 kms) through hilly or mountainous areas. There are however no time constraints. The bike route includes elevation of 1,000-2,300 feet (300-700 m) and though there are some longer climbs you are, of course, allowed to push your bike if desired. Most of the roads we ride along are asphalted and quiet.

The hiking tours require a high level of fitness from participants. The routes have a length of 3-10 miles (4.5-16 kms) and lead through mountainous areas. However, there are no time constraints. The hikes will mostly lead through gorges or along well-developed trails. Your tour guide will tell you each day what the requirements are for the planned tours.

Airport Info

Fly to Chania or Heraklion International Airports. Chania is located 75 km from your tour start and Heraklion Airport is located 210 km from your tour start.

Local Travel

Transfers to/from Chania airport or the ferry port to Paleochora can be arranged on request (at an additional cost). Chania Airport to Palaiochora is approximately 90 km travel by road.

Climate

The weather in Crete is characterized by mild, rainy winters and hot, dry summers. The climate of Crete is a temperate Mediterranean climate. This is a perfect year-round destination. Do check local conditions before your arrival. A good website to visit to research regional weather conditions including average high/low temperatures, average rainfall, and other weather-related facts is weatherbase.com.

Day of Rest

Should you decide at any point that you do not want to take part in one of the tours, you are free to take a half or a full day off to swim or use the time as you wish.

Recommended

We strongly recommend that you bring good hiking boots. Flip-flops or similar shoes are not suitable for the hikes offered. It is obligatory to wear a safety helmet on all cycling tours and we recommend that you bring your own (well-fitting) helmet. However, should this not be possible, a limited number of rental helmets are available (on request). It's recommended you bring a small backpack for hiking tours and a beach towel.

Important to know

Travel Documents:

Before you travel, please check the passport and visa requirements of the country/countries you plan to visit. It is your responsibility to ensure that you have proper identification. The U.S. Passports & International Travel website is a good source of information for US citizens. The Country Information tab provides details about passport validity, blank passport pages required, etc.  It is essential to research before you travel, as airlines will not permit boarding if you do not have the required valid documents. 

We recommend you make copies of your important documents and papers (insurance cards, etc.). Leave a copy at home and have a copy with you. In the unfortunate situation that you lose your original documents, having copies facilitates the replacement process.

*Important note: Please check on the  European Travel Information and Authorization System (ETIAS) status as once implemented, this will be required to visit any of the 26 Schengen-member countries for tourism, business, medical, or transit. This is an additional check on security rather than a visa.

Covid-19 Info

Country Entry Requirements

Due to the changing requirements for entry, it is imperative that you stay up to date on requirements set by the country/countries that you are visiting. Please visit our Travel Restrictions Tool page and the country/countries government webpage for this information.

---

Photos
Have you been on this tour?
Please leave your feedback