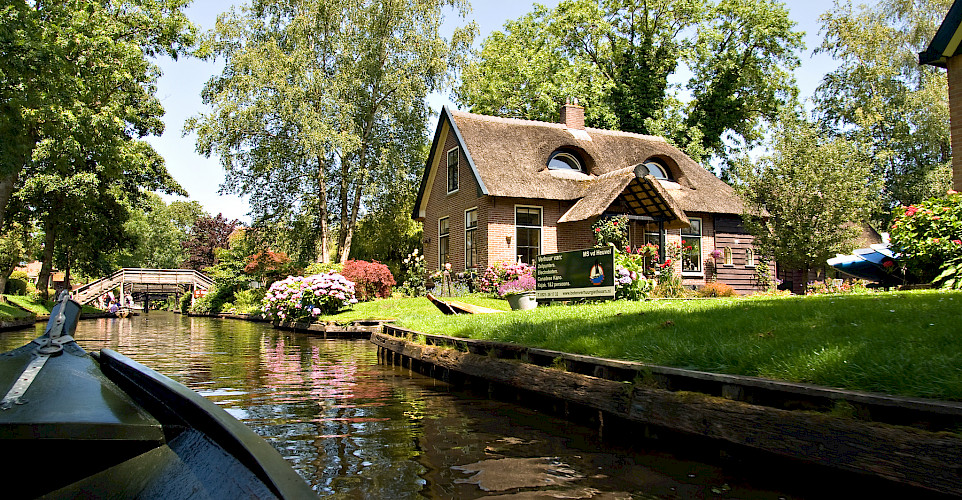 Holland's Venice and Hanseatic Towns
Bike like the Dutch!
Overview

Zwolle, a lovely Hanseatic town, overlooking four rivers, is the perfect setting for this bike tour in Holland. The province of Overijssel is one of the most scenic provinces and varied landscape in Holland.

On this tour, you will bike like the Dutch in some of the locals' favored places.

You have three options for accommodations for this tour, the Pelser Tower, a renovated medieval defense tower, the luxurious Hotel Bilderberg Wientjes, or the Hotel Fidder. The town itself has a beautiful medieval center, with lots of well preserved and archeologically interesting buildings. Although most of the city wall no longer exists, there are still some of the gates and towers surviving.

Highlights

Veluwe Forest Area
National Park of the Wieden
IJssel River and the lowlands near Lake Veluwemeer
Hanseatic towns of Kampen, Hattem, and Hasselt
Picturesque villages of Giethoorn and Elburg

You are provided route descriptions and maps for four cycling itineraries and you choose what you would like to do each day!

Click this link to browse all of our bike tours in Holland!

Itinerary

On this 5 day tour, you will decide each day which route you would like to cycle.

Route 1: Zwolle – IJssel river – Hattem - Zwolle, 25 mi. (40 km)
Route  2: Zwolle – Kampen – Elburg - Zwolle, 31 mi. (51 km)
Route 3: Zwolle – Veluwe – Zwolle, 30 mi. (50 km)
Route 4:  Zwolle – Wieden National Park – Giethoorn – Meppel – Zwolle, 28 mi. (45 km)

Route 1: Zwolle – IJssel river – Hattem – Zwolle, 25 mi. (40 km)
In the morning, you will be met at the train station of Zwolle for a very thorough tour explanation including an explanation of the pre-programmed GPS device which will ensure a relaxed and stress-free tour. You can begin biking on this first day through the old historic town of Zwolle while your luggage will be delivered to your hotel. After visiting Zwolle, you can continue south along the lovely IJssel river on quiet, scenic bike lanes. Around lunch time, you will arrive in the quaint village of Wijhe. You can then take a ferry to the other side of the IJssel river, and bike back to Zwolle by a different route, passing through the picturesque Hanseatic town of Hattem before checking in at your hotel.

Route 2: Zwolle – Kampen – Elburg – Zwolle, 31 mi. (51 km)
After a relaxed breakfast,  you are in for a lovely ride to Kampen, a beautiful Hanseatic town which you will want to take some time to meander in. In between Kampen and Elburg, the route leads through the lowlands near lake Veluwemeer (part of lake IJsselmeer, former sea). Elburg itself is an old fortified village worth a visit. In the afternoon, as you cycle back, you will pass through lowlands, farmland and forest areas to Zwolle again.

Route 3: Zwolle  - Veluwe – Zwolle, 30 mi. (50 km)
Today you will discover the Veluwe. This forest-rich ridge of hills features many different landscapes, including woodland, heath, small lakes, and Europe's largest sand drift. The Veluwe is a popular tourist destination and especially beloved by bikers as it has an unique maze of quiet bike lanes to enjoy! The north part of the Veluwe stretches till Zwolle so you will be biking through this unique nature reserve almost all day. South of Hattem you will pass a  small watermill with some great estates and restaurants along the way. The 'Heerderstrand' lake, which you will also pass,  is a great place for a swim, weather permitting. A common siting in the heatherfields near De Dellen are the herds of grazing sheep and if you are lucky you will meet the shepherd. Afterwards, the route leads to the village of Heerde which has a lovely center ideal for a lunch break or coffee stop. Finally you will bike by a former train trail back to Zwolle once again. 

Route 4: Zwolle – Wieden National Park – Giethoorn – Meppel – Zwolle, 28 mi. (45 km)
The final ride is maybe one of the best rides you can experience in Holland! Cycling to the north, the route passes through the quaint Hanseatic town of Hasselt, and then to the National Park de Wieden. This area is  North Western Europe's largest cane and swamp area and is a mixture of canals and lakes. While biking you will be amazed by the lovely villages and finally the highlight of Giethoorn. The picturesque thatched farms surrounded by the lovely canals are what make this village the Dutch Venice. Final ride is from Giethoorn to the historic town of Meppel where our local representative will be waiting to bring you back to your hotel in Zwolle.

Regardless of the order of the routes you cycle, your tour price includes the night of Day 4.

Be sure to check out all of our bike tours in Europe or look at our featured bike trips, specials, and news.

Accommodation

Pelser Tower, Hotel Fidder or Hotel Bilderberg Wientjes

Inclusions

What's Included

Hotel accommodation for 4 nights
Breakfast buffets
Tour briefing and bike fitting
8-speed touring bicycle (higher handlebars and upright riding position) bicycle including waterproof handlebar bag and breakdown assistance
Equipment insurance
Detailed route descriptions on GPS device and maps
Additional tourist information

What's Not Included

Lunches
Dinners (can be included for supplement)
Beverages
Train tickets from Amsterdam to Zwolle
Travel insurance

Dates & Pricing

Dates

2020

Arrivals are possible daily March 28  to October 4, 2020

Please Note

Rates are based on double occupancy

Pricing

2020

Hotel Fidder:
Twin/double room: $ 961 £ 530 $ 905 € 570 $ 1033 kr 6177 $ 676 Single room: $ 1467 £ 809 $ 1,382 € 870 $ 1576 kr 9428 $ 1,032 Dinners included: $ 185 £ 102 $ 175 € 110 $ 199 kr 1192 $ 131 Pelser Tower:
Twin/double room: $ 1023 £ 564 $ 964 € 607 $ 1100 kr 6578 $ 720 Single room: $ 1470 £ 811 $ 1,385 € 872 $ 1580 kr 9449 $ 1,035 Dinners included: n/a
Hotel Bilderberg Wientjes:
Twin/double room from*: $ 1015 £ 560 $ 956 € 602 $ 1091 kr 6523 $ 714 Single room from*: $ 1480 £ 816 $ 1,394 € 878 $ 1591 kr 9514 $ 1,042 Dinners included: $ 253 £ 139 $ 238 € 150 $ 272 kr 1625 $ 178

*Price depends on time of booking. Please contact us. 

 

Extra Options

Electric bike rental (includes bike protection): $ 101 £ 56 $ 95 € 60 $ 109 kr 650 $ 71 Extra night(s): 
Hotel Fidder:
Twin/double room: $ 116 £ 64 $ 110 € 69 $ 125 kr 748 $ 82 Single room: $ 204 £ 112 $ 192 € 121 $ 219 kr 1311 $ 144 Pelser Tower:
Twin/double room: $ 133 £ 73 $ 125 € 79 $ 143 kr 856 $ 94 Single room: $ 212 £ 117 $ 200 € 126 $ 228 kr 1365 $ 150 Hotel Bilderberg Wientjes:
Twin/double room from: on request
Single room from: on request

Extra Info

Skill Level — Easy

This is an easy self guided bike tour based in one hotel. You will bike like the Dutch on the wonderfully maintained cycle network.

Airport Info

Fly to Amsterdam Schiphol International Airport (AMS)

Local Travel

The Amsterdam Schiphol train station is located directly below the airport. Customer service desks are situated close to the red and white checkered cube at Schiphol Plaza. Staff at the desk will also be able to provide you with train departure information and general information on traveling by train in Holland. Train from the airport to Zwolle is generally about 1 1/2 hours and entails one transfer. From the train station in Zwolle, we suggest a taxi to your first hotel.

Climate

Please check local conditions before your arrival. The Netherlands is a country that boasts a typical maritime climate with mild summers. Spring and fall can be unpredictable in regards to high/low temperatures and of course, since this is HOLLAND, always bring rain gear. Because the Netherlands is flat, wind can be a factor. A good website to research weather-related facts in the area you will travel is weatherbase.com.

Important to know

DOCUMENTS

Before you travel, please check your country's passport and visa requirements and the passport and visa requirements of the country/countries you plan to visit. For US citizens, the US Department of State website is a good source of information. The Country Information tab in the International Travel section provides details about passport validity, blank passport pages required, etc. For our other international clients, please be sure that you research your own country's travel requirements. It is each traveler's responsibility to ensure proper documentation.

*Important note: Beginning July 1, 2021, additional documentation from the European Travel Information and Authorization System (ETIAS) will be required to visit any of the 26 Schengen-member countries for tourism, business, medical, or transit. This is an additional check on security rather than a visa.

Extra Stay

We definitely recommend that you spend a day or two in Amsterdam and book an extra day or days in Zwolle. This tour is designed so that you can bike directly from the train station and your bike fitting to enjoy your first route. If you prefer your arrival day to be a day that you can simply check-in and enjoy your accommodation and surroundings, please specify that you would like to book an extra night.

Photos
Have you been on this tour?
Please leave your feedback