Hungarian Rhapsody Bike Tour
Biking, wining, and dining; a unique bike tour in Hungary
This guided cycling and multi-activity tour in Hungary offers a little bit of everything and is sure to be an unforgettable food, wine, and active experience.

Budapest, the capital of Hungary, regarded as one of Europe's most beautiful cities, is the perfect introduction and epilogue to your week.

You will have it all: guided walking tours in the energetic city of Budapest and surrounding towns, cycling in idyllic landscapes dotted with vineyards, visiting historical landmarks and monuments, viewing unique architecture, hiking in nature, and last but not least, tasting the best wines and gourmet meals the region has to offer.

Highlights:

Budapest, Unesco World Heritage City
Winetastings at award-winning family-owned wine cellars, taste the real countryside
Homemade traditional Hungarian dishes
The House of Parliament
Opera House in Budapest
St. Stephan Basilica
Dinner and Cruise on the river Danube
Visegrád renaissance castle ruins
Trout fishing, catch your lunch
Cooking school with a masterchef
Visit the biggest lake in central Europe, the lake Balaton

A full list of all of our bike tours in Hungary is here.

Travel

Fly to Budapest International Airport.

Local Travel

Airport transfers are included on arrival and departure days.

Climate

Please check local conditions before arrival. The average high/low temperatures for the area in ºF are: June 75/56º, July 79/59º, and September 71/52º

DOCUMENTS:

Before you travel, please check your country's passport and visa requirements and the passport and visa requirements of the country/countries you plan to visit. For US citizens, the US Department of State website is a good source of information. The Country Information tab in the International Travel section provides details about passport validity, blank passport pages required, etc. For our other international clients, please be sure that you research your own country's travel requirements. It is each traveller's responsibility to insure proper documentation.

---
Where
You'll Stay
Accommodations in high quality hotels including 5 nights in 4 star hotels and 2 nights in 3 star hotels.
What's
Included
Hotel accommodations for 7 nights in superb 3 and 4* hotels
7 gourmet dinners (3 course)
7 lunches
7 breakfasts
4 wine tastings from the best wines of Hungary
1 experienced multilingual guide
Welcome drink
Bus transfer during the tour
Programs and features which are listed in the itinerary
Bicycle rental for 3 days
Bicycle protection
All local and other taxes
Free wifi in 90% of hotels
What's
Not Included
Entrance fees and excursions not mentioned
Tour
Dates
2020
This tour is designed as a group tour and can be requested on any date with a minimum of 8 people
Skill
Level
This is an easy tour with 3 days of cycling.
Day-To-Day
Itinerary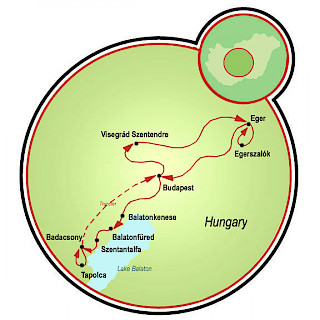 Day 1: Arrival in Budapest
Day 2: Budapest - Visegrád Szentendre 
Day 3: Szentendre - Eger/Egerszalók
Day 4: Eger - Budapest
Day 5: Budapest - Balatonkenese - Balatonfüred, cycling 19 mi. (30 km)
Day 6: Balatonfüred - Szentantalfa - Badacsony, cycling 22 mi. (36 km)
Day 7: Badacsony - Tapolca - Badacsony, cycling 24 mi. (39 km)
Day 8: Badacsony - Budapest
Day 1: Arrival in Budapest
Included in your tour is a transfer from the Budapest Airport to the first hotel, located in the very center of the city. The varied itinerary begins with a city walk into the heart of Budapest, with a visit to St. Stephen Basilica, followed by lunch at the renowned Gerbeaud restaurant.  A stroll to the famous Chain Bridge (450 m) is next.  This bridge spans the Danube and links the eastern and western sides of the city, Buda and Pest. Built in 1839, it was designed in sections and shipped in pieces from the United Kingdom. You will not forget the view that you will enjoy from the imposing Buda Castle, overlooking the city from its elevated position atop Castle Hill.  Dinner with wine tasting this evening is in the  Domus Vinorum Restaurant, an underground facility with century-old wine cellars!
Day 2: Budapest - Visegrád Szentendre 
​The day begins with wing boat ride to Visegrád, north of Budapest, followed by a short hike up to the renaissance castle, Visegrád (3 km). After a fishing lesson at the local lake, you can attempt to catch your own trout for lunch! Lunch awaits in Devils Mill Hungarian Restaurant in the forest, followed by a transfer to Szentendrei Island (over the Tahitótfalu bridge) to a charming countryside hotel for the evening. Here, there is opportunity to participate in a Hungarian cooking class and prepare your own dessert. Dinner this evening is at the hotel.
Day 3: Szentendre - Eger/Egerszalók
After breakfast, you will enjoy a bus transfer (2 hours) to Eger, a charming medieval town located in the northeastern part of Hungary. A visit to the Basilica, the Minaret, and the castle of Eger, which played an important role in defense during the Turkish occupancy in the 16th century, is on the agenda. After this history lesson, the bus once again transfers to one of the best wineries of the region for wine tasting and lunch. Be sure to enjoy a relaxing and healing bath this evening in the Egerszalók spa after which, dinner will be served at the hotel.
Day 4: Eger - Budapest
In the morning, you arrive to Budapest by bus transfer (1 hour, 40 minutes) followed by a  walk on Andrássy street, lined with beautiful turn-of-the-century buildings and part of the UNESCO World Heritage sights. There will be opportunity to visit the Opera House which is one of the most beautiful Neo-Renaissance buildings in Europe and also considered to be amongst the best opera houses in the world in terms of its acoustics. Lunch will be enjoyed in Menza Old School Restaurant followed by a walk to the House of Terror Museum, the former headquarters for the secret police of both the Nazi and Communists to view special exhibits, including a memorial to those detained, interrogated, tortured or killed in the building. Budapest was the first city in continental Europe to build a metro system. Line One, the original 19th-century route, is an atmospheric tour through the city's past. Hopping on board, you will exit at Hosok Tere station and stroll Heroes Square, surrounded by a series of impressive buildings and full of bronze monuments to great figures from the past. 
Dinner this evening is a special event, a cruise on the Danube river with a beautiful view of Budapest by night!
Day 5: Budapest - Balatonkenese - Balatonfüred, cycling 19 mi. (30 km)
Leaving Budapest in the morning, your first stop, heading west is Lake Balaton. From Balatonkenese, the most eastern city at the lake, your first tour on bike begins and leads around the lake. Lake Balaton is the  third largest lake in all of Europe, approximately 50 miles long, covering more than 230 square miles. In National Geographic the lake was described as having  "the atmosphere and mood of a sea – the loneliness, the colors, the whims, the untamed self-will of the ocean."  Arriving in Balatonalmádi, a perfect lunch is planned in Liget Restaurant, followed by an afternoon of cycling along the old Roman road, following the coastline. Tonight's accommodations are Balatonfüred, the capital of Lake Balaton, International Town of Grapes and Wine. This small town, speaks of the ages and is also known for culture, wine, and hospitality. After arriving at the hotel, take some time to enjoy the wellness facilities that are sure to make your stay more comfortable. Dinner is at Vígmolnár Csárda, a typical Hungarian style Restaurant located close to the hotel.
Day 6: Balatonfüred - Szentantalfa - Badacsony, cycling 22 mi. (36 km)
The cycle route today leads on secluded roads through charming villages with a stop at the medieval Castle in Nagyvázsony. Lunch and wine tasting will be enjoyed in a family owned winery in Szentantalfa. Another wine tasting is scheduled after cycling through the Nivegy valley wine area, which played an important role in wine export during Roman times. By bus, you travel to Badacsony and the evening's accommodations in a charming hotel at the foot of the Vitnessing Mountains. This wine area is the oldest in Hungary and the wines are excellent, as you will discover, paired with the local cuisine.
Day 7: Badacsony - Tapolca - Badacsony, cycling 24 mi. (39 km)
Discover by bike the beauty of Balaton Uplands National Park and the idyllic landscapes dotted with grapefields as you cycle to Tapolca, famous for the Lake Cave, discovered in 1903 in the course of digging a well. This three-story cave system, nearly 300 m long, can be visited on boats. In the clean water of varying depth you can see the passages leading to the lower rooms. The medicinal effect of the cave with a special climate has been well-known for a long time. There is even a Hospital cave!  Next, cycle to Hegymagas where a hike on St. George Mountain is possible. Today's lunch and wine tasting takes place at an excellent winery. After biking back to Badacsony, take a refreshing swim in the lake or reward yourself at the spa conveniently located right in your hotel. Your tour comes to an end with a nice dinner and wine tasting at Istvándy Winery and Restaurant.
Day 8: Badacsony - Budapest
Bus transfer to Budapest Airport after breakfast.
A full list of our Danube cycle tours is here or if you're looking for a different flavor, check out our full list of bike tours in Europe or view all our featured bicycle tours, specials, and news.
Email or Call 800-951-4384 +1 570-965-2064
---