4.7

/

5

(

6

reviews)
Innsbruck to Bolzano Bike Tour
Bike Tirol along the Àdige River!
Innsbruck is the capital of the Tirol region and a place embraced by the snowcapped peaks of the Alps. As you cycle in Innsbruck, along the cobblestone streets in the Altstadt (Old Town), you will come across magnificent Gothic architecture as well as Innsbruck's most famous landmark, the Goldenes Dachl (Golden Roof). Your Tirol bike tour will be highlighted with quaint old villages, old aristocratic houses and castles, fortress ruins, lakes and famous churches, including a Baroque Cistercian convent and the St. Prokulus Church housing the oldest frescos in the German-speaking area. Cycle the cozy town of Meran which offers exquisite views of the surrounding mountains and valleys and allows for several excursions, including one on the famous Trappeinerweg. It also offers some marvelous shopping. The numerous vineyards and orchards in the Àdige Valley will make for some wonderful stops. The beautiful flat landscape will continue past shimmering lakes, including the Montiggler Lakes, before you find yourself in Bolzano, one of Italy's beloved cities that is also famous for its spa resorts.

Highlights:

Alps
Innsbruck Gothic architectures
The Goldenes Dachl (Golden Roof)
Baroque Cistercian convent
St. Prokulus Church
Vineyards and orchards

Want to see more bike tours in Italy?

2020 Prices

Season 1: $ 1656 £ 819 $ 1,431 € 904 $ 1709 kr 10073 $ 1,017 Season 2: $ 1766 £ 874 $ 1,526 € 964 $ 1822 kr 10741 $ 1,084 Season 3: $ 1803 £ 892 $ 1,558 € 984 $ 1860 kr 10964 $ 1,107

Season 1: April 25 to May 8 and September 26 to October 10, 2020
Season 2: May 9 to June 19 and September 12 to September 25, 2020
Season 3: June 20 to September 11, 2020
*Special dates on request

extra

options

2020
Single Supplement: $ 365 £ 180 $ 315 € 199 $ 376 kr 2217 $ 224 Electric bicycle rental: $ 191 £ 94 $ 165 € 104 $ 197 kr 1159 $ 117 Half board: $ 365 £ 180 $ 315 € 199 $ 376 kr 2217 $ 224 *Rental Bike Plus: $ 81 £ 40 $ 70 € 44 $ 83 kr 490 $ 49

Extra nights:
Innsbruck (4 star hotel): per person/night: $ 126 £ 63 $ 109 € 69 $ 130 kr 769 $ 78 Single supplement: $ 53 £ 26 $ 46 € 29 $ 55 kr 323 $ 33 Bolzano (4 star hotel): per person/night: $ 137 £ 68 $ 119 € 75 $ 142 kr 836 $ 84 Single supplement: $ 82 £ 41 $ 71 € 45 $ 85 kr 501 $ 51

Transfer:     
Minibus to Innsbruck: $ 119 £ 59 $ 103 € 65 $ 123 kr 724 $ 73   (Every Saturdays, incl. bike, to be paid on site, advanced reservation needed)

 

please

note

*Rental Bike Plus is a higher quality Rental Bike (with hydraulic Magura breaks HS 11, Shimano Deore XT) allows for a slightly sportier sitting posture, 27 gears offer the highest flexibility and a high-quality Suntour suspension fork provides the best possible comfort across all surfaces)

Rates are per person based on double occupancy.

A non-refundable admin fee of 20 Euros per person is included in the deposit amount.

Information to read before you book.

We recommend purchasing bike trip insurance.

† Currency exchange rate set 90 days before travel.

Travel

Fly to Innsbruck, Salzburg, or Munich

Local Travel

From Innsbruck Airport, the cost per taxi is approximately €22.

Climate

Average high/low temperature in °F for Innsbruck: April 60/39º, May 69/46º, June 75/52º, July 78/55º, August 76/54º, and September 69/49º. A good website to research average high/low temperatures and other important weather-related facts is weatherbase.com

Recommended

Including 3-course dinners with the tour. Follow this tour with Bolzano to Venice.

Remarks

Electric bicycle available for this tour.

DOCUMENTS

Before you travel, please check your country's passport and visa requirements and the passport and visa requirements of the country/countries you plan to visit. For US citizens, the US Department of State website is a good source of information. The Country Information tab in the International Travel section provides details about passport validity, blank passport pages required, etc. For our other international clients, please be sure that you research your own country's travel requirements. It is each traveler's responsibility to ensure proper documentation.

*Important note: Beginning July 1, 2021, additional documentation from the European Travel Information and Authorization System (ETIAS) will be required to visit any of the 26 Schengen-member countries for tourism, business, medical, or transit. This is an additional check on security rather than a visa.

---
Skill
Level
This self-guided tour is considered moderate with daily distances between 22 to 40 miles per day; and a total of 186 miles over 6 cycling days. Routes include flat terrain and rolling hills, some steep. Between the Resia Pass and Bolzano, there's more than 1200 m difference in altitude.
Where
You'll Stay
Accommodations in quality 3-star hotels. In Innsbruck and Bolzano, stay in 4-star hotels.
What's
Included
Accommodations for 7 nights
Breakfast buffets
21-speed hybrid bicycle
Luggage transfer
Personal tour information
Route descriptions & maps (1 set per booked room)
Bus transfer with bike Landeck to Nauders (Day 3)
Sign posted route
Emergency service hotline
GPS tracks available (must be requested in advance)
Bicycle protection
What's
Not Included
Visitor's Tax (to be paid upon arrival) approx. €7-9 per person
Lunches and dinners (dinners can be included for a supplement)
Extra
Stay
Extra nights possible in Innsbruck and in Bolzano (4* hotel).
Tour
Dates
2020 Dates
Arrival possible every Saturdays and Wednesdays between April 25 to October 10, 2020
Day-To-Day
Itinerary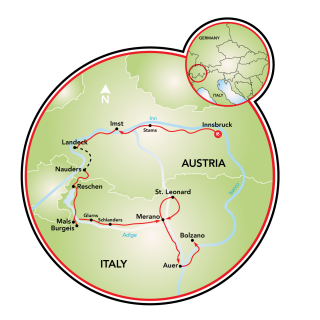 Day 1: Arrival in Innsbruck
Day 2: Innsbruck – Imst, 41 mi. (65 km)
Day 3: Imst – Mals/Burgeis, 31 mi. + 25 mi. by bus (50 km  + 40 km by bus)
Day 4: Mals/Burgeis – Merano, 41 mi. (65 km)
Day 5: Passeiertal (valley)/Merano, 25 mi. (40 km)
Day 6: Merano – Auer, 31 mi. (50 km)
Day 7: Auer - Bolzano, 22 mi. (35 km)
Day 8: Departure from Bolzano
All distances are approximate.
DAY 1: Arrival in Innsbruck
Following your arrival in Innsbruck by 6 pm, there is an introductory presentation and the bikes will be distributed. Feel free to explore and bike Innsbruck: highlights include the town tower and the Goldenes Dachl. Built-in 1500, this roof was built for Maximilian I, the Holy Roman Emperor, and is covered with 3000 gold-plated copper tiles. The balcony once served as Maximilian's "ringside seat" during festive events in the square below. 
DAY 2: Innsbruck - Imst, 41 mi. (65 km)
On the former Treidelweg (Treidel Path), you will travel along the Inn River through many small villages and then cycle through Stams, where there ARE a Baroque Cisterian Convent and convent museum. The evening destination is the town of Imst. Highlights of today's tour include several nice churches, old aristocratic houses, and fortress ruins. 
DAY 3: Imst - Mals/Burgeis, 31 mi. (50 km) with 25 mi. (40 km) by bus
Today your Tirol tour will begin along the River Inn and pass the Kloster Zams monastery en route to Landeck. From here, there is a bus transfer to Nauders where you will begin a 100 m climb up to Reschenpaß/Resia Pass before cycling downhill to Reschensee, or Resia Lake. From there, the route takes you alongside paths to Malles Venosta, where the town center has many towers, or to Burgeis at the foot of the fortress of Marienburg.
DAY 4: Mals/Burgeis - Merano, 41 mi. (65 km)
The first part of the day includes a cycle tour to Glurns with its fully preserved medieval city walls. Then, over the Montani ruins, the discovery site of the Nibelungen manuscript, through Schlanders/Silandro, and past the church of St. Prokulus, which houses the oldest frescos in the German-speaking area. Then, it is downhill to Merano, where many fortresses and castles, such as the Reinhold Messner Castle Juval, can be found along the way.
DAY 5: Passeiertal (valley)/Merano, 25 mi. (40 km)
Today, you have the option of making a bike trip to Passeiertal to the Sandwirt, the birthplace of Andreas Hofer, to wander on the famous Trappeinerweg path, or you may go on a shopping trip under the bowers of Merano.
DAY 6: Merano - Auer, 31 mi. (50 km)
Today's stage will take you via Lana (Schnatterpeck Altar) and through numerous orchards and vineyards in the area of the S. Tyrolean Wine road, past many fortresses, castles, and ruins such as Hocheppan (famous frescos), as well as the Cathedral in the Country in St. Pauls to Lake Kalterersee. You usually spend the night in the cozy wine town of Auer.
DAY 7: Auer - Bolzano, 22 mi. (35 km)
Today is an option to choose a flat route through the Àdige Valley or with a beautiful landscape and an ascent, you can cycle through the Montiggler Lakes and pass the Ruin Sigmundskron into Bolzano.
DAY 8: Departure
Bike tour in Italy will end with departure from Bolzano following breakfast.
Looking for more?  View all our featured bicycle tours, specials, and news or look at our full list of bike tours in Europe.
Email or Call 800-951-4384 +1 570-965-2064
---