Innsbruck to Munich
Bike the Tyrol and into Bavaria
Embraced by the snowcapped peaks of the Alps, Innsbruck's beauty and medieval wonders have kept it one of Austria's most inspiring cities for centuries. Along the cobblestone streets in the Altstadt (Old Town), you will come across magnificent Gothic architecture as well as Innsbruck's most famous landmark, the Goldenes Dachl (Golden Roof). Built in 1500, this roof was built for Maximilian I, the Holy Roman Emperor, and is covered with 3000 gold-plated copper tiles. The balcony once served as Maximilian's "ringside seat" during festive events in the square below. Furthermore, the Hofburg Palace served as his residence during the 15th century (with the paintings of the Habsburg family still visible inside today). Also of note is that Innsbruck is the home of Swarovski Crystal, and has a theme park dedicated to the beautiful crystal art.

Innsbruck is the start of this cycle tour, and a big highlight but there are many more wonders to marvel at. Cycling through both Tyrol (known for its mountains and lakes) and Bavaria (colorful Baroque architecture), you'll experience many dreamlike mountain backdrops, formidable fortresses and impressive monasteries. The Inn River, the Ziller Valley, the crystal-clear lakes and turquoise-blue rivers will enchant you.

For a full list of our bike tours in Germany, click here!

Season 1: £ 614 $ 968 € 645 NOK 6450 kr 5954 $ 774

Single room: £ 771 $ 1,215 € 810 NOK 8100 kr 7477 $ 972

Season 2: £ 643 $ 1,013 € 675 NOK 6750 kr 6231 $ 810

Single room: £ 800 $ 1,260 € 840 NOK 8400 kr 7754 $ 1,008

Season 3: £ 671 $ 1,058 € 705 NOK 7050 kr 6508 $ 846

Single room: £ 829 $ 1,305 € 870 NOK 8700 kr 8031 $ 1,044

Season 1: May 6 to May 12 and Sept 1 to Sept 6
Season 2: May 13 to June 2 and August 14 to August 31
Season 3: June 3 to August 13

extra

options

Electric bicycle: £ 95 $ 150 € 100 NOK 1000 kr 923 $ 120

Extra nights:
Innsbruck (4 star):  £ 62 $ 98 € 65 NOK 650 kr 600 $ 78 Single room: £ 86 $ 135 € 90 NOK 900 kr 831 $ 108 Munich (4 star):  £ 75 $ 119 € 79 NOK 790 kr 729 $ 95 Single room: £ 119 $ 188 € 125 NOK 1250 kr 1154 $ 150

please

note

Rates are based on double occupancy.

Information to read before you book.

We recommend purchasing bike trip insurance.

† Currency exchange rate set 90 days before travel.
Where
You'll Stay
3 star and 4 star hotels, inns, and pensions including breakfast.
What's
Included
Accommodations for 6 nights
Breakfast
Luggage transportation (unlimited pieces of luggage)
Route descriptions and maps
21-speed bicycle with two pannier bags
7 day service hotline
What's
Not Included
Tourist tax (payable locally)
Remaining meals
Extra
Stay
Possible in Innsbruck and Munich
Tour
Dates
Arrival possible every Saturday and Sunday from May 6 to September 6, 2017
Skill
Level
This is a moderate, self-guided bike tour with short ascents on excellent cycle paths and small side roads. Main roads are used only for short distances. Shorter climbs can be managed by pushing the bike. A longer climb on day 5 can be bridged by bus (approximately €13 including bike).
Day-To-Day
Itinerary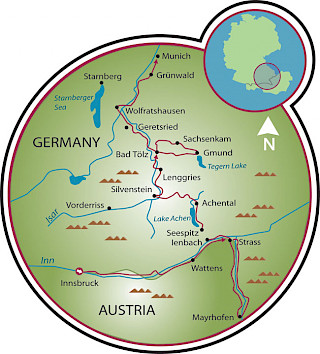 Day 1: Innsbruck 
Day 2: Innsbruck - Strass, 27 mi. (44 km) 
Day 3: Strass - Kufstein, 25 mi. (40 km) 
Day 4: Kufstein - Bad Feilnbach/Au, 24 mi. (38 km) 
Day 5: Bad Feilnbach/Au - Tegernsee, 30 mi. (48 km) 
Day 6: Tegernsee - Munich, 16 to 40 mi. (25 to 65 km) 
Day 7: Munich 
All distances are approximate.
Day 1: Innsbruck 
Individual arrival to the provincial city of Tyrol. The old city centre of Innsbruck is known for its narrow streets and the famous roof "Goldenes Dachl". Also the casino of Innsbruck is one of the most beautiful casinos in the world. 
Day 2: Innsbruck - Strass, 27 mi. (44 km) 
You leave the city through the Olympic Village and enjoy a wonderful view of the Inn Valley and the surrounding mountain ranges. You cycle via Hall and Schwaz to your final destination for today, Strass, which is located at the entrance to the Zillertal. 
Day 3: Strass - Kufstein, 25 mi. (40 km) 
You will see several castles on the way to Brixlegg. It is also recommended to walk through the wild and romantic flume of Kundl ("Kundler Klamm"), before you reach the "Pearl of Tyrol", Kufstein. 
Day 4: Kufstein - Bad Feilnbach/Au, 24 mi. (38 km) 
Today you pass idyllic Austrian villages like Ebbs and Erl before you reach the Bavarian town Neubeuern. Today's destination, Bad Feilnbach/Au, is located in a beautiful cultural landscape with many orchards. The city is well-known for its mud spa and it is also known as the "Bavarian Merano". 
Day 5: Bad Feilnbach/Au - Tegernsee, 30 mi. (48 km) 
Via Fischbachau you cycle to Lake Schliersee. Here you can enjoy a relaxing boat tour (included in tour price), before biking to Lake Tegernsee, which attracts many visitors because of the view over the magical lake and the panoramic view of the beautiful mountains. Tonight's accommodation is in Bad Wiessee. 
Day 6: Tegernsee - Munich, 16 to 40 mi. (25 to 65 km) 
You cycle mainly through villages with flower-decorated farmhouses and natural forest areas before you get into the bustling cosmopolitan city of Munich. It is possible to shorten today's stage and cycle and cycle via Oberlandbahn (about 25 km). 
Day 7: Munich 
Individual departure or extension of trip. 
You can view all of our bike tours in Europe or look at our featured bike trips, specials, and news.
Email or Call 800-951-4384 +1 570-965-2064
---