Island Hopping in the Scottish Western Isles
Cycling in Scotland - a remote paradise
This is a Scottish cycling experience for those who love seclusion, nature, and wildlife. This self guided adventure focuses on the Western Isles in Scotland, particularly the Inner Hebrides. There are 36 inhabited islands and 43 uninhabited with an area greater than 74 acres. The oceanic climate and geographical position of the islands provides habitat for a variety of unique wildlife. This tour is ideal for a family holiday as well as the routes lead on the fabulous quiet country lanes, remote coastal scenes, and visit historic landmarks such as Brodick castle, for one.

You will bike around the Isles of Arran, Jura, Islay and Colonsay and if you would like, you can visit the whisky distilleries on Islay, such as Ardbeg, Bowmore, Bruichladdich, Laphroaig, Caolila to name a few. You will experience first hand the unique Island culture and hospitality.

Local cuisine will be a highlight as well as many restaurants particularly on Islay will hunt the local produce, venison, pork, beef, lamb and fish are all in abundance.

Want to see all of our bicycle tours in Scotland?

2017

7 Day Tour (arrivals daily)
Category A: £ 1055 $ 1,662 € 1108 NOK 11080 kr 10228 $ 1,330 Category B: £ 948 $ 1,493 € 995 NOK 9950 kr 9185 $ 1,194

8 Day Tour  (arrivals on Saturdays):
Category A: £ 1133 $ 1,785 € 1190 NOK 11900 kr 10985 $ 1,428 Category B: £ 1020 $ 1,607 € 1071 NOK 10710 kr 9886 $ 1,285

*Minimum of two people required. No single supplement

extra

options

2017

Electric bicycle rental: £ 62 $ 98 € 65 NOK 650 kr 600 $ 78

(E-bike rental requires a signed rental agreement and £250 deposit on credit card per bike)

please

note

Rates are based on double occupancy.

Information to read before you book.

We recommend purchasing bike trip insurance.

† Currency exchange rate set 90 days before travel.
Where
You'll Stay
Category A: 4 and 5 star accommodations.
Category B: 3 and 4 star accommodations in hotels or guest houses.
What's
Included
Welcome meeting with bike distribution
24 speed hybrid bicycle with lock, pannier, bottle cage, and repair kit
Accommodations for 6 or 7 nights in category booked incl. breakfast
Luggage transfer
Route instructions, maps, and tourist information
GPS tracks are available on request
What's
Not Included
Tour
Dates
2017
Available May to September 2017
8 day tour: Arrivals on Saturday
7 day tour: Arrival daily
Skill
Level
This Scotland bike tour is classified as an easy to moderate, self-guided tour with average daily distances ranging from 6 to 40 miles (9 to 64 km).
Day-To-Day
Itinerary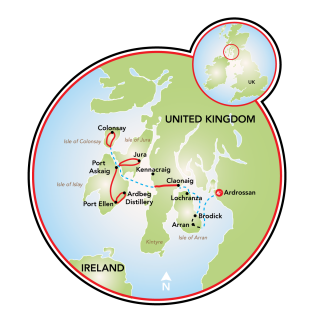 8 day tour (arrivals on Saturday):
Day 1: Arrival to Ardrossan and ferry to the Isle of Arran
Day 2: Brodick and surroundings, 28 mi. (45 km)
Day 3: Brodick - Port Askaig, Isle of Islay, 16 to 19 mi. (24 to 30 km)
Day 4: Isle of Jura, 40 mi. (64 km)
Day 5: Isle of Colonsay, 20 mi. (32 km) (Wednesdays only)
Day 6: Port Askaig - Port Ellen, 36 mi. (57 km)
Day 7: Port Ellen loop, 6 to 20 mi. (9 to 32 km)
Day 8: Isle of Islay - Arran, 19 mi. (30 km)
All distances are approximate.
DAY 1 (Saturday): Isle of Aran
Individual arrival to Androssan. You can take the 16.50 train from Glasgow, arriving at 17.36 to Androsssan for bike handover.  The one hour ferry to the Isle of Aran leaves at 6 pm. (For information on ferries, please visit www.calmac.co.uk.)
DAY 2: Brodick, 28 mi. (45 km)
The Isle of Arran is one of the most southerly of the Scottish islands and sits in the Firth of Clyde between Ayrshire and Kintyre. Arran is 19 miles long by 10 miles wide but has a remarkable diversity of landscapes and seascapes. Brodick is one of the largest and busiest settlements on Arran, and is the main commercial center and ferry port. Be sure to visit the 13th century castle and gardens or the Arran distillery before beginning your cycling day. Brodick Castle, once the ancient seat of the Dukes of Hamilton, houses a glorious collection of furniture, with some pieces dating as far back as the 17th century. The garden, created in 1923 by the Duchess of Montrose, has been lovingly restored and the grounds contain numerous paths offering great views of the island. The road south provides ever changing views. Small villages dot the way. Lamlash provides the link to Holy Island where a ferry can be boarded to the monastery still occupied by Buddhist monks. Cycle back via the "String", the road across the center of the island. 
DAY 3: Brodick - Lochranza - Cloanaig - Kennocraig - Isle of Islay, 16 to 19 mi. (24 to 30 km)
Your third cycling day is quite relaxed. Lochranza, set on the shore of Loch Ranza, a small sea loch, is the first destination. Here you can visit the castle.The population is just 200! The hills and shoreline abound with wildlife. Red deer, birds of prey, including golden eagles, red squirrels, seals, oyster catchers, otters, basking sharks, swans, cormorants and numerous varieties of duck are among the varied wildlife. You can then catch the ferry to Cloanaig.  The cycle route then leads across the Kintyre peninsula with vistas of stunning hills, lochs, and sandy beaches to the ferry to Port Askaig on Islay.  Islay is a beautiful island with a dozen beaches and several historical sites.  On a clear day, you can see over to Ireland. The human population of the island is just over 3,000, yet it is estimated that the island is also home to over 60,000 geese!
DAY 4: Day trip to Isle of Jura, up to 40 mi. (up to 64 km)
The day begins with a short ferrry crossing to the Island of Jura  which comes from the Norse word meaning Deer Island. Today over 5000 deer live on six estates on the island. In contrast, the human population is less than 200. The island is 29 miles long and 7 miles wide in places. The west is wild and virtually uninhabited. Wildlife lovers will be interested to know that there are over 100 species of birds (including golden eagles) on the island, together with wild goats, seals, rabbits, hares, stoats, and otters. Jura House can be visited with its wonderful walled gardens and exotic plants. The road east gradually gets smaller and smaller until eventually it turns into a footpath. The solitude will be something you will long remember. For a short additional trip visit Finlaggan near Ballygrant on your return to Islay, the home of the ancient seat of the Lord of the Isle's, the rulers of the Western Isles once the Vikings had been removed.
DAY 5: Day trip to the Isle of Colonsay, 20 mi. (32 km)
By ferry from Port Askaig, you will cross to Colonsay. Colonsay is only 10 miles long which will allow you to explore most of the Island of only 135 inhabitants. The scenery here is outstanding, rivaled only by the diversity of the flora and fauna. By bike, across the tidal causeway, to Ornasay, you can visit the ancient priory. The north section of Colonsay has some of the finest beaches in the Western Isles. An evening ferry will return you to Islay.
DAY 6: Port Askaig - Port Ellen, 36 mi. (57 km)
Today you will explore by bike the north west of Islay, known as the Rinns of Islay before cycling to the south of the Island. Today you will pass the Bruichladdich distillery before arriving in Port Charlotte. Then to the north coast and a wonderful sandy beach for a picnic, pass the wildlife centre, rural life museum or RSPB centre then cycle the quiet lanes south to Port Ellen.
DAY 7:  Port Ellen loop, 6 to 20 mi. (9 to 32 km)
The eastern shores of Islay beckon today with a chance to visit the the Ardbeg distillery. Departure day for those who have chosen the 7 day tour.
Day 8: Isle of Islay - Arran, 19 mi. (30 km)
The day begins with a 9:45 morning ferry ride to Kennacraig, followed  by cycling across the Kintye peninsula to Cloanaig. A ferry will transport to the Isle of Arran. You will cycle around the northwest coast of Arran back to Brodick, where by ferry, you arrive to Ardrossan. Here you return the rented bikes and can catch a train back to Glasgow.
7 Day tour (arrivals Wednesday, Saturday, and Sundays):
7 Day tour in 2017 (arrivals daily)

Day 1: Arrival to Ardrossan and ferry to the Isle of Aran
Day 2: Brodick and surroundings, 28 mi. (45 km)
Day 3: Brodick - Port Askaig, Isle of Islay, 16 to 19 mi. (24 to 30 km)
Day 4: Isle of Jura, 40 mi. (64 km)
Day 5: Port Askaig - Port Ellen, 36 mi. (57 km)
Day 6: Port Ellen loop, 6 to 20 mi. (9 to 32 km)
Day 7: Isle of Islay - Arran, 19 mi. (30 km)

Looking for more?  View all our featured bicycle tours, specials, and news or look at our full list of bike tours in Europe.
Email or Call 800-951-4384 +1 570-965-2064
---