Kaiserstuhl and Baden Wine Route
Cycle through France, Germany, and Switzerland
This bike tour throughout France, Germany, and Switzerland begins in Basel, the swiss metropolis of culture, situated at the Upper Rhine. The terrific medieval ambience at the so-called Rhine Knee, which is the name of a few very distinctive bends in the Rhine River, is a wonderful starting point for your tour. Of course, Strasbourg, seat of the European Parliament, and Freiburg, are worth visiting, too. In between you always find picturesque towns such as Lahr, Müllheim, or Offenbach, which leave their own romantic marks on the visitor.

The Rhine valley is a real paradise for cyclists with well-constructed cycle paths that lead downstream. Sometimes the routes are totally flat and sometimes they are slightly hilly between the Black Forest and the Vosges and between the Odenwald and the Palatinate Forest.

Enjoy the beautiful landscape and the mild climate! Not many regions offer such varied cultural treasures. One picturesque scene succeeds the other on the selected routes. You will enjoy cycling through the meadows of the Rhine and through the orchards in the Markgräfler Land region, along the vineyards of Baden and Rhine-Hesse, and along the river Neckar.

Looking for more bike tours in France?

Season 1: £ 544 $ 939 € 601 NOK 5710 kr 5270 $ 685 March 19 to April 8 + April 17 to May 14 + October 2 to October 31

Season 2:  £ 581 $ 1,003 € 642 NOK 6099 kr 5630 $ 732 April 9 to April 16 + May 15 to June 10 + September 18 to October 1

Season 3:  £ 608 $ 1,049 € 672 NOK 6384 kr 5893 $ 766 June 11 to September 17

Single supplement (applies to all three seasons): £ 176 $ 305 € 195 NOK 1853 kr 1710 $ 222

extra

options

Dinners included: £ 149 $ 258 € 165 NOK 1568 kr 1447 $ 188

Electric bicycle rental: £ 90 $ 156 € 100 NOK 950 kr 877 $ 114

*Return transfer, Strasbourg to Basel (incl. bicycle): £ 90 $ 155 € 99 NOK 941 kr 868 $ 113

*minimum of two people required to book.

Extra nights

Strasbourg: £ 48 $ 83 € 53 NOK 504 kr 465 $ 60

Single supplement: £ 37 $ 64 € 41 NOK 390 kr 360 $ 47

Basel:  £ 82 $ 142 € 91 NOK 865 kr 798 $ 104

Single supplement: £ 43 $ 73 € 47 NOK 447 kr 412 $ 54

please

note

Rates are based on double occupancy.

Information to read before you book.

We recommend purchasing bike trip insurance.

† Currency exchange rate set 90 days before travel.
Where
You'll Stay
Overnight stays in selected 3 star hotels.
What's
Included
Accommodations for 5 nights in selected 3 star hotels
Breakfast
Bike rental
Luggage transfers
GPS tracks and routes
7 day service hotline
What's
Not Included
Remaining meals (lunches can be included for an additional cost)
Bicycle protection
Trip insurance
Tour
Dates
Daily departures from March 19 to October 31, 2017
Skill
Level
This is an easy, self-guided bike tour. The route is mostly flat along the Rhine but sometimes slightly hilly along the Baden Wine route, along cycle paths, and paved routes, away from traffic.
Day-To-Day
Itinerary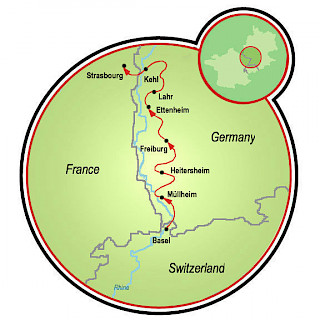 Day 1: Individual arrival in Basel individual arrival
Day 2: Basel – Müllheim, 31 mi. (50 km)
Day 3: Müllheim – Freiburg, 25 mi. (40 km)
Day 4: Freiburg – Ettenheim, 28 mi. (45 km)
Day 5: Ettenheim – Strasbourg, 34 mi. (55 km)
Day 6: Strasbourg individual departure
All distances are approximate.
Day 1: Individual arrival in Basel
On arrival in Basel, the Swiss metropolis of culture, you find one of the most beautiful and intact historical centers of Europe. Stroll along the picturesque Rhine terraces to the cathedral,the colorful City Hall, and the romantic quarter St. Alban.
Day 2: Basel – Müllheim, 31 mi. (50 km)
Idyllic branches of the old Rhine and typical French canals lead through the Petite Camargue. Leaving Neuenburg, you only have to cover a few more kilometers until your reach Müllheim in the wine region, Markgräfler Land, the impressive destination of this day.
Day 3: Müllheim – Freiburg, 25 mi. (40 km)
Having visited the Roman museum Villa Urbana and the castle of the Knights Hospitaller at Heiter- sheim, you head for the Breisgau region. In Bad Krozingen, a real jewel of the Breisgau, there is more to enjoy than just the mineral thermal springs. The day ends in Freiburg, the gate to the Black Forest.
Day 4: Freiburg – Ettenheim, 28 mi. (45 km)
The small river Dreisam leads to the foot of the mountain range Kaiserstuhl and its orchards. At the confluence of the rivers Dreisam and Elz, beer has been brewed for more than 200 years. The first settlements of this area date back to 5000 B.C. The destination of this day is the baroque city of Ettenheim, in the district of the Ortenaukreis. Here, you can visit the abbey.
Day 5: Ettenheim – Strasbourg, 34 mi. (55 km)
At the edge of the Black Forest, mills and wine-growing have a long tradition.. Between the half- timbered houses in Lahr many important inventions were made. In Offenbach, you witness the baroque splendor and half-timbered architecture. At Kehl, you cross the Rhine to get to France and Strasbourg.
Day 6: Strasbourg, individual departure
The romantic city of Strasbourg with its famous cathedral, the tanner's district Petite France, the Palais Rohan, the canals of the river Ill and the European Parliament invites you to stay a few more days. Extra nights are always recommended!
If you're looking for a different flavor, check out our full list of bike tours in Europe or view all our featured bicycle tours, specials, and news.
Email or Call 800-951-4384 +1 570-965-2064
---