Krakow and Southeast Poland
Cycling along the Ukranian border in the region of Galicia
This striking 12-day bike tour takes you through an area in southeast Poland bordering Ukraine where the unspoiled and the exotic meet. The central European region of Galicia (not to be mistaken with Galicia in Spain) is a historical region, currently divided between Poland and Ukraine.

The mysterious east Carpathians ​are a highlight where you find a rich and varied relief, rarely encountered. The upper mountains, reveal a unique association of towers, needles, columns, mushrooms, bare rocks and sphinx-like forms, a virgin landscape that appears almost alien.

There are architectural highlights as well such as Zamosc, a fascinating Renaissance town in the middle of Roztocze National Park, a wonder in and of itself.

Enchanting Krakow is the starting point of your guided or self guided cycling adventure, treasure trove of Gothic and Renaissance architecture and the route then leads from one enriching experience to another:

Valley of the Eagles
Solska primeval forest
Roztocze
Famous Konik horses
Zamosc

Want to see more bike tours in Poland?

Guided tour:   £ 1010 $ 1,610 € 1060 NOK 10600 kr 9785 $ 1,272

Single supplement:  £ 181 $ 289 € 190 NOK 1900 kr 1754 $ 228

Self Guided tour: £ 905 $ 1,443 € 950 NOK 9500 kr 8769 $ 1,140

Single supplement: £ 181 $ 289 € 190 NOK 1900 kr 1754 $ 228

extra

options

Electric bicycle rental: £ 57 $ 91 € 60 NOK 600 kr 554 $ 72

Extra nights:

Krakow  (*** B&B):  £ 42 $ 67 € 44 NOK 440 kr 406 $ 53 Single supplement:  £ 24 $ 38 € 25 NOK 250 kr 231 $ 30

please

note

Rates are based on double occupancy.

Information to read before you book.

We recommend purchasing bike trip insurance.

† Currency exchange rate set 90 days before travel.

Travel

Fly to Krakow Airport

Local Travel

Krakow Airport is served by two regular bus lines: 208 and 192. Bus stops within the airport's premises are located near the T1 and T2 terminals. Fare is approximately one euro.

There are taxi stands in front of the passenger terminals as well.

Climate

Check local conditions prior to arrival. Average high/low temperatures in degrees Fahrenheit: July 71º/55º and August 71º/54º

---
Where
You'll Stay
Accommodations in quality 3 star hotels.
What's
Included
Accommodation for 11 nights
Transfers Krakow to Arlamow and Zamosc to Krakow
Breakfasts and dinners
Luggage transfers from hotel to hotel
English-speaking escort (Guided tour) or set of Maps and tour description (Self-guided tour)
Bike rental
What's
Not Included
Travel to Krakow
Entrance fees and excursions
Lunches
Bicycle protection
Trip insurance
Tour
Dates
This tour will be offered in 2018 with changes!
Skill
Level
This guided or self - guided tour is over flat or gently undulating terrain with small climbs suitable for even children. Only Day 4 has a slightly longer climb (about a 100 m height differential) to the high banks of the San River but the magnificent view makes it worth it!
Day-To-Day
Itinerary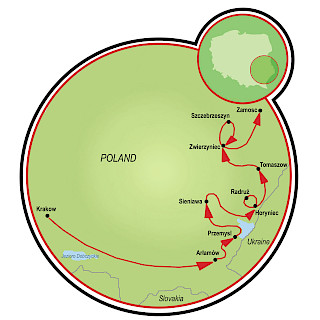 2018 itinerary coming soon!
Day 1: Arrival in Krakow
Day 2: Krakow-Arlamow
Day 3: Arlamow-Przemysl, 37 mi. (60 km)
Day 4: Przemysl - Sieniawa, 42 mi. (68 km)
Day 5: Sieniawa - Lezjask - Sieniawa, 28 mi. (45 km)
Day 6 Sieniawa - Horyniec, 41 mi. (65 km)
Day 7: Loop around Horyniec, 9 - 12 mi. (15-20 km)
Day 8: Horyniec - Tomaszow, 37 mi. (60 km)
Day 9: Tomaszow - Zwierzyniec, 28 mi. (45 km)
Day 10: Loop around Zwierzyniec, 31 mi. (50 km)
Day 11: Zwierzyniec - Zamosc, 19 mi. (30 km)
Day 12: Departure or extension 
Day 1: Arrival in Krakow
This medieval city is a fairytale, with its bustling market square, spiraling gothic towers, castles, and legends about dragons. Explore the narrow backstreets, hidden courtyards, and the network of underground cellars and tunnels. Krakow is known as the cultural capital of Poland through its love of music, poetry, and theater. After years of occupation and struggle, Krakow has emerged a proud city with a strong sense of identity, yet has still maintained its artistic and fun-loving soul.
Day 2: Krakow - Arlamow
Bikes are distributed early in the morning followed by departure from Krakow to the southeast. After a ride of about 5-6 hours, the scenic valley of the Wiar river is reached, a part of the landscape park of the Przemysl foreland, the extension of the Bieszczady (eastern Carpathians). Overnight in Arlamow, in a spacious hotel. Up until a few years ago, this region was a hunting ground for members of the government and closed to the public.
Day 3: Arlamow - Przemysl, 37 mi. (60 km)
The cycling route leads through the Valley of the Eagles, slightly uphill. This is the valley of the Jamna stream, with meadows and forests as far as the eye can see and home to the Lesser Spotted Eagle, a common sight. The narrow asphalt road is the only sign of civilization on a stretch of 8 miles (13 km). The ride to Przemysl goes through the valley of the Wiar rivulet and is sometimes directly along the Ukrainian border. You then cycle through a green, hilly terrain covered with rare steppe flora, an offshoot of the Asian plant world. Przemysl, today's destination, is the second oldest city of southern Poland. With its numerous picturesque churches, it is also one of Poland's most beautiful cities. Przemysl was turned into a huge fortress during World War I to resist the Russian army. There will be opportunity to visit parts of the fortifications of the Letownia fort.
Day 4: Przemysl - Sieniawa, 42 mi. (68 km)
Leaving Przemysl, you cycle down the promenade along the San river and then turn north towards Jaroslaw. You ride through the market square with its Renaissance houses, past the old city walls and the Orthodox church, to reach a fortified Dominican monastery located on a high hill. A further short and simple leg takes us to Sieniawa, where our overnight stay in the hotel is a true high point of the trip. It is a palace with rooms partly furnished with antique furniture.
Day 5: Sieniawa - Lezjask - Sieniawa, 28 mi. (45 km)
The loop around Sieniawa today showcases the osier plantations in the San valley and the historical town of Lezajsk where it is still possible to get a glimpse of the Galicia of an earlier era and the Jewish schtetl that was once located here.
Day 6:  Sieniawa - Horyniec, 41 mi. (65 km)
You will pedal throught the forest today! After leaving the mountains and the San valley behind, the rides to the east through extended forested regions of the Solska primeval forest where habitat of elk and mountain cocks. The small spa resort town of Horyniec is the destination today, which lies very close to the border of Ukraine.
Day 7: Loop around Horyniec, 9-12 mi. (15-20 km)
The cycling itineraries are going to become shorter and easier from this point on. Radruz has one of Poland's oldest Orthodox churches located only five kilometers from Horyniec and directly on the border to Ukraine. It is an impressive 16th century fortified church with a bell tower surrounded by mighty walls. Later, a tranquil forest lake will provide the perfect place for rest and those who wish to can jump in and cool down.
Day 8: Horyniec - Tomaszow, 37 mi. (60 km)
Bike into the heart of Roztocze! This region is a cyclists' paradise and until recently, was completely unknown to foreign tourists. Delightful villages dot the route and the roads and forest routes are perfect, with little traffic. It is a gently undulating landscape with some small climbs to provide variety. The highlight of today are tectonic movements in the area, a geological feature causing murmuring sounds (Szumy). The two rivers, Tanew and Sopot, create several small but roaring river rapids.
Day 9: Tomaszow - Zwierzyniec, 28 mi. (45 km)
​Roztocze, with its picturesque and narrow striped fields, is probably one of the most spectacular regions of Poland. A mosaic of tobacco fields and meadows extends over fertile loess ground. The deep gorges and ravines are also characteristic of this area.  The crystal clear brooks, clean rivers, ponds and lakes are just the thing for cyclists waiting for an opportunity to cool down in the heat of summer. The stretch today follows the circuitous valley of the delightful Wieprz rivulet. Wieprz means "hog" in Polish and the rivulet is said to meander like the curly tail of the said animal. The route then leads past water mills that are still functional and stops at midday at a straw thatched farm in Guciow where there is the opportunity to visit the heritage museum. The goal for the day is Zwierzyniec, a large town in the primordial forest of Roztocze National Park for a two night stay.
Day 10: Loop around Zwierzyniec, 31 mi. (50 km)
First on the agenda is an artificial lake with islands, one of the main attractions of the National Park, where herds of the famous Konik horses live. These descendents of the East European wild horse have been bred here in Count Zamojski's game reserve since the 18th century. Then to Szczebrzeszyn (a tongue twister not only for foreigners!) in the afternoon and visit a well maintained synagogue. The return to Zwierzyniec is through a particularly attractive stretch that includes loess gorges, forests, golden fields of hops, and luxuriant gardens.
Day 11: Zwierzyniec - Zamosc, 19 mi. (30 km)
Zamosc is the wonderful destination today! This city with its world heritage city center, is the cultural and historical highlight of the entire trip. Zamosc was established by Jan Zamojski in the year 1580 and designed by the famous Italian architect, Bernardo Morano. It is considered to be the only existing instance of a purely Renaissance city in structure, layout, and architecture. 
Day 12: Departure or extension
Your tour comes to an end after breakfast but you might consider spending another day or two in Zamosc.  Included transfer for Krakow takes place in the morning, arriving by  2:00 p.m. at the latest so that it is possible to get flights and trains back home from Krakow on the same day. If you are planning to return home the next day, please do remember to book your additional night with us well in time.
If you're looking for a different flavor, check out our full list of bike tours in Europe or view all our featured bicycle tours, specials, and news.
Email or Call 800-951-4384 +1 570-965-2064
---