Krakow and Southeast Poland
Cycling along the Ukranian border in the region of Galicia
This striking 8 day bike tour takes you through an area in southeast Poland bordering Ukraine where the unspoiled and the exotic meet. The central European region of Galicia (not to be mistaken with Galicia in Spain) is a historical region, currently divided between Poland and Ukraine.

The mysterious east Carpathians ​are a highlight where you find a rich and varied relief, rarely encountered. The upper mountains, reveal a unique association of towers, needles, columns, mushrooms, bare rocks and sphinx-like forms, a virgin landscape that appears almost alien.

This is a region shaped and molded over the centuries by many different cultures, the land where extremes live alongside one another, in perfect harmony.

The tour showcases architectural wonders such as Zamosc town with its marvellous architectural highlights and the region's virgin landscapes, and primeval forests.

Enchanting Krakow is the starting point of your guided or self guided cycling adventure, treasure trove of Gothic and Renaissance architecture and the route then leads from one enriching experience to another:

Highlights:

Green Velo cycle path
Solska primeval forest
Roztocze
Famous Konik horses
Zamosc

Want to see more bike tours in Poland?

Self Guided tour:
Twin/double:  £ 577 $ 989 € 710 NOK 6923 kr 6390 $ 831 Single supplement: £ 89 $ 153 € 110 NOK 1073 kr 990 $ 129

extra

options

Electric bicycle rental: £ 49 $ 84 € 60 NOK 585 kr 540 $ 70

Extra nights:

Krakow  (*** B&B): £ 36 $ 61 € 44 NOK 429 kr 396 $ 51 Single supplement: £ 20 $ 35 € 25 NOK 244 kr 225 $ 29  

please

note

Rates are per person based on double occupancy.

Information to read before you book.

We recommend purchasing bike trip insurance.

† Currency exchange rate set 90 days before travel.

Travel

Fly to Krakow Airport

Local Travel

Krakow Airport is served by two regular bus lines: 208 and 192. Bus stops within the airport's premises are located near the T1 and T2 terminals. Fare is approximately one euro.

There are taxi stands in front of the passenger terminals as well.

Climate

Check local conditions prior to arrival. Average high/low temperatures in degrees Fahrenheit: July 71º/55º and August 71º/54º

---
Where
You'll Stay
Accommodations in quality 2 and 3 star hotels
What's
Included
Accommodation for 7 nights
Transfers Krakow to Przemysl and Zamosc to Krakow
Breakfasts and dinners
Luggage transfers from hotel to hotel
Set of maps (1:50.000) and route descriptions
Bike rental
What's
Not Included
Travel to Krakow
Entrance fees and excursions
Lunches
Bicycle protection
Trip insurance
Tour
Dates
April 28, May 26, July 7, July 14, July 28, August 4, August 11, and August 18, 2018.
Skill
Level
This self - guided tour is over flat or gently undulating terrain with small climbs suitable for even children. Only Day 4 has a slightly longer climb (about a 100 m height differential) to the high banks of the San River but the magnificent view makes it worth it!
Day-To-Day
Itinerary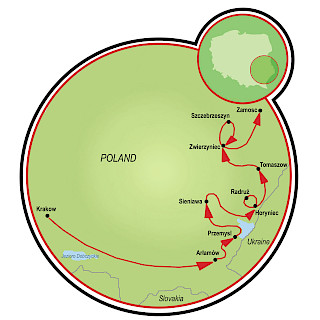 Day 1: Krakow - Przemysl
Day 2: Krakow - Korczowa, 30 mi. (45 km)
Day 3: Korczowa - Horyniec Zdroj, 35 mi. (56 km)
Day 4: Horyniec – Narol, 12.5 - 25 mi. (20 - 40 km)
Day 5: Narol – center of Roztocze, 28 - 20 mi. (45-50 km)
Day 6:  A cycle around Roztocze, 9 - 19 mi. (15-30 km or more)
Day 7: Center of Roztocze – Zamosc, 19 - 28 mi. (30-45 km)
Day 8: End of trip and return to Krakow
Day 1: Krakow - Przemysl
Individual arrival in Krakow. You meet at the Bird Service office in the old town and travel to collect the bikes at workshop.  Afterwards  you leave by bus at 3:00 pm for the town of Przemysl (a historic town on the Polish-Ukranian border. Your overnight accommodations are in a hotel located next to the new branch of the Green Velo bike path alongside the San River. We advise those unable to book a morning flight or the night train to Krakow to come a day earlier and to book an additional night in Krakow.
Krakow is a medieval city is a fairytale, with its bustling market square, spiraling gothic towers, castles, and legends about dragons. Explore the narrow backstreets, hidden courtyards, and the network of underground cellars and tunnels. Krakow is known as the cultural capital of Poland through its love of music, poetry, and theater. After years of occupation and struggle, Krakow has emerged a proud city with a strong sense of identity, yet has still maintained its artistic and fun-loving soul.
Day 2: Przemysl - Korczowa, 45 km
The first stage of the tour is relatively short sountil noon, you can explore Przemysl, which is the  second oldest town in southern Poland. A town of historic beauty, offering breathtaking churches, the World War 1st fortress, and an overall aura of unexplainable awe. From there the route passes an aboretum in Bolestraszyce, through a narrow hanging footbridge once again on the San river and passes through Chotyniec Village with its wooden Eastern Orthodox church.
Day 3: Korczowa - Horyniec Zdroj, 56 km
You cycle through the sleepy town of Wielkie Oczy (ironically translated as "Huge Eyes"), offering shadowy alleys, and multiple places of worship, Catholic and Eastern Orthodox, as well as an old synagogue. The route then leads on peaceful tarmac paths through the neighboring forest,  concluding with a 16th century Orthodox church in Radruz and a nearby lagoon, where we can immerse ourselves in its cool refreshing waters. We spend the night in Horyniec, a small Roztoczian spa town.
Day 4: Horyniec – Narol,  20 - 40 km
You are now in eastern Roztocze, and from this day on, apart from the main Green Velo track, you will have numerous different, but equally picturesque routes to chose from. A visit in the "Szumy nad Tanwią" (Soughs over Tanew) reservoir, where the waters of Roztoczian rivers flow over the rocky thresholds, is highly recommended.
Day 5: Narol – center of Roztocze,  45-50 km
Once again, you have several variants of the route to chose from. The Green Velo track runs through the town of Józefów. You can also cycle through Krasnobrod and explore an interesting open-air museum there, the farm in Guciow, over the meandering Wieprz river, offering an exhibition of ethnographic and geological wonders. You stay in Zwierzyniec or another nearby village for the next two nights.
Day 6: A cycle around Roztocze,  15-30 km or more
You will pedal throught the forest today! After leaving the mountains and the San valley behind, the rides to the east through extended forested regions of the Solska primeval forest where habitat of elk and mountain cocks. The small spa resort town of Horyniec is the destination today, which lies very close to the border of Ukraine.
Day 7: Center of Roztocze – Zamosc,  30-45 km
You can once again chose between different paths. The shorter route through Kosobudy and other pretty villages, or the Green Velo track in the Wieprz valley. Zamosc is a beautiful reneissance town, always worth visiting. Before we check-in at the hotel, in the old town, we cycle around Zamosc fortifications built in 16th century.
Day 8: End of trip and return to Krakow
Bike into the heart of Roztocze! This region is a cyclists' paradise and until recently, was completely unknown to foreign tourists. Delightful villages dot the route and the roads and forest routes are perfect, with little traffic. It is a gently undulating landscape with some small climbs to provide variety. The highlight of today are tectonic movements in the area, a geological feature causing murmuring sounds (Szumy). The two rivers, Tanew and Sopot, create several small but roaring river rapids. You will be returned to Krakow. May we suggest an overnight here?
If you're looking for a different flavor, check out our full list of bike tours in Europe or view all our featured bicycle tours, specials, and news.
Email or Call 800-951-4384 +1 570-965-2064
---