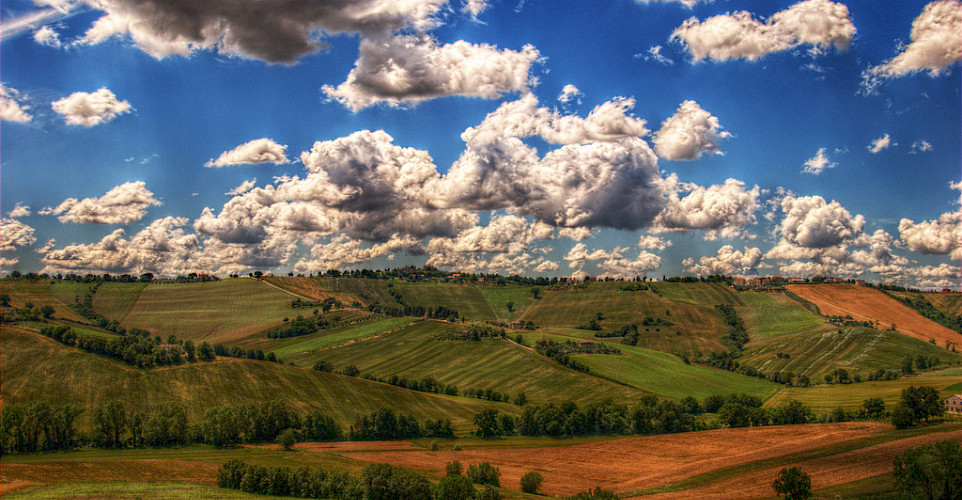 Le Marche
Bike Marche and discover Eastern Italy!
Overview

Come and bring a group of your cycling friends for a transformative experience in Le Marche, a region on the eastern side of central Italy between the Adriatic Sea and the high Apennine mountains. This is an area that remains relatively untouched by the ravages of mass tourism. The region's rich history is manifested in its ancient medieval towns that cling to many hilltops. This road bike tour in Italy will tak you through a colorful patchwork of rolling hills covered by green fields, olive trees, and vineyards. You and your friends will be challenged on the same fierce mountains as you bike Giro d' Italia. Your daily climbs together will foster a sense of community and comraderie. At day's end you will celebrate your achievements with good food and good wine. At tour's end, you will look back and realize that the challenge changed you in ways you did not expect. You will return home stronger in heart and soul.

Want to see more of our bicycle tours in Italy?

Itinerary

     Day 1: Arrival Rome Airport
     Day 2: Ascoli loop, 49 miles (78 km)
     Day 3:  Ascoli  loop, 77 miles (123 km)
     Day 4: Ascoli Piceno - Cupramarittima, 35 miles (56 km)
     Day 5: Recanati loop, 50 miles (80 km)
     Day 6: Recanati loop, 64 miles (102 km)
     Day 7: Rest day or Castelraimondo - Cagli, 53 mi. (86 km)
     Day 8: Cagli loop, 53 miles (85 km)
     Day 9: Cagli loop, 42 miles (67 km)
     Day 10: Departure from Cagli

DAY 1: Arrival Rome Airport.
On arrival day, you can book an optional transfer from the Roma Airport to Ascoli Piceno.

DAY 2: Ascoli loop, 49 miles (78 km)
In this stage, you will ride in the mountains of Laga Park. Traveling on the old national road, you will cross the border of Abruzzo and arrive at Civitella del Tronto, an ancient medieval village. You will have time for a break and a visit. Of interest here is the majestic Fortezza, or fortress, surrounded by walls and situated on a rocky cliff. This is a unique example of medieval military architecture. After coffee and a brief descent, the road starts to rise in steep switchbacks up to the Laga massif. The magnificent views and the smell of flowers are a welcome distraction. The second part of the climb through woods is easier and after the summit of 3608' (1100 m) the way home is mostly downhill. Lunch this day is in the charming hamlet of Castel Trosino. The Church of San Lorenzo with its bell tower overlooks the square. Dinners in Ascoli Piceno are not in the hotel but the old town offers many choices.

DAY 3: Ascoli loop, 77 miles (123 km)
The second stage is set in the Park of the Sibillini mountains. You will set out on the old Salaria road, one of the main roads originally built by the Romans. You will follow the twisted course of the Tronto River to Arquata where the climb begins. The 9 mile (15 km) climb summits at Forca di Presta at 5068' (1545 m). The landscape along the way is magnificent but the real wonder awaits you at the top. Surrounded by mountain peaks, the Piana of Castelluccio is a patchwork quilt of bright flowers, especially poppies, cornflowers, and daisies. After crossing the highland, you will climb into the village of Castelluccio, which dates from the 13th century. After lunch, the highest pass of the tour awaits, Forche Canapine, at 5085' (1550 m) Then the long, twisted descent back to Ascoli.

DAY 4: Ascoli Piceno - Cupramarittima - Recanati, 35 miles (56 km)
Heading north out of Ascoli, you will climb up to 2460' and drop down to the Aso River Valley. Here you will hit a few miles of flat road before encountering the rollercoaster ride of short hills. After a beach break in Cupramarittima, the van will transfer you to Recanati. 

DAY 5: Recanati loop, 50 miles (80 km)
Toward the sea you cycle, first tackling a few climbs. First is a short climb to Osimo and then on rolling hills to Offagna. The Rocca dominates this medieval town. Built between 1454 and 1456 it is considered to be one of the best examples of military architecture in the region. Constructed to a quadrangular plan, it has a 30 metre keep and huge wall. You will enter the Natural Reserve of Monte Conero with its spectacular views of the mountain dipping into the sea. After a descent, you will ride along the coast, passing through the beach resorts of Sirolo and Numana. You can choose to end today's ride here or continue cycling. Turning inland, there is a climb to Loreto and lunch in the shade of its famous sanctuary. Only a little more than six miles to return to Recanati and perhaps a glass or two of Verdicchio or Rosso Piceno, lovely wines from the region.

DAY 6: Recanati loop, 64 miles (102 km)
Today you turn your back to the sea and move inland heading toward the medieval tower of Montefiore. The quiet road with rolling hills provides great views of the countryside and the towns just beyond the hills.  A 4 mile (7 km) climb awaits up to the fortified walls of Caingolis. This is the territory of the infamous white Verdicchio wine and you will see not the olive groves give way to the vineyards. A well deserved break will be enjoyed in the cobbled plaza of Cingoli.  After, a sneaking descent to Lake Castreccioni, and then another climb to Staffolo challenges and rewards. Heading back to Recanati is a long downhill interrupted only by two climbs to Filottrano and Montefano.

DAY 7: Rest day or cycle Castelraimondo - Cagli, 53 mi. (86 km)
This day is a day of well deserved rest. A van transports to the next destination of Cagli, but if you prefer, you can be left in Castelraimondo for a cycle excursion. The route goes along the border of Umbria and through Matelica, Esanatoglia and Fabriano. Suggested is a stop to visit this town full of art and home to an amazing bike museum. After Fabriano the road continues through the the wild scenery of the Nature Reserve of Monte Cucco. Surrounded by a crown of mountains, Caglis is rich in monuments and bars! For the three nights here you will stay in an Agriturismo just out of town. The jams, cheeses, vegetables and meats served here are self produced. This is the place to eat if you have a passion for porcini and truffles.

DAY 8: Cagli loop, 66 miles (106 km)
The Giro d'Italia 2009 has set its most difficult stage on the mountains around Caglis. You will repeat that same itinerary but in 2 rides. In the cool of early morning, the day begins with a climb to Monte Nerone (6 miles, 11 km, average 8% grade with a maximum of 14 %). As the route exits the forest, over the tree line, the view opens up to see the Central Apennines. The narrow road with its numbered switchbacks sneaks its way up the meadows. Only the sounds of the birds accompany the slow, long climb unique only to cycling Marche region in Italy. A 20 km descent leads back to Piobbico for a rest stop and refreshments. A rare flat stretch leads to Cagli where another climb awaits up Monte Petrano and then an incredible 15 km descent to the lodgings for the evening.  Dinner this evening will be in Urbino. Built in the 15th century by the Dukes of Monefeltro this town is now a university town and one of the finest Renasissance town in Italy. you will want to visit the art museum that displays works by native son, Raffaello Sanzio.

DAY 9: Cagli loop, 42 miles (67 km)
Your last Le Marche cycling day, you will tackle Monte Catria (6.9 miles with a maximum 13% grade.) This is the shortest stage and you will enjoy celebrating with an unforgettable farewell dinner later at the Agriturismo.

DAY 10: Departure from Cagli. Van transfer to airport, 3 hours

You can view all of our bike tours in Europe or look at our featured bike trips, specials, and news.

Accommodation

Agriturismo or 4 star hotels

Inclusions

What's Included

Accommodations for 9 nights in Agriturismo or 4 star hotels
9 x breakfasts and dinners
Road bike rental
Guide
Van support

What's Not Included

Lunches
Van transfer to/from Roma airport. (€100/person, each way)

Dates & Pricing

Dates

June 17, 2016

Please Note

Rates are based on double occupancy
Tour prices are based on the fuel costs at time prices are set, often months or years in advance. In rare cases, additional fees may apply for fuel cost increases.

Pricing

2016 Prices

Booking before January 31: $ 2817 £ 1573 $ 2,547 € 1790 ₪ 6507 NZ$ 3044 NOK 18784 kr 19841 $ 1,901

Booking after January 31: $ 3053 £ 1704 $ 2,761 € 1940 ₪ 7053 NZ$ 3299 NOK 20358 kr 21504 $ 2,061

Single supplement: $ 393 £ 220 $ 356 € 250 ₪ 909 NZ$ 425 NOK 2624 kr 2771 $ 266

Van transfer to/from Roma airport: per person, each way: $ 157 £ 88 $ 142 € 100 ₪ 364 NZ$ 170 NOK 1049 kr 1108 $ 106

Extra Info

Skill Level — Difficult

This Italy bike tour is classified as a difficult guided tour with guide and van support. Daily distances range from 40 to 77 miles. Climbs range from 3280 feet to 8202 feet.

Airport Info

Fly into Rome Airport

Local Travel

Transportation provided from the airport to Ascoli Piceno

Climate

Please check local conditions before arrival. The average high/low temperature in °F for the area is:

Day of Rest

Day 7 or, at any time during the touring days, there is always the option to board the van

Covid-19 Info

Country Entry Requirements

Due to the changing requirements for entry, it is imperative that you stay up to date on requirements set by the country/countries that you are visiting. Please visit our Travel Restrictions Tool page and the country/countries government webpage for this information.

Extra Stay

Possible in Rome

---

Photos
Have you been on this tour?
Please leave your feedback