2.5

/

5

(

2

ratings)
London to Amsterdam or Amsterdam to London Bike Tour
Bike the English countryside, Flemish pastures, and Dutch orchards!
Enjoy this epic bike tour that includes London and Amsterdam, two energetic cosmopolitan power houses and everything in between! Vibrant colors are the common thread throughout as you cycle four countries. The intense green of the English country side, the Flemish pastures and Dutch orchards, contrast with the blue of the River Thames, North Sea, and canals of Holland. The two bustling capitals are linked by peaceful and tranquil rides through meadows and along rivers and sandy beaches.

Highlights:

Greewhich, a charming neighbor hood of London
Kent, the garden of England
Ferry crossing from Dover to Dunkirk
Flanders
Belgium, a paradise for cyclists but also renowned for chocolates, waffles, lade, and BEER!
Elegant Ostend, city by the sea
Romantic, charming, Bruges
Holland, a land reclaimed fromthe sea, laced with rivers and canals.

We invite you to cycle this original itinerary and rediscover the pleasure of exploration!

Want to see more bike tours in England?

Guided Option: £ 1253 $ 2,778 € 1475 $ 2222 NOK 13890 kr 12821 $ 1,667

Single supplement: £ 374 $ 829 € 440 $ 663 NOK 4143 kr 3825 $ 497

Triple room: £ 1015 $ 2,251 € 1195 $ 1800 NOK 11253 kr 10387 $ 1,350

Self Guided Option: £ 905 $ 2,006 € 1065 $ 1605 NOK 10029 kr 9257 $ 1,203

Single supplement: £ 374 $ 829 € 440 $ 663 NOK 4143 kr 3825 $ 497

Triple room: £ 743 $ 1,648 € 875 $ 1318 NOK 8240 kr 7606 $ 989

extra

options

Electric bicycle rental: £ 89 $ 198 € 105 $ 158 NOK 989 kr 913 $ 119

Helmets (advance reservation required, payable on spot: £ 13 $ 28 € 15 $ 23 NOK 141 kr 130 $ 17

Extra nights

Amsterdam 4 star:  £ 75 $ 166 € 88 $ 133 NOK 829 kr 765 $ 99

Single room:  £ 136 $ 301 € 160 $ 241 NOK 1507 kr 1391 $ 181

Supplement for departure August 4, 2019, in Amsterdam: £ 17 $ 38 € 20 $ 30 NOK 188 kr 174 $ 23

Greenwich 4 star:  £ 81 $ 179 € 95 $ 143 NOK 895 kr 826 $ 107

Single room:  £ 153 $ 339 € 180 $ 271 NOK 1695 kr 1565 $ 203

please

note

Supplement for daparture July 28, 2019: £ 42 $ 94 € 50 $ 75 NOK 471 kr 435 $ 57

Rates are per person based on double occupancy.

Information to read before you book.

We recommend purchasing bike trip insurance.

† Currency exchange rate set 90 days before travel.

Travel

Fly to London or Amsterdam depending on starting point.

Local Travel

Bus or Taxi to first hotel.

Climate

Please check the weather conditions for the area prior to departure for up to date information. Average high/low temperatures in °F for the area are: July, 73°/59° and August, 73°/59°.

Remarks

MYEASYROUTE app for self-guided tours: You will receive a code to download the maps, itinerary, points of interest, services and GPS position on your smartphone or GPS device. smartphone the tour map and itinerary, with points of interest, services and GPS position. The App provides GPS tracks to be used offline. Paper copies of the route are available with a supplement of €15.

---
Tour
Dates
2019
Guided or self guided:  London to Amsterdam:  July 28, and August 11, 2019 
Self guided only: Amsterdam to London: July 21 and August 4, 2019
*Minimum of 12 participants required for guided tour and 2 participants for self-guided tour. 
Skill
Level
Easy to moderate guided or self guided hotel tour on mainly flat terrain. From Canterbury to Dover (34 km) you will encounter hilly terrain. Average duration of the stages are from 32 to 44 miles/ 52 to 70 km per day or 4 to 5 1/2 hours cycling per day. Tour is recommended for those who have cycling experience. This cycling tour includes SUPPORT SERVICE PLUS, an exclusive service to ensure you are at ease during your bike tour, especially if this is your first bike tour experience. In addition to the classic luggage transfer and emergency telephone number, roadside assistance and/or recovery in case of emergency (illness, mechanical problem that cannot be repaired with the repair-kit) is provided.
Where
You'll Stay
1 night in 3 star hotel and 6 nights in 4 star hotels
What's
Included
Guided and Self-Guided tours:
Accommodations for 7 nights
7 Breakfasts
Bike rental
Luggage transfer (1 piece per person, max 20 kg)
Support service in case of emergency
Ferry Dover/Dunkirk (deck passage + bike)
Informational material
Guided only:
5 dinners (not included on days 1 and 7)
*Tour Guide (English and Italian speaking)
*Tour guides are not historical or cultural, but only environmental, so according to Italian laws, they are not authorized to give out info and details on places of historical or cultural interest.
Ferry Breskens/Vlissingen
Train Dartford/Whitstable
Train Vlissingen/Dordrecht
Informational material
Self-guided only
GPS tracks with App for smartphone (self-guided tours only)
What's
Not Included
Guided and Self-Guided tours:
Journey to and from London/Amsterdam
Drinks
Entry fees
City or visitor tax (if payable)
Self-Guided only:
Lunches and Dinners
Ferry Breskens/Vlissingen
Train Dartford/Whitstable
Train Vlissingen/Dordrecht
Paper-road book €15 (to be booked in advance/provided at the hotel)
Day-To-Day
Itinerary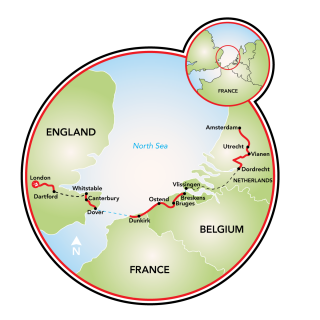 London to Amsterdam
Day 1: Arrival in London/Greenwich
Day 2: Greenwich - Canterbury, 26 mi. (42 km)
Day 3: Canterbury - Dover + ferry to Dunkirk, 32 mi. (50 km) 
Day 4: Dunkirk - Bruges, 49 mi. (79 km)
Day 5: Bruges - Breskens + ferry to Vlissingen, 28 mi. (45 km)
Day 6: Vlissingen - Kinderdijk - Dordrecht by train - Vianen, 40 mi. (64 km)
Day 7: Vianen - Amsterdam, 40 mi. (64 km)
Day 8: Departure from Amsterdam
*All distances are approximate.
Day 1: Arrival in London/Greenwich
Individual arrival in Greenwich and accommodation in hotel. At 6 pm, a welcome meeting with the guide is scheduled and bike delivery. Greenwich, a UNESCO World Heritage Site, is an ancient village overlooking the south bank of the River Thames, just a few kilometers from the center of London. It is also known as the home of time. The Royal Observatory stands on a hill overlooking the village, and from here you can admire the Thames and St Paul's Cathedral. The historical astronomical observatory is the location of Greenwich prime meridian, known throughout the world. Every day at 1 pm the red globe on top of the observatory is dropped to mark the time (GMT), while in the evening a laser ray comes on and goes through the skies of Greenwich with its green light marking the point where the Prime Meridian is located. Greenwich is also a place rich in history and is the site of the royal palace, the birthplace of King Henry VIII , and the oldest royal park of the city. There is a rich architectural heritage here as well, such as the Charlton House and the Queen 's House. Greenwich Market is packed full of unique and distinctive arts and crafts that can not be found elsewhere in the world. All this, together with the feeling of tranquility that pervades the village, makes Greenwich one of the most fascinating areas of the capital.
Day 2: Greenwich - Canterbury, 26 mi. (42 km)
After breakfast, your bike tour in England begins along the southern bank of the River Thames till Dartford 19 mi. (31 km). From here, there is a train transfer to Faversham (1h 10) crossing  Kent county, known as the "garden of England" for its green landscape dotted with some of the most beautiful and famous gardens of the UK. The last  17 mi. (27 km) by bike leads first in the direction of Herne Bay, a pleasant town on the northern coast of the Kent and then to the final goal, beautiful Canterbury, located on the main road between Dover and London. It is the starting point of the Francigena Way and in spite of its medieval past,  it is now energized by the multitude of students who come here from all over Europe to attend its important university. The city was the first capital of the Saxon kingdom of Kent and then the seat of the first Christian diocese of England, founded by St. Augustine. The grandeur of Christ Church Cathedral overshadows the narrow alleys and half-timbered houses of the old medieval center. Today, after several renovations, it is one of the best examples of English Gothic. 
Day 3: Canterbury - Dover + ferry to Dunkirk, 32 mi. (50 km) 
The cycling day begins early heading to Dover, one of the most important ports of Great Britain, famous for its white cliffs. After lunch, embarkation on the ferry to Dunkirk (about 2 hours + 1 Time Zone) after which, it is 11 mi. (18 km) to reach the center of Dunkirk , located east of the city. Dunkirk is the third most important port in France and is located in the Nord- Pas de Calais, only 6.2 mi. (10 km) from the border with Belgium. The first impression is of an industrial town focused on maritime trade, but then the unusual beauty becomes apparent in the dunes and the tens of kilometers of sandy beaches where flora and fauna flourish. Kite-surfing and the famous surf on the sand are also enjoyed here. The city center is characterized by low buildings, mainly of the last century, with Flemish influences. The church of St. Eloi and the two bell towers included in the UNESCO World Heritage Site, are well worth a visit. 
Day 4: Dunkirk - Bruges, 49 mi. (79 km)
The main part of today's stage takes place in Belgian territory. Once the border is crossed, you will cycle surrounded by the lush, green Flemish countryside.  It is here that battles between the French and British attempting to block German invasion during World War II took place. Cycling along the coast of the North Sea you reach Ostend, a popular tourist destination on the Flemish coast characterized by its wide promenade bordered by shops, hotels, and restaurants where you can taste excellent mussels, oysters, and drink local beers. Our bike tour continues through the Flanders region towards the romantic city of Bruges where time seems to have stopped and everything runs slowly.
Day 5: Bruges - Breskens + ferry to Vlissingen, 28 mi. (45 km)
You continue to cycle through Flanders, a garden land, rich in pastures, historic sites, and charming towns. The route is leading towards Bruges, the romantic little city of canals and bridges, medieval Flemish architecture, and cobbled streets. Be sure to visit the lace shops and of course, once again, taste the local beer! The cycling continues through the countryside, along the Dutch border, in the direction of Breskens, followed by a short ferry ride (about 15 minutes) to reach Vlissingen, the day's destination. This fishing town is the home of shipyards and a naval academy. The promenade, called Boulevard, is a long and beautiful walk, where the prison tower dating from the fifteenth century is located. 
Day 6: Vlissingen - Kinderdijk - Dordrecht by train - Vianen, 40 mi. (64 km)
​After breakfast, transfer by train from Vlissingen to Dordrecht (not included – 1h30). Dordrecht is an elegant and charming town from the architectural point of view too. It is an important fluvial centre that gave birth to several artists including some students of Rembrandt. It surprises for art and culture, for the terraces overlooking the canals, for theatres and festivals. From here you can start riding through the Dutch countryside crossing flower gardens, walled cities and several canals and dams. You then continue northwards again by bike, surrounded by pastures, orchards and meadows to the village of Vianen.
Day 7: Vianen - Amsterdam, 40 mi. (64 km)
The last cycling day brings you soon to Utrecht. Utrecht is a very old city with its own university and a vibrant cultural life. Its historic center is characterized by medieval palaces and ancient buildings, witnesses of the rich commercial past. Picturesque canals are overlooked by the wine cellars transformed into trendy clubs and many pubs and coffee shops crowd the docks. Cycle until you reach Amsterdam, the cosmopolitan capital of the Netherlands, famous for the streets that weave the many canals, for its architecture, and especially for the open minded society that distinguishes it. Cycling is definitely the most suitable way to visit the centre, but a tour of the canals by boat is highly recommended too. Dam Square, the many museums of art and history, the Anne Frank house are waiting for you.
Day 8: Departure from Amsterdam
Your bike tour ends after breakfast.  
Amsterdam to London
Day 1: Arrival in Amsterdam
Day 2: Amsterdam - Vianen, 41 mi. (66 km)
Day 3: Vianen - Dordrecth + Dordrecht - Vlissingen by train, 42 mi. (67 km)
Day 4: Ferry vlissingen - Breskens and Breskens - Bruges, 27 mi. (44 km)
Day 5: Bruges - Dunkirk, 50 mi. (80 km)
Day 6: Ferry to Dover + Dover - Canterbury, 31 mil (50 km)
Day 7: Canterbury - Greenwich, 26 mi. (42 km)
Day 8: Departure
Looking for more?  View all our featured bike trips, specials, and news or look at our full list of bike tours in Europe.
Email or Call 800-951-4384 +1 570-965-2064
---