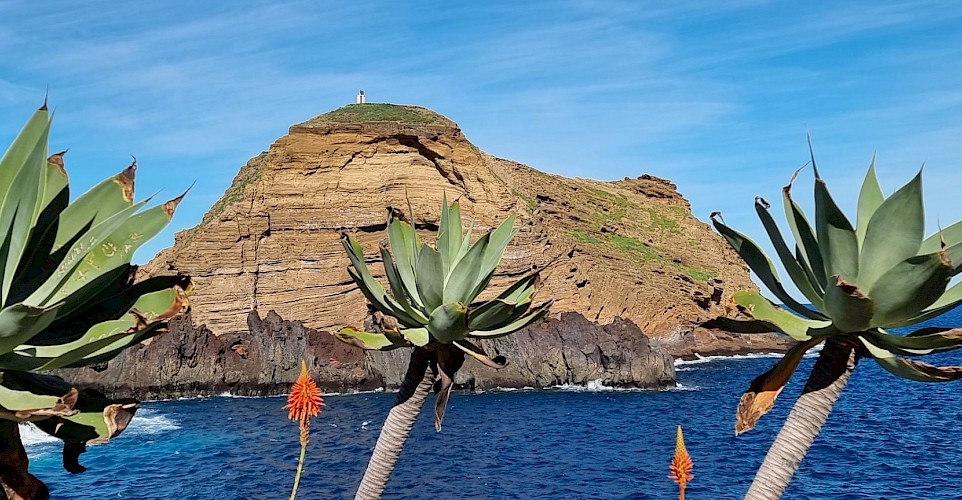 Madeira Island by Bike
An unforgettable cycling adventure in the green pearl of the Atlantic Ocean.
Overview

Madeira Island, famous for its landscapes and legendary wine, is the perfect setting for this epic bike tour. Embellished by everything that nature has to offer, this is a place so magnificent that words are not enough to describe it.

Admire the typical houses of Santana, dive into the natural pools of Porto Moniz, and discover the beautiful gardens of Funchal. An unforgettable bike tour that showcases the best cuisine, scenery, & cycling!

Highlights

Stunning views over the ocean
Laurissilva forest, a UNESCO World Heritage Site
Porto Moniz natural swimming pools
Santana's traditional Madeiran houses
Funchal, a 500-year-old city
Gastronomy, fresh fish, and local products

Itinerary

Day 1: Arrival to Santa Cruz
Day 2: Santa Cruz - Camacha - Porto da Cruz (Santana), 15 or 23 mi. (25 or 38 km)
Day 3: Santana - São Vicente, 22 mi. (35 km)
Day 4: São Vicente - Porto Moniz, 22 or 27 mi. (35 or 43 km)
Day 5: Porto Moniz - Calheta, 27 or 30 mi. (43 or 49 km)
Day 6: Ribeira Brava - Funchal, 22 mi. (36 km)
Day 7: Departure from Funchal

Day 1: Arrival to Santa Cruz
You will be transported from Funchal Airport to the hotel at Santa Cruz village (15 minutes). Here you will be briefed on the tour once you finish your check-in. Depending on your arrival time, we suggest you take a taxi (at your own expense) and visit the tip of the island, Ponta de São Lourenço. Here you will find some of the finest cliff scenery on Madeira island. A sunset here is the perfect welcoming to the Island. 

Sample hotel:
Santa Cruz Village

Day 2: Santa Cruz - Camacha - Porto da Cruz (Santana), 15 or 23 mi. (25 or 38 km) 
After a traditional breakfast, a short transfer (20 minutes) will take you to Camacha where you'll begin pedalling. An incredible panoramic route awaits you, taking you through some of the most beautiful Island roads until Porto da Cruz, a village known to house one of the last rum distilleries on the island. Once there, you can take a car transfer to the hotel (15 minute), or you can continue cycling. For those who continue on the bike, the last few miles are challenging, but are certainly worth the impressive views. The day ends at Santana, whose small A-frame houses adorn many postcards. 

Elevation gain 300m or 1,000m

Sample hotel:
O Colmo

Day 3: Santana - São Vicente, 22 mi. (35 km)
It's time to continue exploring this beautiful island. Today, you will leave Santana and ride towards São Vicente, a tiny village located on the north coast of the island. You will follow secondary roads along the coast, between charming villages and stunning viewpoints at every turn. São Vicente is one of the first places to be occupied back in the 15th century. It is now fast becoming a popular surf spot thanks to a pebble beach with excellent conditions, calling surfers from far and wide.

Elevation gain 1,100m

Sample hotel:
Estalagem do Vale

Day 4: São Vicente - Porto Moniz, 22 or 27 mi. (35 or 43 km)
Today, you will explore the mountains! The day begins with a opicional short transfer to Boca da Ecumeada that you won´t need in case you go for the long route. Starting from the heart of the island you will conquer the mountains while cycling between the clouds and the sky. The goal is to reach the ocean and find one of the most idyllic spots on the northwest tip of Madeira Island, the natural pools of Porto Moniz. Although challenging, this stage will be a tremendous scenic route, where all the landscapes are breathtaking. Can you imagine such an experience? And then, at the end of the day, you can make it even more special, enjoying a bath in the famous swimming pools or tasting the delicious local cuisine.

Elevation gain 700m or 1500m

Sample hotel:
Aqua Natura Bay

Day 5: Porto Moniz - Calheta, 27 or 30 mi. (43 or 49 km)
Since having started on the eastern side and crossing the north face of the island, today you will cycle along the west coast. Madeira is not very wide but you'll find that this place is full of surprises! Today, for example, the scenery will astound you. You will ride between forest roads and typical hamlets until reaching Calheta, a charming town known for its warmth and sun-filled days. Consider visiting the sugar cane mill and museum, where you can learn about Madeira's old traditions. To reach Calheta, you can choose between a long and a short route. Depending on what you chose, there is a transfer required before you begin cycling (10 minutes).

Elevation gain 900m or 1500m

Sample hotel:
Saccharum Resort & Spa

Day 6: Ribeira Brava - Funchal, 22 mi. (36 km)
On this last day of cycling, you will ride towards Funchal, one of the oldest cities on the island. On the way, you will visit the highest seacliff in Europe and the second highest in the world: Cape Girão. At an elevation of 580m and famous for its suspended glass platform. As you approach your final destination, you can also visit Câmara de Lobos, a traditional fishing village that inspired Sir Winston Churchill to paint its lovely surroundings.

Elevation gain 900m

Sample hotel:
Castanheiro Boutique Hotel

Day 7: Departure from Funchal
Your tour comes to an end with a 30 minute transfer to the airport. Consider staying extra nights on this exquisite island. 

Love Madeira Island? Check out our hiking tour or other tours in Portugal!

Accommodation

You will stay in very nice 3-star hotels. A sample hotel list can be found in the day-to-day itinerary.

Inclusions

What's Included

Accommodations for 6 nights
Breakfasts
Welcome briefing and personal bike fitting
Arrival and departure transfer (to/from Funchal airport)
Luggage transport
Transfers as mentioned in the itinerary (day 2, 3, & 6)
Navigation app
Local support number in case of emergencies

What's Not Included

Travel to the island
Lunches and dinners
Tips
City taxes (€0-3 per person/night, payable locally in cash)
Bike protection

Dates & Pricing

Dates

Arrivals are possible daily in 2023.

Please Note

Rates are based on double occupancy
Tour prices are based on the fuel costs at time prices are set, often months or years in advance. In rare cases, additional fees may apply for fuel cost increases.

Pricing

Twin/double $ 1640 £ 942 $ 1,523 € 1030 ₪ 3880 NZ$ 1795 NOK 11599 kr 11963 $ 1,135

Single supplement $ 557 £ 320 $ 517 € 350 ₪ 1319 NZ$ 610 NOK 3941 kr 4065 $ 386

Solo traveler supplement (in addition to single supplement) $ 350 £ 201 $ 325 € 220 ₪ 829 NZ$ 383 NOK 2478 kr 2555 $ 242

Extra Options

Electric bike $ 159 £ 91 $ 148 € 100 ₪ 377 NZ$ 174 NOK 1126 kr 1161 $ 110

Pre-loaded GPS device $ 80 £ 46 $ 74 € 50 ₪ 188 NZ$ 87 NOK 563 kr 581 $ 55

Extra nights: Please ask!

Extra Info

Airport Info

Fly to Cristiano Ronaldo Madeira International Airport, commonly known as Madeira Airport or Funchal Airport (FNC).

Local Travel

Airport transfers to and from your hotel are included. Please inform us of your flight information upon or shortly after booking!

Climate

Madeira generally has a very mild and moderated subtropical climate. Summers are dry and warm. On the other hand, winter months are mildly cool and wet because of the increase in precipitation. The temperatures year-round are never extreme, never uncomfortably hot nor uncomfortably cold. The temperature does not reach extreme points. The summer months are not horribly hot while the winter months do not bring intolerable cold. The average temperature is between 61 and 74 degrees Fahrenheit. Please check local conditions before your arrival.

Recommended

While we provide digital navigation for download as part of the tour package, consider reserving a pre-loaded GPS unit which takes all the hassle out of directions. Please see pricing.

Covid-19 Info

Country Entry Requirements

Due to the changing requirements for entry, it is imperative that you stay up to date on requirements set by the country/countries that you are visiting. Please visit our Travel Restrictions Tool page and the country/countries government webpage for this information.

Extra Stay

Extra nights can be added before or after your tour start, don't hesitate to ask!

---

Photos
Have you been on this tour?
Please leave your feedback