4.7

/

5

(

10

ratings)
Mallorca Bike Tour
Spain Bike Tours
Bike the unknown side of a well known island!
Spain's largest island, Mallorca, is as close to perfect as is possible for a bike tour. Known for its intense Mediterranean light, it is called "La Luminosa" or "The Enlightened" by the Spaniards. Up and down you bike through the ever varying landscapes and encounter the countryside like never before! The coast and inner country offer different attractions and you will see them all. This Mallorca cycle tour will give you many romantic evenings in picturesque fishing villages and on shimmering salt lakes. Of course, this island is famous for the opportunities to swim and sunbathe, and you will have plenty of time to do both!

Highlights:

Exploring the interior of the island along quiet country landes
Beautiful beaches, street markets, excellent hotels
Two nights in each hotel
The Mediterranean Sea on three out of six cycling days!

Come see this Island for yourself and check out all of our bicycle tours in Spain!

2019
Twin/double:  £ 771 $ 1,710 € 908 $ 1368 NOK 8550 kr 7893 $ 1,026 Single supplement: £ 224 $ 497 € 264 $ 398 NOK 2486 kr 2295 $ 298 Solo traveler supplement: £ 273 $ 605 € 321 $ 484 NOK 3023 kr 2790 $ 363

extra

options

2019:
GPS (one available per booking): £ 25 $ 57 € 30 $ 45 NOK 283 kr 261 $ 34 Electric bike: £ 51 $ 113 € 60 $ 90 NOK 565 kr 522 $ 68 Dinners included (excluding beverages): £ 164 $ 363 € 193 $ 291 NOK 1817 kr 1678 $ 218 Group transfer Palma Airport to Campos, 4 ppl.: £ 42 $ 94 € 50 $ 75 NOK 471 kr 435 $ 57 Group transfer Pollença to Palma Airport, 4 ppl.: £ 68 $ 151 € 80 $ 121 NOK 753 kr 695 $ 90 Extra nights
Pollença:
Twin/double: £ 106 $ 235 € 125 $ 188 NOK 1177 kr 1087 $ 141 Single supplement: £ 93 $ 207 € 110 $ 166 NOK 1036 kr 956 $ 124 Palma: Please ask

please

note

Rates are per person based on double occupancy.

Information to read before you book.

We recommend purchasing bike trip insurance.

† Currency exchange rate set 90 days before travel.

Travel

Fly to Palma de Mallorca Airport (PMI).

Local Travel

Take the taxi (or transfer) to your first hotel.

Climate

Check local conditions prior to departure. Average high/low temperature in °F for the Palma area is: March 63°/49°, April 66°/52°, May 72°/58°, June 78°/65°, July 84°/70°, August 85°/72°, September 81°/68°, and October 74°/61°

Documents

Before you travel, please check your country's passport and visa requirements and the passport and visa requirements of the country/countries you plan to visit. For US citizens, the U.S. Passports & International Travel website is a good source of information. The Country Information tab provides details about passport validity, blank passport pages required, etc. If you are not an American citizen, ​please make sure you contact your own embassy before travel. We recommend that you make copies of your important documents and papers (insurance cards, etc.). Leave a copy at home and have a copy with you. In the unfortunate situation that you lose your original documents, having copies facilitates the replacement process.

---
Where
You'll Stay
Day 1 through Day 6: Small, family-run, boutique Hotels, with swimming pools Day 7: 3 star Hotel in the historic town of Pollenca, centrally located.
What's
Included
Hotel accommodations for 7 nights
Breakfast buffets
24-speed hybrid bike of brant Giant Argento or Kalkhoff Voyager in male/female frames (or equivalent) with mud guards, odometer, rear pannier, map carrier, lock, and helmet
Pump, puncture repair kit with tools per room
Luggage transfer
Route descriptions & maps
Emergency hotline
What's
Not Included
Extra nights
Remaining meals
Transfer to and from the airport (optional)
Tour
Dates
2019:
Daily arrivals from March 1 to October 31
Skill
Level
Moderate self guided tour with daily distances averaging 43 km and 393 m of climbing each day. The terrain is undulating / hilly terrain with ascents each day.
Day-To-Day
Itinerary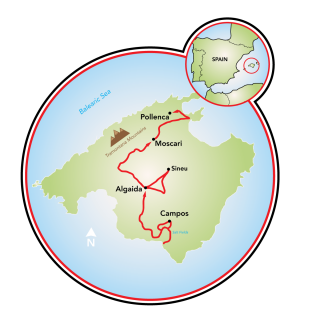 Day 1: Arrival to Campos
Day 2: Circular route around Campos, 25 miles (40 km). Climb: 152 m
Day 3: Campos to Randa, 29 miles (47 km)
Day 4: Circular route around Randa, 29 miles (47 km). Climb: 554 m
Day 5: Randa to Moscari, 30 miles (48 km)
Day 6: Circular route around Moscari, 23 miles (37 km). Climb: 443 m
Day 7: Moscari to Pollenca, 25 miles (40 km). Climb: 287 m
Day 8: Departure
*All distances are approximate
Day 1: Arrival to Campos
A private transfer can be arranged from Palma de Mallorca to your first hotel, or you can take a taxi. Your home for the next two nights is a beautiful converted farm house with a large pool.
Day 2: Circular route around Campos, 25 miles (40 km). Climb: 152 m
Today is free to explore the lovely beaches nearby, visit the salt production lagoons with flocks of flamingos, and enjoy the pool! The family that runs this hotel is particularly proud of their homemade cooking and the local Mallorquin wines. You will not be hungry or thirsty by the end of the day!
Day 3: Campos to Randa, 29 miles (47 km)
Small country lanes will bring you to the coast before aiming north to Randa. Along fields and quiet villages will be today's scenery before reaching the hotel. Another refreshing pool awaits you.
Day 4: Circular route around Randa, 29 miles (47 km). Climb: 554 m
The market town of Sineu is not too far from Randa and a perfect place to stop for a coffee and a snack. There is no hurry as the whole day is dedicated to enjoying this unspoiled countryside. Back in Randa, be sure to take a walk through the narrow streets and photograph one of Mallorca's many retired windmills!
Day 5: Randa to Moscari, 30 miles (48 km)
Leaving Randa, you will cycle towards the Tramontana Mountains, approaching them but not climbing. The next accommodation is a lovely rural hotel nestled in the foothills of the mountains. There is a superb restaurant on site!
Day 6: Circular route around Moscari, 23 miles (37 km). Climb: 443 m
This route will take you through one of the most beautiful settings of the island. The Tramontana Mountains are today's permanent backdrop, and makes for breathtaking scenery mile after mile.
Day 7: Moscari to Pollenca, 25 miles (40 km). Climb: 287 m​​​​​​​
Before reaching Pollenca, you will have the opportunity to visit the historic town of Alcudia. Dating back to around 1300, the Phoenicians and Greeks first called this place home, followed by the Romans in the 2nd century BC who made Alcudia the capital of Mallorca. This history will be evident as you cycle it's streets. Finally, you will reach Pollenca. Originally a fishing village, Pollenca does a good job at retaining old traditions. Most houses were built in the 17th and 18th centuries and the cobblestone streets are narrow, a common trait of the medieval era. The central square, called Plaça Major, has numerous outdoor cafés and is home to the large 13th-century church Esglèsia de Nostra Senyora dels Àngels (Our Lady of the Angels), which was built by the Knights Templar.
Day 8: Departure
A private transfer can be booked back to Palma de Mallorca or extend your stay in Mallorca!
Looking for more?  View all our featured bicycle tours, specials, and news or look at our full list of bike tours in Europe.
Email or Call 800-951-4384 +1 570-965-2064
---