3

/

5

(

2

reviews)
Northern Normandy Bike Tour
Cycling in Normandy in beautiful Northern France!
This bike tour in Northern Normandy is all about the coast, though you will ride into the green inland as well. You will start in the twin cities of Eu and Le Tréport. Le Tréport is a lively little harbor town with many seafood restaurants and numerous, awe-inspiring 19th century houses. In charming Eu, you have an inviting market square on which stands the great Gothic Notre-Dame-et-St.-Laurent Church with its rich history. You'll also find an impressive castle from the 16th century as well as amazing views overlooking the sea and chalkstone cliffs. En route, you will see France by bike through quiet river valleys and across many châteaux. There are various routes available for you to choose from each day.

The routes along the coast cycle past the chalk cliffs and enjoy the vistas overlooking the Canal. The inland routes run through river valleys to small, rustic villages. Your castle-hotel for the week (pictured right) lies on a country estate and has a swimming pool, beauty salon, fitness room, and free internet access.

If you are intersted in World War II history, please check out our other Normany bike tour which includes a loop on the landing beaches or all our amazing bicycle tours in France.

Price $ 1630 £ 807 $ 1,409 € 882 $ 1664 kr 9943 $ 1,005

Single supplement: $ 628 £ 311 $ 543 € 340 $ 641 kr 3833 $ 387

Supplement for deluxe room: $ 268 £ 133 $ 232 € 145 $ 273 kr 1635 $ 165

extra

options

Extra night (dinner and bike rental included): $ 275 £ 136 $ 238 € 149 $ 281 kr 1680 $ 170

Single supplement: $ 120 £ 59 $ 104 € 65 $ 123 kr 733 $ 74

Supplement for deluxe room: $ 59 £ 29 $ 51 € 32 $ 60 kr 361 $ 36

please

note

Rates are per person based on double occupancy.

A non-refundable admin fee of 20 Euros per person is included in the deposit amount.

Information to read before you book.

We recommend purchasing bike trip insurance.

† Currency exchange rate set 90 days before travel.

Travel

Closest international airport to your tour start (and end) is Paris CDG.

Local Travel

The quickest and least expensive way to travel from the airport to Paris Nord (from which you will travel onward) is by taking the RER B city train. The RER-B terminal is well marked so follow the signs. It is not necessary to pre book your train ticket. Cost is approximately €10 and travel time is 30 minutes approximately.
From Paris Nord, you will need another train to Abbeville, located approximately 35 km from Eu. Total travel time is 3 hours from Paris Nord to Abbeville. It is advisable to prebook your train ticket.
From Abbeville, there are buses that run to Eu. (The train station and the bus station are within walking distance of each other.) You will want Number 2. Travel time is approximately 52 minutes and cost is approximately 8 euros. You can pay on arrival. Please refer to: http://www.trans80.fr/horaire-ligne-2.html for schedules, etc. From Eu, you will have to secure a taxi to your hotel which is located 1.5 km from the center of Eu.
If you prefer to travel from Abbeville to your hotel by taxi, the cost will be approximately €80.

Climate

Average high temperatures in °F for the area are: April, 54º; May, 61º; June, 66º; July, 71º; August, 72º; September, 65º; and October, 57º

---
Where
You'll Stay
Excellent castle-hotel, Domaine de Joinville, built on a country estate with swimming pool, beauty salon, fitness room and free internet access.
What's
Included
Hotel accoomdations for 5 nights
Breakfasts & excellent 3-course dinners
21-speed hybrid bicycle
Route descriptions & maps (one set per room)
What's
Not Included
Train tickets
Use of fitness room at hotel: € 12 p.p. per day
Tour
Dates
Daily from March 1 to October 31, 2018
Skill
Level
This Normandy bike tour is classified as an easy moderate hotel based self guided tour with some steep climbs. You can choose how much you cycle each day with the various routes available.
Day-To-Day
Itinerary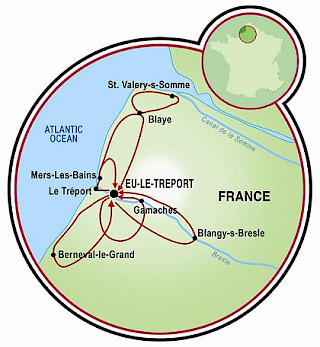 Various routes from Eu - Le Tréport:
A – North to Mers-les-Bains, 16 mi.
B – South to the castle of Cotelle, 37 mi.
C – Through valleys & to the Château de Blangy, 38 mi.
D – Along the coast & chalk cliffs, 29 or 45 mi.
E – The valleys of Yéres & Breste, 34 mi.
A - North to Mers-les-Bains, 16 mi.
After arrival, you'll have the opportunity of exploring the towns of Le Tréport and Eu. In the port town of Le Tréport, you'll be greeted with amazing views overlooking the sea and chalkstone cliffs. Northward, above the cliffs, sits the great Notre-Dame-de Falaise. You will cycle past many interesting attractions and can, for example, visit the museum in the former prison. On the other side of the harbor lies Mers-les-Bains with its unique villas from the art nouveau period. From here on, you ride to Bois-de-Cise, a beautiful forest-rich village, with once again impressive villas on the sea foreseen with scenic bike paths.
B - South to the castle of Cotelle, 37 mi.
The next route on this bicycle tour in France runs southwards along the reefs of the Canal. In Le Tréport, you'll climb to the plateau above the chalk cliffs. First you'll come to Mesnil-Val, where you'll feel like you're in England due to the many houses in the Victorian style. Further south, you'll pass a few long drawn out agrarian villages. On the return leg, you'll come across the gardens of Cotelle, with a 17th century castle. You'll ride through the valley of the Yveres while making your way back to your castle-hotel via Eu.
C - Through valleys & to the Château de Blangy, 38 mi.
Route C runs over plateaus, through forests and quiet valleys. Along the way, you'll regularly come across castles. Most of these, however, are privately owned. In Blangy, situated in the valley of the Bresne, you may visit the 16th century Château de Blangy that currently serves as a cultural center. Within the castle, you'll also find a glass museum and geology museum. On the return leg, you'll cycle for a stretch through the valley of the Bresle.
D - Along the coast & chalk cliffs, 29 or 45 mi.
Route D take you northwards. In Le Tréport, you'll ride over the pedestrian bridge to Mers-les-Bains with its pretty villas. You can go to the Notre-Dame de Falaise, high up the chalkstone cliffs and further to the coastal town of Ault, where a noteworthy Romanesque church stands. Here also you have a great view overlooking the chalk cliffs on the sea. Through many agrarian villages, you'll reach St. Blimont. By the church, you can lengthen the day's route to St. Valery on the river de Somme. St. Valery is a lively harbor town with a chapel and an abbey around the towers of Guillaume in the old town center. Upon leaving St. Valery, you may decide to partake on a short round trip on a tourist train through the inlet of de Somme.
E - The valleys of Yéres & Breste, 34 mi.
Finally, there is also a route laid out through the valleys of the Yéres and the Breste. The Yéres is a virgin valley that runs parallel to the Bresle. You will ride through scenic villages, such as Cuverville and Sept-Meules. After a vivacious climb, you'll cycle via Melleville and Guerville to the bustling town of Gamaches that sits picturesquely within the Breste valley. You'll depart Gamaches and ride via quiet country roads back towards Eu.
Email or Call 800-951-4384 +1 570-965-2064
---