4

/

5

(

1

rating)
Oropesa to Caceres: Land of Conquistadors
Spain Bike Tours
A bike tour in Central Spain
This Spain bike tour will take you through the Extremadura; a region of contrast. It is one of the few places in Spain that remains relatively undiscovered by mass tourism and thus possesses an authentic atmosphere. Romans, Barbarians, Muslims, and Christians have all left footprints in the cultural, architectural, and historical landscape of the land.

Starting in Oropesa, you will bike through typical Spanish towns including Jarandilla de la Vera and Plasencia. One of the many highlights of this tour is the National Park of Monfrague; whose massive cliffs are home to a huge variety of birds, such as the Black Vulture, Egyptian Vulture, Imperial Eagle, Booted Eagle, Black Stork, Blue Rockthrush, Rock Bunting, Peregrine and more!

Trujillo, known as the home of the most famous Conquistadors, is one of the area's most important historic and cultural towns. Perched on a hilltop, the walled city overlooks the surrounding serene countryside. The tour will end in the UNESCO World Heritage city of Caceres, a medieval city with an incredible past.

Each night, you will rest and relax in luxurious Parador hotels, federally sponsored accommodations in castles, palaces, convents, monasteries, fortresses and other historic buildings. The hotels are renowned for their high standard of service.

Highlights:

Historical and Unesco sites
Wonderful cuisine
Luxurious accommodations
Unspoilt countryside
Cycling across Monfrague National Park, very rich in birdlife

If you are looking for more, check out all of our bicycle tours in Spain.

Price £ 958 $ 1,509 € 1006 NOK 10060 kr 9286 $ 1,207 Single supplement £ 156 $ 246 € 164 NOK 1640 kr 1514 $ 197 Solo traveler supplement £ 275 $ 434 € 289 NOK 2890 kr 2668 $ 347

extra

options

Electric bike rental £ 48 $ 75 € 50 NOK 500 kr 462 $ 60 Dinners (drinks not included)  £ 143 $ 225 € 150 NOK 1500 kr 1385 $ 180

Extra nights:
Madrid 4* on request
Madrid 3* £ 57 $ 90 € 60 NOK 600 kr 554 $ 72 Single room: £ 105 $ 165 € 110 NOK 1100 kr 1015 $ 132  

please

note

Rates are based on double occupancy.

Information to read before you book.

We recommend purchasing bike trip insurance.

† Currency exchange rate set 90 days before travel.
Where
You'll Stay
In 4 or 5 luxury hotels with exquisite service located in National Heritage properties: unique, historic buildings such as restored palaces, monasteries, or castles.
What's
Included
6 nights accommodation
Breakfasts
Luggage transfer
24-speed bicycle rental with equipment (rear panniers, map carrier, helmet, pump, repair kit)
Route descriptions and maps (one set per room)
Emergency support
What's
Not Included
Extra nights
Remaining meals
Tour
Dates
Arrival daily from March 1 to June 30, September 1 to October 31, 2017
Skill
Level
This self guide tour is rated easy to moderate with daily mileage ranging from 21 to 42 miles. The terrain is rolling with a few steep ascents.
Day-To-Day
Itinerary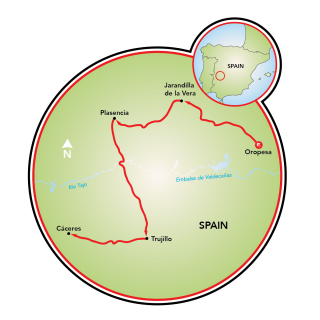 Day 1: Arrival in Oropesa
Day 2: Oropesa to Jarandilla de la Vera, 42 miles (67 km)
Day 3: Jarandilla de la Vera to Plasencia, 36 miles (58 km)
Day 4: Plasencia to Monfrague National Park, 21 miles (33 km)
Day 5: Monfrague toTrujillo, 31 miles (49 km)
Day 6: Trujillo to Caceres, 35 miles (56 km)
Day 7: Departure
Day 1: Arrival in Oropesa
Upon arrival in Oropesa, check in and enjoy your accommodations. You will overnight in a 15th Century palace and castle, rich with history and incredible views of the Sierra de Gredos. The historic value of the "Torre del Homenaje", a tower attached to the Parador, the columns of the courtyard, and the pool with outstanding views over the plains of Campo Arañuelo, make your first evening a truly memorable experience.
Day 2: Oropesa to Jarandilla de la Vera, 42 miles (67 km)
Your cycling adventure begins! Rental bikes will be delivered in the morning and adjusted to your preferences. Through typical Mediterranean woodlands, the route leads to the foothills of the Gredos Mountains, whose granite cliffs are a perfect backdrop for the day's route providing stunning views. Jarandilla de la Vera, final destination of the day, showcases architectural wonders such as the churches of San Agustin and Ntra. Senora de la Torre. Your stay tonight is in a restored castle that once hosted Emperor Charles V for several months!
Day 3: Jarandilla de la Vera to Plasencia, 36 miles (58 km)
This day's cycling is through peaceful countryside to the walled market town of Plasencia. Nestled on the bank of the Jerte River, Plasencia has experienced many benefits (and downfalls) from its strategic location on the Ruta de la Plata- the Silver Route. Palaces, ancestral homes, and significant religious buildings make up the architecture of this beautiful city. 
Day 4: Plasencia to Monfrague, 21 miles (33 km)
Cycling south towards the Tajo River, you will reach the National Park of Monfrague, a well-known place for all bird watching enthusiasts. The landscape here is a unique juxtaposition of farming land and cork and oak trees. The farms in this area are dedicated to raising wild bulls and the famous black "iberico" pig. 
Day 5: Monfrague to Trujillo, 31 miles (49 km)
Trujillo is one of the area's most important historic and cultural towns and is certainly one of Spain's finest gems. The walled hilltop town, which overlooks the expansive countryside, dates back to 600 BC and is famed for its strategic involvement in the discovery of the Americas. 
Several of Spain's most famous conquistadors such as Hernan Cortes who conquered the Aztec empire, Francisco Pizarro who conquered the Inca Empire, and Diego Parades, all called this region home. On their return from the Americas to Trujillo, these Conquistadors built magnificent residences to celebrate their newfound wealth. The legacy of the conquest can be seen in much of Trujillo's perfectly preserved architecture and the impressive bronze statue of Francisco Pizzaro mounted on his horse, which dominates the town's main square.
Day 6: Trujillo to Caceres, 35 miles (56 km)
The scenery of the last bike ride is a beautiful mix of small villages and stunning landscapes. Reaching the monumental city of Caceres, you will be transported back in time as the architecture reflects a blend of Roman, Islamic, Northern Gothic and Italian Renaissance influences. Be sure to explore the narrow cobbled streets as they twist and climb among ancient stonewalls lined with palaces and mansions!
Day 7: Departure
Departure from Caceres, you can extend your journey or take a train back to Madrid.
Looking for a different cycling experience?  View all our featured bicycle tours, specials, and news or look at our full list of bike tours in Europe.
Email or Call 800-951-4384 +1 570-965-2064
---