4.7

/

5

(

3

ratings)
Paris to London
Paris, London, and in between on the Greenway
From one world metropolis to another, this London to Paris cycling tour is indeed world class. Connecting the two cities, from the cathedral square of Notre Dame to Westminster Bridge, the route offers a mosaic of landscapes scattered with castles, cathedrals, and villages.

The Avenue Verte or Greenway, inaugurated a few years ago, brings Paris and London closer than ever. Beginning in France, your tour will progress from the capital to Dieppe where you will continue in the Epte valley, then along the wooded banks of the Seine River where Monet painted his water lilies, and through the Oise valley with its lovely natural light and rich landscape, a source of inspiration for many of the Impressionists such as Daumier, Pissarro, Cézanne, and Van Gogh.

A four-hour ferry crossing will take you over the Channel to the port of Newhaven from which the adventure continues along the immaculate and rugged cliffs of South Downs to Brighton. From here you cross the gentle hills of the Sussex and the beautiful countryside. You will end your cycling in London, the heart of cosmopolitan England.

Want to see more bike tours in England?

2018 Prices

Self-guided:  £ 725 $ 1,289 € 885 NOK 8703 kr 8033 $ 1,044

Single supplement: £ 393 $ 699 € 480 NOK 4720 kr 4357 $ 566

Guided:  £ 922 $ 1,639 € 1125 NOK 11063 kr 10212 $ 1,328

Single supplement: £ 393 $ 699 € 480 NOK 4720 kr 4357 $ 566

extra

options

2018

Electric bicycle: £ 90 $ 160 € 110 NOK 1082 kr 998 $ 130

Helmet rental: £ 12 $ 22 € 15 NOK 148 kr 136 $ 18

Extra nights

Paris:  £ 74 $ 131 € 90 NOK 885 kr 817 $ 106

Single room: £ 139 $ 248 € 170 NOK 1672 kr 1543 $ 201

London: on request

please

note

Reduction for 3rd person in room: - £ 123 $ 219 € 150 NOK 1475 kr 1362 $ 177

Rates are per person based on double occupancy.

Information to read before you book.

We recommend purchasing bike trip insurance.

† Currency exchange rate set 90 days before travel.

Travel

Fly into Paris and out of London.

Local Travel

Taxi to first hotel.

Climate

Please check local conditions before arrival. Average high/low temperatures in degrees Fahrenheit for the region are: July, 71°/53°; and August, 71°/52°

---
Skill
Level
This is an easy to moderate self-guided or guided hotel to hotel tour. The terrain varies from flat to rolling hills. Routes are 90% asphalted and 10 % unpaved country roads. Total elevation is 1,675 m. A support vehicle is being offered for both the guided and self-guided packages. This means that in addition to a guide for the guided tour, individual clients can count on the support of a vehicle traveling nearby. Thanks to this service, individual clients can enjoy a worry-free cycling holiday!
Where
You'll Stay
Accommodations in high quality 3 and 4 star hotels with one 2 star hotel
What's
Included
SELF GUIDED:
7 nights' accommodations
Breakfast buffets
Luggage transfer
Hybrid Bicycle
Route descriptions and maps
Ferry Dieppe/Newhaven
Van support
Hotline and emergency service
GUIDED: (in addition to above)
Tour guide/van support
5 Dinners
What's
Not Included
Lunches and dinners on self-guided tour.
All train transfers
Tour
Dates
2018
Self Guided Tour:
Every Saturday from June 30 to August 25, 2018
Every Friday from August 3 to August 10, 2018
Guided Tour: June 30, July 7, July 28, August 4, August 11, 2018 
Day-To-Day
Itinerary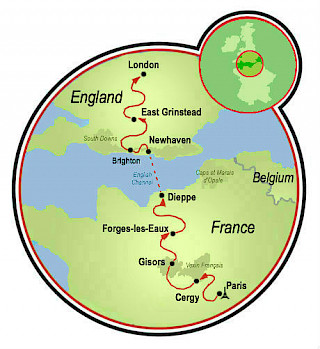 Day 1: Arrival in Paris
Day 2: Paris - Cergy, 33 miles (55 km)
Day 3: Cergy - Gisors, 41 miles (65 km)
Day 4: Gisors - Forges-les-Eaux, 39 miles (65 km) 
Day 5: Forges-les-Eaux - Newhaven 36 miles (60km)
Day 6: Newhaven - East Grinstead, 34 miles (55 km) 
Day 7: East Grinstead - London, 28 miles (45 km) 
Day 8: Departure
DAY 1: Arrival in Paris 
Individual arrival in Paris.
DAY 2: Paris - Cergy, 33 miles (55 km)
Au revoir Paris! Starting from Notre Dame you can either choose to leave Paris from Canal St Denis or follow the Axe Historique from the Louvre with the Champs Elysées through the Arc de Triomphe till the new Défense district. After Nanterre, you will come to the islands and parks so dear to the impressionists who would spend the afternoon 'en plen air' on a boat between the Seine and the Marne. Welcome to the Promenade Bleue in Paris!
DAY 3: Cergy - Gisors, 36 miles (60 km)
Your journey continues through the heart of the Vexin natural park, home to picturesque towns, castles, and farmhouses. After Théméricourt and its spectacular Maison du Parc, you continue to Villarceaux and its eighteenth-century castle of the same name. After the little town of Bray-et-Lû you will proceed along the river Epte to Gisors and the fortress marking the historical Franco- Norman border. 
DAY 4: Gisors - Forges-les-Eaux, 39 miles (65 km)
Departing Gisors, you cycle through the typical countryside and the rich landscapes of the regions of Eure and Seine-Maritime, among which the Pays de Bray stands out due its territory of lush meadows, hedged farmlands, and forests. Today the tour ends in Forges-les-Eaux, a spa resort since the XVI century, noted as one of the most beautiful destinations in France and home of the Casinò. 
DAY 5: Forges-les-Eaux - Newhaven, 36 miles (60 km) 
From Forges-les-Eaux you follow the brand new cycle path that will take you directly to the sea, through the wonderful countryside dotted with farms that supply their excellent products to the Norman and Parisian markets. Along the second half of the route, the landscape is tinged with blue as you pass through the Arques estuary, overlooked by the castle and ancient sand caves that have become a refuge for marsh birds. Here you are in Dieppe, France's leading seaside resort and a favorite with a great many impressionist painters. At around 5 pm, you will depart for the trip across the Channel. Transfer and overnight in Newhaven.
DAY 6: Newhaven - East Grinstead, 33 miles (55 km) 
From Newhaven, take the train to Polegate where you start to pedal. Alternately, you can also cycle till Brighton and take the train form there.  This will extend your biking by 20 km. Along the Cuckoo Valley and the old railway line, you will come to Heathfield and from here it gets more difficult,  but once in Groombridge the biking gets flat again.  Following the Forest Way, you arrive to the historic local market town of East Grinstead. 

DAY 7: East Grinstead - London, 28 miles (45 km) 
From East Grinstead you take the Worth Way, a cycle path through a wonderful wood to Crawley, an ultramodern city, which will get you ready for The Old Smoke itself, London. From here you take the train to Couldson, where you start cycling through green parks and quiet districts to the heart of London. Your tour will conclude in Westminster.

DAY 8: Departure
Your Europe bike tour will end after breakfast 
Looking for more?  View all our featured bicycle tours, specials, and news or look at our full list of bike tours in Europe.
Email or Call 800-951-4384 +1 570-965-2064
---