4.7

/

5

(

7

reviews)
Paris to London Bike Tour
Paris, London, and in between on the Greenway
From one world metropolis to another, this London to Paris cycling tour is indeed world-class. The Avenue Verte or Greenway, inaugurated a few years ago, brings Paris and London closer than ever. Connecting the two cities, from the cathedral square of Notre Dame to Westminster Bridge, the route offers a mosaic of landscapes scattered with castles, cathedrals, and villages.

Highlights:

Paris
Dieppe
Epte Valley
Wooded banks of the Seine River (scene of Monet's water lilies)
Oise Valley - with its lovely light and rich landscape, source of inspiration for the Impressionists
Channel ferry crossing
Rugged cliffs of South Downs
Gentle hills of the Susses
London, cosmopolitan heart of England
470 km of a dedicated cycling path or rural cycling route

Want to see more bike tours in England?

2020

Self-guided:  $ 1715 £ 855 $ 1,500 € 940 $ 1760 kr 10623 $ 1,057

Single supplement: $ 894 £ 446 $ 782 € 490 $ 917 kr 5537 $ 551

Guided:  $ 2190 £ 1091 $ 1,914 € 1200 $ 2247 kr 13561 $ 1,350

Single supplement: $ 894 £ 446 $ 782 € 490 $ 917 kr 5537 $ 551

extra

options

Electric bicycle: $ 201 £ 100 $ 175 € 110 $ 206 kr 1243 $ 124

Helmet rental (head circumference from 54 to 61 cm): $ 27 £ 14 $ 24 € 15 $ 28 kr 170 $ 17

Extra nights

Paris: pending

London: on request

please

note

Reduction for 3rd person in room: $ 274 £ 136 $ 239 € 150 $ 281 kr 1695 $ 169

Rates are per person based on double occupancy.

A non-refundable admin fee of 20 Euros per person is included in the deposit amount.

Information to read before you book.

We recommend purchasing bike trip insurance.

† Currency exchange rate set 90 days before travel.

Travel

For this tour, the most convenient travel scenario is to fly into Paris (Paris Charles de Gaulle (CDG), located 20 km from the city center) and out of London. (Heathrow (LHR) is the main international airport in London located 26 km from the city center.
Arrival in Paris (CDG):
Connection by train:
From the airport to the railway station Gare du Nord: train RER B direction "Saint Rémy lès Chevreuse" about every 15 min on weekdays, transfer 35 min, ticket price about € 10.
Connection by bus:
From airport to train station Gare de l'Est: bus no. 350 leaves every 20-30 minutes, transfer approx. 60-80 min, ticket about 6 €.
Departure from London Heathrow (LHR):
Connection by train:
The non-stop Heathrow Express train takes 15 minutes between London Paddington and Heathrow Terminals 2 & 3 and just 6 minutes more from to Terminal 5. Purchase tickets before travel at heathrowexpress.com or from a ticket machine in stations.

Local Travel

Taxi to first hotel.

Climate

Please check local conditions before arrival. A great resource for checking temperatures and precipitation levels is weatherbase.com
France: In Paris, summer days are usually warm and pleasant with average temperatures hovering between 15 and 25 °C (59 and 77 °F) and a fair amount of sunshine. Each year, however, there are days where temperatures rise above 32 °C (90 °F). Normandy is on the west coast of France and has a warm climate. Good levels of rain mean that the countryside is green but there are usually more sunny days than cloudy or rainy days. Due to its northern latitude and coastal position, the weather does not get to the high temperatures seen elsewhere in France and it can be unpredictable. However, occasional days reaching 80 degrees F (27 ° C) are not unusual in the summer.
South-east England: Summer (June - mid-September) is usually warm and pleasant but continental air from mainland Europe or the Azores High can occasionally lead to hot and muggy weather. Westerly winds from the Atlantic can make the area cool and unsettled.

Documents

It is each traveler's responsibility to research your country's travel requirements and to insure that you are in compliance. 

Before you travel, please check your country's passport and visa requirements and the passport and visa requirements of the country/countries you plan to visit. For US citizens, the US Department of State website is a good source of information. The Country Information tab in the International Travel section provides details about passport validity, blank passport pages required, etc. For our other international clients, please be sure that you research your own country's travel requirements. It is each traveler's responsibility to ensure proper documentation.

*Important note: Beginning July 1, 2021, additional documentation from the European Travel Information and Authorization System (ETIAS) will be required to visit any of the 26 Schengen-member countries for tourism, business,

FERRY Dieppe - Newhaven

 Due to new regulations introduced by the British government, additional information are needed in order to board the ferry boat crossing the English channel

Following compulsory information must be provided when booking the tour to reserve ferry transfer:
Full names (as written on the passport/ID card)
Passport/ID card number and expiry date, nationality, date of birth.
 

---
Tour
Dates
2020
Self Guided Tour:
Saturdays from June 27 to August 22, 2020
Fridays, August 7and August 14, 2020
Guided Tour: 
Saturdays, July 4, July 11, August 1, August 8, and August 15, 2020
*Speical departure dates out of season for at least 8 people (price on requests)
Skill
Level
This is a moderate self-guided or guided hotel to hotel tour. The terrain varies from flat to rolling hills. Routes are 90% asphalted and 10 % unpaved country roads. Total elevation is 1,675 m. The route follows the Avenue Verte along dedicated cycle paths, road shoulders, cycle lanes, and quiet country roads. The route is mainly in the lowlands when it follows the main rivers, and then becomes slightly more difficult in the countryside areas, especially in England. A support vehicle is being offered for both the guided and self-guided packages. This means that in addition to a cycling guide for the guided tour, and on self guided tour, clients can count on the support of a vehicle traveling nearby.

Total length: 340 km
Total vertical up: 1850 m
Terrain: 90% tarmac, 10% unpaved
Train connection among the overnight stays: every day
Possibility to shorten the itinerary by taking the train: day 2, 4, 6 and 7
Where
You'll Stay
Accommodations in high quality 3 and 4 star hotels with one 2 star hotel
What's
Included
SELF GUIDED:
7 nights accommodations
Breakfast buffets
Welcome briefing
Luggage transfer
27-speed city touring bike with Shimano Deore gearing featuring aluminum frame, mudguard, rear rack, and gel saddle
Accessories: cycle computer, one rear pannier, handles bar bag or map holder, water bottle, repair kit (spare inner tube, glue, patch, pump, allen keys, and tire levers, bike lock
Route descriptions and maps
†Ferry Dieppe/Newhaven
Support van in the area
Hotline and emergency service
Local hotel taxes
†See Travel Details section for important information regarding the booking of the ferry
GUIDED: (in addition to above)
Cycling tour guide
5 Dinners
What's
Not Included
Lunches and dinners on self-guided tour
Beverages with meals on guided tour
All train transfers
Day-To-Day
Itinerary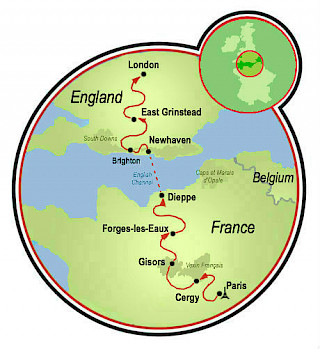 Day 1: Arrival in Paris
Day 2: Paris - Cergy, 33 miles (55 km)
Day 3: Cergy - Gisors, 37 miles (60 km)
Day 4: Gisors - Forges-les-Eaux, 39 miles (65 km) 
Day 5: Forges-les-Eaux - Dieppe, 36 miles (60 km)
Day 6: Dieppe - Brighton, 25 mi. (20 km + ferry + 20 km)
Day 7: Brighton - London, train + 28 miles (train + 45 km) 
Day 8: Departure
Day 1: Arrival in Paris 
Individual arrival in Paris. If you arrive early enough you can plan a vist of the Ville Lumière.
Day 2: Paris - Cergy, 33 miles (55 km)
Au revoir Paris! Starting from Notre Dame you can either choose to leave Paris from Canal St Denis or follow the Axe Historique from the Louvre with the Champs Elysées through the Arc de Triomphe till the new Défense district. After Nanterre, you will come to the islands and parks so dear to the impressionists who would spend the afternoon 'en plen air' on a boat between the Seine and the Marne. Welcome to the Promenade Bleue in Paris! Please note that you will have traffic to contend with. Total elevation: 160 m
Day 3: Cergy - Gisors, 36 miles (60 km)
Your journey continues through the heart of the Vexin natural park, home to picturesque towns, castles, and farmhouses. After Théméricourt and its spectacular Maison du Parc, you continue to Villarceaux and its eighteenth-century castle of the same name. After the little town of Bray-et-Lû you will proceed along the river Epte to Gisors and the fortress marking the historical Franco- Norman border. On this day you will have stretches of unpaved paths. Total elevation: 310 m
Day 4: Gisors - Forges-les-Eaux, 39 miles (65 km)
Departing Gisors, you cycle through the typical countryside and the rich landscapes of the regions of Eure and Seine-Maritime, among which the Pays de Bray stands out due its territory of lush meadows, hedged farmlands, and forests. Today the tour ends in Forges-les-Eaux, a spa resort since the XVI century, noted as one of the most beautiful destinations in France and home of the Casinò. Total elevation: 420 m 
Day 5: Forges-les- Eaux - Dieppe, 36 miles (60 km) 
From Forges-les-Eaux you will follow the brand new cycle path that will take you directly to the sea, through the wonderful countryside dotted with farms that supply their excellent products to the Norman and Parisian markets. Along the second half of the route, the landscape is tinged with blue as you pass through the Arques estuary, overlooked by the castle of the same name and ancient sand caves that have become a refuge for marsh birds. Here you are in Dieppe, France's first seaside resort and a favorite place for many impressionist painters. Total elevation: 70 m
Day 6: Dieppe - Brighton, 25 mi. (20 km + ferry + 20 km)
After a short loop around Dieppe, at about 12:30, you will embark to cross the English Channel and will arrive in Newhaven, where you will continue cycling along the wonderful Undercliff Walk, a stunning path along the sea. You will finally reach Brighton, famous and elegant English tourist resort. Do not miss a visit to the beautiful Royal Pavillion and an evening walk on the Brighton Pier. Total elevation 570 m

Day 7: Brighton - London, train + 28 miles (train + 45 km) 
After a train transfer up to Redhill, you will start cycling through wonderful parks and brand-new cycle paths, and will finally arrive in Westminster, in the heart of London.

Day 8: Departure
Your Europe bike tour will end after breakfast 
Looking for more?  View all our featured bicycle tours, specials, and news or look at our full list of bike tours in Europe.
Email or Call 800-951-4384 +1 570-965-2064
---