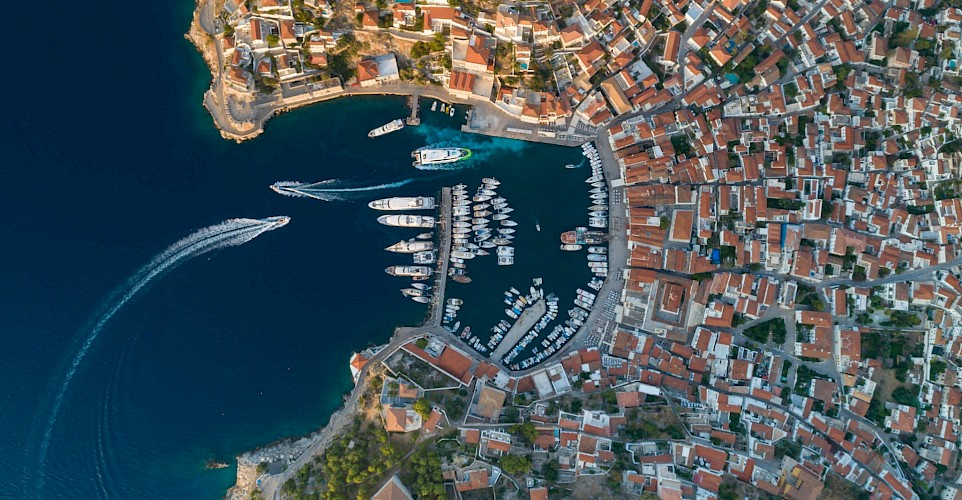 Peloponnese Cycling & Hiking
A guided tour through the unspoiled Peloponnese region!
Overview

The Peloponnese region of Southern Greece is a mythical place, known for its rugged beauty and the lore of ancient gods and legends.

This biking and hiking tour, starting and ending in Athens, takes you from the bustling Greek capital to the scenic countryside where you'll visit historic archeological sites and swim in the stunning blue waters of the Aegean Sea.

Pedaling through idyllic orange and olive groves, with incredible coastlines that stretch for miles, it is no wonder this place inspired the mythology we still hear about today.

Highlights

Athens, the Acropolis & Parthenon
Tomb of Atreus in Mycenae
Visit to Nafplio
Sailing in the Argo-Saronic Gulf
Hike to Methana Volcano
Ancient Theater of Epidaurus
The Devil's Bridge near Methana

Itinerary

Day 1: Arrival in Athens
Day 2: Mycenae - Nafplio - Tolo, 30 mi. (48 km)
Day 3: Tolo & Argo-Saronic Gulf sailing
Day 4: Tolo - Palia Epidauros, 30 mi. (48 km)
Day 5: Palia Epidauros - Methana, 30 mi. (48 km)
Day 6: Methana Hike, return to Athens, 1.6 mi. (2.6 km)
Day 7: Departure from Athens

All distances are approximate. Due to circumstances beyond our control, weather conditions, or provisions issued by local authorities, the itinerary may be subject to some changes before and/or during your holiday.

Day 1: Arrival in Athens
Arrival at Athens International Airport (ATH). Our local tour guide will meet you and you will be transferred to the first hotel. After a short briefing, you'll head to dinner (included) at a local tavern where you'll get to know the rest of the group and discuss the week ahead. 

Sample accommodation:
Acropolis Hill

Day 2: Mycenae - Nafplio - Tolo, 30 mi. (48 km)
Early in the morning, you will be transported by minivan to discover one of the most ancient civilizations in the world visiting the archaeological site of Mycenae and the Tomb of Atreus. The ancient citadel of Mycenae has been standing here for almost 4000 years, with its giant walls and magnificent tombs of its Kings and Queens. After your visit, you'll begin pedaling through a huge orange grove to the town of Nafplio, which was the first capital of modern Greece. According to mythology, the town was founded by Nafplios, the son of the god Poseidon and the daughter of Danaus Anymone. The day ends in Tolo, where your hotel lies right next to the beach. 

Elevation Gain: 1150 ft/350 m

Sample accommodation:
Hotel Dolphin

Day 3: Tolo & Argo-Saronic Gulf sailing
Today you will explore the beautiful Argo-Saronic gulf which is part of the Aegean Sea. The crystal clear waters and stunning beaches of the area will entice you. You will spend the day swimming, sailing, and enjoying coastal life. 

Sample accommodation:
Hotel Dolphin

Day 4: Tolo - Ancient Theater of Epidaurus - Palia Epidauros, 30 mi. (48 km)
After breakfast, you will cycle to the Ancient Theater of Epidaurus, a UNESCO World Heritage Site. Probably the most beautiful and best preserved of its kind, this theater dates back to the 4th century BC. Even by today's standards, this monument stands out as a unique artistic achievement through its admirable integration into the landscape and, above all, the perfection of its proportions and incomparable acoustics. Afterward, you will have a chance to visit the Natural History Museum located in a village nearby. You'll cycle on quiet roads ending back at the seaside in the town of Palia Epidauros.

Elevation Gain: 2200 ft/670 m

Sample accommodation:
Binji Hotel

Day 5: Palia Epidauros - Methana, 30 mi. (48 km)
The cycling route overlooks one of the most dramatic coastlines of the Peloponnese. Here you will enjoy views of the Saronic Gulf and its blue waters following a scenic road on the side of a mountain. You will pedal through Ancient Trizina, the birthplace of Theseus, the mythical hero that killed the Minotaur, and have a short break at Theseus Rock. A quick Greek mythology lesson will transport you to another world while you take in the magnificent scenery full of olive trees. You'll also do a short hike to Devil's Bridge, a natural, bridge-like passage carved out of the rocks by the water running through the gorge underneath. Methana town is today's destination with the sea as your constant companion. 

Elevation Gain: 2500 ft/762 m

Sample accommodation:
Hotel Appolon

Day 6: Methana hike, return to Athens, 1.6 mi. (2.6 km)
In the morning, you will hike through a beautiful pine forest to the Volcano of Methana and see its crater. In the afternoon, you will hop on to the ferry back to Athens to visit the Acropolis, the most famous ancient archaeological site in the world and a highlight of the week! Here you will have the opportunity to see the most famous ancient building in Greece, the great Parthenon. After visiting the Acropolis and the surrounding historical area of Athens, you will return to the hotel. Your trip is almost at an end but not without one last amazing Greek dinner!

Elevation Gain: 300 ft/91 m

Sample accommodation:
Acropolis Hill

Day 7: Departure from Athens
The tour concludes after breakfast, you will be transported back to the airport or we can arrange extra nights in this beautiful city!

Looking for more?  View all our featured bicycle tours, specials, and news, or look at our full list of bike tours in Europe.

Hotels & Bikes

This tour features very good 3-star and 4-star accommodations located in central locations. A sample hotel list can be found in the day-to-day itinerary.

Bicycles

Inclusions

What's Included

6 nights accommodation
All breakfasts & 2 dinners (additional meals can be added for a supplement)
Tour guide
Support vehicle
24-speed hybrid bicycle including helmet (all participants are required to wear a helmet)
Luggage transfers (limited to 1 suitcase or backpack up to 60L + 1 daypack between 25-30L per person)
Airport transfers
Acropolis entrance fee
Mycenae entrance fee
Epidaurus Theater entrance fee
Sailing trip
Ferry tickets
Local taxes

What's Not Included

Arrival and departure to Athens
Remaining meals
Bike protection

Dates & Pricing

Dates

2023

Any Saturday from May through June & September through October.

A minimum number of 6 is required to confirm a tour, maximum of 16 in a group. 

Please Note

Rates are based on double occupancy
Tour prices are based on the fuel costs at time prices are set, often months or years in advance. In rare cases, additional fees may apply for fuel cost increases.

Pricing

 Twin/double  $ 2923 £ 1679 $ 2,714 € 1835 ₪ 6917 NZ$ 3196 NOK 20677 kr 21345 $ 2,024

Single supplement $ 414 £ 238 $ 385 € 260 ₪ 980 NZ$ 453 NOK 2930 kr 3024 $ 287

Extra Options

Electric bike rental $ 287 £ 165 $ 266 € 180 ₪ 678 NZ$ 313 NOK 2028 kr 2094 $ 198

Meals included (4 dinners, light lunches, and snacks from day 2 - 6) $ 287 £ 165 $ 266 € 180 ₪ 678 NZ$ 313 NOK 2028 kr 2094 $ 198

Wine tasting $ 96 £ 55 $ 89 € 60 ₪ 226 NZ$ 104 NOK 676 kr 698 $ 66

Sea kayaking tour $ 127 £ 73 $ 118 € 80 ₪ 302 NZ$ 139 NOK 901 kr 931 $ 88

Extra Info

Skill Level — Moderate

This guided tour takes place on 90% paved roads, 10% gravel or dirt. Most of them are secondary roads with little to no traffic. The elevation is listed in the day-to-day itinerary.

Airport Info

Fly to Athens International Airport (ATH).

Local Travel

Airport transfers on arrival and departure days are included.

Climate

Greece has a typical Mediterranean climate, which lends itself to mild winters and dry summers. The best times to visit Athens are spring and autumn, especially from mid-April to late May and from mid-September to early October.

Day of Rest

Day 3 includes non-biking activities meant for relaxation and sightseeing by foot.

Remarks

Wearing a helmet is mandatory for anyone taking part in this tour.

Covid-19 Info

Country Entry Requirements

Due to the changing requirements for entry, it is imperative that you stay up to date on requirements set by the country/countries that you are visiting. Please visit our Travel Restrictions Tool page and the country/countries government webpage for this information.

Extra Stay

Extra nights are possible in Athens, please ask for pricing.

---

Photos
Have you been on this tour?
Please leave your feedback