4

/

5

(

1

rating)
Prague to Dresden
Bike Germany along the Elbe bike route
As the Vltava and Elbe Rivers flow, so rides this bike tour in Prague and Dresden goes through beautiful countryside, picturesque towns and scenic parks. Starting in Prague, the "City of a Hundred Spires" will amaze you with the number of historical sites contained in such a small area. Left largely untouched during the great World Wars, it has retained its unique character.

Dresden is the second major cultural center on this tour. Dresden is known for its Baroque architecture while its Frauenkirche is considered the world's finest Protestant church. Other notable landmarks are the Catholic Hofkirche (Saxony's largest church) and the Residenzschloss.

Between cycling in Prague and Dresden, you will bike on paths along the Moldau and Elbe Rivers, passing through small, pictureque villages and romantic riverscapes and passing by numerous and chateaux. Highlights include the Czech Switzerland National Park, the Basteri Bridge , and the Königstein Fortress.

Be sure to check out our other Czech bike tours, and Germany, too!

Self-Guided

Season 1: £ 605 $ 953 € 635 NOK 6350 kr 5862 $ 762

Season 2: £ 638 $ 1,005 € 670 NOK 6700 kr 6185 $ 804

Season 3: £ 676 $ 1,065 € 710 NOK 7100 kr 6554 $ 852

Single supplement: £ 167 $ 263 € 175 NOK 1750 kr 1615 $ 210

Guided:  £ 962 $ 1,515 € 1010 NOK 10100 kr 9323 $ 1,212

Single supplement: £ 181 $ 285 € 190 NOK 1900 kr 1754 $ 228

extra

options

Electric bicycle: £ 95 $ 150 € 100 NOK 1000 kr 923 $ 120

Extra nights (price is per person/night):

Prague (4 star):  £ 57 $ 90 € 60 NOK 600 kr 554 $ 72

Single supplement: £ 29 $ 45 € 30 NOK 300 kr 277 $ 36

Dresden (4 star):  £ 62 $ 98 € 65 NOK 650 kr 600 $ 78

Single supplement: £ 24 $ 38 € 25 NOK 250 kr 231 $ 30

please

note

Rates are based on double occupancy.

Information to read before you book.

We recommend purchasing bike trip insurance.

† Currency exchange rate set 90 days before travel.
Tour
Dates
Self guided: Arrival every Friday, Saturday, and Sunday from April 7 to September 24, 2017

*Guided: July 8, July 29,  and August 12, 2017
*A minimum of 8 participants is needed to secure departure date.
Season 1: April 7 to May 7 + September 8 to September 24
Season 2: June 30 to September 3
Season 3: May 12 to June 25
Skill
Level
Easy to Moderate self-guided or guided hotel tour. From Prague to Melnik there are some ascents to be managed, otherwise a fairly easy route along the Elbe bike path. Daily distances range from 13 to 35 miles with the whole day to complete the mileage. Paths are mostly on good asphalt country roads & bike paths but occasionally there are gravel or dirt paths.
Where
You'll Stay
In very nice, clean, and comfortable middle class hotels, inns, & B&B's. All rooms with private facilities.
What's
Included
Hotel accommodations for 7 nights
Breakfasts
Detailed maps & route descriptions
Welcome briefing
21-speed hybrid bicycle
Luggage transfer
Sign posted route
Service hotline
Also included in the Guided tour:
English and German speaking tour guide
5 x 3 course dinner or buffets
Support vehicle
Visit to the Königsstein Fortress
Guided city tour in Prague, Leitmeritz, Pirna, and Dresden
All entrance fees, city tours, and transfers for duration of tour
What's
Not Included
Individual arrival to Prague
Remaining meals
Return transfer from Dresden to Prague incl. own bike: €65 per person, payable locally (must be requested at time of booking)
Extra
Stay
Extra nights possible in Prague or Dresden.
Day-To-Day
Itinerary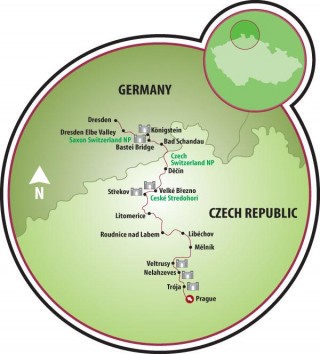 Day 1: Arrival in Prague
Day 2: Sojourn in Prague
Day 3: Prague - Mělník, 35 mi. (55 km)
Day 4: Mělník - Leitmeritz, 32 mi. (50 km)
Day 5: Leitmeritz - Děčín, 32 mi. (50 km)
Day 6: Děčín - Pirna, 29 mi. (45 km)
Day 7: Pirna - Dresden, 16 mi. (25 km)
Day 8: Departure from Dresden
All distances are approximate.
DAY 1: Arrival in Prague.
Individual arrival and transfer to the hotel. Upon arrival, perhaps a sightseeing tour of the city. In the evening, a briefing regarding the tour, review of itineraries, adjustment of bikes, and questions and answers.
DAY 2: Sojourn in Prague.
This day is entirely devoted to the "Golden City". Visit the Hradschin (castle district) surrounding the king's old palace. From the Old Town Square, a walk across the famous Charles Bridge will take you to Prague Castle. Founded in 870, the Castle (the biggest in the world!) is a huge hilltop complex that also contains the great Gothic St. Vitus Cathedral (the country's largest church), the Romanesque St. George's Basilica, and the Royal Palace as well as a monastery, museums and gardens!!  Discover the nightlife of Prague with innumerable cultural events.(Guided city tour included with the group tour)
DAY 3: Prague - Mělník, 35 mi. (55 km)
Despite the first small ascent, today's stage follows a nice trail to the heart of the Czech wine region – the town of Mělník. Located on a prominent hill, this town is the center of a small Bohemian wine-growing region dating back to the 9th century. It is a good warm-up for our further bike stages. Just before leaving Prague, you pass the Troja Baroque Castle and continue to the North following the bank of the Vltava River. The river cuts into the ground here, which creates very interesting rock formations and deep valleys. Visits of castles in Nelahozeves and Veltrusy are the biggest highlights of this day. End this stage in an old wine town at the confluence of the Vltava and Elbe Rivers with a glass of good wine.
DAY 4: Mělník - Leitmeritz, 32 mi. (50 km)
Today's stage leads through a calm Elbe region and is without significant altitude changes. This region is one of the most fertile regions in the Czech Republic. Due to the confluence of the Vltava and Elbe Rivers, the river gains on its mightiness and strength and slowly becomes a European major waterway. After passing the Libechov Castle, you arrive in the town of Roudnice nad Labem and have a chance to admire an old church and castle. The most impressive stop on today's stage is the massive Terezin Fortress from the turn of the 18th century, which illustrates the military architecture of that time. The seamy side of its history is the World War II period. This era was filled with hatred and cruelty and dramatically altered the history of Terezin, a place which the Nazis used as a Jewish concentration camp. We will conclude the day in an old town and spiritual center of this region – in the town of Litomerice, which is an anti-pole to the horrific Terezin Fortress.
DAY 5: Leitmeritz - Děčín, 32 mi. (50 km)
This day is designed for exploration of the romantic countryside of the Czech Middle Mountains. Even though this region is very hilly, you follow the banks of the Elbe River most of the time while hills with several age-old ruins surround you. This former volcanic region has always been an ideal terrain for building castles and fortresses, many of which have unfortunately not been preserved. The Strekov Castle, which was built on top of a steep rock cliff, belongs among one of the most romantic castles in the Czech Republic. After a more strenuous climb, we will be rewarded by a magnificent view from its walls. The final point of this stage will be the Northern Gate of the Czech Republic and the town of Decin, a town with the lowest altitude in the Czech Republic.
DAY 6: Děčín - Pirna, 29 mi. (45 km)
Today will mesmerize you as you pass the border into Germany, where the gigantic rocks of the Elbe Sandstone mountains will welcome you. You will find yourself in Bad Schandau.  The 2009 Quentin Tarantino film, Inglorious Basterds, was primarily shot in this town. It is better known for its thermal springs. Past bizarre rock formations along the Elbe you will come to the Königstein (meaning King stone) fortress. Overnight in Pirna (guided city tour included with Guided tour)
DAY 7: Pirna - Dresden, 16 mi. (25 km)
Before pedaling your way to this tour's final destination, you can visit Europe's largest fortification and enjoy the spectacular view over the Elbe valley. Past the Pilnitz castle you make your way on to Dresden.  
DAY 8: Departure from Dresden.
There is probably no other town in Germany which better symbolizes the turbulent history of this country and shows many centuries of cultural and architectural boom combined with religious freedom and economic prosperity. A short admiration of Nazism was followed by a cruel punishment in the form of the biggest bombing during World War II, which turned almost the entire city into ruins overnight. After-the-war resurrection turned into forty years of communistic unimportance that was followed by twenty years of renewal and reconstruction. Thanks to this renovation of the entire city, today we can admire the beauties of this place, which has earned the nickname "Florence of the Elbe".
Be sure to check out all of our bike tours in Europe or look at our featured bike trips, specials, and news.
Email or Call 800-951-4384 +1 570-965-2064
---