Provence Road Bike Tour
Cycle the famous Mont Ventoux as in the Tour de France…
Bike in Provence from the saddle of your two-wheeled cycling machine! Discover the countryside that has attracted so many Impressionist painters. Admire the Roman influence all through the area, the theatre in Orange with its magnificent theater wall, the Pont-du-Gard, the excavation sites in Vaison-la-Romaine and the medieval village of Les Baux-de-Provence. Not forgetting the culinary delights of the region, wines, cheeses and a cuisine seasoned with the herbs of Provence.

You will find plenty of sporting challenges on this tour – the Plateau de Vaucluse, the Luberon, the Alpilles, and not forgetting the giant of Provence, Mont Ventoux! Boasting 300 sunny days a year, Provence cycling is a bikers paradise mid-March until the end of October.

Every day you can choose between two trips, approximately 75 km/47 miles or 115 km/71 mi. There are two nights stay in both Vaison-la-Romaine and Apt. This saves you some repacking and will give you a chance to get to know the region a little better. A specially prepared roadbook will make this one smooth cycling experience.

This Provence bike tour has been created for cyclists with a substantial level of fitness. Provence is a mountainous region with demanding 'ups' and rewarding 'downs'. Sometimes the climbs are often as long as 10 km to 20 km, the longest being of course Mont Ventoux. In between there are always flat stretches. Mostly the routes are well paved roads avoiding the busier main roads where possible. Heavier traffic is unavoidable at the entrances and exits in the larger towns.

Want to see more bicycle tours in France?

2017

Arrival April 15 to June 24 and September 02 to October 21: £ 1081 $ 1,724 € 1135 NOK 11350 kr 10477 $ 1,362

Arrival July 01 to August 26: £ 1100 $ 1,754 € 1155 NOK 11550 kr 10662 $ 1,386

Single supplement (if travelling with group): £ 281 $ 448 € 295 NOK 2950 kr 2723 $ 354

Additional supplement (if travelling alone): £ 186 $ 296 € 195 NOK 1950 kr 1800 $ 234

extra

options

2017

Extra nights in Orange (per person/night)

Double occupancy: £ 57 $ 91 € 60 NOK 600 kr 554 $ 72

Single supplement: £ 24 $ 38 € 25 NOK 250 kr 231 $ 30

please

note

Rates are based on double occupancy.

Information to read before you book.

We recommend purchasing bike trip insurance.

† Currency exchange rate set 90 days before travel.

Travel

The closest airports are Marseille or Nice.

Local Travel

Closest main train station is Orange (TGV station).

Climate

Average high temp in °F for Avignon is 59° for Mar; 67°, Apr; 74°, May; 82°, Jun; 87°, Jul; 87°, Aug; 78°, Sept; 68°, Oct; & 56° Nov.

Remarks

The bikes are equipped with flat pedals. We recommend bringing your own!

---
Where
You'll Stay
Accommodations in quality 2 and 3 star hotels.
What's
Included
Hotel accommodations for 7 nights in 2 and 3 star hotels
Breakfasts
Luggage transfer
One tour book per room
Road bike equipped with flat pedals
Odometer, repair kit with spare tube, bottle holder, and helmet
What's
Not Included
All meals other than what is included
Extra
Stay
Extra nights possible in Orange.
Tour
Dates
2017
Arrival every Saturday from April 15 till October 21, 2017
Skill
Level
This Provence bike tour is classified as a difficult self guided road bike tour with long distances and long climbs.
Day-To-Day
Itinerary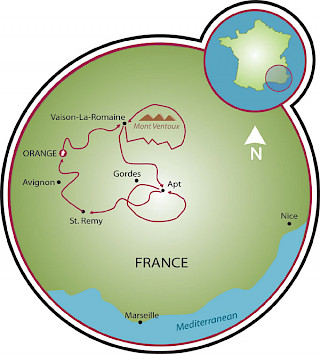 Day 1: Arrival in Orange
Day 2: Orange – Vaison-la-Romaine, 38 to 70 mi. (61 to 112 km)
Day 3: Vaison – Mont Ventoux – Vaison, 47 to 68 mi. (75 to 110 km)
Day 4: Vaison – Apt, 56 to 68 mi. (90 to 110 km)
Day 5: Apt – Luberon - Apt, 50 to 65 mi. (80 km to 105 km)
Day 6: Apt – St. Remy, 55 to 64 mi. (88 to 103 km)
Day 7: St. Remy – Orange, 50 to 64 mi. (80 to 103 km)
Day 8: Departure from Orange
* Please note that the Mont Vendoux is closed until May 1st, depending on snow levels. If it is closed, you will cycle around Mont Vendoux (and up to Le chalet Reynard).
DAY 1: Saturday: Arrival in Orange
Arrival in Orange.
Orange is regarded as the gateway to Provence. Celts lived here before the Romans invaded and settled for almost 300 years. For the Romans 'Arausio', the old name of Orange, was one of the most important towns in the Provincia Gallia Narbonensis. Of the numerous Roman buildings and monuments originally built, you still can see parts of the city wall, the Arc de Triumph and the Theatre, the stage wall of which the Sun King ,Louis XIV, described as the most beautiful wall in his country.
DAY 2: Sunday: Orange – Vaison-la-Romaine, 38 to 70 mi. (61 to 112 km)
From Orange to Vaison-la-Romaine, the route is predominantly flat. This stage will take you through some of the best vineyards in Provence, Châteauneuf-du-Pape, Vacqueyras, Gigondas, Rasteau and Séguret, just the names of which make the hearts of wine lovers flutter. On the way to Vaison-la-Romaine, you will pass the impressive range of the Dentelles de Montmirail.
Vaison-la-Romaine, the French Pompeii
Vaison-la-Romaine is a city with a rich Roman heritage. One fifth of the Roman town, then called Vasio, has so far been excavated. You can see remains of houses of wealthy Roman citizens, an ancient water canal system, the columned hall of Pompeius, a 2000-year-old bridge and an old theatre. Vaison-la-Romaine also has a beautiful medieval quarter and some magnificent buildings dating from the 16th to 18th centuries.
DAY 3: Monday: Vaison – Mont Ventoux – Vaison, 47 to 68 mi. (75 to 110 km)
Today your bicycle tour in France has to have to face the giant of Provence, Mont Ventoux. The 1909m high mountain rises abruptly from the countryside. In totally deforesting the mountain the Romans left Mont Ventoux with its characteristic bald appearance. Wind speeds of up to 250 km/h (155 mph) have been measured at the summit. The first road over the mountain was built in 1882.
DAY 4: Tuesday: Vaison – Apt, 56 to 68 mi. (90 to 110 km)
Today you cycle Provence on quiet roads to the city of the candied fruits, Apt. Crossing through the Montagnes de Bluye and d'Albion, you'll reach the center of lavender cultivation, the village of Sault. Then crossing the Plateau d'Albion, you'll cycle downhill to Apt, nestled in the valley of Calavon.
Apt – capital of candied fruits
Apt, situated on the Calavon River, is surrounded by numerous fruit trees. Here since the 14th century fruits were picked, blanched and glazed to become candied fruits. The results can be admired in numerous displays in the many pastry shops and of course sampled. Like most towns in Provence, Apt was also a settlement of the Celt-Ligures followed by the Romans. But unlike other towns, in Apt the ruins are invisible – buried 4 to 10 meters below the town.
DAY 5: Wednesday: Apt – Luberon - Apt, 50 to 65 mi. (80 km to 105 km)
The route today takes you into the Parc du Luberon and through some of the most beautiful villages in France. From Apt, you cycle on a flat stretch to Céreste before crossing the Luberon for the first time. On the south side of the Luberon, you'll pass typical small Provencal villages all with their preserved charm. On your way back you pass through the gorge of Lourmarin with its high white rock walls.
DAY 6: Thursday: Apt – St. Remy, 55 to 64 mi. (88 to 103 km)
The day starts with a climb to Bonnieux followed by a 10km downhill run. On the other side of the Luberons you continue towards the river Durance. Through the flat valley of the Durance you'll cycle in the direction of the Alpilles, a small but charming mountain range between the Rhône and the Durance. The Alpilles (the small Alps) is fascinating because of its rock formation. About 300,000 olive trees grow in this area, from which one of the best olive oils in France is produced.
St. Rémy – the pleasure of pure provençal life
The old town of St. Remy with its many squares and cafes is an ideal place for strolling around and enjoying the provençal life. Here you find the whole myth of Provence in one place. Two famous people are closely connected with St. Remy: Michel de Nostredame, better known as Nostradamus, was born here in 1503 and in 1889/90 Vincent van Gogh was treated here in the 'madhouse' after cutting off part of his ear.
DAY 7: Friday: St. Remy – Orange, 50 to 64 mi. (80 to 103 km)
First you cycle to the idyllically located Abbey St.-Michel-de-Frigolet, nestled in a low range of hills. Then you leave the Provence crossing the Rhône, and continue to Remoulins, where a trip to the famous Pont du Gard is an absolute must. Crossing the foothills of the Cévennes you cycle back to the Rhône and pass through the wine growing regions of Tavel and Lirac.  
DAY 8: Saturday: Departure from Orange
 Your Provence cycle tour will end after breakfast
You can view all of our bike tours in Europe or look at our featured bike trips, specials, and news.
Email or Call 800-951-4384 +1 570-965-2064
---