Rhine River's Three Imperial Cathedrals
Cycle German Wine Country!
On this tour, you will experience the three great Imperial Cathedrals of Speyer, Worms and Mainz that sit magnificently along Europe's longest river. Each of them was erected at the crossroads of important trading and traveling routes, surrounded by beautiful scenery. This bike tour offers a varied and interesting route along bike paths predominantly flat as you follow the Rhine, and once in the wine-growing regions, a bit more hilly. You will cycle into the largest German wine producing areas of Rhein-Hessen and the Pfalz as well as ride some of the long and famous German Wine Route or Weinstrasse, the 2nd largest wine-growing region in Germany. Bad Dürkheim especially pays homage to the wine with a huge Wurstmarkt (Wine and Sausage Festival) every September that is said to be the largest wine festival in the world!! Of course, the wine flows freely all summer long. In and around Bad Dürkheim alone, there are a reported 144 wineries, many of which offer wine tastings.

This bike tour in Germany includes many great cities in its itinerary. Heidelberg is known for its University, and its 16-17th century Schloß that still looks over the town and contains a huge wine cask in its cellar. Worms is famous for the legend of the Nibelungenlied, for which a festival is held every year, as well as its Imperial Cathedral (Wormser Dom). Oppenheim is best known for its wines, especially those from the Oppenheimer Krötenbrunnen vineyards. Rüdesheim is Germany's biggest tourist attraction (except for Cologne Cathedral). This is because of its winemaking, the picturesque town itself and also its location within the Rheingau region and the Frankfurt Rhine Main Region. Neustadt an der Weinstrasse is also just a gorgeous little town with its heart in wine making.

Want to see more bicycle tours in Germany?

9 Day Tour

 
Option A
Option B
Season 1

£

815

$

1,396

€

1020

NOK

9775

kr

9023

$

1,173

£

626

$

1,073

€

784

NOK

7513

kr

6935

$

902

Season 2

£

858

$

1,470

€

1074

NOK

10293

kr

9501

$

1,235

£

671

$

1,150

€

840

NOK

8050

kr

7431

$

966

Season 3

£

894

$

1,533

€

1120

NOK

10733

kr

9908

$

1,288

£

706

$

1,210

€

884

NOK

8472

kr

7820

$

1,017

Single supplement

£

271

$

464

€

339

NOK

3249

kr

2999

$

390

£

180

$

308

€

225

NOK

2156

kr

1990

$

259

Dinners included

£

199

$

341

€

249

NOK

2386

kr

2203

$

286

£

156

$

267

€

195

NOK

1869

kr

1725

$

224

Category A: 3 star to 4 star hotels
Category B: 3 star hotels or B&Bs

Season 1: April 20 to May 10 and September 28 to October 12, 2019
Season 2: June 22 to August 16, 2019
Season 3: May 11 to June 21 and August 17 to September 27, 2019

extra

options

Electric bike rental: £ 84 $ 144 € 105 NOK 1006 kr 929 $ 121

EXTRA NIGHTS
Option A
Option B
Heidelberg

£

79

$

136

€

99

NOK

949

kr

876

$

114

£

48

$

82

€

60

NOK

575

kr

531

$

69

Single supplement

£

55

$

94

€

69

NOK

661

kr

610

$

79

£

32

$

55

€

40

NOK

383

kr

354

$

46

please

note

Rates are per person based on double occupancy.

Information to read before you book.

We recommend purchasing bike trip insurance.

† Currency exchange rate set 90 days before travel.

Travel

Fly to Frankfurt.

Local Travel

Train from Frankfurt airport to Heidelberg, 1-1½ hr. depending on connections.

Climate

The average high in °F in the Heidelberg area is approx. May 66º, June 71º, July 75º, August 73º, and September 68º

Recommended

Including 3-course dinners with tour.

---
Tour
Dates
Arrival possible between April 20 and October 12, 2019
---
Season 1: April 20 to May 10 and September 28 to October 12, 2019
Season 2: June 22 to August 16, 2019
Season 3: May 11 to June 21 and August 17 to September 27, 2019
Where
You'll Stay
Category A: 3 star to 4 star hotelsCategory B: 3 star Hotels or B&Bs
What's
Included
Accommodations for 8 nights in selected category
Breakfast buffets
21-speed hybrid bicycle
Luggage transfer
Personal tour information
Route descriptions & maps (one set per room)
Signposting
7 day service Hotline
GPS tracks (must request in advance)
Bicycle protection
What's
Not Included
Train ticket Frankfurt to Heidelberg, ± € 25
Lunches and dinners (dinners can be included for a supplement)
Visitor's Tax (to be paid upon arrival) approx. € 2-5 per person
Ferry tickets in Nierstein (approx. €2.50 per person)
Ferry tickets Bingen (approx. €2.50 per person
Skill
Level
This is an easy self-guided hotel tour with daily distances ranging from 21 to 37 miles. Routes make use of good, hard asphalt roads (bike paths/side streets). Terrain is almost entirely flat with a possible sloping hill or two.
Day-To-Day
Itinerary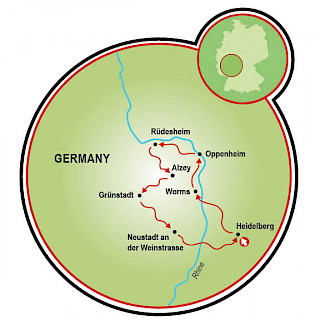 Day 1: Arrival in Heidelberg
Day 2: Heidelberg - Worms, 28 mi. (45 km)
Day 3: Worms - Nierstein, 34 mi. (55 km)
Day 4: Nierstein - Rüdesheim, 31 mi. (50 km)
Day 5: Rüdesheim - Alzey, 31 mi. (50 km)
Day 6: Alzey - Grünstadt, 21 mi. (35 km)
Day 7: Grünstadt - Neustadt an der Weinstrasse, 21 mi. (35 km)
Day 8: Neustadt - Heidelberg, 34 mi. (55 km)
Day 9: Departure from Heidelberg
*All distances are approximate. Tour can also be taken for 6 days with same dates except arrival on Sundays.
DAY 1: Arrival in Heidelberg
Individual arrival into Heidelberg. This is a great little town, and worth a stroll to the Neckar River, or the old castle up on the hill if you have time.
DAY 2: Heidelberg to Worms, 28 mi. (45 km)
Today you will cycle along the Neckar River to the old Roman town of Ladenburg, with its very beautiful medieval town center. Crossing the Rhine valley, you'll immediately enter into the old Imperial city of Worms. The Cathedral dome of Worms dates from the 12th century as well as the old town, the old fortification walls, the Martin-Luther-monument and the oldest preserved Jewish cemetery in Europe - all of which are well worth a visit.
DAY 3: Worms to Nierstein, 34 mi. (55 km)
Today you'll continue leisurely along the Rhine River, ,often on idyllic paths all the way to Oppenheim, the city of Gothic architecture and wine producing. Explore the underground old town, the labyrinth of Oppenheim and follow the traces of Martin Luther.
DAY 4: Nierstein to Rüdesheim, 31 mi. (50 km)
The second Imperial dome of the tour will be in Mainz, capital of the Rheinland-Pfalz region. Here you'll cross the Main River and can visit the Gutenberg Museum. In the idyllic town of Rüdesheim, you can enjoy a splendid view over the Middle-Rhine-Valley from a cable car.
DAY 5: Rüdesheim to Alzey, 31 mi. (50 km)
First you'll cross the river Rhine and reach Bingen, where the river Nahe flows into the Rhine and constitutes an intersection of four wine-growing territories. Along with the "mouse-tower" in Binger Loch, you should also visit the Drusus Bridge from the 10th century and the bridge chapel. Soon you will reach your days destination Alzey.
DAY 6: Alzey to Grünstadt, 21 mi. (35 km)
Today, a short cycle day with enough time to explore the wine-culture that surrounds you. You reach the start of the German Wine producing region in Bobenheim and finish the day in tranquil Grünstadt. There will be plenty of time to sample the local wine today.
DAY 7: Grünstadt to Neustadt an der Weinstrasse, 21 mi. (35 km)
Today you cycle through lots of beautiful little wine producing towns, the cultural highlights of the day. Visit the largest wine-barrel of the world in Bad Dürkheim and if you are traveling in the beginning of September, you will be able to see the largest wine festival of the world. In Deidesheim, visit the Wine Museum in the medieval town hall.
DAY 8: Neustadt – Heidelberg, 34 mi. (55 km)
Today you will cycle to the third of the three Imperial cathedral domes, this one in Speyer. Enjoy the marvelous medieval ambience of Speyer's old town and visit the splendid castle and park of Schwetzingen.
DAY 9: Departure from Heidelberg
Individual departure following breakfast.
If you're looking for a different flavor, check out our full list of bike tours in Europe or view all our featured bicycle tours, specials, and news.
Email or Call 800-951-4384 +1 570-965-2064
---